The GeekVape Zeus Sub Ohm Tank is a brand new mesh coil tank from GeekVape. Is it any good? I just spent a couple of weeks finding out…
---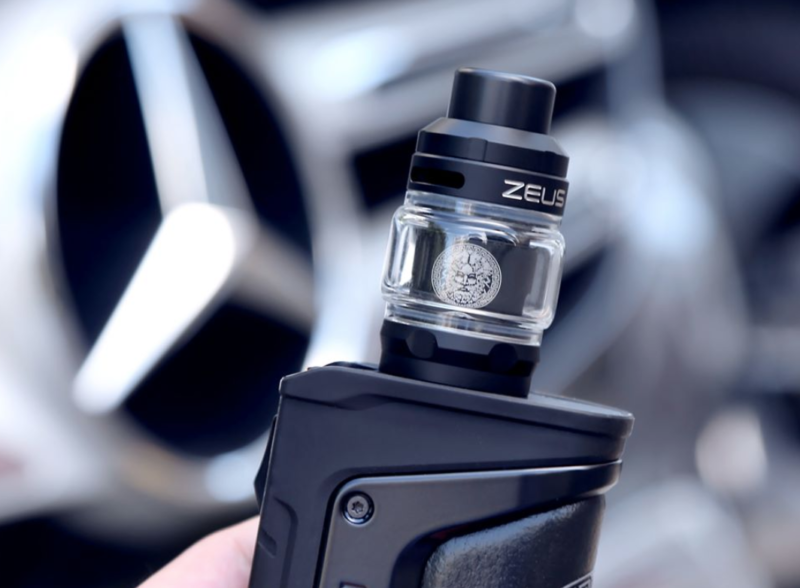 Best Price – VaporDNA | $29.95 (Use Code: DNA10 For 10% OFF)
GeekVape Zeus Sub Ohm Tank Pros:
Solid Design
Huge Vape Juice Capacity (5ML)
Amazing Coil Performance
Epic Flavor
Zero Leaking
Great Value For Money (Only $29.95)
TL;DR Verdict – Any vaper worth their salt knows about GeekVape's Zeus RTA tank. It's one of the best RTAs in the business, so when a mesh coil sub ohm tank version of it arrived in the mail, I was super excited. Turns out I was right to be too; the GeekVape Zeus Sub Ohm Tank is bloody good.
Right off the bat, I was seriously impressed by the design of the GeekVape Zeus Sub Ohm tank; it's big and premium looking. The machining and design are all very much on point too. You won't find any breaks in the design language or how the tank is put together. As always, GeekVape has excelled in the physical construction of the GeekVape Zeus Sub Ohm tank.
It comes with two mesh coils – 0.4-ohm Kanthal KA1 (60-70W) and a 0.2-ohm Kanthal KA1 (70-80W) – that wick and prime-up super quickly. I was up and vaping within minutes and the flavor and clouds were both dense and flavorful. You don't need to break these coils in; just prime them properly and they'll perform optimally from the very beginning. As always, I ran a selection of juices from the VapeBeat Store inside the GeekVape Zeus Sub Ohm tank and they all tasted utterly superb.
And the flavor? It's as good as any of my RTAs and easily on a par with the best sub-ohm vape tanks on the market right now. I was expecting A LOT from the GeekVape Zeus Sub Ohm tank and it delivered the goods pretty much across the board – from flavor to design and overall performance.
Bottom line? If you're looking for a new mesh coil tank and you want something that can deliver a metric ton of flavor, the GeekVape Zeus Sub Ohm tank is just about the best thing I've used in the last several months. And for just $29.95 (via VaporDNA), the GeekVape Zeus Sub Ohm tank also delivers a fairly hefty slice of value for money too.
Full GeekVape Zeus Sub Ohm Tank Review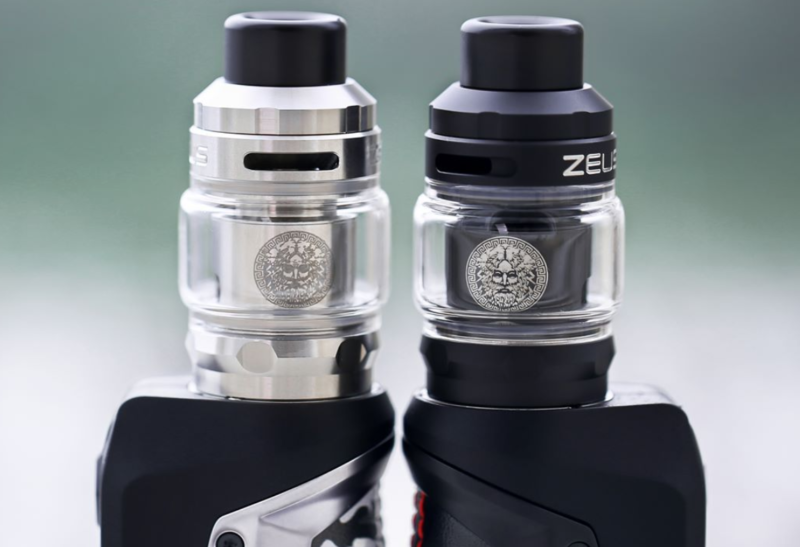 Best Price – VaporDNA | $29.95 (Use Code: DNA10 For 10% OFF)
Design
The GeekVape Zeus Sub Ohm tank is a fairly big tank. Even by 2019 standards. It looks fairly intimidating atop my VooPoo Drag Mini. The industrial design of it, however, is flawless. It looks stunningly premium from every angle, oozing tons of charisma.
You have a nice, wide-bore 810 drip tip up top that is comfortable to use and ties in nicely with the overall aesthetic of the tank. Out of the box, the GeekVape Zeus Sub Ohm tank comes with bubble glass installed. This gives it a vape juice capacity of 5ml, which is great.
GeekVape has developed a top-mounted airflow for the Zeus Sub Ohm tank. But it's not your usual top-mounted airflow; no, the airflow here is directed downwards towards the coils which means you're getting way more control and flavor from it. It's a great touch to an already very solid tank, and small adjustments go a long way to altering the flavor and draw. I like mine partially closed; it just gives it that little edge, which is so important on big, swooshy mesh coil tanks.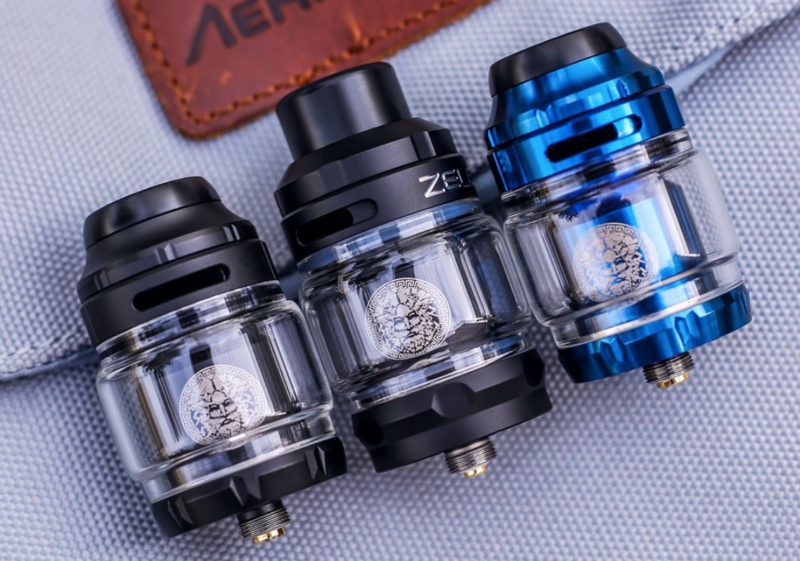 Best Price – VaporDNA | $29.95 (Use Code: DNA10 For 10% OFF)
Refilling is done at the top as well; just unscrew the top clap ever so slightly and it pops off, revealing the kidney-shaped fill ports. Everything on the GeekVape Zeus Sub Ohm tank comes apart and reattaches cleanly and without issue. As noted earlier: the build quality on the Zeus tank is utterly superb. There are no weak elements.
Installing the mesh head coils is a cinch too; they're plug-n-play, meaning you simply push one in the bottom and it is sealed in place via its rubber stoppers. You don't have to screw or twist, just pull one out and then push a new one in. Simple, right?
The GeekVape Zeus mesh coil tank is available in a range of colors: Black, Rainbow, Gunmetal, Blue, Stainless Steel, Red & Black, and Gold. My personal favorite? The Gunmetal one, obviously! Gunmetal tanks look amazing and are easily my favorite color options.
GeekVape Zeus Sub Ohm Tank Specs
Overall Dimensions: 26mm by 42.5mm
Magnesium Alloy Construction
Leak-Proof Design
Top Dual Airflow Slots
13mm by 2.5mm
Top Fill Design
5ml E-Liquid Capacity
Z1 Coil Family
810 Wide Bore Drip Tip
10mm Wide Bore Drip Tip
Performance & Flavor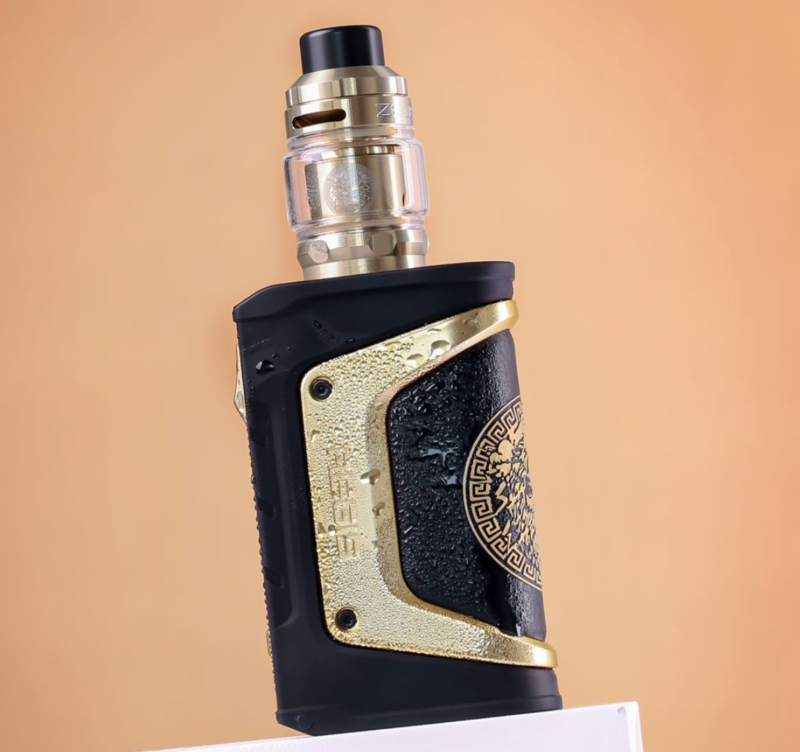 Best Price – VaporDNA | $29.95 (Use Code: DNA10 For 10% OFF)
How's the GeekVape Zeus vape? In a word: brilliant. I've had the pleasure of testing a bunch of really good mesh coil tanks this year, the UWELL Valyrian 2 and the Falcon King, for instance, and I am happy to say that the GeekVape Zeus more than keeps up with them. The flavor it delivers is incredible; it's smooth and packed full of detail, so you can really taste your E Juice.
In the time I've had the GeekVape Zeus, I think I've put one 120ML bottle of TrailBlazer (my favorite vape juice) and half a 120ML bottle of 1885, another bangin' E Juice from the VapeBeat Store. That's a lot of juice. But it's easy to get through it with this tank; it's just so flavourful and it vapes like a monster as well.
If flavor's your thing, and you like high VG E Juice, then I can't see any reason why you wouldn't absolutely love the GeekVape Zeus. It's as good as the best vape tanks on the market right now and its mesh coils last a solid 12-14 days in between changes, which is very good. Even at the top end of the vape tank market.
Any drawbacks? Honestly, no… As mesh coil vape tanks go, the GeekVape Zeus is definitely right up there in the 1% of tanks right now. The flavor is akin to what you get from the UWELL Valyrian 2 and the Falcon King, which is to say it's more or less RDA-grade. And for a sub-ohm tank rocking coil heads, this is damn impressive.
GeekVape has always been one of my favorite vape brands. I've known and used its products for years, and the reason for this is simple: GeekVape makes solid, reliable, and affordable products that ALWAYS deliver where it counts. The GeekVape Zeus is no exception. In fact, I'd go as far as saying that it could well be my new go-to sub-ohm vape tank from here on out.
Mesh Coil Performance
Mesh coil tanks live and die by how well their mesh coils perform. Don't believe me? Just ask SMOK. It makes great looking tanks, but its mesh coils SUCK – they take ages to wick, they burn out too quickly, and are essentially a pain the ass to live with. The GeekVape Zeus is the EXACT opposite…
I installed my first mesh coil with minimal fuss. Five minutes later, I was vaping at 75W and the flavor was KILLER. The GeekVape Zeus' mesh coils prime super-quick, so you can start vaping quicker. On top of this, my first mesh coil lasted almost two weeks, and it still had plenty of life left in it. I only removed it because I needed to try out the other one!
After putting almost 200ml of vape juice through the GeekVape Zeus, I've only been through one and a half coils (technically). At the time of writing this, my current coil tastes as fresh as the day I put it in (about 7 days ago), so I expect to get another week or so from it before a replacement coil is required.
All told, I have been VERY impressed by the GeekVape Zeus' mesh coils. Not only do they produce some of the best vapor I've tasted all year, but they also last a REALLY long time – 12 days minimum between changes. In order to get the most from the GeekVape Zeus, just make sure you keep the coils inside their performance windows, so no more than 70/80W.
Do this and the coils will deliver intense, beautiful vapor for weeks at a time.
Should You Buy The GeekVape Zeus Sub Ohm Tank?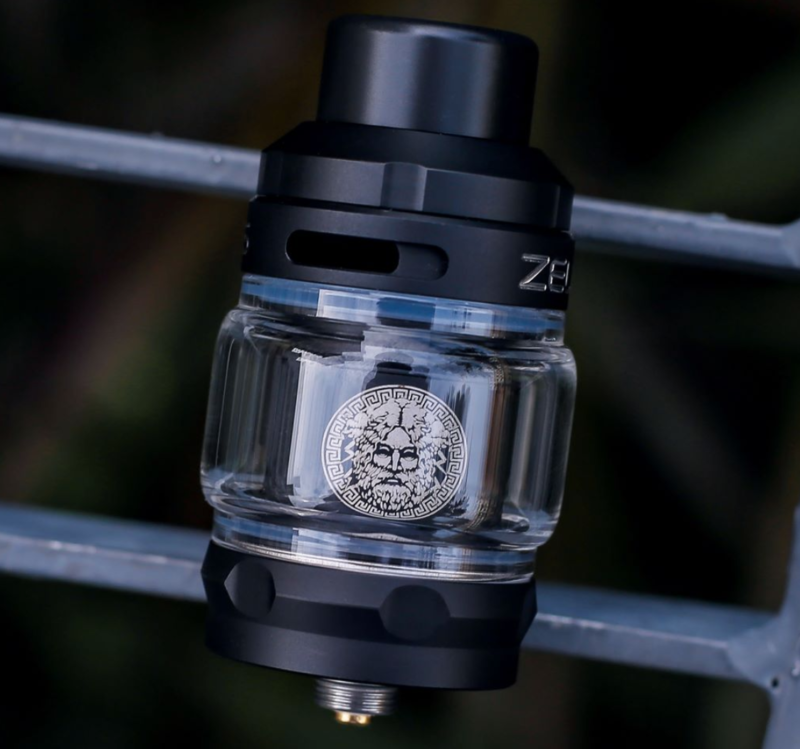 If I were you, and I was in the market for a new mesh coil vape tank, then, yes, I would 100% go for the GeekVape Zeus. Not only does it look totally badass, but it also vapes like a freakin' monster. My favorite E Juice, TrailBlazer, tasted absolutely epic inside it; better than inside some of my RDAs. That should tell you pretty much everything you need to know about the GeekVape Zeus…
Another cool thing? The GeekVape Zeus is also pretty cheap too; you're looking at $29.95 for the tank from VaporDNA. That's a great price for an exceptional mesh coil tank. Do yourself a favor and make sure you check the GeekVape Zeus out!
Best Price – VaporDNA | $29.95 (Use Code: DNA10 For 10% OFF)
Drake Equation
Co-founder and Editor of VapeBeat. I make the words.