The Dovpo x Suicide Mods Abyss is a fresh new approach to a tried and true recipe. Butting heads with the king of the hill, the Abyss carves out a piece of the modular segment that was reserved for elite Billet Box users. There's a major catch though.
---
Dovpo x Suicide Mods Abyss Verdict – 54%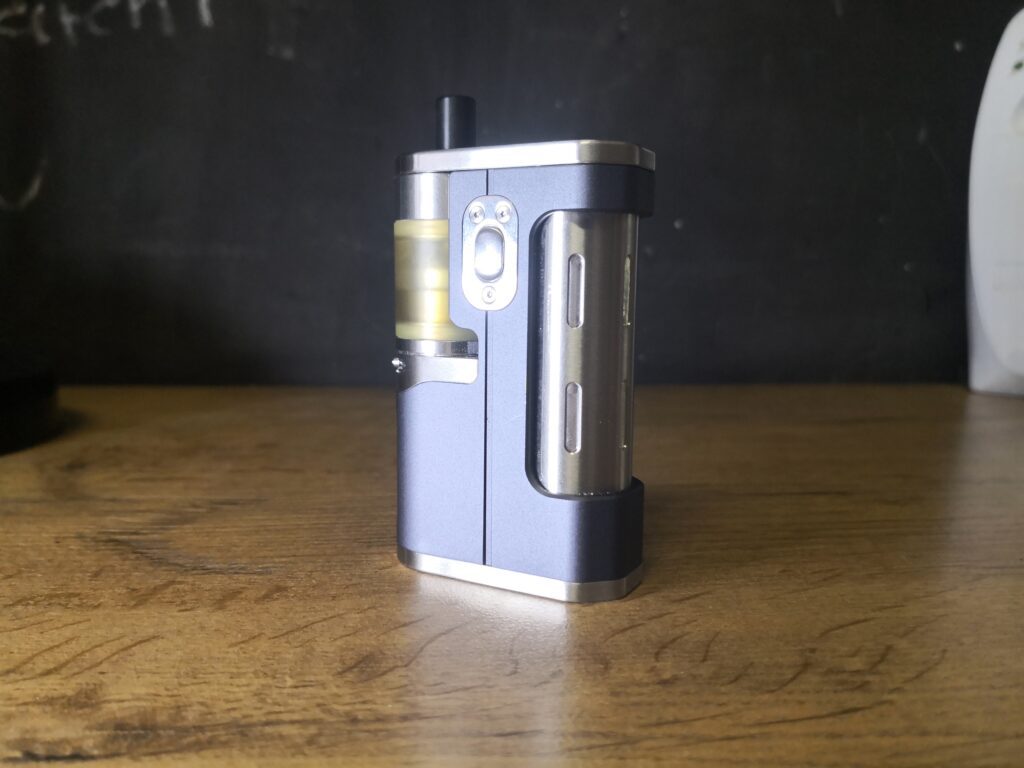 Dovpo x Suicide Mods Abyss
I'm not sure how to feel about the Abyss. On the one end, it's a great alternative to the more expensive Billet Box and provides an equal, if not better experience. But there were issues with my test unit. And that's worth keeping in mind…
---
Dovpo x Suicide Mods Abyss Pros:
Cheap(er) entry into the world of bridges
Acts as both a modular system and side-by-side
Recessed screen and adjustment buttons on bottom is a nifty idea
Easier bridge swapping and building than boro tanks
Solidly built
Super fast fire time
Dovpo x Suicide Mods Abyss Cons:
Slight risk of electrical fire
It's heavy
A pain swapping out batteries
Update: According to the manufacturer, they were unable to recreate the issues we experienced and may likely have been a problem with the pre-production batch.
It's an ambitious task targeting one of the most elitist, high-end vaping segments in all of vaping history. Billet Box users are, and rightfully so, convinced that nothing can beat a well-sorted BB, but that didn't stop Dovpo and Suicide Mods from trying. It's a pretty solid attempt with a lot going for it, but there's one major flaw that should make you reconsider purchasing one of these. Electrical fires are no joke, even if there's an easy workaround.
---
Design
The Abyss at first glance looks like a typical side-by-side. A tank sitting next to your 18650 battery tray with some buttons and a screen. There's a host of these available and Dovpos own College being one of my favorites. The Abyss takes a different design approach to the weirdly named College and instead go for straight and striking lines.
It's an all-aluminum and stainless steel design and by gosh is it pretty. The fire button sits perfectly at your thumb with the charge port offering a cutout for the rest of your fingers to rest. I'm certain Suicide Mods were in charge of the overall look and feel of the device and they've done a stellar job.
I do like the interchangeable battery tubes which open the market for third-party accessories. Included in the retail version is a dimpled stainless steel cover as well as a translucent cover for showing off your custom battery wrap.
A pack of 4 tank glass pieces is also available as a separate purchase compromising of a clear, Ultem, frosted, and frosted black.
You can swap out your fire button from the standard oval-shaped piece to various other shapes, although the button kit is a separate purchase. I look forward to the customization possibilities in the future, which to me, is where the Billet Box shines brightest.
The top and bottom of the mod are covered by a stainless steel plate where the bottom houses the old school DNA60 style screen and power buttons and the top acts not only as the battery cap, but also to pin the bridge down to the connection. The top plate can be removed to turn the Abyss into a normal SBS configuration.
Below the bridge/tank connection, we find a slider-style airflow adjustment that can take the Abyss from wide-open DL to a very tight MTL setup.
Back to the AIO tank, we find one of the best filling methods, by far better than the Billet Box. A fairly large steel flap covers a large fill port and makes filling as easy as opening the flap and splurging your juice into the hole.
Now though, comes the part where the Abyss not only falls flat on its face, but makes it absolutely unrecommendable in the slightest. The USB C charge port sits right below the AIO connection. If you've been vaping for a while or even use a Billet Box-styled device, you'll know how prone they are to condensation.
The BB is particularly bad, but thankfully juice gets nowhere near the charge port. So why is this bad in the Abyss? As juice builds up inside the connector crevice, it tends to seep through to the charging block and soaking the connector. Now plug in a USB cable into a soaking wet port and you have a definite short going on.
During my testing I managed to not only melt the included charger but also start a small fire on my review desk (with a separate cable) I used another cable to double-check and after no immediate fire, I used the cable to charge my phone and the juice buildup collected inside the cable caused a short on my phone. Yep, another small fire. Please note that this may be limited to my review unit, but it's certainly worrying
You can get around this hazard by externally charging your batteries, which you should be doing anyway, but removing the screw in drip tip adapter and then removing the top cap is an absolute pain. Not only that, how many new comers will try to charge their devices via the USB port? Dangerous to say the least.
Performance
Fire hazard aside, the Abyss performs about as well as the bridge or tank you pair it with. Four bridges are included with the packaging, a Caliburn G, Smok Nord, Voopoo PNP and Vaporesso GTX Bridge. A stellar lineup of compatible coils and shows that Dovpo did some research in what to include. My favorites by far are the Voopoo PNP and Nord coils as I've always gotten solid performance from these.
To swap out the bridge you need to remove your driptip, unscrew the drip tip adapter, turn the topcap 90 degrees, remove the tank and wiggle all the parts loose. While it's easier to get to everything than it is a Billet Box, it's still a pain.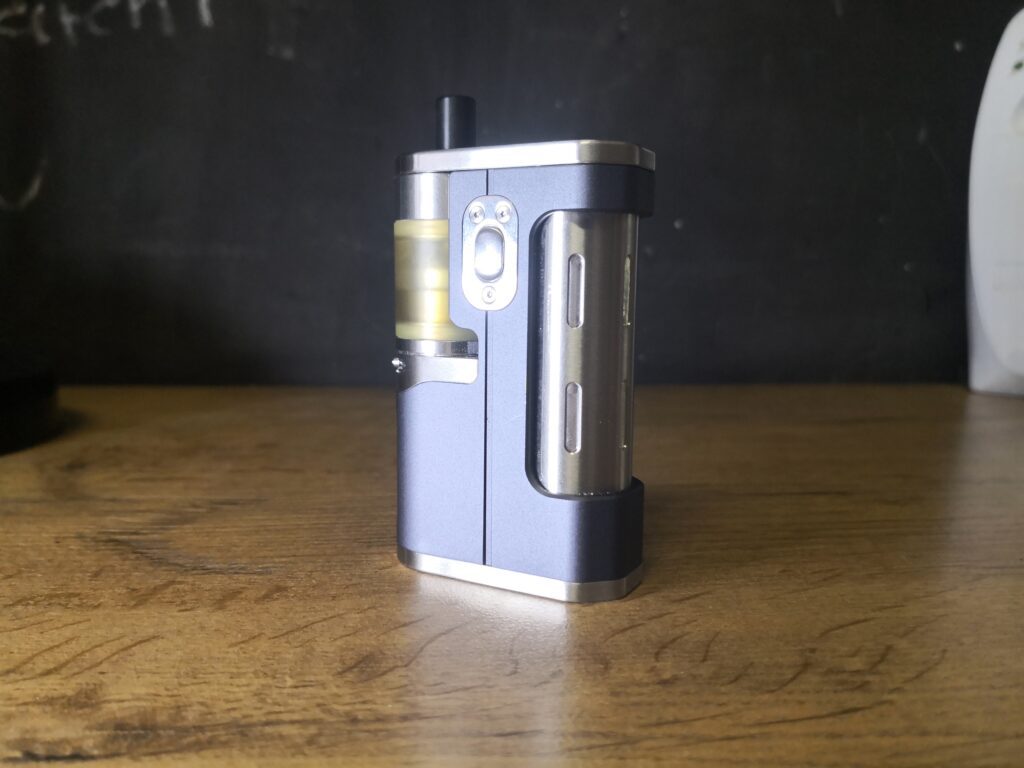 Suicide Mods also sell an Ether RBA for the Abyss, which is near identical to that found in the Ether RTA. It's a Kayfun style deck with swappable airflow pins for the 510 connection. I was never the biggest fan of the Ether in RTA format, but here, it works extremely well and I much prefer it over the 4 included bridges. Building on the deck is relatively simple, however you need to screw on a 510 adapter to glow your coils. The o-ring sealing the top and bottom part of the bridge is also not the best and you end up pinching it more often than not. A bag of extras is included though.
Hopefully Atmizoo will bring the gorgeous Vapesnail bridge to the Abyss soon.
The Abyss has a wattage range of 5w to 60w which is decent for a single 18650. It feels a little heavy on battery usage even at lower wattages, but not so much that I'd be concerned.
The Abyss goes old school with bypass mode, variable wattage and temperature control. I haven't used TC in ages, but the Abyss feels like it's pretty accurate and prevented me from burning my cotton when the tank ran dry.
Overall, it's a great performer depending on the bridge used and with any luck, high end manufacturers will start producing bridges for it alongside the Billet Box.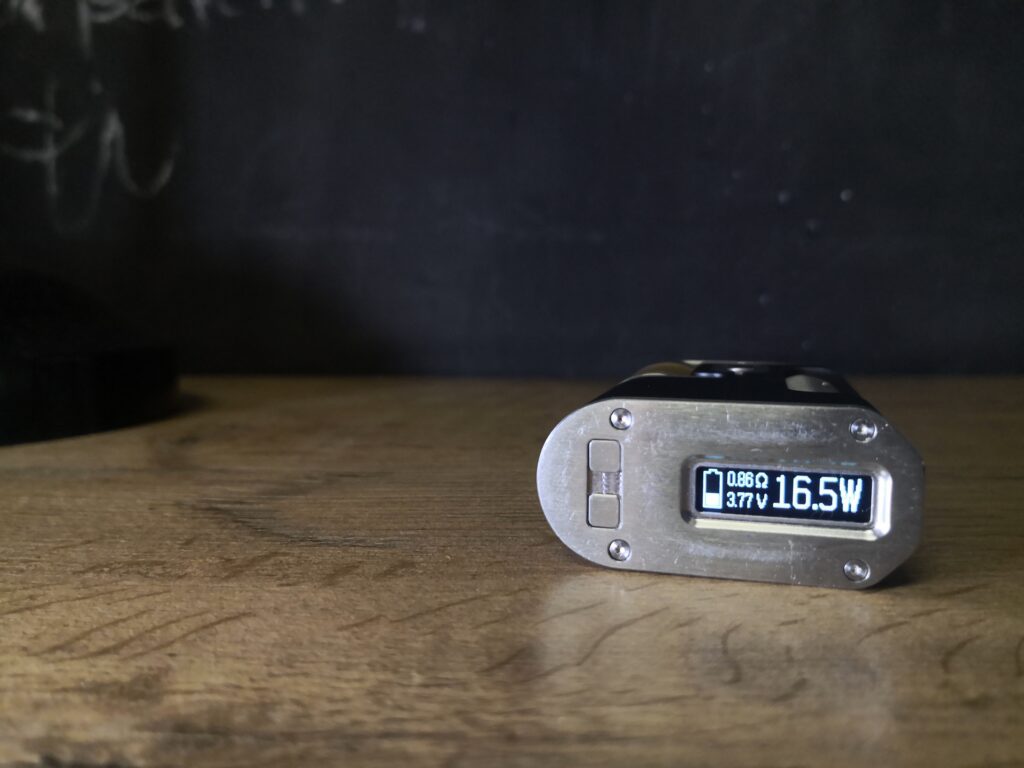 Specs:
Size: 83mm x 25 x 55mm
Materials: Aluminum Alloy + Stainless Steel
Power Output: 5-60w
Battery: External 18650
Charging: USB Type C
Dovpo x Suicide Mods Abyss Conclusion
I'm not sure how to feel about the Abyss. On the one end, it's a great alternative to the more expensive Billet Box and provides an equal, if not better experience. On the other end, how can I even start to recommend a device that has the potential to set your house on fire?
Other than being obviously dangerous if used incorrectly, it only really has a few small niggles. An annoying battery/bridge replacement method and less than stellar battery management. The included bridges are great and customization possibilities are endless.
It also looks amazing and with the option of running your own 510 tanks, the Abyss should have been the device to knock the Billet Box from its top spot, but until Dovpo has confirmed, without a doubt, that the charge block issues have been resolved, I would avoid the Abyss like the plague.
Red
Internationally published journalist and reviewer, unofficially certified vape connoisseur. MTL, DTL, RDTL, Red takes it any which way