The Doge V2 clone does a good job. This lil' pup is satisfactory. Damn well worth 10 bucks. Though its performance is worth more than 10 USD in my opinion. It isn't the best RDA clone I've ever used, but it does what it's supposed to and doesn't cost a limb. It has its ups and downs, but between price and functionality it's all in all a good deal. I would recommend buying the Doge V2 for back up or to add to your collection. It's always good to have an extra RDA laying around anyway.
Doge V2 Clone Review: PACKAGING
The packaging isn't worth mentioning as it's an inexpensive clone, but I will anyway. One shouldn't expect anything fancy like a tin with bubble wrap, free stickers and a warranty. It did come with the infamous blue screwdriver and extra o-rings though. Just a plain brown cardboard box, no bells and whistles.
Doge V2 Clone Review: OUT OF THE BOX
Now at first the inner edge of the barrel's top appeared to have mediocre machining resulting in a somewhat sharp lip. This isn't a deal breaker because it has nothing to do with the atomizer's ability to perform, but it is kind of annoying. The chuff cap is slightly wobbly within the barrel, but adding juice provided a seal that allowed seamless top-popping ability. Upon opening there was no machine oil, but some metal dust out of the box. It's 10 bucks, so no complaining. Wash it and all is well.
Doge V2 Clone Review: SPECS
Stainless steel with a 22mm external diameter. It comes with three huge post holes and a square PEEK insulator that prevents the center post from spinning freely. The flathead screw heads are plenty large which is convenient and looks snazzy too. Unfortunately the screws are a little loose within the posts, but they fasten down well. The deck base has two o-rings which is a nice touch. It has an adjustable copper 510 pin with an absolutely buttery smooth connection thread.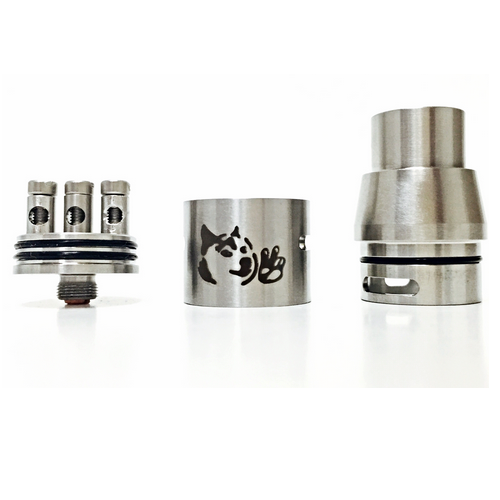 The Doge V2 is marketed as a competition RDA. It's good for clouds, but adjustable airflow allows for good flavor too. This bastard has a chuff cap like a shotgun barrel and airflow able to pass for floodgates. It'll definitely produce more clouds than you can handle. It has dual and single coil capability through the adjustable airflow option which is always a plus.
Doge V2 Clone Review: CONS
The amount of deck space is my only real complaint. Because the chuff cap practically goes to the bottom of the barrel, you only have 19mm of space within the RDA's walls. This does limit your coil build choices so beware. I suppose micro coils, or vertical coils would be most suitable. Also fewer wraps with thicker wire would also solve this issue. I could barely fit eight wraps with 23g, but I made it work. If I could change anything, I'd give this thing a few more millimeters of deck space and make the the barrel/chuff a bit thicker.
Doge V2 Clone Review: BOTTOM LINE
In conclusion this atomizer is cheap and it works well. It is worth the money in my opinion. Obviously it isn't the best RDA in the world, but it's good enough. Now if I lost the Doge V2, I honestly don't believe I'd buy another. However, I don't plan on giving it away either. I'm glad I bought it and if I had the choice to make over again, I'd make the same decision.
Drake Equation
Co-founder and Editor of VapeBeat. I make the words.