Dinner Lady E-Liquid is awesome, tasty and served up in well-designed packaging. If you use powerful sub ohm tanks or RDAs and RTAs, and you're a flavor chaser, You NEED this stuff in your life…
---
Quick Verdict
Dinner Lady E Juice is utterly fantastic stuff. If you're a fan of dessert-based E-Liquids, it is a must-have. The quality, the flavor notes – everything is damn-near perfect. And for an entire line of E Juice, that is rare indeed.
My personal favorite flavor was Dinner Lady Lemon Tart. The Berry Tart and Apple Pie ones are also very good though. I can't really say enough good things about this high VG E Juice; if you drip or use sub ohm tanks, it is definitely a brand you should be trying.
Dinner Lady E Juice Pros
Great Flavors. Super-Intense Flavor
High VG, So Great For Drippers & Sub Ohm Tanks
Premium Ingredients
One of The Best Dessert Lines Around
They Also Do A Nic Salts Line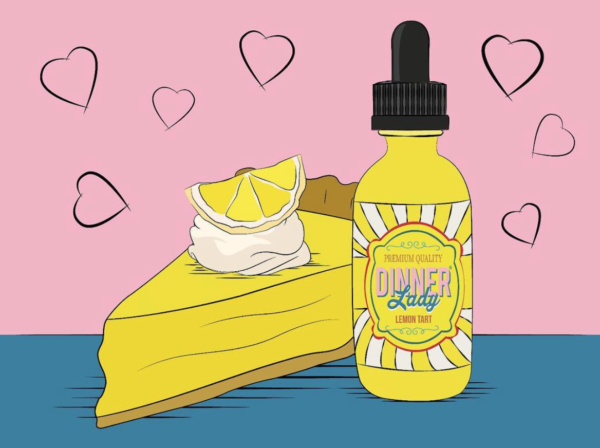 ---
Full Review of Flavors
Dinner Lady E-Liquid. Yep, the name's odd but this lineup of e-liquid is VERY impressive, indeed.
VapeBeat gets sent a lot of e juice to review. The good stuff ends up getting written about, the bad in our recycling bin. But some stuff is so good it warrants a review all of its own. And the Dinner Lady E-Liquid line DEFINITELY falls into the latter category.
Dinner Lady is a UK company and they pride themselves on producing the finest quality e-liquids known to man. Based in Blackburn, Lancashire, Dinner Lady offer up a very slick overall package complete with excellent branding, a great website, and extensive reseller network.
This stuff is probably some of the nicest E Juice I have ever tasted. I was sent a package a while back, complete with TONS of accessories, including an apron, and was immediately impressed with the packaging and overall presentation of the product.
They push hard or Facebook and Instagram and seemingly have a lot of fans in the vaping space. I was lucky enough to get a sampler of Dinner Lady's latest line of Dinner Lady E-Liquid, which I have no just polished off. I got through 150ml in just under two weeks. That's a lot — but once you've tasted this stuff you'll understand why. It is STUNNINGLY tasty.
I got through 150ml in just under two weeks. That's a lot — but once you've tasted this stuff you'll understand why. It is STUNNINGLY tasty.
Dinner Lady E-Liquid: The Line-Up
The emphasis here is desserts. The Dinner Lady E-Liquid line up I tested consisted of four flavors: Lemon Tart, Strawberry Custard, Cornflake Tart, and Maple Waffle. All were sweet. All were all-day-vapes. And all of them are packaged in a beautifully designed bottle.
I get to test out a lot of e-juice. Normally, there are about 10-15 unopened bottles on my shelf at any one time.
Normally, I find it hard to stick to one line of products — even when I'm reviewing them.
This was not the case with Dinner Lady's dessert-based line-up; I burned through them in record time and was sad when the last drop had gone.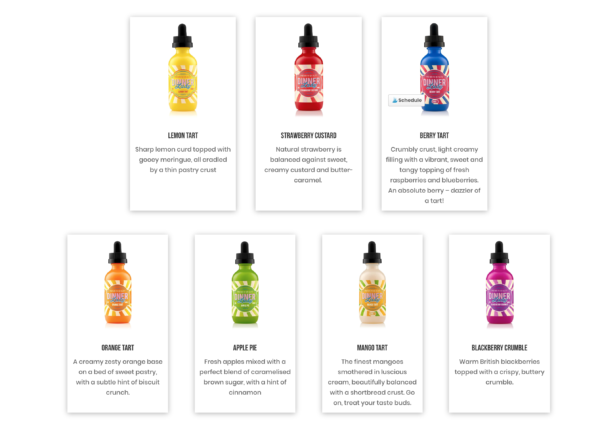 The mix here is 70/30 VG/PG — the Goldilocks' mix, in my opinion — and the flavors are huge, expertly crafted affairs with so much detail you cannot help yourself for immediately going back for more.
Sort of like when you're eating a sundae; the sensation in your mouth and on your tongue just keeps you coming back for more.
My personal favorite was Lemon Tart, which was described as a sort of sweet Lemon pie taste — it's subtle, sweet and perfect to vape on all day long.
I also really liked Strawberry Custard and Cereal Tart; the latter probably being my second favorite.
I had 30ml bottle sizes at 3MG of nicotine; again, the Goldilocks's level for me. With 3MG of nicotine, you still get a hit but the flavor of the e-juice is not affected by the presence of nicotine. Once you've gone down to 3MG, anything higher just feels like overkill. Plus, I'm not prepared to sacrifice flavor for a better nicotine hit.
Dinner Lady E-Liquid: Who's This For?
Basically, anyone that like sweet, premium e-liquids. I've tested a lot of brands over the last couple of years and Dinner Lady E-Liquid stands out at the very front.
The flavors are soft and palatable, but immensely complex. They kind of dance on your tongue. And thanks to the 30% PG mix, there is a satisfying but, again, subtle throat hit making it an ideal choice for cloud chasers and novice vapers alike.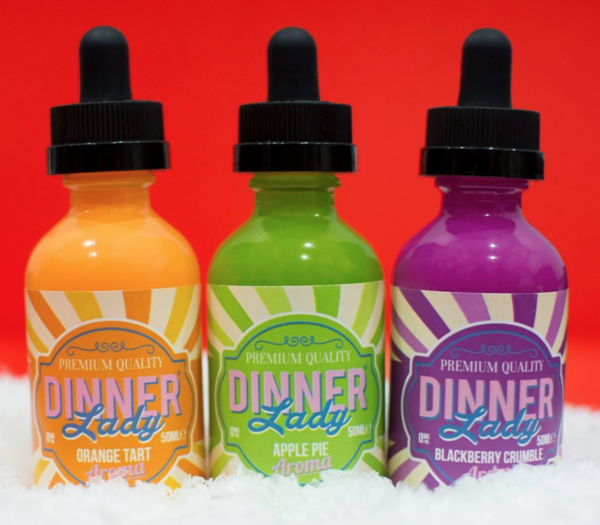 I ran all the flavors through sub-ohm tanks, RDAs, and RDTAs and the result were always the same: outstanding flavor, across the board.
And the best thing about all of this is that Dinner Lady is a UK brand (normally UK E Juice lags WAY behind its US counterparts).
I would probably go as far as saying that Dinner Lady E Liquid is one of my all-time favorite lines of Juice. I love dessert flavors, so this makes sense, but I also like the amount of care and attention that has gone into the branding which, again, is distinctly English.
If you're a fan of premium dessert flavor E Juices, then you simply have to check out Dinner Lady E-Liquid. It is superb. And the company that produces it is growing rapidly – they apparently made £12 million last year!
Not bad for an independent juice company.
Drake Equation
Co-founder and Editor of VapeBeat. I make the words.