Demon Killer Tiny Kit REVIEW – This Zippo-Sized RDA Kit ROCKS
By Lynda Abshear • Updated: 04/10/18 • 4 min read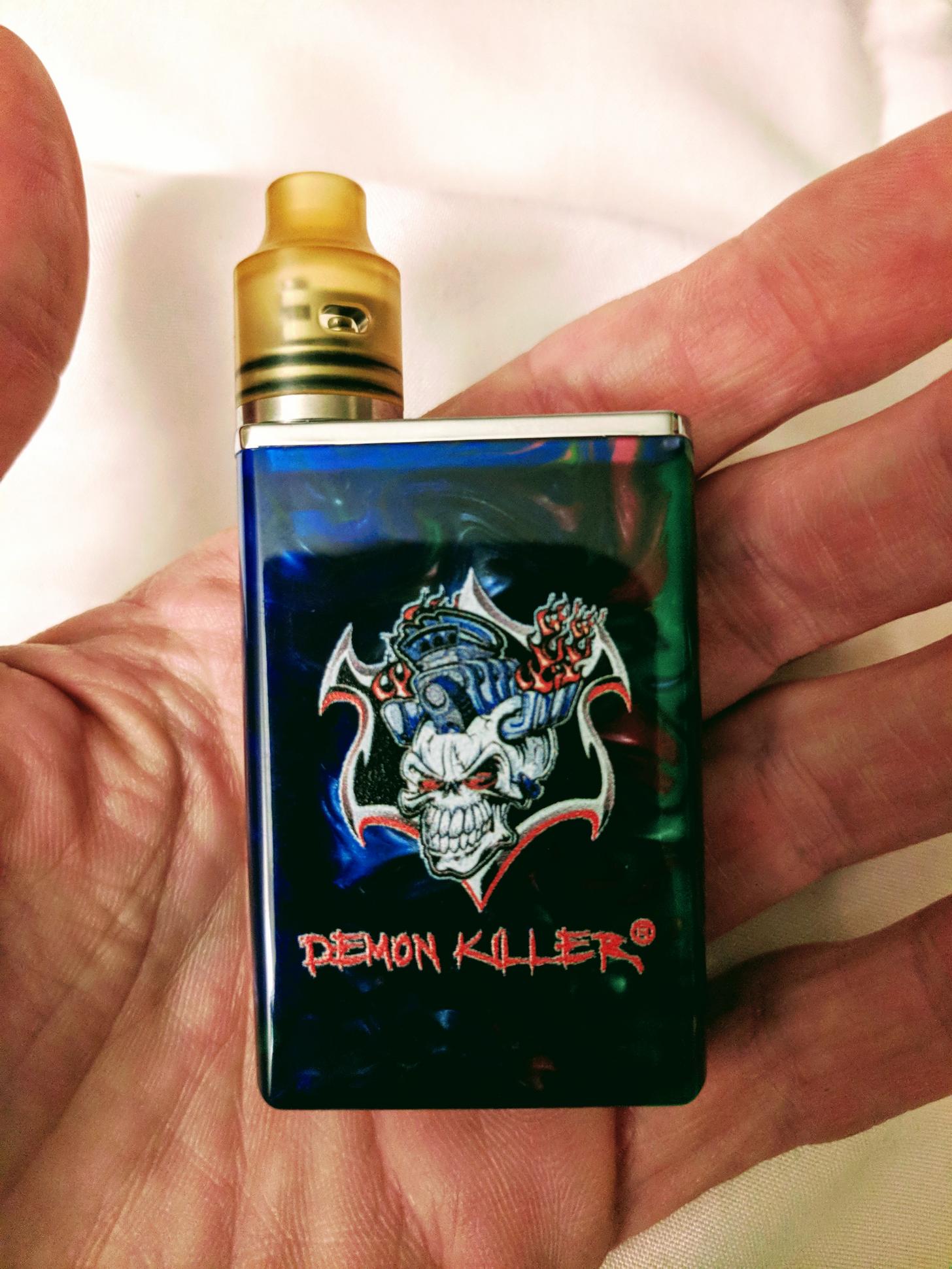 Lynda serves up her opinion on the Demon Killer Tiny Kit – a zippo sized vaping kit that packs a SERIOUS punch…
---
For the last several years, the general trend in vaping has been to go bigger. From mods with multiple batteries, tanks with massive airflow and huge, high wattage tanks, it's gotten to the point that you almost need a carrying case for your mod!
But lately, the trend seems to be reversing and everything is starting to go small. Devices like the Juul and Suorin Drop have become hugely popular. So it was only a matter of time that the tiny trend hit the rebuildable market, right?
A few weeks ago during my usual check of what's new, I came across something that caught my eye: the Demon Killer Tiny kit. I'm a fan of small devices, so I decided to order one and check it out.
Even though I've mostly moved away from rebuildable tanks in favor of pre-made coils, the lure of a small dripper was something I couldn't pass up.
Years of obsessively checking tracking numbers for vape mail has trained me to order things and promptly forget about it, so when the package arrived, I couldn't remember what the heck was in there.
Demon Killer Tiny Kit Review – What's In The Box?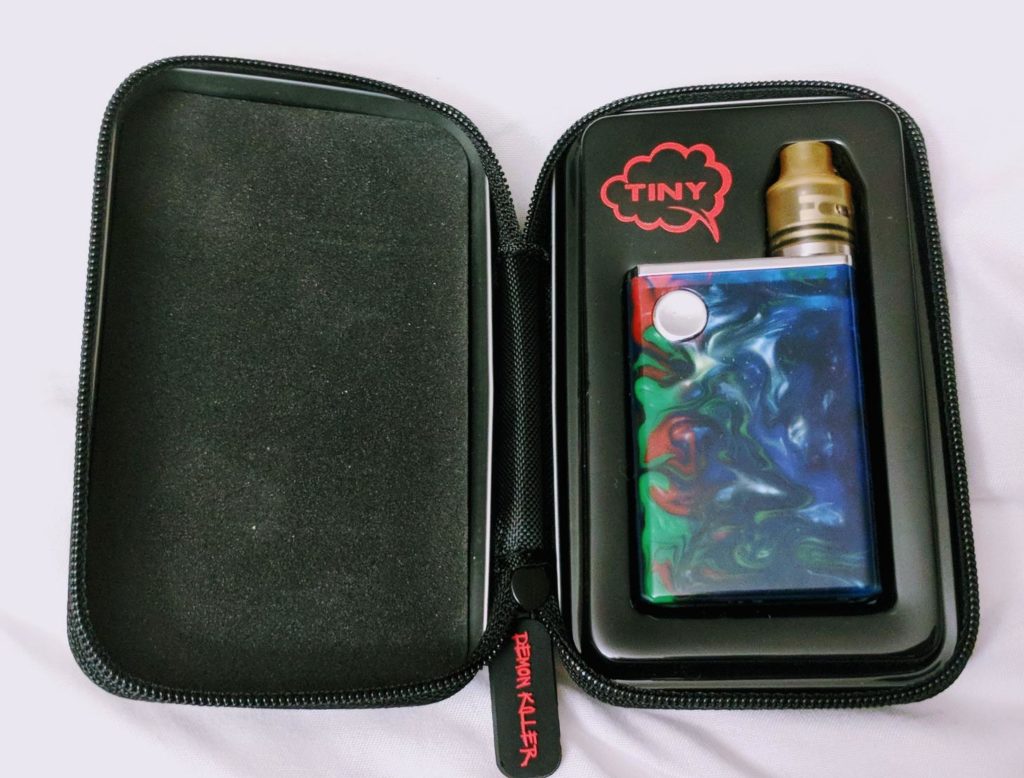 Pin
When I opened the box, there was a smallish box wrapped in bubble wrap. Ah! Now I remember. Looks fairly small I thought to myself as I started unwrapping the bubble wrap.
Once the packaging was clear, I had a hard-sided zip-up case in my hand. Interesting. I unzipped the case and OMG – this thing is TINY! Like zippo lighter tiny. The back of the case lists the specs as 76x38x14 mm.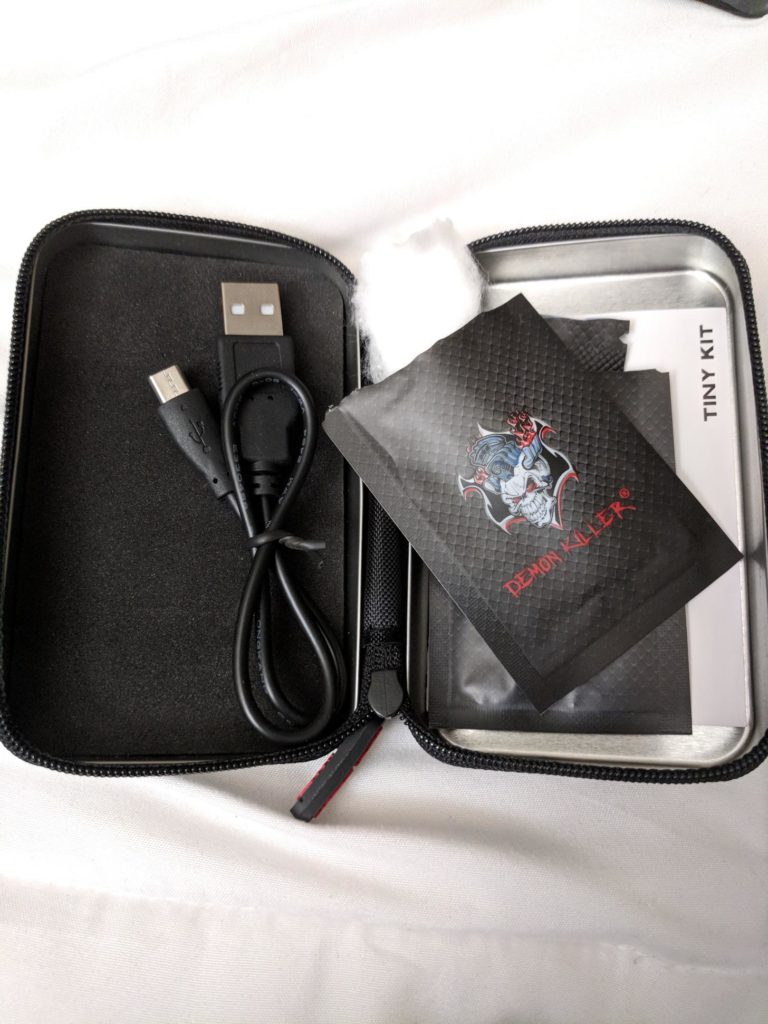 Pin
If you remove the insert, underneath you will find additional goodies. There's the expected USB cord, a medium-sized screwdriver, a packet of cotton, and a packet with several pre-made coils, extra screws, and a SQUONK PIN! A quick online check informed me that you can buy this RDA without the battery.
Demon Killer Tiny Kit Review – Design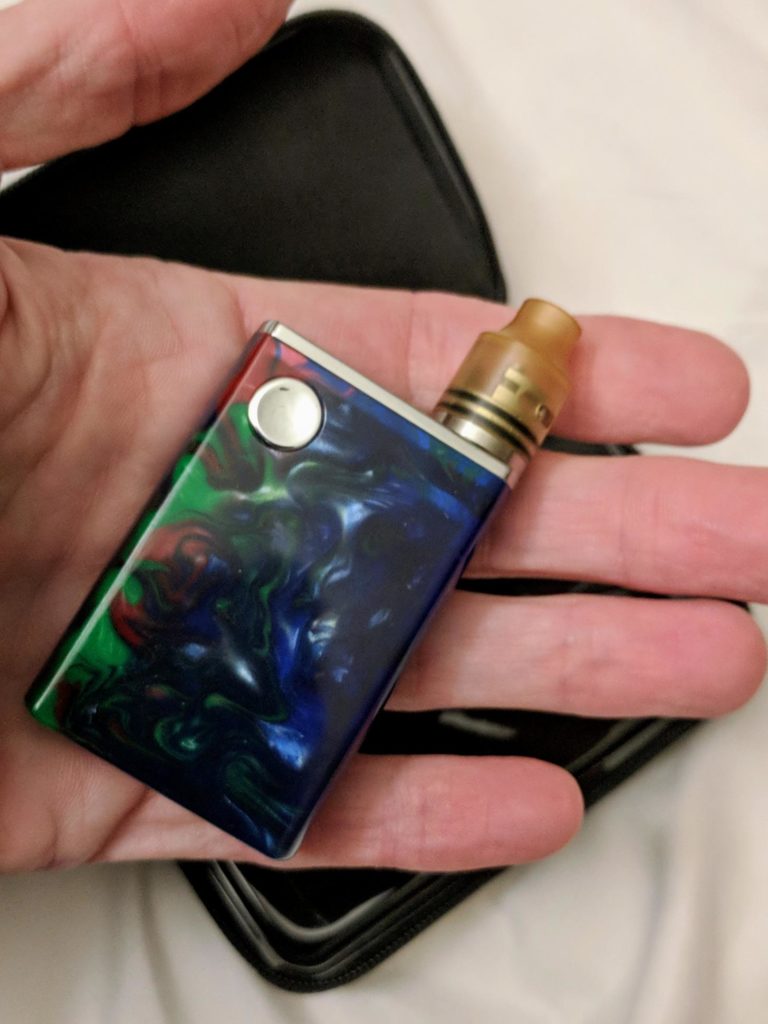 Pin
This kit is offered in a variety of colors, plain and resin. I ordered the blue resin. It's very pretty with swirls of red, green and black for accent colors.
Like other small devices, this has an internal Li-Po battery that's rated at 800 mah. A micro USB port is located on the bottom for charging.
The RDA has a translucent yellow acrylic cap that reminds me of the wasp nano. Double o-rings on the base ensure that the cap fits tightly.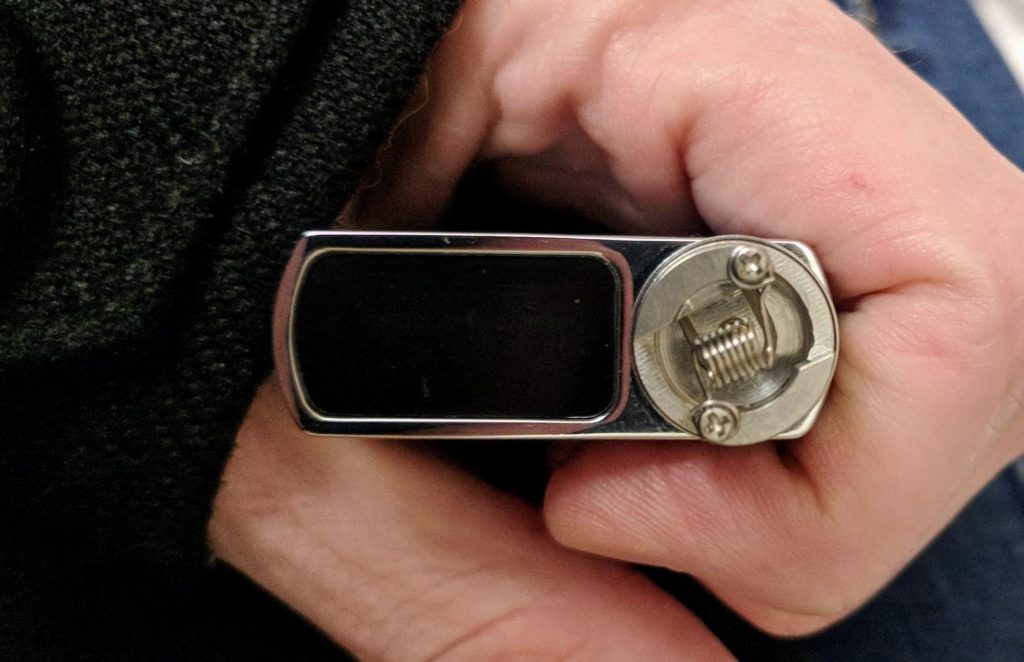 Pin
As you might imagine, this is a single-coil deck reminiscent of a kayfun. The zip-up case has a plastic insert with the mod nestled snugly inside.
Building on a small deck is a bit of a challenge, especially if you've gotten spoiled with the newer rdas that only require you to drop the coil in and tighten the screws.
With this, you're going to have to wrap the wire around the screw, then tighten. A few wraps and snips later and voila, it was ready to wick.
Despite having such a tiny deck (this thing is smaller in diameter than a dime), it has a decently deep juice well, so tucking the wick tails in wasn't that hard.

Pin
The 'screen' on this thing is just a dark piece of plexiglass with the words 'TINY' on it. When you press the fire button, there's a light ring around the top of the battery that a blue light shines through the plexiglass and illuminates the logo.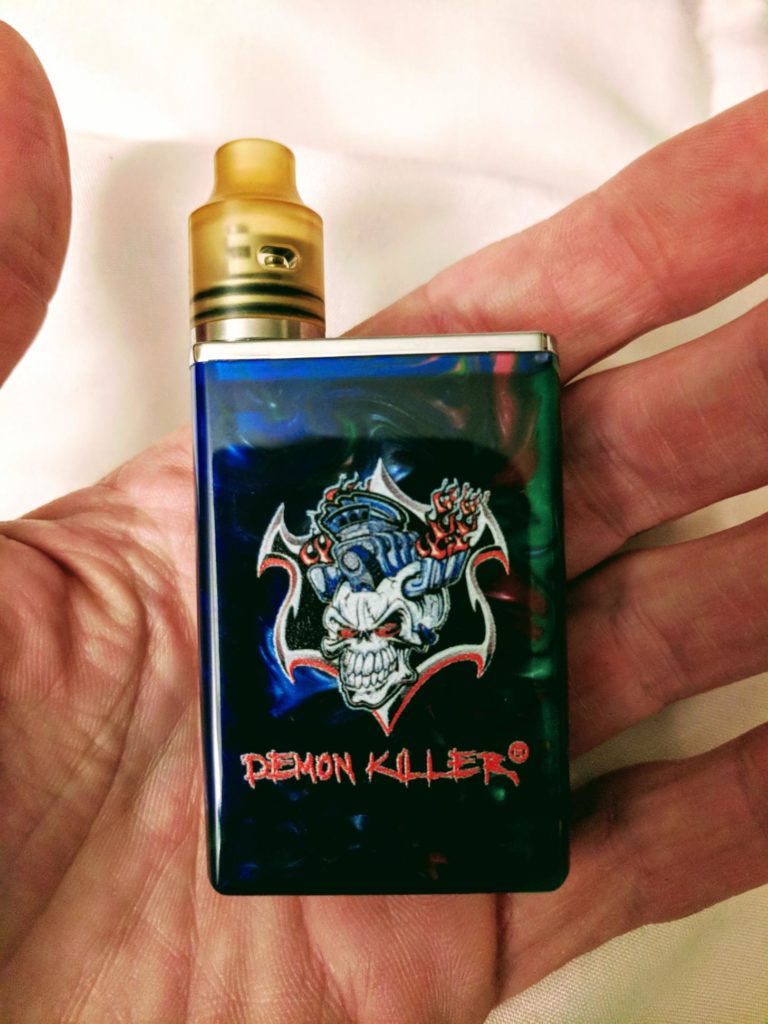 Pin
So not much in the way of info there. Testing the atomizer on an ohm reader read .72 ohms. There is no battery life indicator. You can turn the battery off with 5 clicks, and when charging, the light is red, turning to green when fully charged, but other than that, it's pretty bare-bones.
Demon Killer Tiny Kit Review – Performance
So how's it vape? In a word, awesome. The flavor on this thing is pretty phenomenal, and it produces a respectable cloud, making it ideal for anyone that's looking for a VERY small kit, that's still rebuildable, and packs a mighty big punch.
Also included in the kit is a vinyl pouch with lanyard, but this device is easily small enough to fit in your pocket.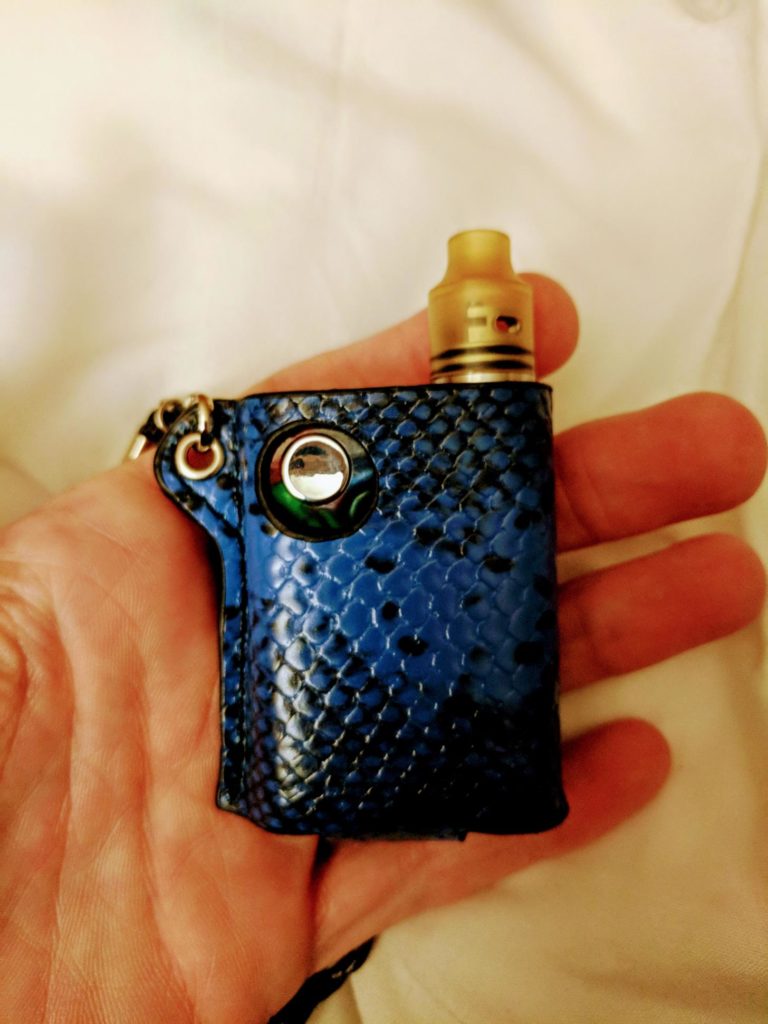 Pin
If you are into tiny setups and/or unique drippers, this one is worth the price.
Lynda Abshear