CyberVape CyberX Review: A Bangin' New Pod System…
By Red • Updated: 12/01/19 • 5 min read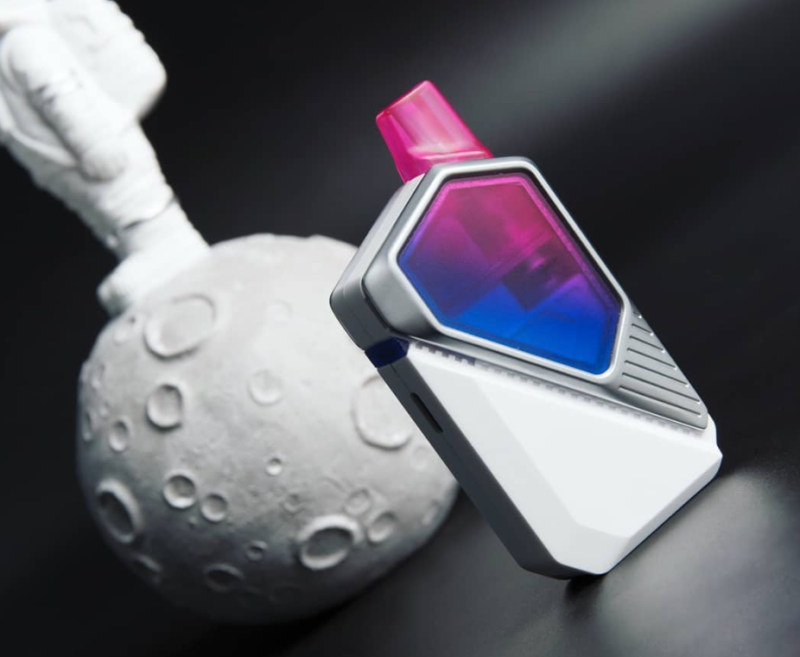 POD and AIO devices have completely taken over the market. It seems every manufacturer has climbed on the bandwagon and are milking this trend for every last drop. The only way to differentiate your device in these circumstances is to either innovate or make sure it looks so damned good that people simply cannot live without it. CyberVape, a new company on the scene, has tried doing a little of both with its Cyber X AIO kit.
Cybervape CyberX Verdict – 82%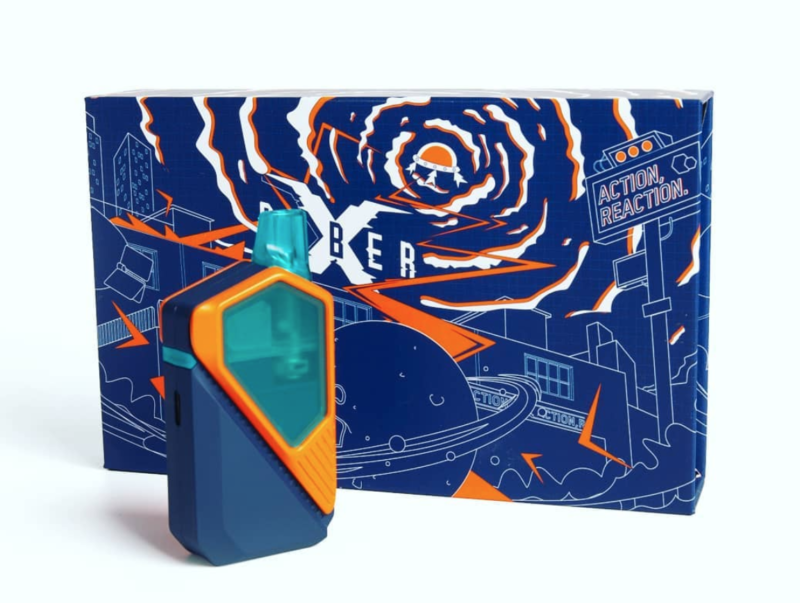 Pin
Pros:
Unique, discreet design
Good flavor
Solid build quality
Enough fire modes to satisfy the US Army
Affordably Priced
Cons:
Coils can gurgle if not careful
Difficult to see screen and juice level in most situations
Battery life
Hit or miss coils
Full CyberVape CyberX Review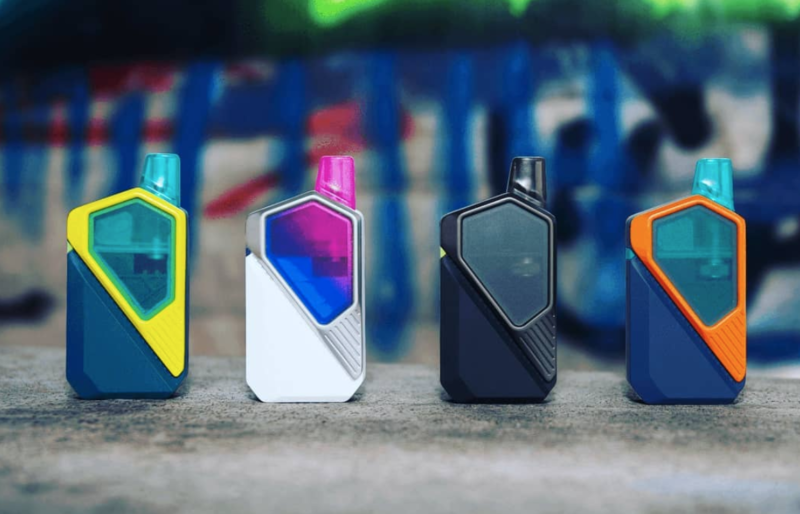 Pin
Packaging
A well-presented device gives a consumer the illusion that a manufacturer has put a lot of effort into its product by following through right to the end, even in their packaging. The CyberX is no different. The flip-top presentation box is classy and logical with all the bits and pieces laid out neatly. Inside you'll find the device, a USB C charging cable, a lanyard and user manual.
Design
CyberVape boasts about their love for Cyberpunk themed devices and the CyberX is clearly a testament to their design philosophy. It's a futuristic-looking little thing with sharps lines a sleek, futuristic feel. It's light in the hand but feels like it should stand up to abuse thanks to the rubberized finish.
There are two sides to the device, one with a removable, triangular door, where the Artery Pal styled POD slides in and the other where the fire button, adjustments buttons, and a small screen is placed. Yes, the CyberX may look and feel like a POD system, but the screen (along with various modes) put it solidly into the AIO category.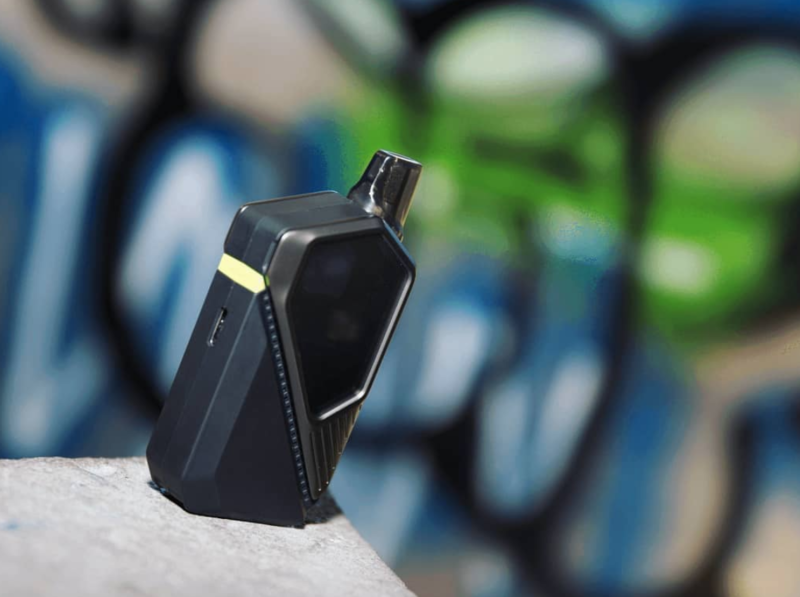 Pin
The PODs are a bit dark and so are the side panels which make reading the screen in anything other than a dimly lit room, not just difficult, but impossible. Funnily enough, the brashly colored versions have lighter colored PODs and panels which make reading the screen and seeing your juice level easier, so keep that in mind.
Speaking of colors, there's quite a few on offer; a white, pinkish-blue version, a blue orange and light blue one, green and yellow and my personal favorite, a black and gunmetal version. A small touch no doubt, but the LED on the side of the CyberX that is color-matched to your chosen theme rounds the look off perfectly, even if you can barely see it while holding the device
The CyberX offers three modes, variable power (from 5w to 30w), variable voltage (1v to 6v) and temperature control (200F-600F). Note that even though TC is available with the 1.2ohm coil installed, it will fry your coil near-instantly; the 0.5ohm mesh coil is required to use temperature control effectively.
Short circuit protection, fire timeout and overheat protection are all standard safety features these days and no different in the CyberX.
Pods, Coils and Spoils
Both the PODS and coils of the CyberX are reminiscent of the Artery PAL style with the POD sliding into an enclosed unit and coils screwing into it from the bottom. An AFC ring surrounds the coil base. I'd label this as a solid loose MTL draw, even with the AFC closed all the way down. A restricted direct lung hit is possible with the AFC opened all the way. The PODs are tinted and can make it difficult to see your juice level without removing the side panel. Pods can be filled up to their 3ml mark easily via a rubber-covered port that is large enough to support a dripper tube. Leaking is also non-existent.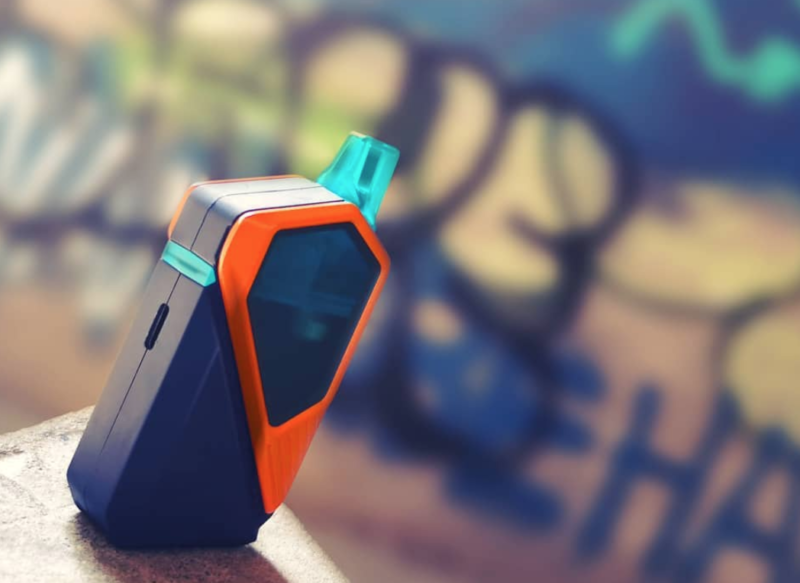 Pin
Comparing the flavor of the Cyber X to King Caliburn, I'd put the X a notch below it. It's not fantastic, but it beats the pants off most POD systems released in the last year. Coil life is a bit of a gamble, from the same package, I've had one last 3ml and another 18ml, however, all of them started gurgling at some point if used at lower wattages; a few quick fires with the voltage turned up usually resolves this issue.
I found absolutely no reason to use temperature control in this low power, pre-built coil, device, but it may be nifty for those that like a reliable hit with every pull
Battery
The battery on this little banger is unfortunately on the small side at 800mAh. I was able to get half a day of heavy use from it, but luckily it charges up via USB C to give you about 1-hour charge time from completely empty. The inclusion of a 4 bar battery indicator on the screen is also really handy to help you plan ahead. I would have loved to see a slightly larger device to get more juice out of it.
Specs:
Weight: 68g
Battery Capacity: 800mAh
Power output: 5-30w
Charging: 5V/1A
Charging Port: Type-C
Size: 84mmx40mmx21mm
Pod Capacity 3.0ml
CyberVape CyberX Conclusion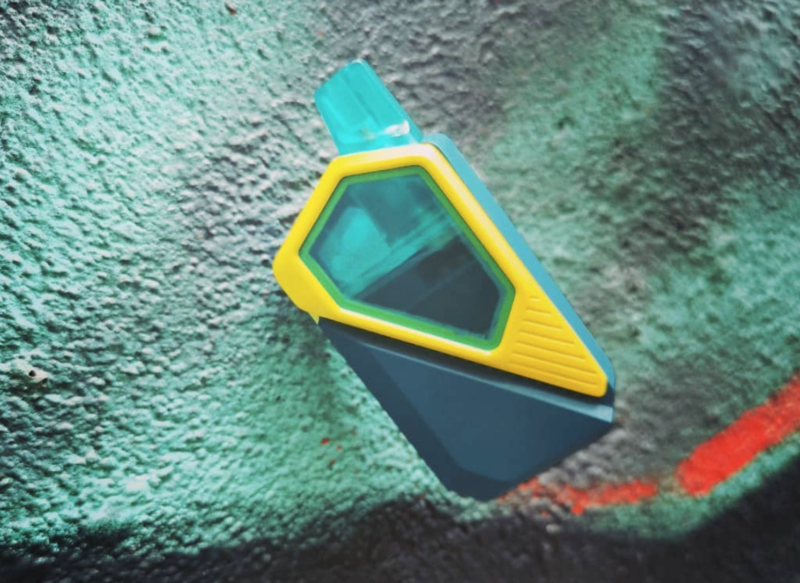 Pin
So, the CyberX is the first device from a brand-new company. This sends shivers down my spine. Chances of getting a decent product are fairly low, less with something that offers as many features as the X. Colour me impressed then, when I turned this little thing on and took a tote. When you strike gold with one of the good coils, the CyberX performs flawlessly, delivering good flavor, solid feel, and enough features to compare it to a single battery box mod. It may not offer the same finesse as the Caliburn, but it's got enough tricks up its sleeve to justify your hard-earned dosh.
Price – $34.99 (CyberX) 
Red
Internationally published journalist and reviewer, unofficially certified vape connoisseur. MTL, DTL, RDTL, Red takes it any which way