CSMNT RDA Review: A Proper BADASS RDA (Excellent Deck Too!)
By Drake Equation • Updated: 01/26/20 • 7 min read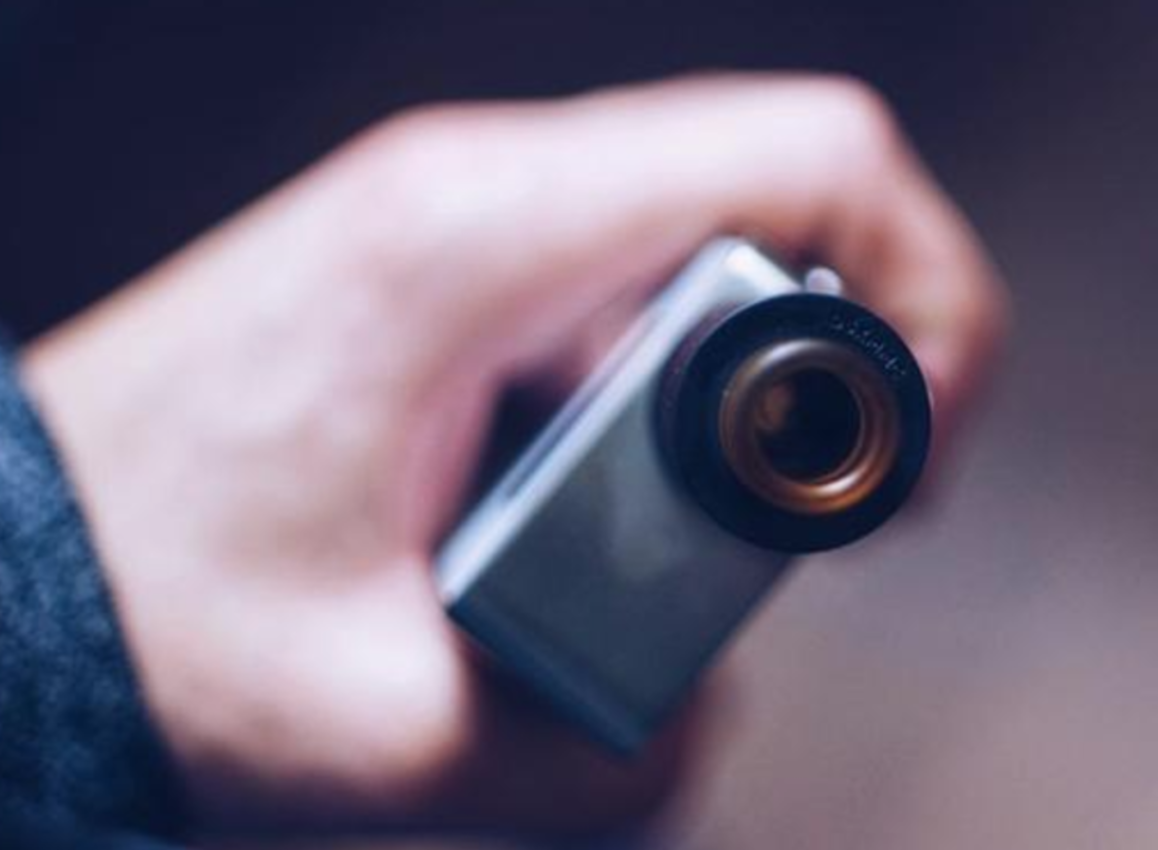 Drew takes the CSMNT RDA – AKA the Cosmonaut RDA – for a spin; find out how he got along below… Is this one of THE best RDA tanks of the year? 
---
Quick Verdict – Is This RDA Legit? 
The CSMNT RDA is by far and away one of my all-time favorite drippers. From the design of the atomizer to the deck itself, everything is near-perfect. I adore building on its postless deck and the flavor you get from this thing is incredible.
This is a premium RDA – meaning it is kinda expensive, but still under $50 – so you're getting plenty of good stuff. Main things for me, however, are its build quality, materials, and the deck. They're all fantastic.
Chuck in INSANE flavor and brilliant, buttery-smooth airflow and you're looking at one of the best RDAs of all time. I've had this RDA for a couple of years now and I still use it most weeks. This is rare. And is high praise for the CSMNT RDA.
CSMNT RDA Pros
Awesome Deck
Brilliant, Good-Looking Design
Delivers Immense Flavor
It Can Squonk
Simple To Build On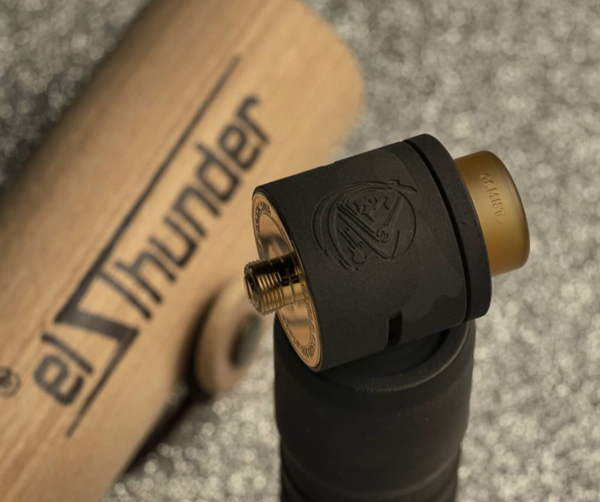 Pin
---
Full Review of CSMNT RDA
Alright guys, I have an RDA to review for you today!
All you drippers out there, listen up: the Cosmonaut RDA is SICK!
About a year ago, I picked up a postless RDA but quickly realized I wanted nothing to do with it.
I mean, the thing leaked EVERYWHERE.
The center of the deck wasn't raised up very high and there was almost no room for cotton.
I used that RDA for about a week, but in the end, I just couldn't deal with the constant mess or/and the ever-present threat of it staining my pockets.
And this colored my perception of postless RDAs until, well… I met the CSMNT RDA.
And for those wondering which RDA it was (so you don't end up feeling like you wasted your money the way I did) it's the MCM underground mod kit.
In addition to the mess this RDA would make when it DID stay closed, the top cap was constantly jarring loose in my pocket.
Terrible tolerances are unacceptable in RDAs for this reason!!
Is The CSMNT RDA Review Gonna Be Any Better? In A Word: HELL-YES!
I was sent the District F5VE and Mystery Mod Co. CSMNT RDA for review and I gotta say it was like a breath of fresh air compared to other postless designs I've seen and used.
Pound for pound, the CSMNT has pretty much everything you'd expect from a modern RDA (as you can see below in the specs).
For me though, the big deal is the deck; I freakin' love building on this thing. It's just so forgiving and easy. And the clouds? Forget about it!
In terms of where this RDA fits in among the general market, I'd say it is a close competitor to the Dead Rabbit RDA and the Bonza RDA.
They're all similarly priced, around the same size, meaning BIG, and they all perform really well.
Being lucky enough to own all three of these tanks, I have to say I do find myself coming back to the CSMNT more than I do the Bonza and Dead Rabbit.
First off, let's get a look at some specs:
CSMNT RDA Specs & Features
24mm Diameter
Postless Build Deck
Four Terminals
3.5mm Each Terminal
Flathead Screws
24K Gold Plated Deck
PEEK Insulator
20mm Deck Diameter
Adjustable Dual Airslots
8mm by 2mm Each Airslot
Adjustable via Top Cap
Single Coil Airflow Capability
Rounded Internal Top Cap
Smooth Vapor Delivery
24K Gold Plated Copper 510 Contact
Aluminum Material
Matte Black is Stainless Steel Material
810 Drip Tip Fitment
ULTEM Drip Tip
11mm Bore
Delrin Drip Tip
11mm Bore
CNC Engraved
CSMNT RDA What You Get In The Box
One District F5VE and Mystery Mod Co. CSMNT RDA
One 810 ULTEM Drip Tip
One 810 Delrin Drip Tip
Spare Part Pack
CSMNT RDA Design 
There are a few features which distinguish the CSMNT RDA from other postless RDA's.
First off, the machining quality is on point.
This thing has tight tolerances, holding together when you need it to (in the pocket) and letting you pop the top cap without trying too hard.
It also looks bad ass as well. Kind of reminds me of the Goon RDA, especially the black model.
The fit and finish of everything is flawless; a lot of love clearly went into designing this RDA, and it shows.
The minute you unbox it, you know you're in a for a treat.
The tank itself is sturdy, robust, and looks BAD ASS on all my mods.
It sits beautifully on pretty much every mod I have and I never get bored of looking at it. Even the branding on the side of the chamber is tight.
The O-rings are nice and fat and this, combined with the tight tolerances, ensures there is ZERO leakage.
However, if you place the cotton and coil behind the airflow holes, you will get some drips outside the RDA. Placing the airflow holes so the air goes between the coils is the way to set up this dripper.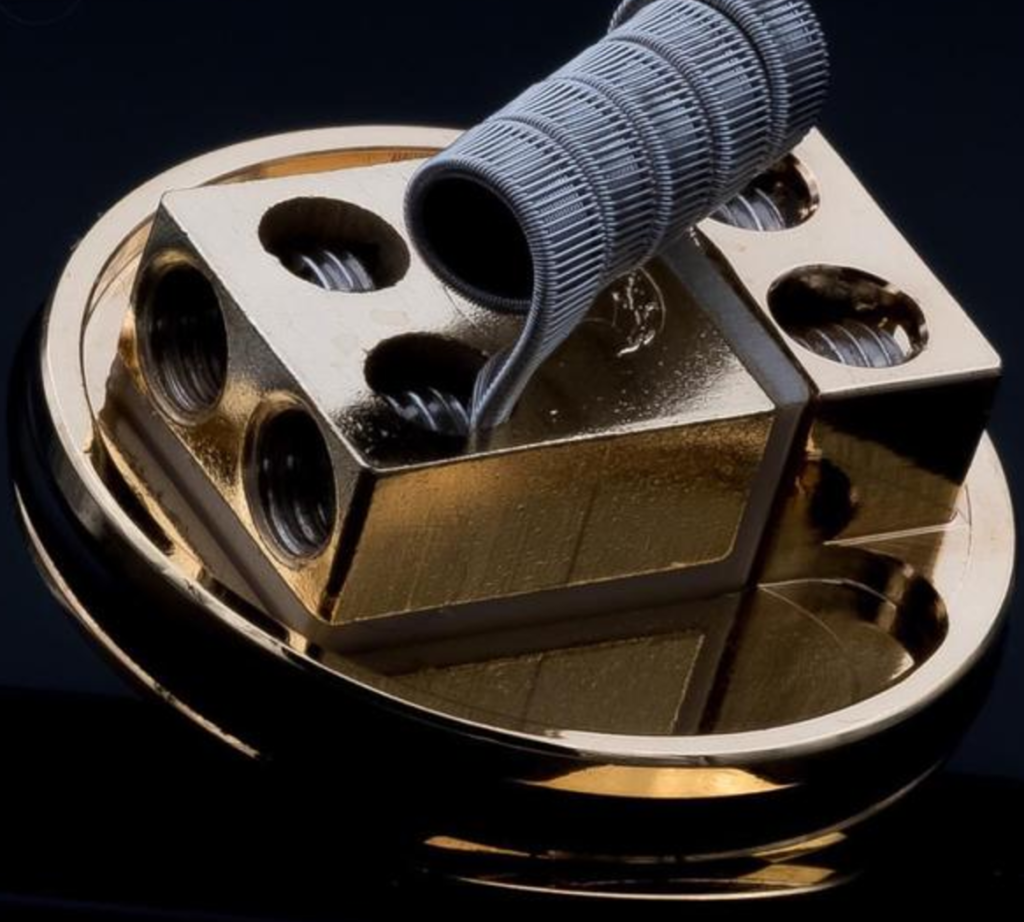 Pin
The screws are tight on the CSMNT RDA, and the threads have been cut very smooth.
This makes for a snug, secure coil fit and ensures that you won't have to retighten your coils.
Building on the CSMNT RDA is a joke – you just shove the leads in and crank down the grub screws!
CSMNT RDA Performance
When wicking your build, however, you'll find that you need to put the AFC ring on before cutting the cotton.
Cutting it and tucking it with the AFC ring on is the only way to do so; if you do this without it the cotton just pushes between the bottom of the ring and the deck.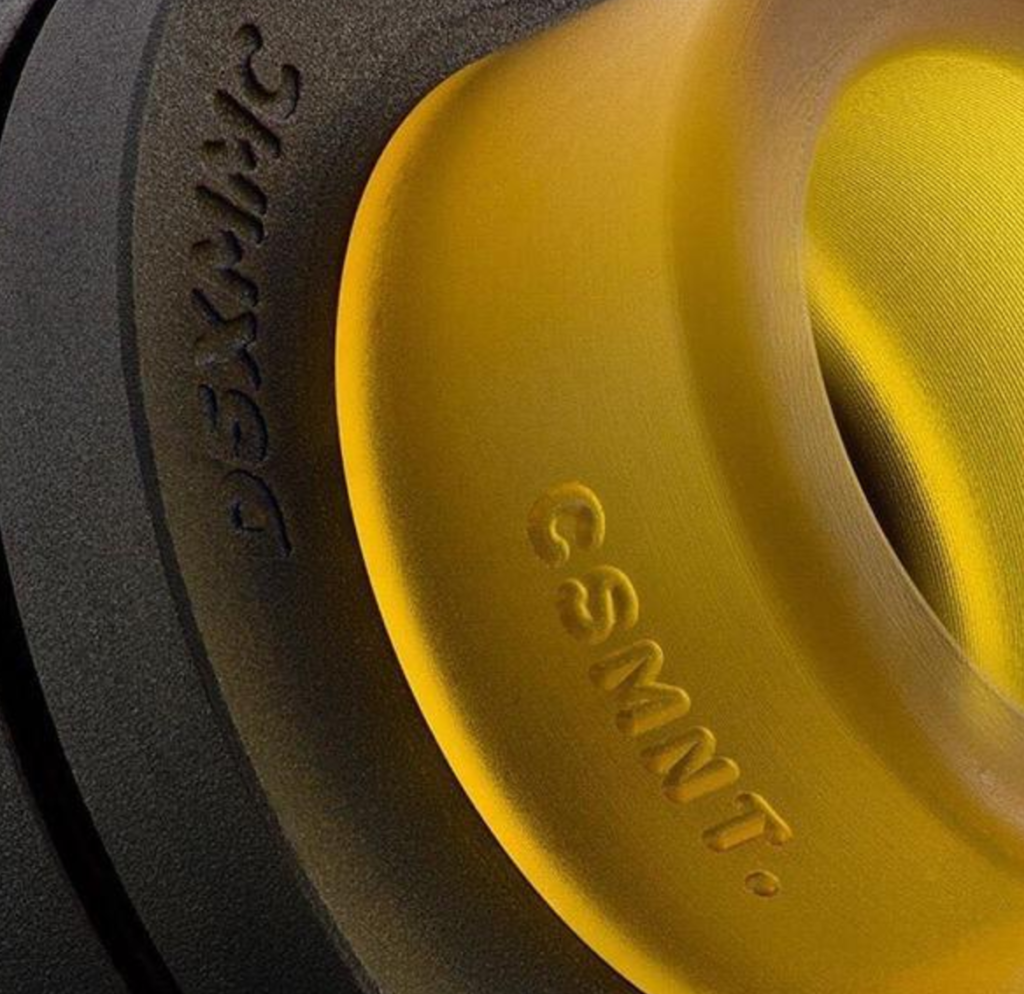 Pin
Once you do wick it properly, it's smooth sailing.
The grub screws stay snug, and if you keep the AFC on the deck and only remove the top cap, it works pretty well.
The airflow on the CSMNT RDA is great; I feel like it's the perfect amount.
It can be reduced, but the wide-open has yet to disappoint me.
The way it rips when the holes are aligned between the coils is PERFECT!!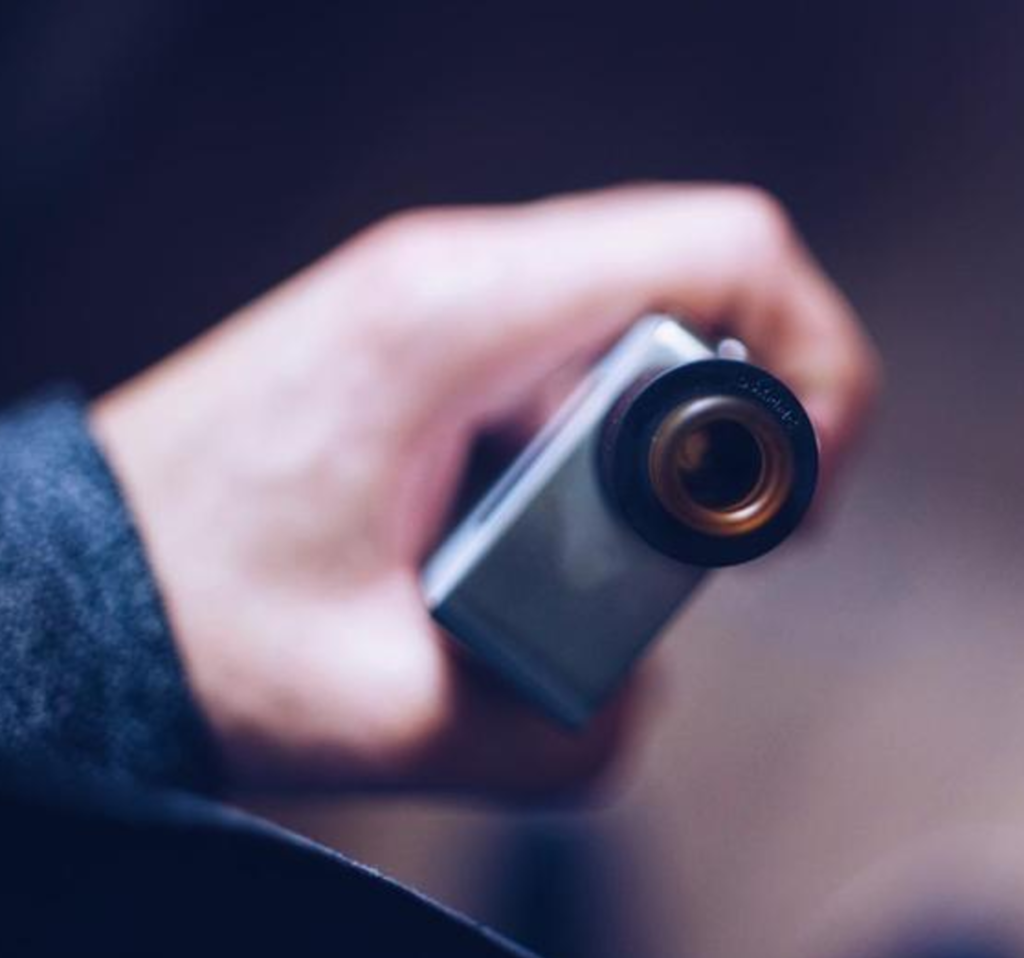 Pin
As for heat dissipation, I haven't had any burnt lips so far!
The drip tip is made of Ultem, which for those of you who don't know, is the newest craze for drip tip materials.
It's extremely effective at deflecting heat and has a nice feel to it.
It's well worth the money, with flavor for days and just the right airflow even on those really hot builds.
Yes, the CSMNT RDA is kind of old now.
But that doesn't mean it still delivers the goods.
I actually prefer this RDA to the Pulse 24 RDA and the Dead Rabbit RDA.
And that should tell you everything you need to know about this RDA.
As well as why it placed so highly inside our Best RDA Tank Guide… 
For overall flavor and the power, I think it has those two beat. Hands down.
It's a dream to build on and the airflow is majestic, unlike anything else.
And because it's now a bit older than when we first posted this review (early-2017), the CSMNT RDA is now retailing for $20 less (it was $65.95 when we first reviewed it).
Now it's just $45.95 – so, yeah… savings AND clouds to be had here 🙂
Drake Equation
Drake is the founder and editor of VapeBeat. He started the blog WAY back in 2015 when, upon quitting smoking, he struggled to find any useful information about vaping online. With a background in journalism and a newfound hobby on his hands, he set about creating VapeBeat – a blog all about making vaping simple to understand for new users.