Coil Master RAY RTA Review: No-LEAK, BIG-Hitting RTA
By Drake Equation • Updated: 02/08/18 • 8 min read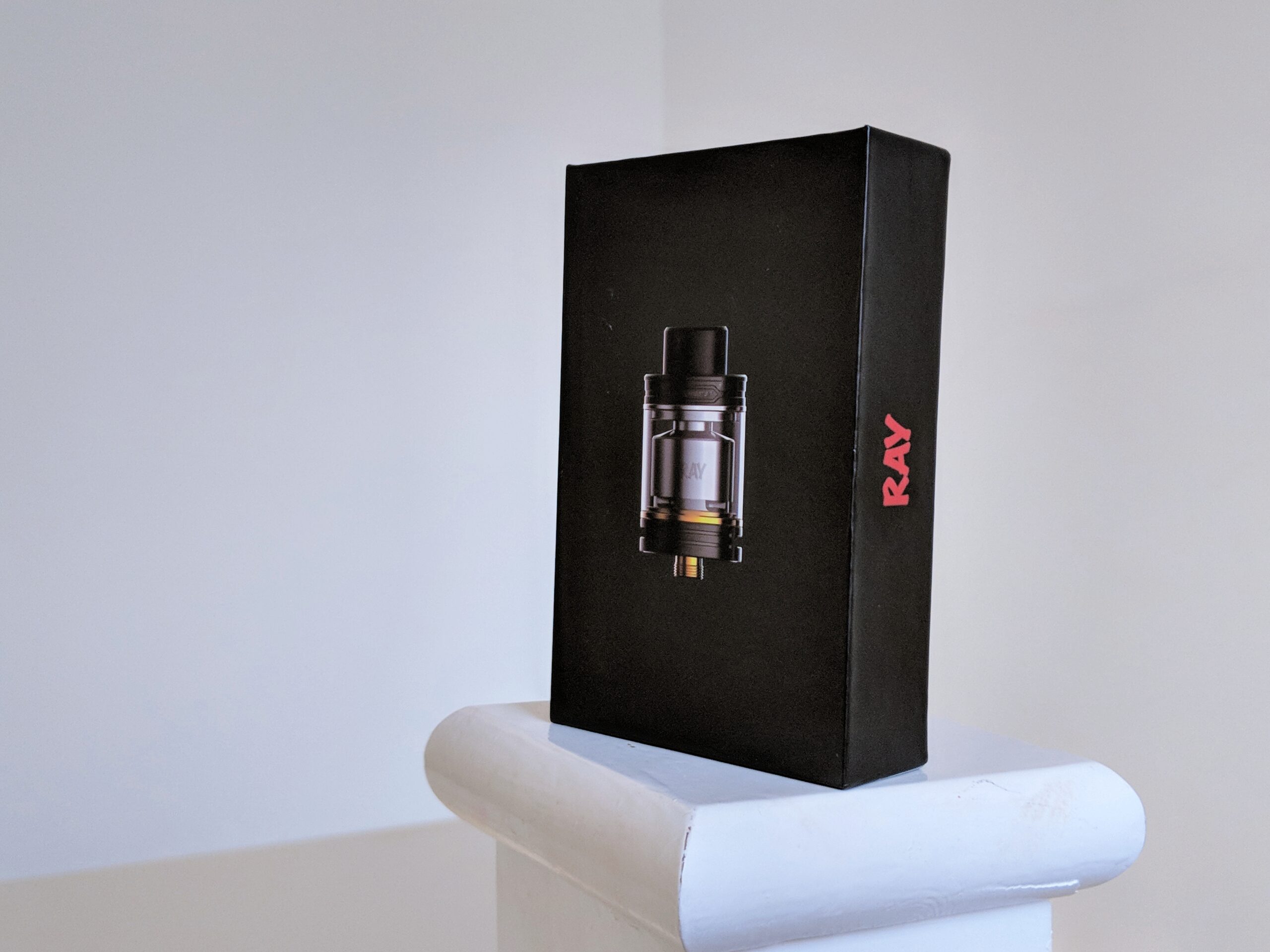 The Coil Master RAY RTA, like the Coil Master ELFY RTA, is super-simple to live, never leaks, and it kicks A LOT of ASS
---
Many things happen throughout the course of 12 months. You try new things, have new experiences, and, by the end of the year, you're a new person. If you told me at the end of 2017 that I would be exclusively using RTA tanks during the first part of 2018, I'd have laughed in your face.
Why? Simple: almost all RTA tanks I own and have tested are fiddly to get right. And this is a massive turn off for me, which is why I ALWAYS use RDA tanks. They're simple and they work. No fuss and no mess.
But all that changed when I got my hands on the Coil Master ELFY RTA. That RTA never leaks – a major USP in my book – and produces excellent, full-bodied flavor. I awarded it 90% in my review, and it really earned every single one of those points. But now I'm using its bigger brother, the Coil Master RAY RTA, and, once again, I have been having a blast with this tank.
Read on for my full verdict of the Coil Master RAY RTA below…
Coil Master RAY RTA Review – Design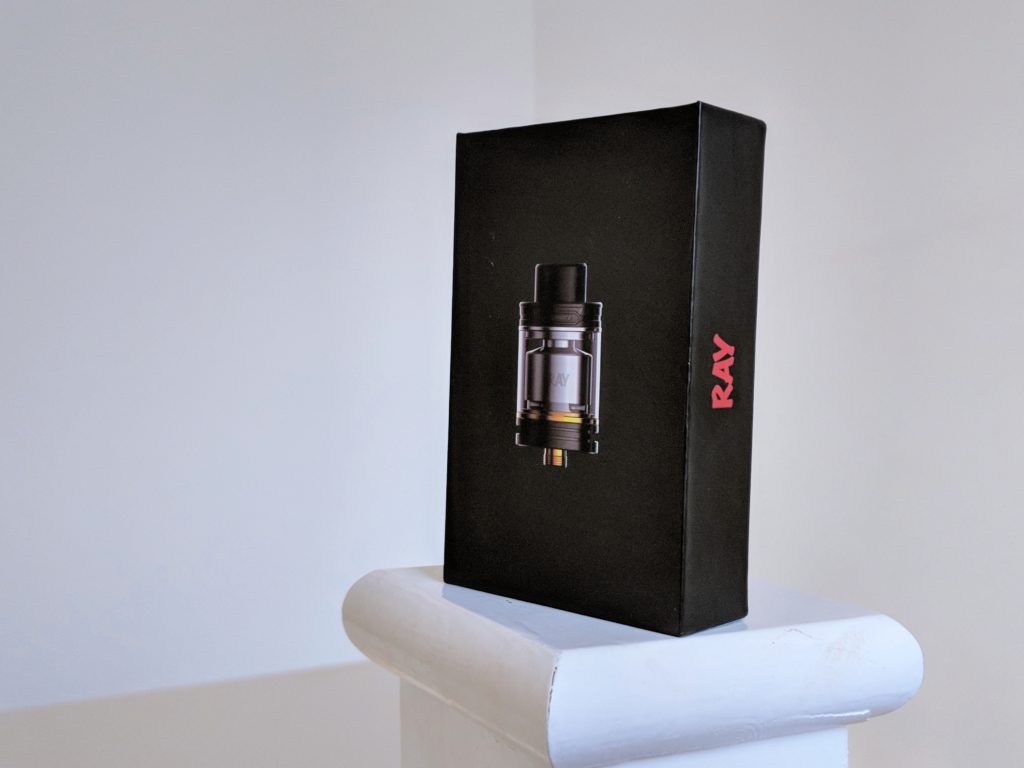 Pin
The Coil Master RAY RTA is available in two color options: black and silver. Mine's back, just like my ELFY RTA, and it looks very similar to that RTA, just a little fatter.
The Coil Master RAY RTA does feel more like a heavy-hitting RTA than the ELFY RTA; it's big and chunky and looks like it would almost certainly kick the ELFY's ass in a fistfight.
The ELFY is a single-coil RTA, and I really liked this about it, while the Coil Master RAY RTA is a double-coil beast that is designed for high-power vaping and cloud chasing. So while they might look the same, they're geared towards different styles of vaping. In many ways, the Coil Master RAY RTA is a more traditional RTA than the ELFY.
The Coil Master RAY RTA is a 24mm tank, so it'll look fine on any mod, whereas the ELFY looks a little small, and it features a dual-coil Velocity style deck that is super simple to build on. Coil Master includes a couple of flat-wire Clapton coils in the box and these load up and vape brilliantly.
Again, the Coil Master RAY RTA's big party trick is that it WILL NOT leak. This is achieved through engineering and not gimmicks, whereby the top cap acts as a pressurizer that, when engaged, prevents E Juice from seeping out of the airflow ports.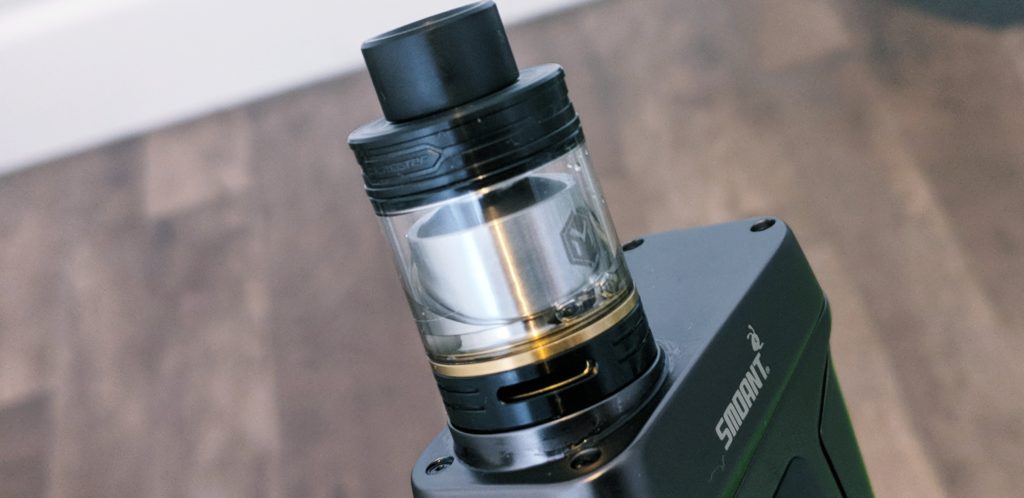 Pin
I'm not 100% savvy on the mechanics of this, to be honest – engineering and physics aren't my strong suit. But what I can say is that whatever Coil Master is doing on the RAY and ELFY is working; neither tank has leaked once while I've been using them. And 99.9% of the RTA tanks I own leak, so this is significant.
Overall, the look and feel of the Coil Master RAY RTA is very good. It's not the most eye-catching tank, to be fair, but it gets the job done and it is more than respectable looking. Not that this should bother you; an RTA tank that doesn't leak could look like a penis and I'd still use it.
The machining is a little trickier to get together than the ELFY RTA, where everything just slips into place. But the reason for this is the deck on the RAY RTA – it's slightly different and this affects how the tank comes together as a whole.
Coil Master RAY RTA Specs & Features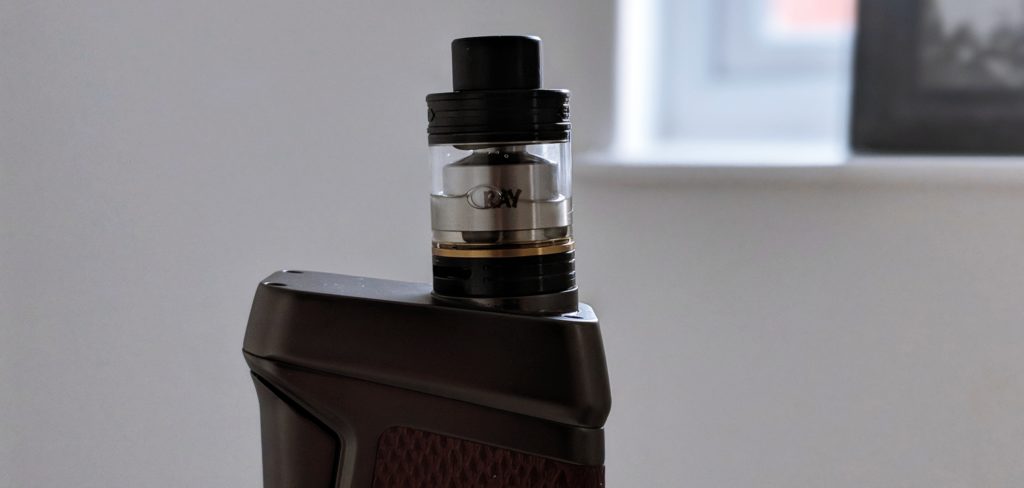 Pin
Velocity style deck
Trapezoidal airflow design
Funnel-shaped designed Delrin drip tip
Air-releasing top fill design
Dual adjustable air flow control
PEEK insulator
Gold plated bottom pin
304 stainless steel base & body
24mm in diameter for glass tank
Max 24.2mm in diameter for deck
34mm in height (not including drip tip and 510 contact)
Capacity: 2ml
Weight: 50g
Coil Master RAY RTA Review – The Deck & Wicking
As noted above the deck is a dual-coil Velocity-style deck. And this means it is VERY easy to build on. Installation is very straightforward: simply unscrew the grubs using the miniature Alan key, install coils, and retighten the grubs to secure.
The grub-ends are a little fiddly on the Coil Master RAY RTA. Generally, I prefer Philips ones. But that's hardly a deal-breaker. The deck itself is well laid out and you have plenty of room for coils of all sizes. So far, so good. Coil Master lives up to its name.
When it comes to wicking, the ELFY RTA is A LOT easier to set up. With the Coil Master RAY RTA and its two coil system, you need to get your cotton trimmed just right so as to ensure the top portion of the cap sits correctly on the bottom. This took me a while to figure out, so keep it in mind when you set it up.
You want the cotton to just rest on the juice wells, but not protrude out too much. If they do, the top portion of the tank will not attach correctly and the tank won't work. It's not hard to get this right, it just takes a little more finesse than the ELFY RTA.
The Coil Master RAY RTA holds 2ML of E Juice. Why so low? Simple: the TPD – an EU law. These tanks are designed for global use, so rather than doing different versions for different regions, Coil Master has simply reduced the size of the tank to 2ML to ensure it complies with EU regulation.
Annoying? Slightly. But I understand the logic. Plus, during my time with the Coil Master RAY RTA, the 2ml has lasted just fine; I get a good few hours out of it. And, thanks to the air pressure system, you can refill it without the thought of it leaking all over you.
Coil Master RAY RTA – Performance
A lot of reviewers have said the Coil Master RAY RTA whistles when you vape on it. I haven't experienced this, however, so I'm assuming it has something to do with coil placement and wicking, as mine is pretty quiet – all I hear is the sssssssst of the air being sucked in.
The first hit I took on the Coil Master RAY RTA was great. I always half expect a dry-hit when I'm using an RTA, so I was pleasantly surprised to find my mouth full of the exquisite flavor of Glas Vapor's Butterscotch Reserve.
Like most tanks, I run the Coil Master RAY RTA wide-open, as this is my preferred style of vaping. You can augment the airflow for a tighter draw if that's your thang, but I find that the RAY performs best with the airflow wide open and the power at around 80W at a resistance of 0.08ohms.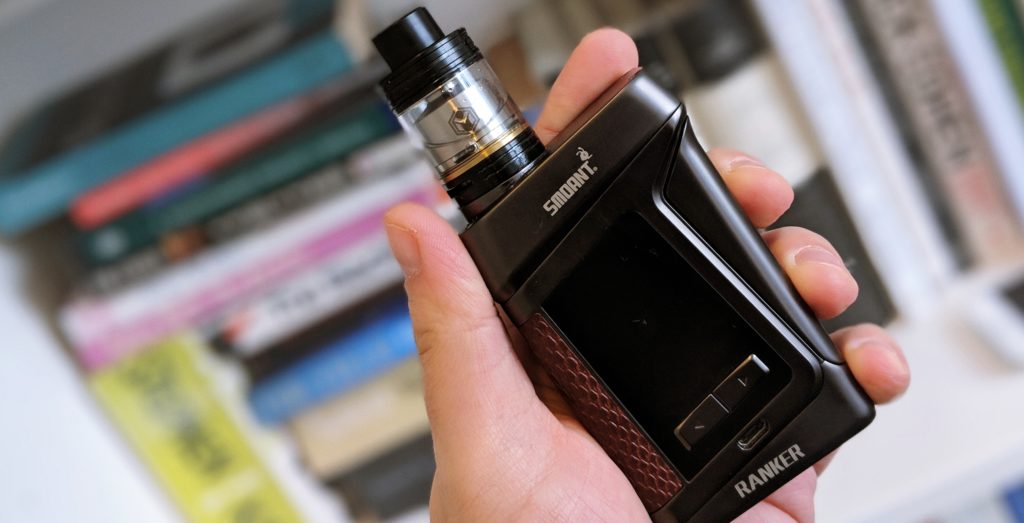 Pin
Flavor, thanks to the trapezoid shaped airflow system, is full-bodied and intense. The drip tip is perfectly sized too, making for an engaging vape experience. The flavor is always on point with this tank, it never seems to miss a beat. And it doesn't matter how hard you push it, the flavor just pops.
I tested the Coil Master RAY RTA alongside the UWELL Valyrian 2, Dead Rabbit RDA, and the Coil Master ELFY RTA. For overall flavor production, I would say it sits somewhere in between the ELFY RTA and the Dead Rabbit RDA. The flavor is very, very good. But I think the ELFY and Dead Rabbit are slightly better – but not by much.
For me, the Coil Master RAY RTA is an ideal option for anyone looking at getting into RTA tanks. It's simple to setup, it vapes brilliantly, and it won't leak. The price is very good as well – it's only $25.99!
Coil Master RAY RTA Review – Would I Buy This RTA?
Yes. 100% – the Coil Master RAY RTA is a brilliant RTA tank that delivers exceptional performance. For me, its biggest draws are that it doesn't leak. EVER. How easy it is to setup, and the flavor it produces. I also like that I can run it at high power and still get a great, cool vape.
The Coil Master RAY RTA is designed for high-power vaping, and it handles this style with aplomb. However, like a BMW M5, it is perfectly happy taking things a little easier. And for me, this is the true calling card of a classic vape tank.
[letsreview]
Drake Equation
Drake is the founder and editor of VapeBeat. He started the blog WAY back in 2015 when, upon quitting smoking, he struggled to find any useful information about vaping online. With a background in journalism and a newfound hobby on his hands, he set about creating VapeBeat – a blog all about making vaping simple to understand for new users.