The Augvape DRUGA Foxy Mod is a bizarre mod. And not in a bad way.
First off the bat: this mod is ALL about performance – power mode performance, specifically. There is no support for temperature control vaping or other vaping modes.
The pitch of the mod is simple: make something that looks sexy as heck, then ensure it performs like a champion.
And in a world when mods are getting increasingly more complicated, adding in masses of useless gimmicks and features, the Augvape DRUGA Foxy Mod represents a nice change of pace.
But is it any good? Is it good enough to make it onto VapeBeat's A-List For 2018's Best Vape Mods? 
I just spent a month using the Augvape DRUGA Foxy Mod.
Read on for my full verdict on this stripped-down retro vape mod.
Augvape DRUGA Foxy Mod Review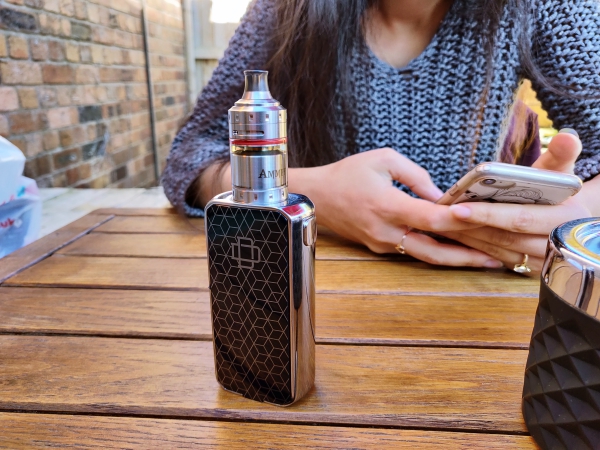 CHECK PRICES!
Design & Pitch – What's It All About?
The short answer to this is as follows: the Augvape DRUGA Foxy Mod is designed to be simple; it's made for vapers that like vaping in power mode; it is made to be lightweight, portable, and look badass.
That's the pitch of this mod, and Augvape has, once again, has outdone itself.
The design, look and feel, and the overall presentation is brilliant from the design and style of the packaging right down to the machining of the mod itself.
The Augvape DRUGA Foxy Mod is super-lightweight too; it's designed to be portable and easy to carry.
Exact dimensions for the mod are as follows: 93x26x49mm. And it feels extremely svelte in the hand.
The mod itself is made from stainless steel combined with removable plastic covers on the front and back.
You can change these too; Augvape has a whole selection of customized options. Ideal for those that like to make their vapes look unique.
Magnets hold these panels in place securely and you do need to remove the front-mounted one to access the mod's controls – switching it from wattage to VV as well as changing the power output.
Beneath this panel, you'll find a wealth of design etchings on the mod's surface – lots of scientific symbols and formulae associated with vaping. It's a neat tough and it looks pretty badass, as you can see below:
Augvape DRUGA Foxy Mod – No Temperature Control Vaping
As I said in the intro, the DRUGA Foxy is all about simplicity. This means you only have two possible vaping modes: wattage and variable voltage.
There's no temperature control, no Bypass Mode, and no fancy programmable curve settings. It's simple. And I like this a lot, as it suits my style of vaping down to the ground.
You have 150W to play with and two 18650 batteries power everything along. In total, the mod is beautifully put together. I like its stripped-down nature and simplicity.
It also has a rather unique 510 pin whereby you don't need to screw tanks into the mod's 510 connector.
Instead, you press a button on the side and just slot the tank into place. Release the clamp and the tank is secured. No twisting or screwing required.
I wasn't sure about this feature at first, but now I've gotten used to it I think it's brilliant. It's so easier to quickly swap tanks around. Finger's crossed more mod makers start copying this design element, as it is super useful!
Performance
As I said, you've got 150W to play with here.
For me, that's more than enough for the types of tanks I run (sub ohm tanks, MTL tanks, and RTAs).
The power delivery is swift and punchy; you hit the fire key and you're vaping. There's no discernible delay. Just instant power from the get-go.
There's nothing else to speak about in this regard, as the mod is so stripped-down in terms of vaping modes. But what it does do, it does very well indeed!
Battery Life?
Again, with two 18650 batteries and a very small, LED display, you get very good battery life from the Augvape DRUGA Foxy Mod.
There's nothing inside or on the mod to steal power.
Everything is focussed on output (either wattage or variable voltage), so you get very good battery performance from two 18650s.
I tend to run my mods anywhere from 50-70W, depending on what style of tank I'm running, and in this context, I generally got a full day's worth of vaping from the two batteries.
Run it higher, say, 150W, and you'll run it down quicker. But this kind of goes without saying. All told very impressive stuff across the board.
Should You Get This Mod?
If you like nice-looking, simple, svelte vape mods, then, yes, you should 100% be looking at the Augvape DRUGA Foxy Mod.
It's a handsome mod with plenty of style and uniqueness.
I love its stripped-down nature, the way the controls are secreted away under the front panel, and that it's ALL about old school-style vaping.
If you vape more or less exclusively in wattage mode, this is a great setup for your needs. It runs efficiently, doesn't waste any time on features you'll never use, and it outputs power like a goddam IndyCar.
What's not to like!?
What I Liked
Design is Flawless
The Power Output is Stellar
Simple To Use
Awesome Tank Connector Mechanism
Great Battery Life
Solid, Consistent Performance in All Modes
Things To Keep In Mind
No TC Mode
No Bypass Mode
Controls Hidden Under Front Panel
Drake Equation
Co-founder and Editor of VapeBeat. I make the words.