Retailer Spotlight: A Conversation With Vapor Authority
By Drake Equation • Updated: 07/13/17 • 7 min read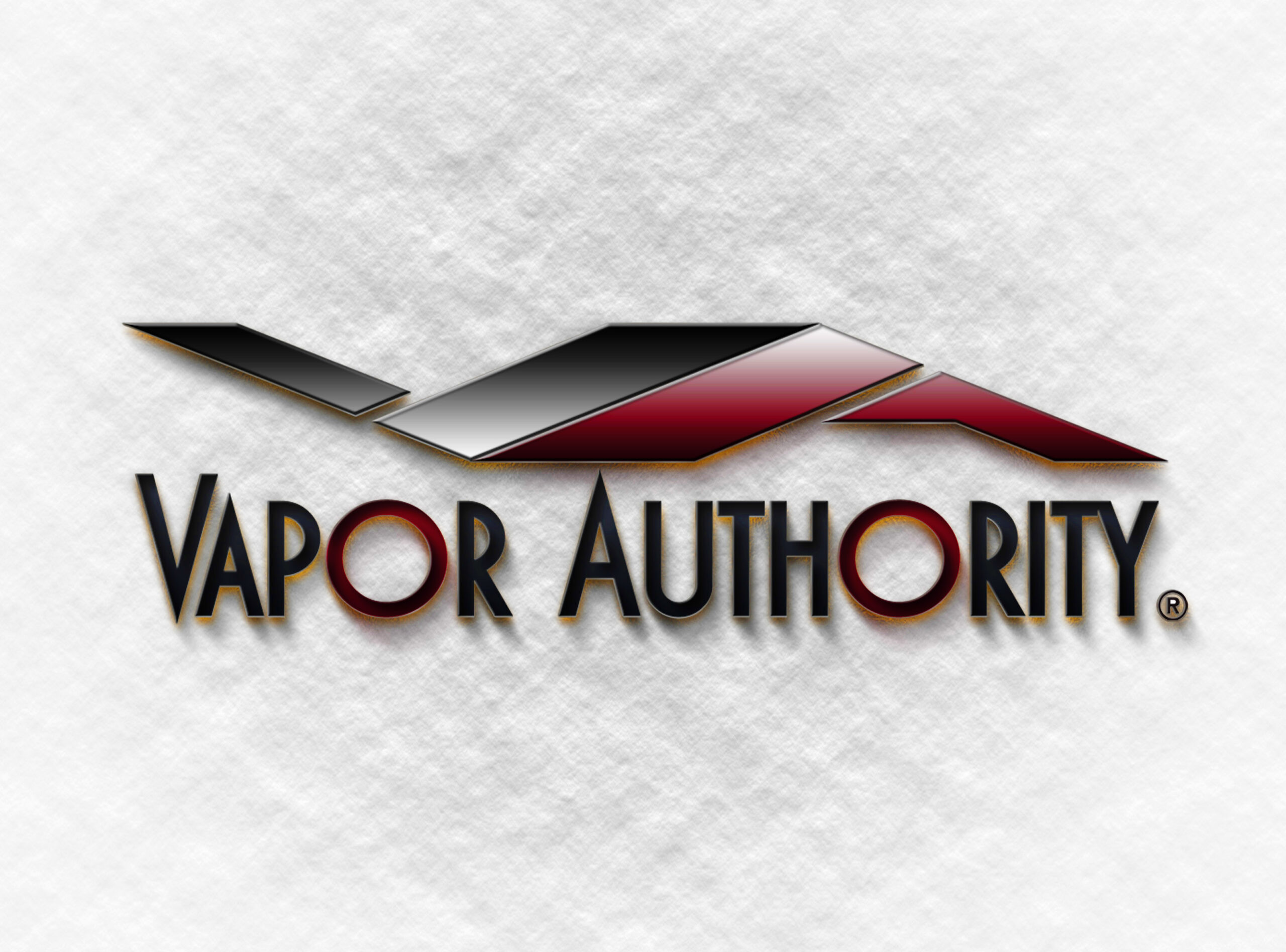 Vapor Authority is a vape retailer that likes to do things differently – in a good way! Drake sat down with the company's founders to find out more
Vapor Authority was born out of a single question — how to offer the best products with unparalleled customer service and on-time delivery.
On a surface level, that sounds like a simple and straightforward goal. However, the vaporizer industry, when compared to the Big Tobacco machinery, is still very much in its infancy.
With youth comes growing pains that often hinder the customer experience.
Vapor Authority set off to change all that, introducing a level of professionalism that has become the benchmark of the vaping industry.
Several vape shops and e-cigarette retailers have attempted to duplicate the company's synergy, but very few come close.
Rather than chase trends, the original founders of Vapor Authority wanted to establish the correct tone right from the very beginning.
As both lifelong friends and former tobacco smokers, the company principals have generated massive success in part because they approach vaping from an empathetic perspective.
They understand what it's like to be sucked into nicotine addiction, and the grueling struggles of trying to find a healthier alternative.
Vaping for them is not just a professional endeavor — it's really a personal victory, one that they want to share with fellow smokers.
Vapor Authority officially opened its doors for business on January 9, 2013. Since then, the two-man operation quickly blossomed into one of the forefront leaders of the vaporizer market.
Along with an army of returning, loyal customers, Vapor Authority expanded its operations to meet the demands of a burgeoning industry.
The Vapor Authority Difference
So what makes Vapor Authority standout from the litany of e-cigarette retailers operating today?
As stated on their website, the company prides itself on being "one big family." These are not just words, though.
Unlike so many other competitors, Vapor Authority is an information hub as much as it is a provider of the finest vaping products.
Like the founding principals discovered, vaping is an alien world when you are first introduced to it. But rather than make potential clients go through frustrating hurdles, the company sharply reduced the learning curve.
Whether you're a customer or not, you can always reach out to the Vapor Authority team, and they will be more than happy to help you.
As expected, a vast majority of these call-ins are converted into loyal customers. In any industry, it's extremely difficult to find entities that care about more than just the bottom line.
Vapor Authority ensures that you are satisfied before the point-of-sale, a revolutionary concept not only in vaping but in business.
100% Authentic Products
Few sectors, if any, have experienced the rapid rise of the vaping industry.
Ten years ago, it was considered fortunate if all the vape shops in the U.S. totaled $20 million in sales.
Today, vaping is an international phenomenon, raking in billions of dollars in revenue. It's also making significant inroads into popular culture, representing serious competition for the Big Tobacco albatross.
But with success comes opportunists — and they don't always have the end user's interest at heart. A number of cheap imitations of high-end products have entered the vaporizer market, artificially and unnecessarily increasing the number of available choices.
This inflation is especially problematic for honest organizations like Vapor Authority, who are unfairly forced to address unscrupulous businesses.
Fortunately, this company has the perfect solution — only offer 100% authentic name-brand vaping products. Everything, from vape kits to accessories, are from verified manufacturers that have a lengthy history of excellent craftsmanship and reliability.
This is a reputation that has been forged through years of superior service. Vapor Authority only purchases directly from the manufacturer, thereby ensuring that everything they carry is 100% genuine.
Simply put, when you buy from Vapor Authority, you are only buying the best!
E-Juices That Are Made in the USA

Pin
Vaping is an extremely personal passion. Virtually no vaporizer or e-cigarette enthusiast leaves his or her vaping kit in its standardized format.
The industry lends itself to modularity; in fact, it actively encourages it.
Through nationwide (and even international) events like cloud chasing competitions and vaping conventions, budding aficionados can discover the latest trends in the market.
But if vaping is personal, it stands to reason that e-juices are downright intimate. After all, e-juices are the essence which is breathed into the body.
Compromising here could have painful, if not outright dangerous consequences. Unfortunately, as with vaporizer products, e-juices are also susceptible to questionable manufacturing standards. This practice is not only harmful to the vaper, but impugns the integrity of the entire industry.
Vapor Authority is committed to the safety and prosperity of vaping. To that end, the company only offers e-juices that are produced right here in the U.S.
That means that every product that is inhaled into your system abides by strict federal health codes. In other words, if the Vapor Authority team won't use it for themselves, they absolutely will not sell it to the general public.
That's their commitment to you, the customer!
Unparalleled Customer Service
Many companies boast about their customer service — only Vapor Authority lives it. Before the company first took its breath as an official enterprise, the founders established from the get-go that customer service must be a priority.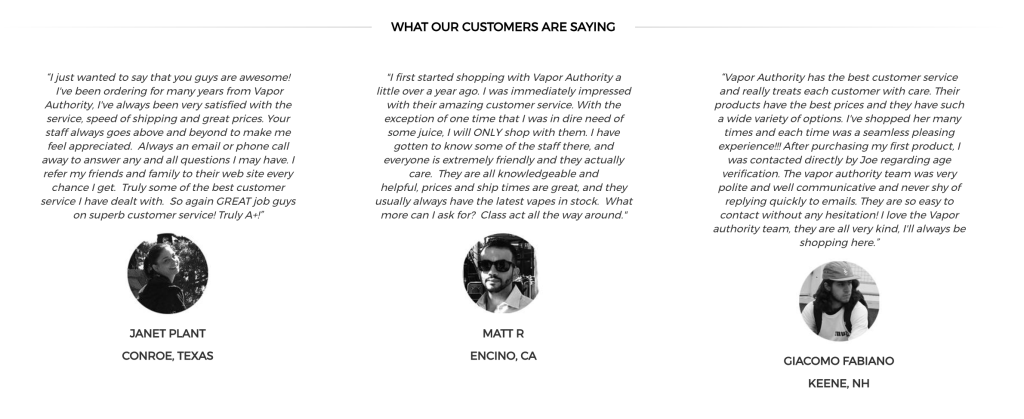 Pin
It wasn't enough to simply offer kind words to customers that hit the "buy" button. Rather, service is to be an end-to-end process.
Vapor Authority's library of articles, tutorials, and blogs will generate instantaneous value. As previously mentioned, this fosters the family environment that other businesses aspire towards, but few achieve.
Fastest Shipping
Inarguably, the internet is the single greatest advancement of the 20th century. Through its endless networks, previous limitations have been rendered boundless and borderless.
With that said, not every aspect of the internet is beneficial. For consumers, nothing frustrates more than having to wait days on end for your product to arrive, only to discover that it has yet to leave the warehouse floor.
To circumvent this annoyance, Vapor Authority implements state-of-the-art supply chain mechanisms that are more common to large corporations. If you are able to place a product into your shopping cart, that merchandise is guaranteed to be available — there's no double-counting of inventory involved!
Best of all, any order placed before 12:00 PM (Pacific Standard Time) on weekdays, or before 11:00 AM on Saturdays, are shipped out that day. For orders totaling over $75, Vapor Authority provides free shipping via USPS.
Lowest Prices
Vapor Authority is able to offer the lowest prices through their in-house inventory operations. When you buy from Vapor Authority, you are buying straight from the source — no drop shipments from external partners or third-party fulfillment centers.
The entire supply chain process, from the warehousing to the ship-out date, is streamlined to an exact science. In turn, the savings are passed down to the customer.
Secure Checkout
E-commerce has radically changed the consumer retail market. While still dominant, the traditional brick-and-mortar store is steadily declining in prominence. In its place are mobile operations that are essentially open 24/7, 365 days a year.
But against the backdrop of this technological paradigm shift is the unfortunate rise of cybercrime. According to a mountain of statistics, cyber security is forecasted to be a $22 billion industry by the year 2022. No longer is this an issue that can be brushed aside.
To protect its loyal customers, Vapor Authority ensures the integrity of its transactions through its 100% secure checkout process.
In fact, Vapor Authority's entire website is https-secure. To further their unwavering dedication to their customer's security, Vapor Authority has partnered with world-renowned cyber security firm Symantec.
Vapor Authority is not only a Norton Secured™ establishment but is also backed by the Norton Shopping Guarantee, which includes ID Theft Protection for all purchases made.
In addition, the Vapor Authority website is continuously monitored for malware and other malicious attacks. The bottom line is that you can buy from Vapor Authority with absolute confidence.
Drake Equation
Co-founder and Editor of VapeBeat. I make the words.