If you've been vaping for a while, you're probably wondering what the most expensive sub ohm tank options are? Well, it's most likely these…
---
Vape tanks (or sub ohm tanks, as they're also known) vary in price, quite dramatically.
---
---
Some are very cheap, around $10-$15.
Others, however, can be VERY price – anywhere from $30 to $60.
But here's the thing: you DON'T have to pay mega-bucks for a vape tank.
Some of the tanks inside our Best Vape Tank Guide retail for less than $40 – and they're the best in the business right now.
There are far more pricey options, however…
And there is one brand of vape tanks that are WAY more expensive than any other…
The Most Expensive Sub Ohm Tank 
And that brand is Svoe Mesto's Kayfun tanks.
Kayfun tanks retail for three figures (so, over $100) and they're ALL about two things:
---
---
#1 – MTL vaping
#2 – Flavor
Kayfun Tank Price
As I said, Kayfun tanks are EASILY some of the best expensive around.
They retail for $119.95 on average.
They're also kinda hard to locate in the US.
I own both the Kayfun V5 and the Kayfun Prime, which I picked up in Europe.
---
If you're in the US and you want to experience the legendary performance of Kayfun tanks, DirectVapor is your best bet.
You can pick up the stunning Kayfun V5 for $119.95 with free shipping from them right now.
And make no mistake: the Kayfun V5 is a beast when it comes to flavor.
Performance is OFF the CHARTS in this regard.
I mean, just check out some of these user reviews from DirectVapor's Kayfun V5 sales page: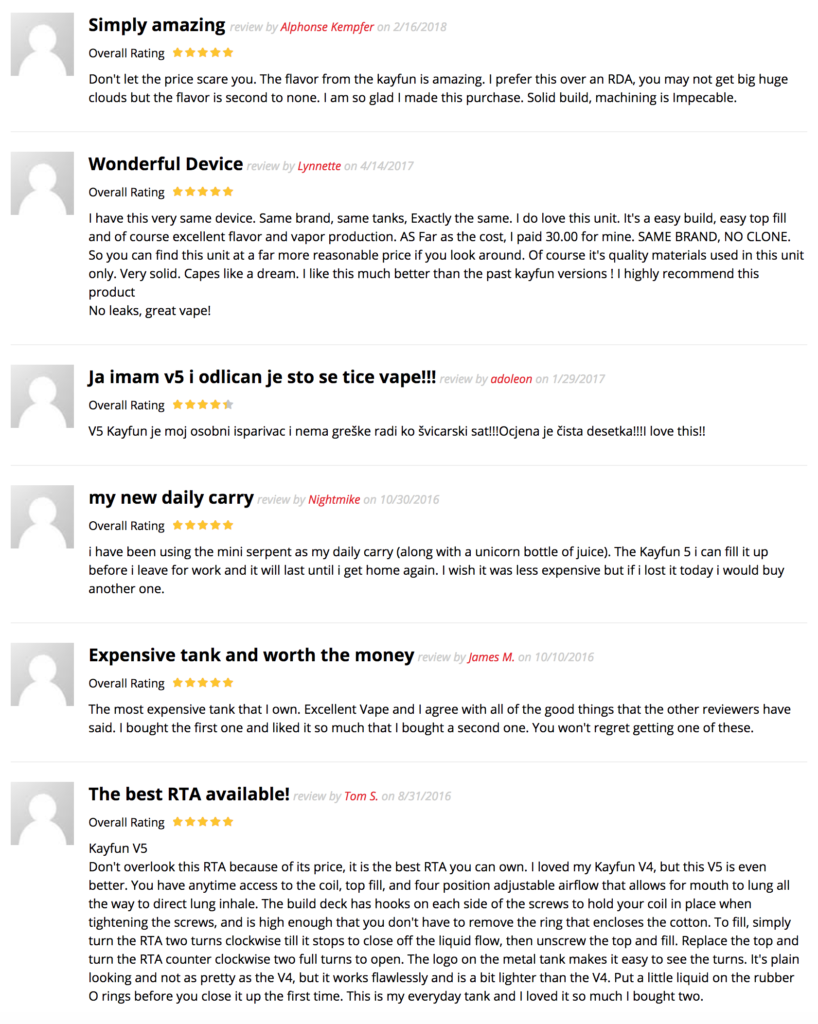 Kayfun Tanks Are RTA Tanks
However, unlike 90% of RTA tanks, they are supremely easy to live with.
They never leak, they're never fiddly, and re-wicking takes just a couple of minutes.
I've never had a single issue with either of my Kayfun tanks.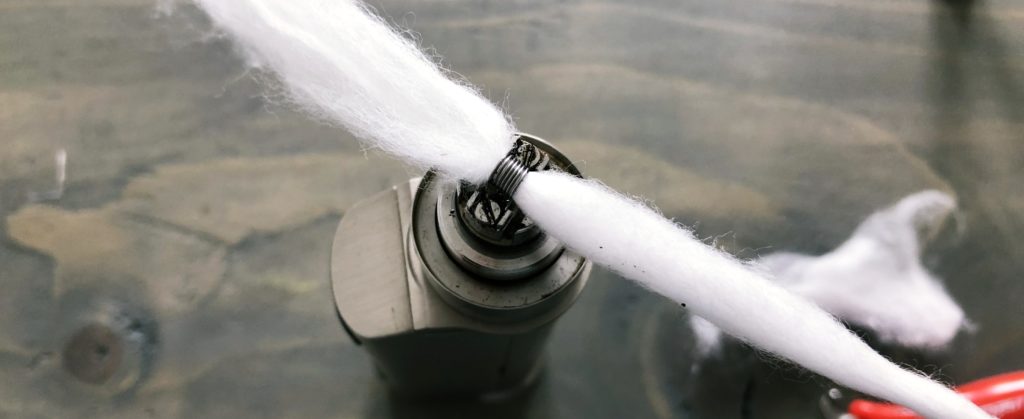 The machining and design of these tanks is incredible. So too is the way they vape.
If you're an MTL vaper, Kayfun tanks are basically the only game in town.
Nothing else comes even remotely close. Not in my opinion, anyway.
Are They Worth It?
I think so.
But I vape a lot (and run a site all about it).
If you value flavor, incredible design, and ease of use, then, yes, Kayfun tanks are 100% worth the asking price.
There are plenty of alternatives, as well as clones, but nothing really comes close to the flavor and draw of a Kayfun tank.
They are expensive.
Very expensive.
Though you do get some of the best flavor of any tank in existence.
And if flavor is important to you, $119.95 is well worth the price of entry into this world of pleasure.
---
It was for me, anyway!