IQOS is here and kind of popular. But in 2021, you'll be hearing a lot more about BAT's GLO – here's why…
---
As more and more draconian regulation reigns down on the vaping industry, tighter restrictions are fast-becoming the norm. Small vape companies are struggling to keep pace with the ever-changing playing field, while big tobacco companies like BAT (that's British American Tobacco, in case you were wondering) are quietly prepping their next-gen tobacco heating products (THP).
We already have Philip Morris and its IQOS device, a pen-style vape that uses things called HEETs to deliver heated-but-not-burned tobacco to its user. The IQOS is currently one of the only FDA approved vape products on the market. And in 2021, it'll have some rather stiff competition from BAT with its GLO range of THPs.
What is BAT's GLO?
Similar to IQOS, GLO runs on tobacco sticks. These tobacco sticks are real tobacco and come from BAT's extensive supply. BAT is one of the biggest tobacco companies on the planet. You insert a tobacco stick into the GLO and the Tobacco Stick is heated to produce vapor. In this respect, the GLO – and IQOS – is more like a weed vaporizer than a traditional vape or e cig.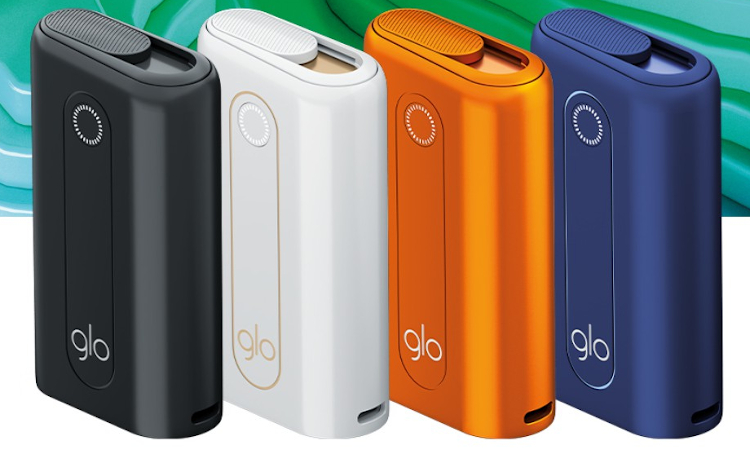 BAT's GLO is its current flagship device. Developed over the course of five years, using research labs located all around the work, the GLO will heat tobacco sticks to approximately 240ºC. At this point, vapor is produced and the user can inhale it, getting their nicotine fix in a healthier manner.
BAT also designed the GLO to not look like a cigarette. This is a completely different approach to the IQOS which looks very much like a cigarette. Instead, with the GLO you get what looks like a box mod/vaporizer. It kind of reminds me of the Davinci IQ 2 weed vaporizer. And that's not bad thing, as you're about to find out when we discuss GLO's battery life.
GLO Battery Life
IQOS has one massive problem: the battery life SUCKS. And this is bad for user experience, as it means you're constantly worrying about the device running out of juice when you need it. With GLO, this is not a problem. BAT made this THP to go the distance. You will be able to run over 20 tobacco sticks through it and still have plenty of battery left.
That is leagues better than IQOS, which will do about two HEETS before it needs a recharge. This is partly down to the IQOS having a much smaller battery, but there is another reason too: the GLO runs at much lower temperatures and this, as you'd expect, does effect the flavor. In our side-by-side tests, the IQOS does edge out the GLO ever so slightly with flavor. And this is simply down to the fact that it operates at higher temperatures.
Is GLO Safe?
There have been plenty of studies done GLO and THP in general to date. Most tend to agree that these types of heat-not-burn products are A LOT safer than smoking, making them about equal to traditional vape devices like vape pens, e cigs, and the like.
Using data from chemical and biological tests, our scientists assessed glo in terms of the number and levels of toxicants in the aerosol that it releases and the biological impact on human and other cells in a laboratory compared with cigarette smoke.

The tests found that toxicant levels in vapour from glo were significantly reduced compared with smoke from a conventional reference cigarette. They also showed that glo vapour, compared with cigarette smoke, had a much reduced or no biological impact on cells in a laboratory, depending on the test – BAT Study
Similarly, research conducted by Public Health England found that people that use THPs instead of cigarettes were "considerably less harmful than tobacco cigarettes and more harmful than e-cigarettes." So, yeah, maybe you should just probably get yourself a vape instead. And if you want my advice, you'll go with the UWELL Caliburn – it is a killer, refillable pod vape that is simple to use and kicks out the best flavor on the market.
Drake Equation
Co-founder and Editor of VapeBeat. I make the words.