Do you like energy drinks? Do you want your vape juice to taste just like an energy drink? You're in luck, VOLT Energy E juice is ALL about that…
---
I'll level with you: I can't stand energy drinks. I hate them.
So… when I got sent four bottles of Volt Energy E Juice, as well as a can of Monster, I was kind of in a pickle.
How do you review something you hate the taste of?
Simple: you man the f**k up and stop moaning because plenty of people LOVE energy drinks.
Hell, Red Bull sells enough of the stuff to run a Formula 1 team, so I guess I'm probably in the minority here, anyway.
Right… the E Juice!
VOLT Energy E Juice Flavors
You can pick up VOLT E Juice via Love Vaping.
The packaging is nice and smart; everything is displayed clearly and in a legible manner.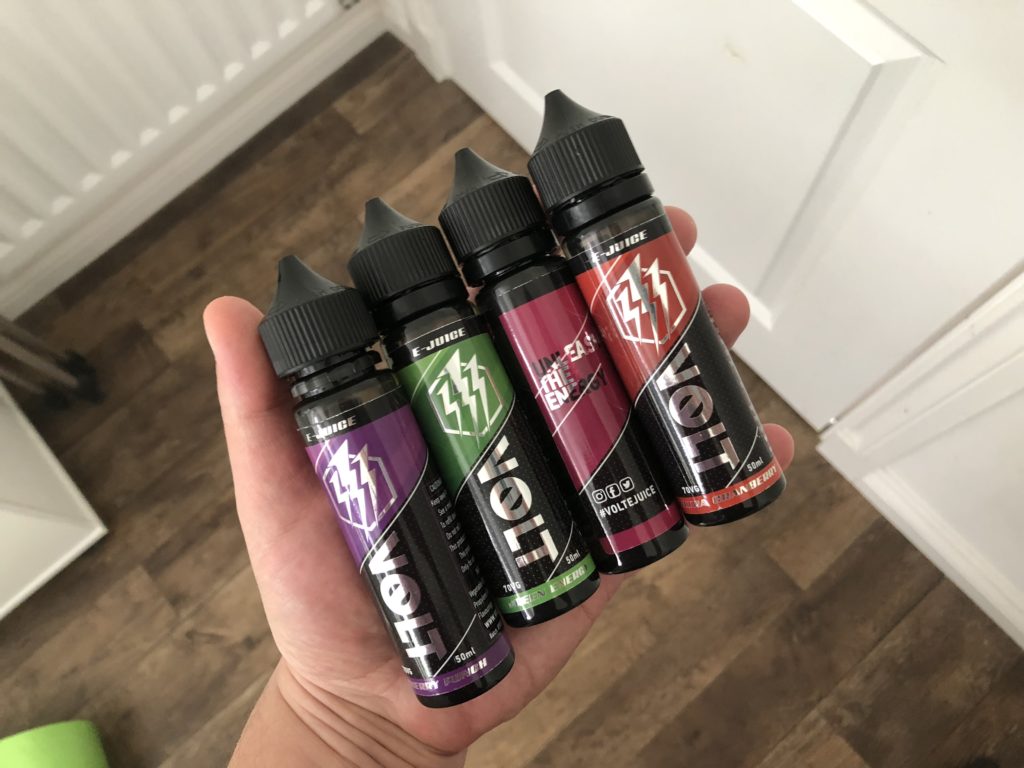 You have four flavors to choose from:
Green Energy
Bubbleberry Energy
Ultra Cranberry
Cherry Punch
All the flavors have "that" distinct energy drink taste; I think it's taurine or something. You know what I mean, hopefully.
This note sits at the heart of all the flavors. On top of that, you'll find a fizzy pop kinda thing going on. These are the base flavors.
On top of these are the notes that differentiate each flavor in the lineup
The green one is a straight-up fizzy soda pop vape; the Cherry Punch has apple, cherry, cranberry AND fizzy soda pop.
The Bubbleberry one tastes like bubblegum mixed with a Red Bull, and finishing up the lineup is Ultra Cranberry which is made up of berries, cranberry, and fizzy soda.
They're all shortfill, meaning you have to add your own nicotine, though these are supplied (£1.49) by Love Vaping (the UK retailer that sent me them).
As I mentioned at the beginning, I really can't stand energy drinks. Not one bit. If I need some energy, I'll have a coffee or an espresso.
Did I enjoy any of these? Not really, no – but, again, this is because I hate the taste of energy drinks.
If I was stranded on a desert island and these were all I had, would I vape them? Of course. And my pick of the bunch is Cherry Punch, as it's the least energy drink-tasting one of the lot.
However, if you like energy drinks, as a lot of people do, and you want to try something different, I'd highly recommend Volt E Juice.
My brother is a Red Bull fiend and he loved them, so that basically tells you everything you need to know.
As for me, I'll be rewicking my RDA and loading up some E Juice I actually like.
Drake Equation
Co-founder and Editor of VapeBeat. I make the words.