The Vaporesso Nebula came, impressed and became a mainstay in my regular mod rotation. Check out our full Vaporesso Nebula review inside
The Vaporesso Nebula is a mod with a few, choice USPs up its sleeve.
Designed for newbies and pro vapers alike, the Vaporesso Nebula is a great-looking mod with tons of features.
But is the Vaporesso Nebula good enough to stand out from the crowd? Vaporesso already has a few very solid mods on market right now, some of which we've already reviewed:
I've just spent a good, solid month using the Vaporesso Nebula. I switched from the Vaporesso Attitude kit, so I was still in the ecosystem. But is the Vaporesso Nebula better?
Read on to find out.
Vaporesso Nebula Review: Design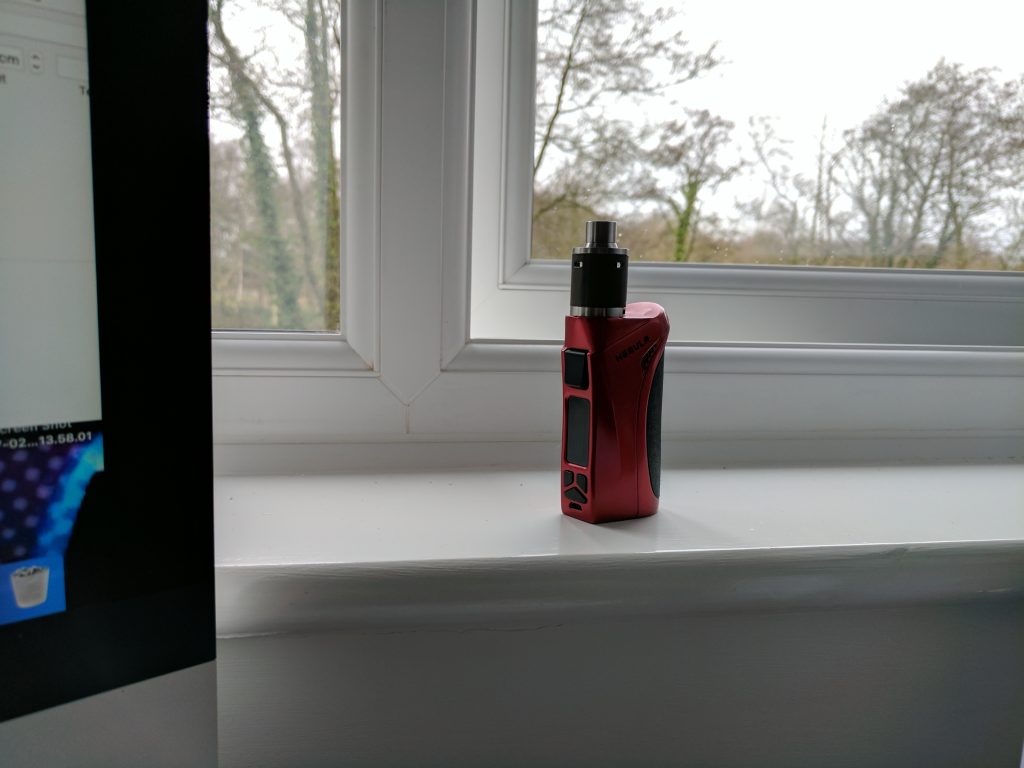 My Vaporesso Nebula is red. It has a faux-leather accent on the right-hand side to aid grip and, overall, the look and feel of the Vaporesso Nebula is solid, tidy and premium.
I wasn't 100% sold at first. But the more I use it and look at it the more I like it. I love the sliding mechanism for the battery door, which feels like sliding a magazine in and out of a gun, and I adore the OLED display and large fire key.
There are better looking mods out there, admittedly. But I have enjoyed using the Vaporesso Nebula for the past month and I've had more than a few compliments on it from friends and fellow vapers.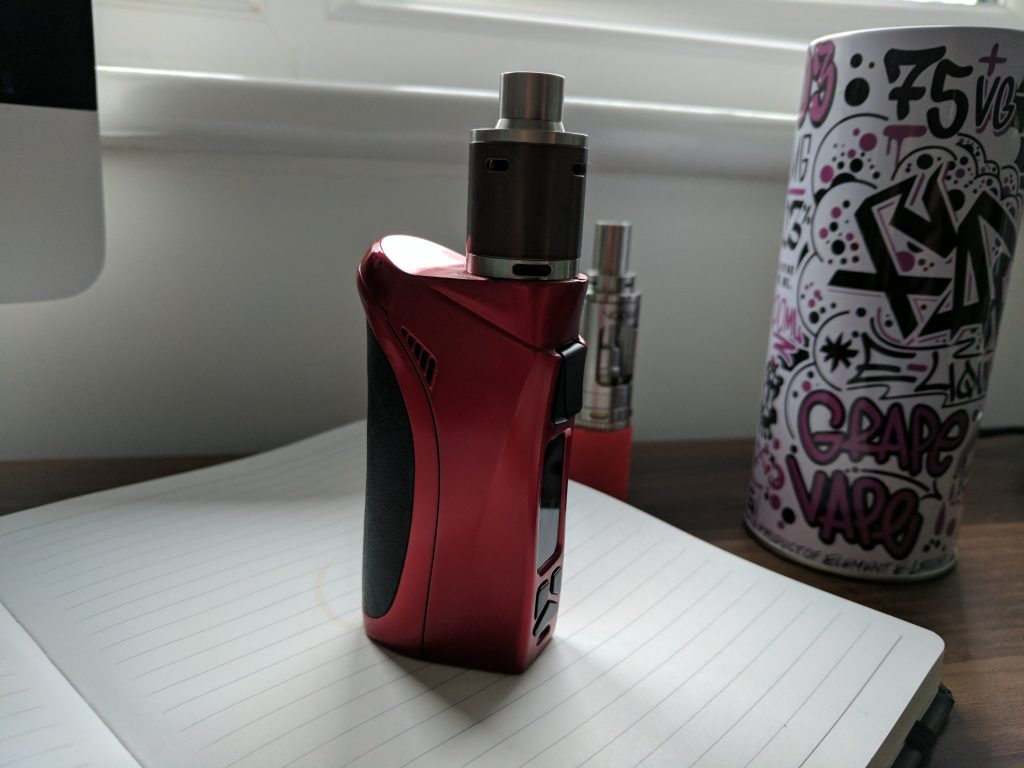 If you like futuristic looking mods, the Vaporesso Nebula is definitely up your street. It's also fairly compact as well; it's loads smaller than my Reuleaux RX200S at 82mm x 48mm x 32mm.
So if that's important to you, this is another big plus for the Vaporesso Nebula.
You can fit pretty much any style of tank on the Vaporesso Nebula. I've ran sub-ohm tanks, RDAs and RTAs and all looked great. Even the monstrous SMOK TFV8, which is nearly as tall as the mod itself, sits perfectly atop the Vaporesso Nebula.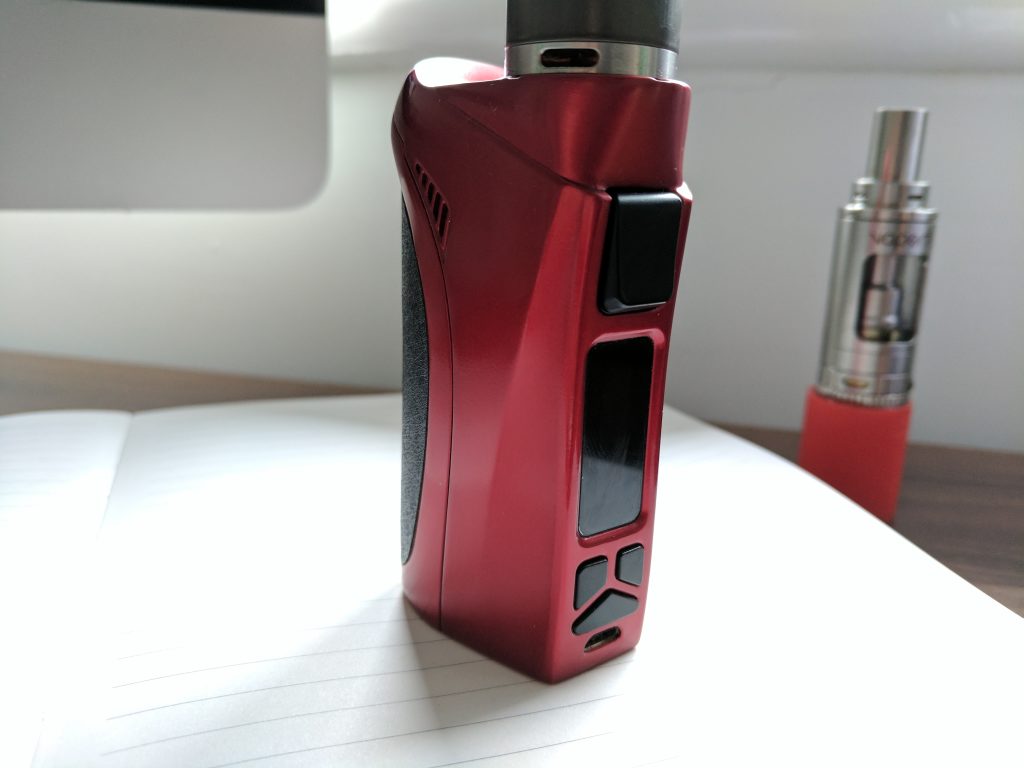 I do prefer the Vaporesso Nebula to the Attitude kit for the express reason I can find any style of tank on top of it; the Vaporesso Attitude has an odd lip near the 510-connector which limits what you can run on top of it.
All in all, the Vaporesso Nebula scores highly in the design department.
Vaporesso Nebula Review: Specs & Features
Below is a breakdown of the Vaporesso Nebula's key specs and features.
As you can see, it's packed with plenty of decent stuff and, although it can only muster 100W, I found this more than enough for my style of vaping.
Dimensions: 49.3 x 32.3 x 86.8 mm.
Weight: 158g (no battery)
Temperature Range: 140C'-315C'/280F'-600F'
Output Wattage: 5w to 100w.
Suitable Atomizer: 0.15 – 5 ohm.
Casting: Zinc Alloy, Aluminium Alloy.
Thread: 510 thread.
Display: OLED
Vaporesso Nebula Review: Performance
The main event here, as it is with all, new Vaporesso Mods, is the company's excellent OMNI Board.
I won't bore you with the details here, as we've covered the OMNI Board pretty extensively elsewhere, but suffice to say it is one of the best vaping chipsets on the planet.
For overall safety features, accuracy and the sheer amount of vaping mods, the OMNI Board is almost on a par with EVOLV's vastly more expensive DNA 200 chipset. And that is high praise, indeed.
Whatever style of vaping you're into, the OMNI Board has you covered. Hell, it can even mimic a mech-mod! Tack on everything else in between including TC, wattage and advanced CCT and CCW modes and you're in very good hands with this mod.
If you're a features-geek and are operating on a budget, you need to get yourself a Vaporesso Mod as they're just about the most impressive mods on the market right now in this context.
I mean, name another mod that can mimic a mech-mod? That's a huge USP in and of itself – and it's just one of the OMNI Board's party pieces!
Vaporesso Nebula Review: Battery Life
One of the Vaporesso Nebula's more quirky attributes is how it does batteries. It's a single cell mod, you see, but unlike most single cell mods you have two options for powering this device: one 26650 battery or one 18650 battery.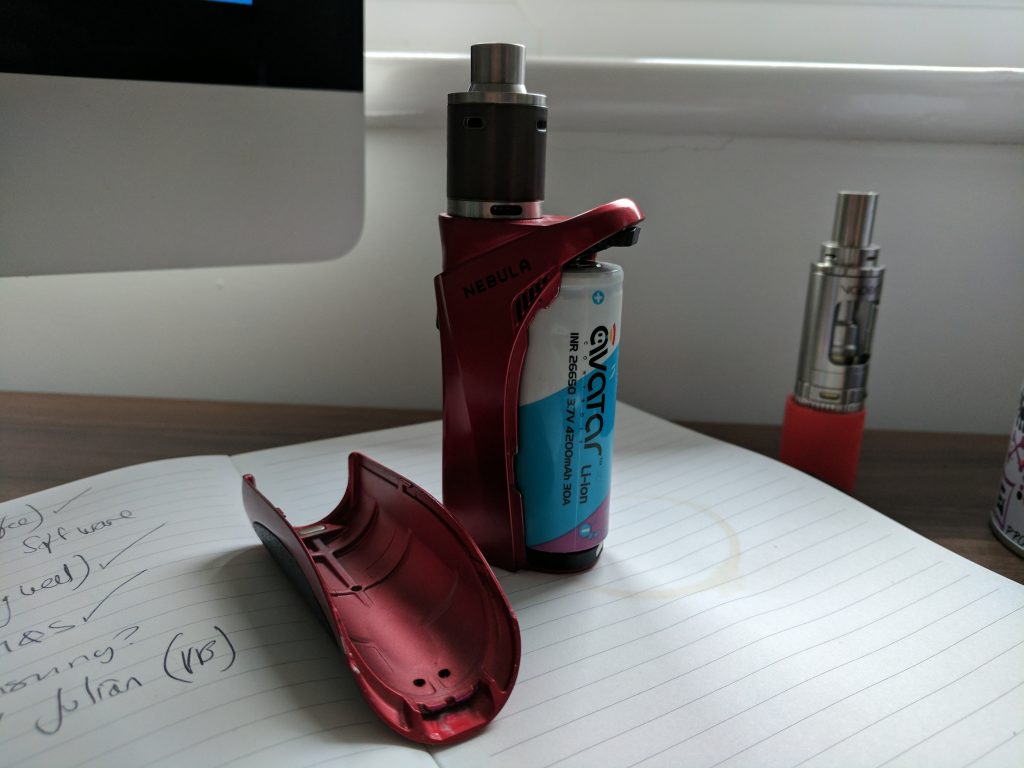 I've used both and found that the 26650 cells are vastly better for this mod, especially if you're vaping at higher wattages, as it increases the overall battery performance by about 20-30%, depending on the brand of cells you use.
I have both and tend to switch them around as and when I need to. But if you're thinking about buying this mod, I'd go for two or three 26650 cells over three or four 18650 cells.
Vaporesso Nebula Review: Verdict
I wasn't keen on the Vaporesso Nebula when it first arrived in the mail. I wasn't sold on its looks 100% and I didn't like the idea of running only one cell, as I HATE having to change my batteries all the time.
Both of my initial feelings, however, were nixed within a couple of days of using this mod. I now love the way it looks and, thanks to larger, 26650 cells, it lasts almost as long as my Wismec Reuleaux RX200S.
What's so special about this mod is the OMNI Board; it is truly revolutionary. No other chipset I have used, save for EVOLV's DNA 200, is as capable or feature-packed. And you won't pay DNA 200 prices for this mod either.
For its size, the Vaporesso Nebula packs in a ton of performance and features. Way more than I had originally anticipated. In fact, it's rather brilliant how Vaporesso has managed to do so much with so little space.
If you're looking for a feature-packed, super cool, high-performance mod you need to check out the Vaporesso Nebula, which is now a mainstay in my weekly mod rotation.
Drake Equation
Co-founder and Editor of VapeBeat. I make the words.