In our Vaporesso Degree review, we test the device out to find out if it can beat the current market-leader, Lost Vape's Orion…
---
The Lost Vape Orion series is undoubtedly the AIO system to beat, the benchmark for all to reach. Many manufacturers have tried to replicate its success but have fallen wayward. You see, to produce a quality product, you need a quality team, not something you immediately associate with mass production manufacturers in China.
There are, however, a few that have gotten close and now, Vaporesso is now trying its hand at it with their latest AIO system, the Vaporesso Degree
Vaporesso Degree Verdict – 62%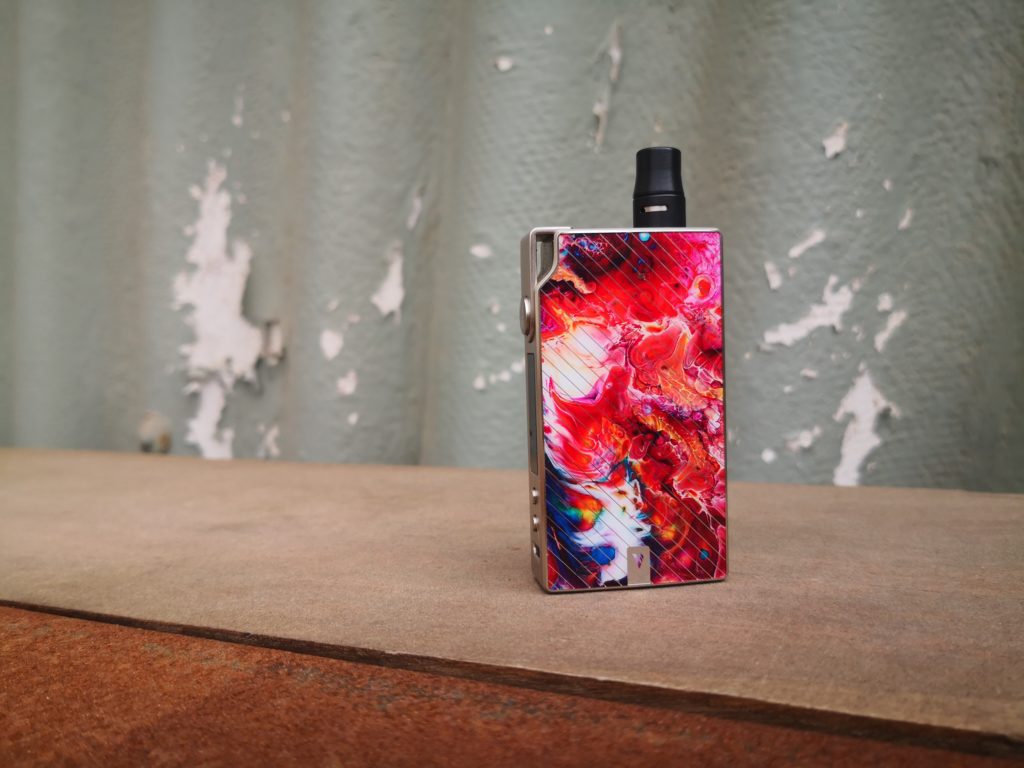 Vaporesso Degree Pros:
Fantastic integration of Press-to-Fill port
It's a hefty little thing
Flavour is spot on
Design touches are great
Great battery life
Airflow adjustment well thought out
Vaporesso Degree Cons:
Machining and materials in some areas a bit questionable
Build quality is inconsistent
Micro USB, why are we still doing this Vaporesso?
Vaporesso Degree Review
The AIO fad is getting boring, there's nothing left to do in the market space. We've got DNA AIOs, we've got Yihi AIOs, 80w, 20w, rebuildables, autosquonks, you name it.
Before we move on though, manufacturers will try milk a little out of this segment and what will set the devices apart is how well it compares to the benchmark, the Orion. Vaporesso has given it a fair shot and succeeded somewhat.
The Vaporesso Degree is a stab at the top AIO spot, coming in at a fraction of the cost, but not quite at the level of the LV. It has a few things going for it, but it's just not there yet.
Packaging
A typical Vaporesso styled slide-out box houses the Degree with 1 POD pre-installed, an extra POD and coil, a Micro USB cable and some reading material. Nothing spectacular really
Design
The Degree is a sleek looking device. A brushed steel look throughout the body and a resin styled panel. The battery/POD cover has the Vaporesso logo cut out to allow you to view your juice levels and the buttons are all made of the same steel look.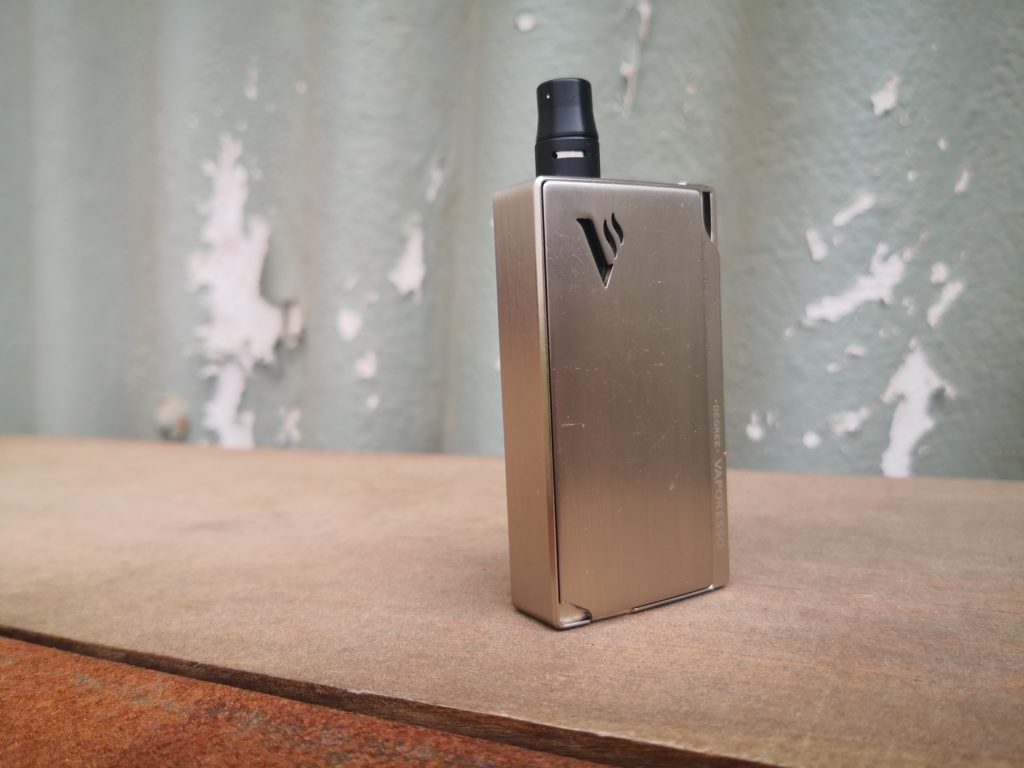 The general feel is great and the Vaporesso feels substantial in your hand. The screen is large for an AIO device (although not RPM sized) but contains only the most basic of details. Resistance, puff count, voltage and power, that's it.
Unfortunately, when you open the POD cover, all illusions of quality disappear when you witness that the material used is not of the best quality.
In fact, I managed to twist off the bottom corner of the cover with my bare hands. The door magnets also fall out fairly easily, bummer. So, the Degree doesn't quite compete with the Orion in build, however, it trumps it in the filling department.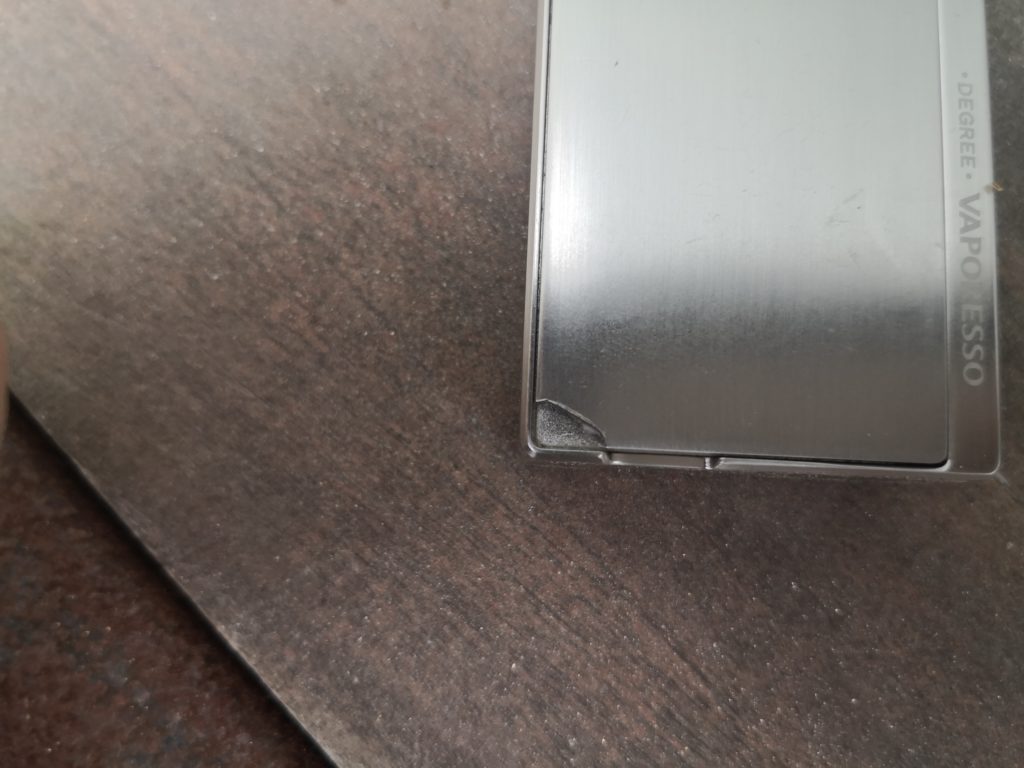 Press-to-Fill is something Vaporesso has been pushing since the Renova Zero, but never quite got the hang of it. The Degree changes how I believe filling should be done.
The chassis has a cutout directly above the PTF hole in the POD. This means no more fiddling with rubbers, screws or caps trying to fill your device. Simply push the bottle into the exposed hole and squeeze.
Sure, it can be messy, but I'll take this over juggling a fill cap and bottle cap while trying to push a nozzle into a hole tighter than Chihuahuas' butthole.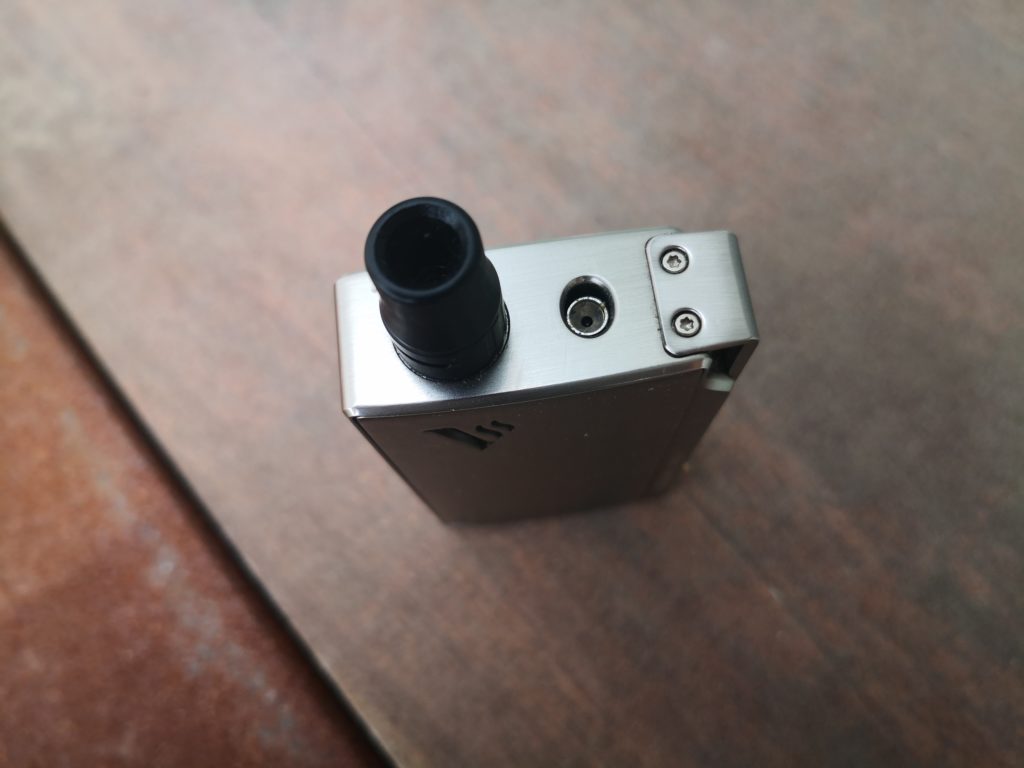 Performance
The Degree shines where it counts thanks to the Axon chip inside. Not once did I ever feel that this device could not keep up with my needs.
Push the fire button and the Degree simply delivers what you're expecting from it. Running 30w with the 0.6ohm coil, sure, here's some vapor. 12.5w on the 1.3ohm, why not.
Sure, it's not pushing massive amounts of power, but it's more than you need, and it delivers time after time.
The 950mAh battery is on the small side these days and pushing the upper limits of the device will see it draining quickly, but you'll still be able to get a days' worth of power at sub 20w.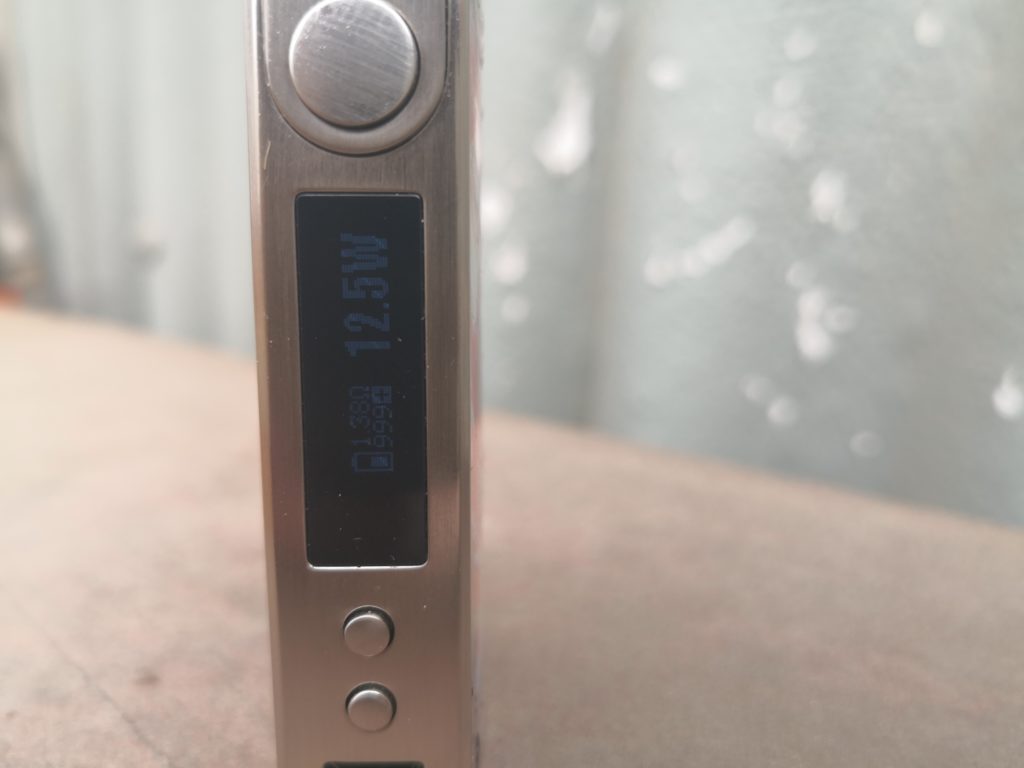 The Degree is bundled with two coils, a 0.6ohm coil with absolutely massive wicks slots and a 1.3ohm CCELL POD. While the 0.6 is a replaceable coil inside the pod, the 1.3ohm is not. I wish manufacturers would stop doing this, there is literally no point.
The flavor on the 0.6 outshines the 1.3 by a long shot and provides a thick, almost creamy vapor. For the life of me, I was unable to get this coil to die and finally had to submit the review. That's 3 weeks of solid use from a single coil.
Unfortunately, I didn't have as much luck with the CCELL coil. Ceramic coils are known to produce inferior flavor and it's no different here. Sure, they last a little longer, but I'm an MTL flavor first kinda guy and was bummed out to see things have not changed from the Renova Zero.
Specs
Battery: 950mAh
Power output: 5/30w
POD Capacity: 2ml
Charging Port: Micro USB
Size: 90.5mmx41.5mmx16.4mm
Vaporesso Degree Review Conclusion
The Vaporesso Degree is a great looking device that is sadly let down by a few easy to fix issues. The material is inconsistent, the battery size could easily have been increased and the CCell coils need to die in a ball of fire.
Look past these issues and the Degree offers great flavor from the 0.6ohm coil, has an amazing fill system and the airflow control works like it's supposed to.
Still, in this day and age, the Degree feels senseless, there are devices that do what the Degree does, some even better.
If you're looking for your first POD system, the Degree will do you good, but if you're looking to upgrade, get a SMOK RPM40 or Lost Vape Orion.
---
Need CBD, Vape Juice or Nic Salts? Click Here – 1150+ 5-Star reviews Can't be Wrong!
Red
Internationally published journalist and reviewer, unofficially certified vape connoisseur. MTL, DTL, RDTL, Red takes it any which way