The Vapelustion Hannya Airtok pod system suffers from poor quality control and shoddy build quality, but performs as good as some of the best systems we've used.
---
Vapelustion Hannya Airtok Verdict – 62%
In an attempt to be hip and trending, Vapelustion brings us a device that is obviously inspired by Ed Hardys' wildest imagination. A Zippo styled pod system that suffers from very shoddy construction, a design so ghastly teens would think twice before using it and quality control so bad that you need to buy them in bulk to ensure you'll get at least one that's actually usable. Thankfully, the Vapelustion Hannya Airtok performs incredibly well and almost makes all this effort seem worth it.
---
Design
I need to get this out of the way first. The Hannya Airtok design is even worse than it's name. Not the form factor or the way it functions (but we'll get to that dumpster fire in a bit) but the aesthetics of it.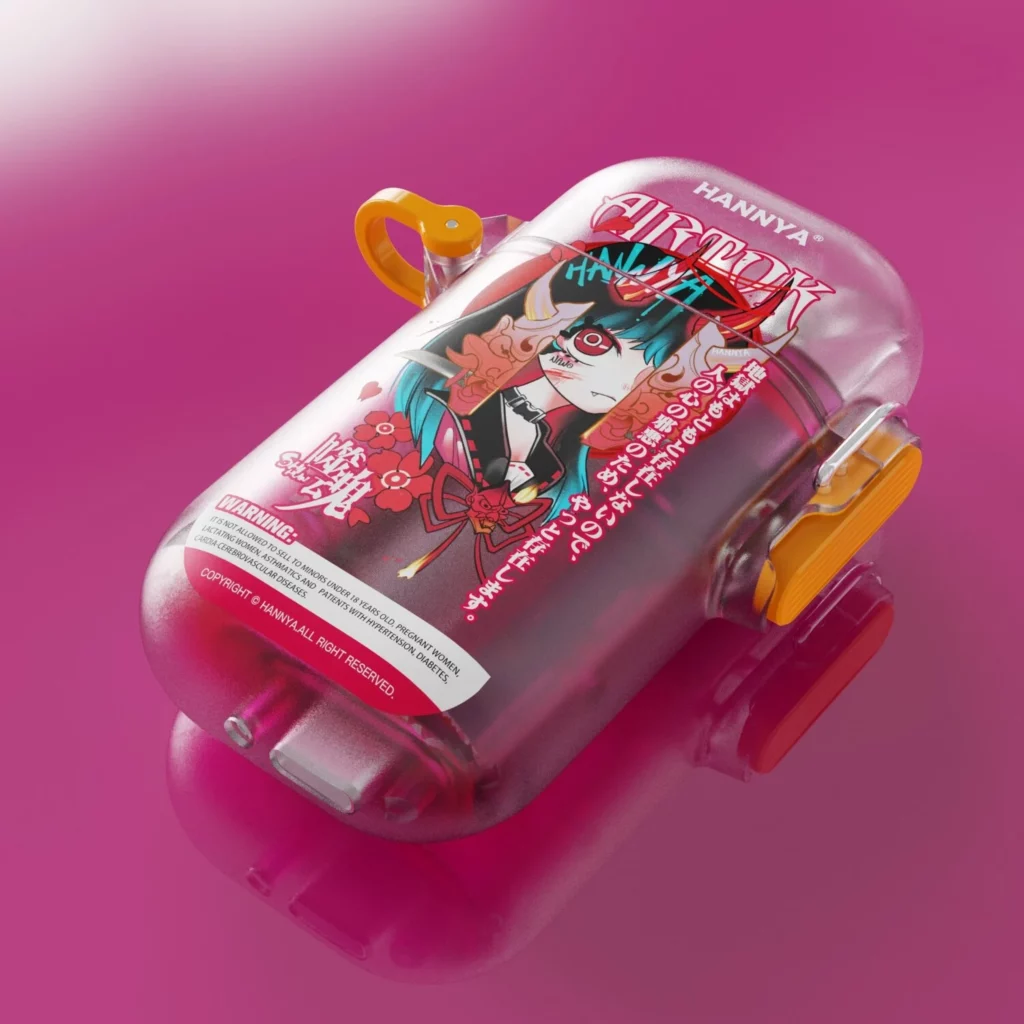 Imagine a boardroom, filled with 16 year old boys, rejected manga artists and ex-Ed Hardy employees, all trying to sell the worst possible design for a pod system and you're halfway to understanding just how grotesque the skull dragon rose bone designs for the Hannya Airtok is. It's not just the design itself either, the labeling is so thick that it looks like stickers, hasty pasted to the side of the device, but unfortunately, unlike stickers, these cannot be removed.
The design is Zippo inspired and sure, I can see where they get that, but it's actually just a flip top pod device with a locking mechanism. Nothing wrong with that, it's actually pretty cool, but the problem is the button, at least on my the devices I tested. I was sent 3 units to test, of which one the button to open to cap gets stuck 3 out of 5 clicks and the other is now permanently shut, never to open again. The remaining unit works flawlessly. To be fair, these are review samples, which means pre-production, but it's disappointing still. To lock the top cap, there's a metal ring that keeps it in place. A lasso is found on the other side, should you want to embody Ed Hardy and hang the device around your neck, for some obscure reason.
Performance
Thankfully, things start getting better here, the Vapelustion Hannya Airtok performs great. In fact, if we were rating only on performance, this device would be an easy top five contender for 2022.
A slightly above average 650mAh sits inside the translucent shell and while not the largest, the 1 ohm coil allows the device to run more than a day on a single charge.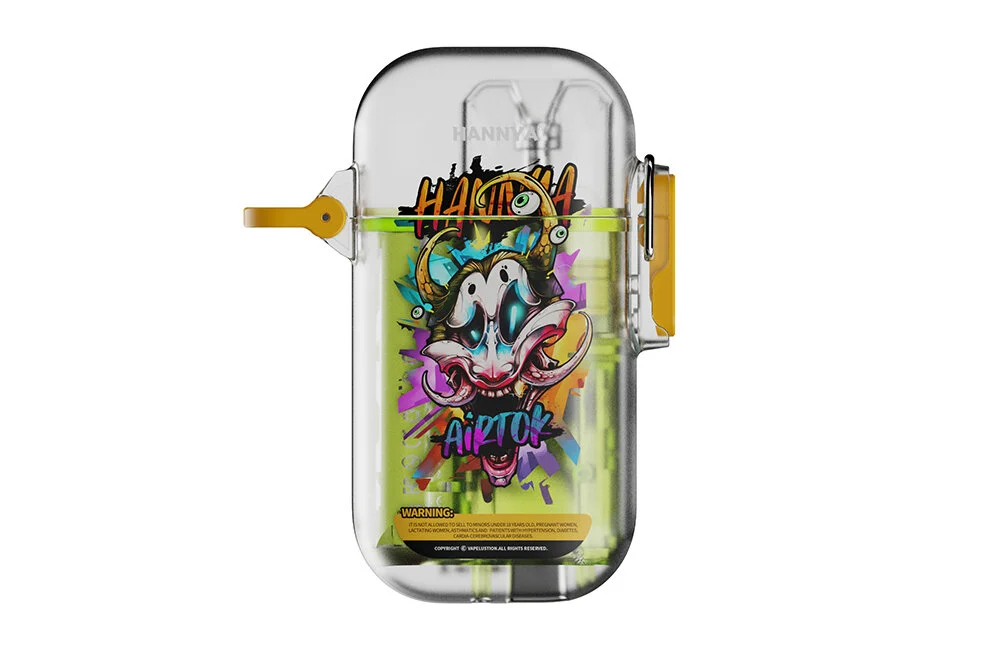 The Airtok only comes with a 1 ohm mesh coil pod with a 2ml capacity (and there's only one included in the package) but, it's a good one. Flavour is extremely good and I managed a solid 2 weeks on a single pod before noticing any drop in flavour. I could not get it to leak either and I tried really hard. Charging times are quick too with 1 amp charging over USB-C.
According to the marketing material, the Airtok provides options for both MTL and DTL and while there is a difference in airflow by turning the pod 180 degrees, I'd hardly call it a direct to lung vape. It's a solid restricted hit, but nowhere near DTL. The MTL setting is just the amount of tightness and the airflow is smooth as butter on both settings. No turbulence, no gurgling, just spot on.
I'd love to rip the Airtok tp shreds, but I just can't. It performs so good that I can almost excuse it's ghastly appearance.
Specs:
Size: 140mm x 81mm x 22.1mm
Capacity: 2ml
Materials: Plastic
Wattage Range: 12.25w
Battery: 650mAh
Vapelustion Hannya Airtok Conclusion
This is a tough one. The Vapelustion Hannya Airtok is rubbishly built and about as ugly a naked pope, but it performs so damn well.
The flavour produced is up there with the best, the Nano Pro 1ohm Mesh pods last an eternity and the airflow is magnificent. The battery can go for days on light use as well and the form factor is comfortable in the hand.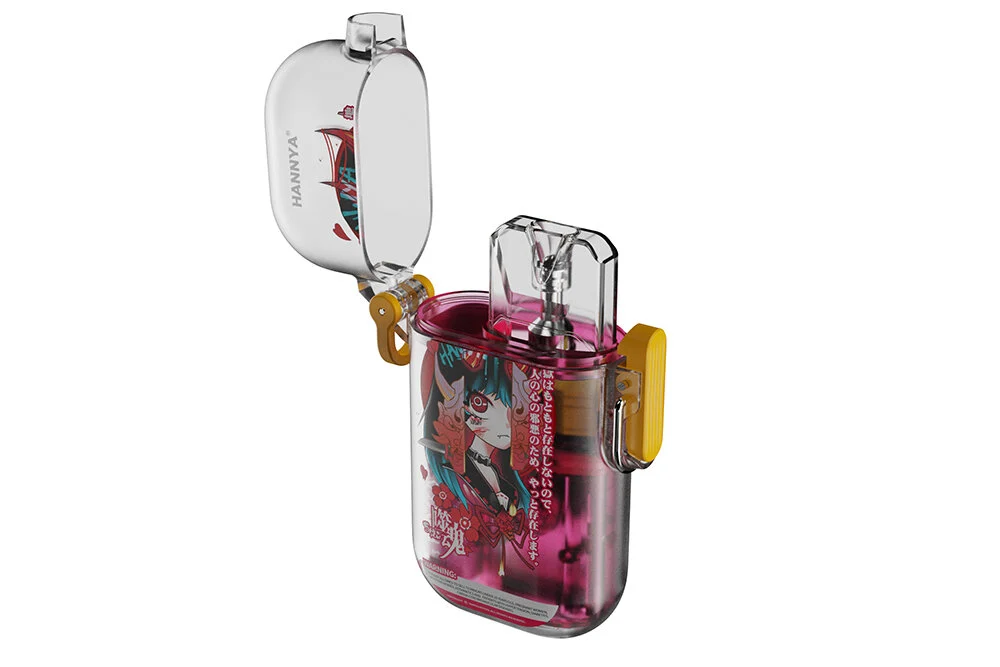 I don't know how to rate this device; usually if it's badly built, it performs equally as bad, but not here, so I guess you'll have to decide for yourself if the risk is low enough to attempt it.
Thankfully, it's only around 20 dollars, so I'd get a few and some thinners to try get the graphics off, perhaps that's the play here.
Red
Internationally published journalist and reviewer, unofficially certified vape connoisseur. MTL, DTL, RDTL, Red takes it any which way