UWELL Crown Review: A Truly AMAZING Vape Tank
By Drake Equation • Updated: 03/28/18 • 8 min read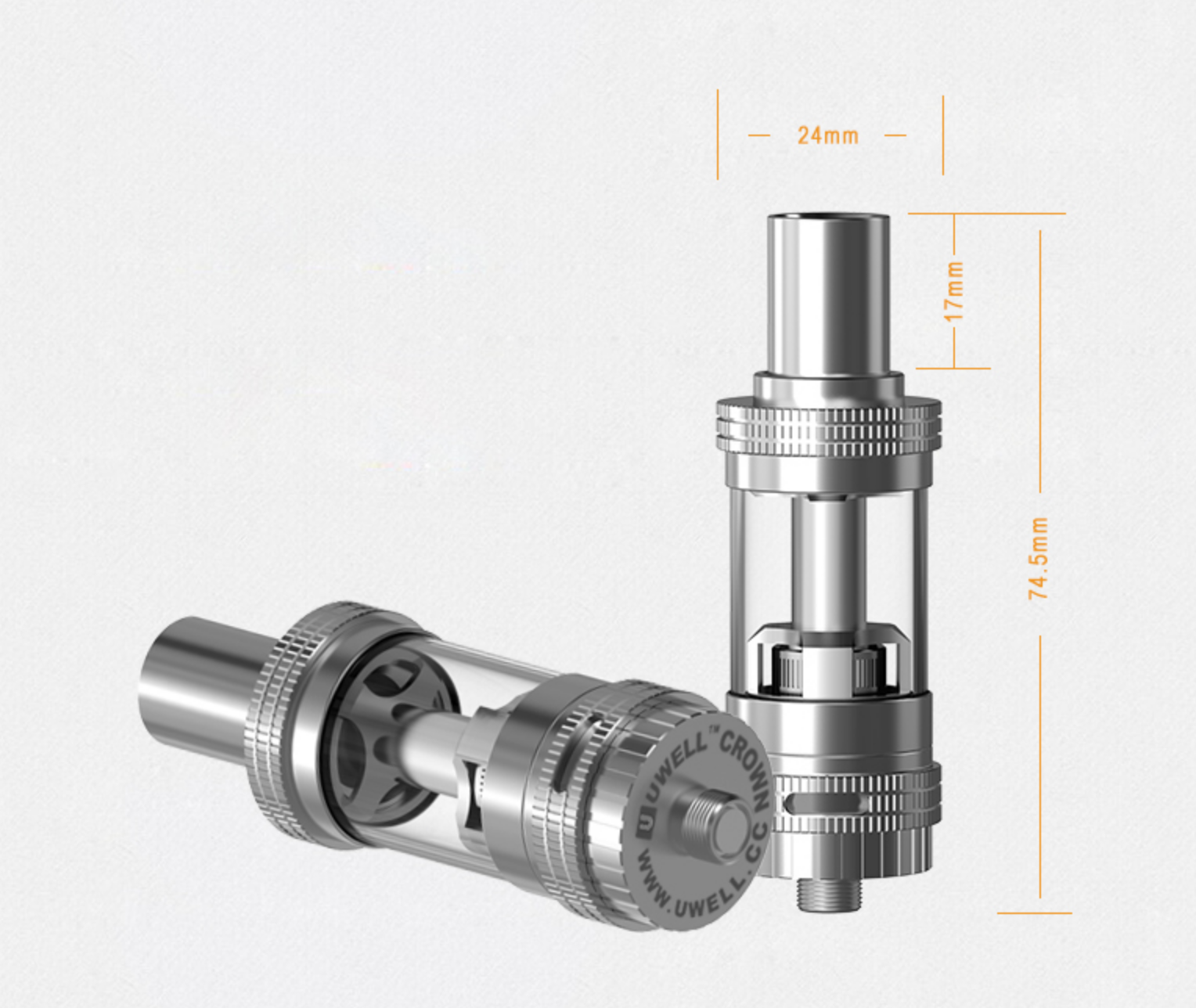 The UWELL Crown is considered by many to be one of the best sub ohm tanks of all time. A true classic vape tank, one that is used and loved by millions of vapers. Is it time you joined them? 
---
[letsreview]
---
UPDATE 2018 – The UWELL Crown is now pretty ancient. It is a few years old, so you're 100% better off with something newer…
If you're after a new tank and you want the best option, please check out VapeBeat's Best Vape Tank Guide – these are all the top-rated tanks from the past 12 months.
✪✪✪✪
Every now and then I try something new and I am completely blown away by how good it is.
This is what happened when I tested the UWELL Crown and it is also why I reckon this particular, relatively inexpensive tank is one of the best setups currently available.
The reasoning behind this is threefold:
1) the UWELL Crown is very cheap,
2) it works wonderfully well, and…
3) the coils are INSANELY good — way better than SMOK and Aspire's.
I knew I was in for a treat, however, when the guy in the shop I bought it from told me EVERYBODY in the shop had started using it after testing it out — if dudes in a vape shop are using something, well, you know it's good.
I have used a TON of tanks in my time but I have never come across one quite as good as the UWELL Crown.
It has literally everything you could want from a tank — and a whole load more besides.
Usually, when talking about a tank, it's all about the design, features and whether or not it is RBA-friendly. However, with this tank, that kind of stuff is just par for the course.
It does them all with gusto and has a bunch of other things working in its favour and my favourite BY FAR is the fact that UWELL's coils last for around 4 WEEKS on average.
Yep, you read that right — four sodding weeks. This alone has saved me an absolute bundle of cash! So much in fact that I decided to put my savings towards a brand new DNA200 Box-Mod.
---
CHEEKY UPDATE: As a cheeky update to this review, I want to say this: I've been using the UWELL Crown for almost three weeks now and I'm still using the same coil it came with. This is frankly INSANE. I have never heard of or experienced a coil lasting this long. The best I'd seen previously is a freak Aspire coil that, for whatever reason, decided to last one week before burning out. Prior to testing the UWELL, I'd often lusted over a coil that'd last for weeks and weeks, like an all day charge on my phone, but I never thought it'd happen. I'm pleased to report this is now a reality, unless I have another freak coil on my hands.
---
The coil is just the tip of the iceberg, though. The UWELL Crown is easily one of the best tanks I've ever used. But HOW GOOD is GOOD? Read on to find out!
UWELL Crown Review: Design & Packaging
The packaging is unassuming, just a box with some yellow tape around the bottom and basic instructions. Inside you get a spare glass chamber, very rare these days, and a couple coils — one 0.25ohms, the other 0.5ohms. All in all, par for the course if you've bought products from Aspire or Kanger.
Dig a little deeper, though, and you begin to see where the UWELL Crown differentiates itself from the pack. For starters, the coils are constructed from SUS316 food grade stainless steel rather than Kanthal for the express purpose of flavour and taste AND you will notice the difference as soon as you start huffing on the UWELL.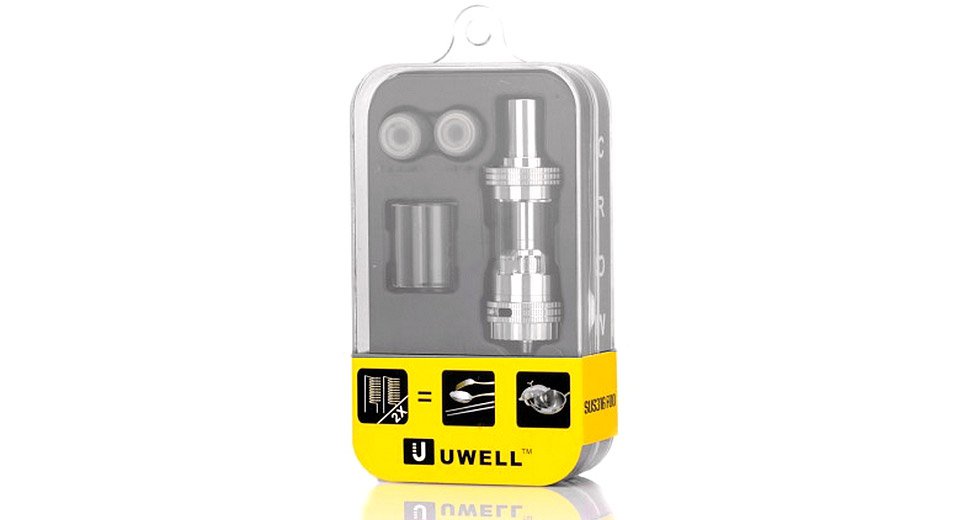 Pin
You actually get three coils, though — one comes pre-installed. Again, it is very rare these days to buy a tank and get THREE coils with yet. What's even rarer is for these coils to be of such high quality. The coils you get with the tank are designed for lung hits, however, there is a single 1.2ohm SUS316 Stainless Steel single coil as well as an RBA coil kit available for purchase separately, meaning you have plenty of choice when it comes to the style of vaping you want to perform with this bad boy.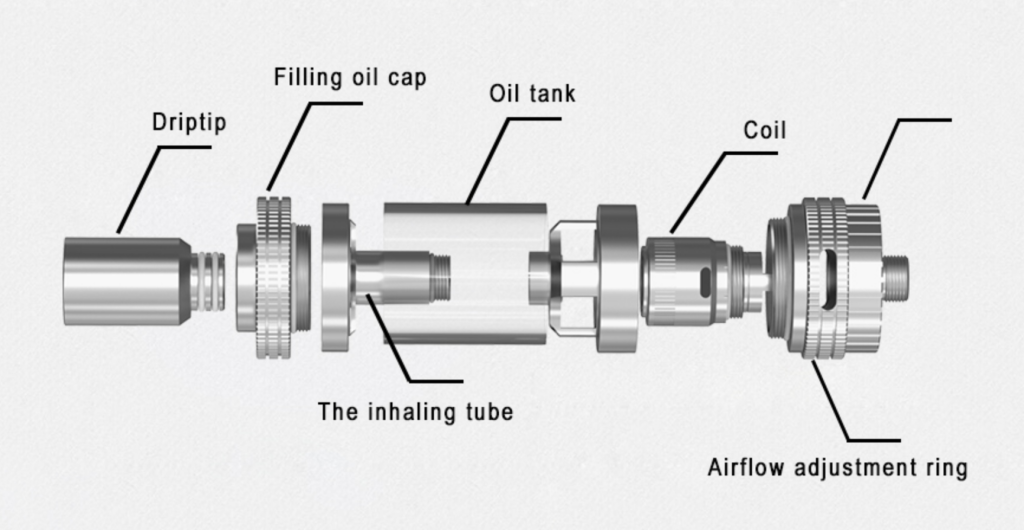 Pin
Here's a break down of what you get inside the box:
1x Uwell Crown Tank with wide bore drip tip
1x Pre installed 0.5ohm SUS316 food grade stainless steel dual coil with Japanese Cotton wick, rated for 30-80w
1x 0.25ohm SUS316 food grade stainless steel dual coil with Japanese Cotton wick, rated for 20-120w
1x 0.15ohm Ni200 dual coil with Japanese Cotton wick for use with temperature control devices ONLY
1x Replacement quartz glass tank section
1x Instruction manual
1x Replacement O-rings
UWELL Crown Review: Setup
Setup is alarmingly simple. Just take the UWELL Crown out the box, fill it with juice, let it sit for a good while — 20 to 30 minutes to prime the coil — and then start hooking on that sucker. Honestly, it's that simple.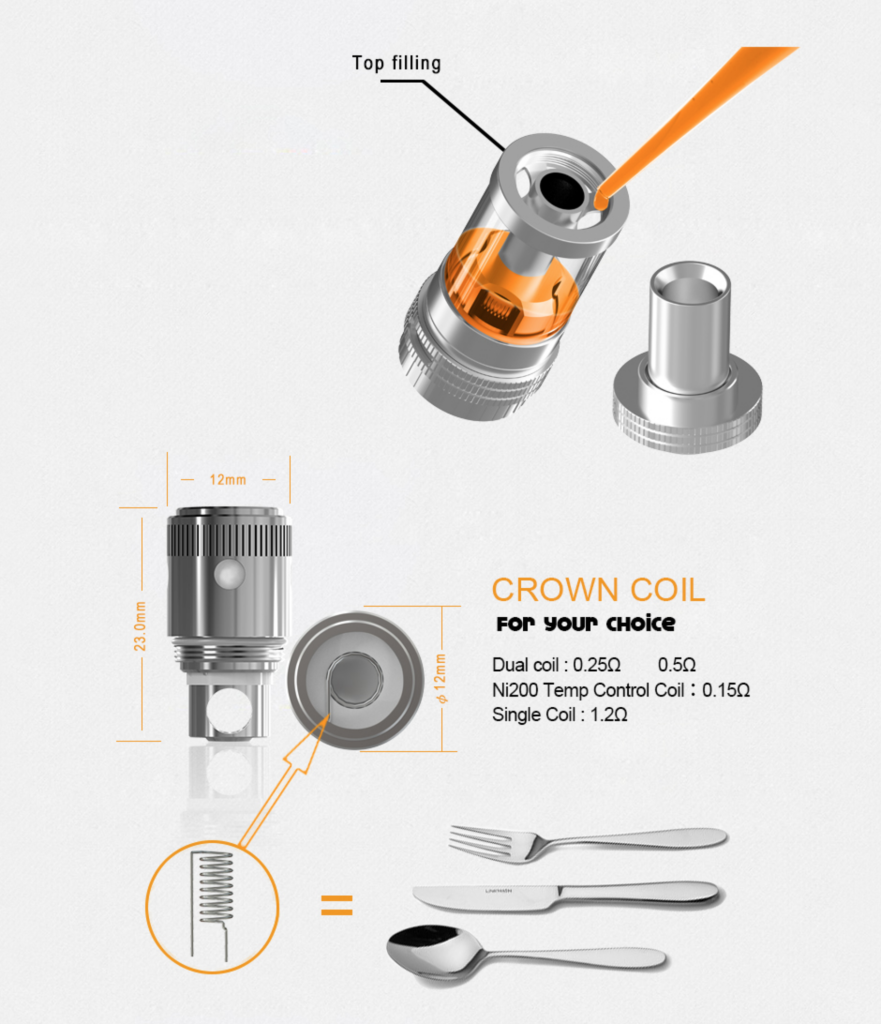 Pin
And, if that wasn't enough the UWELL Crown can be re-filled either from the top or the bottom of the tank. This in itself might not sound like a big deal but for me it is a HUGE USP; none of the tanks I've used this year gave you a choice in this regard. It was usually the bottom and this more often than not meant detaching the tank from the mod, which obviously isn't ideal.
UWELL Crown Review: Specs
The UWELL Crown's key features are myriad. But it's not just features this tank has in abundance. The quality of build materials used here are off the charts. Nothing has been left to chance, as you can see below:
Food grade stainless steel used for the tank itself and for the coils
Quartz glass tank section
4ml liquid capacity
Adjustable airflow ring with large air flow
Can be filled from the top or bottom
Dual coil sub-ohm heads, 0.25ohm and 0.5ohm coils included
SUS316 food grade stainless steel used for the 0.25ohm and 0.5ohm coils
Dual coil Ni200 0.15ohm coil available for use with temperature controlled devices
1.2ohm single coils available separately for mouth to lung hits
Organic Japanese Cotton wicking material
22mm width tank
510 threading
Tank completely disassembles for cleaning
UWELL Crown Review: Coils
Ah coils, the one annoying aspect of vaping. I don't use RBA coils, despite my friend's urging, and, as a result, spend a substantial amount of money per month on replacement coils. So, whenever I buy a new tank, I ALWAYS ask about coil availability, price and performance. Generally, I've found Aspire's to be better than Kanger's, they last longer and seem to be better quality, but I wouldn't consider either ideal solutions.
UWELL's are a bit different, though. They last a LONG time, apparently. The guy in the shop I got mine from claimed his was still going strong after a month, which is a pretty BOLD claim. I've had the same coil in for a week now and have yet to notice a huge difference in flavour or cloud production. Whether it'll get through four weeks is another thing entirely, though…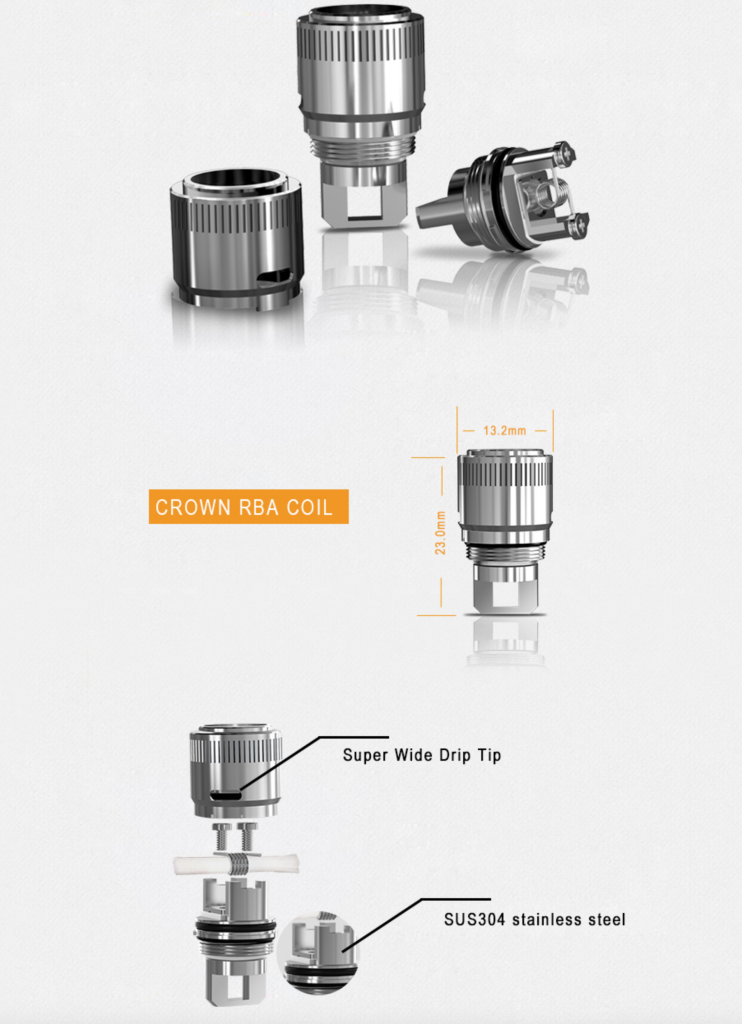 Pin
The reason these coils are so good is that they're quite literally crammed with Organic Japanese Cotton. It is this denseness that makes them last so long, the chap in the vape shop told me. So far the story seems to be holding water — the UWELL coils have out-performed Aspire and Kanger's in EVERY regard thus far. The difference in flavour is down to the use of better quality — food grade stainless steel in this case — build materials and, trust me, you will notice the difference from the moment you start vaping on it.
Just remember to prime the coil for at least 30 minutes!
Perhaps the only downside, for some, is that UWELL didn't include the RDA coil inside the deck. I'd argue this isn't a deal breaker, but that's just me — rebuilders in my experience are in the minority and UWELL is catering to mass market with this bad boy. And if you got beef with that, well, just purchase the rebuildable one when you get the tank — it won't add much to the price.
UWELL Crown Review: Verdict
The UWELL Crown, pound for pound, is EASILY one of the best tanks I have ever had the pleasure of using. I bought it on a whim, found out later that it is extremely rare in the UK and US, and am currently feeling very smug about my purchase.
And then there's the price, which is basically INSANE for this type of tank. Nothing else comes close — not at this price, anyway. And if that wasn't enough, the coils — which, remember are A LOT better quality than Aspire and Kanger's — are also dirt cheap too.
What more could you want from a tank!?
[letsreview]
Drake Equation
Co-founder and Editor of VapeBeat. I make the words.