The Uwell Caliburn A2 takes the already fantastic Caliburn and improves it so slightly that's it's difficult to tell where the changes are. Even so, these little changes make the new Caliburn among the best pod devices to date.
---
Uwell Caliburn A2 Verdict – 87%
---
Uwell Caliburn A2 Pros:
---
---
Same great form factor of the Caliburn
Best in class flavour
Juice window a blessing
Same great airflow
USB C Charing
Uwell Caliburn A2 Cons:
Battery capacity is still only 520mAh
Airflow is non adjustable
Accessing the fill port is still a pain
Pods don't last as long as before
The Uwell Caliburn was a revolution in the e-cigarette space. It offered what every other manufacturer offered, but did it so much better. Many manufacturers have tried replicating its success, but just couldn't quite get there. Nothing so far has matched the flavour and coil lifespan of the OG Caliburn, until now. The Uwell Caliburn A2 sets its sights to be crowned the new king of pods but misses the mark by a touch.
---
Design
It's clear Uwell didn't want to stray too far from their winning formula here. The A2 may be a new device, but by appearances, this is still very much a Caliburn.
Classic pod styling of yesteryear, with a sliding/drop-in pod at the top, there's little here that differentiates the A2 from the competition. The Caliburn A2 now has a large window (relative to the thin strips of the original) on the front to watch your juice level. Your wicking holes are clearly visible through this window to ensure you don't run dry. A large round fire button takes centre stage with nothing else on the body.
The charging port is still right at the bottom, but sports type-C this time around. Charging happens quicker than the original Caliburn as the Caliburn A2 still only sports a 520mAh battery; big sad.
Airflow is non-adjustable with a pin sized hole on each side of the. Airflow feels just a smidge tighter than on the original, which was a little too loose.
Pod capacity remains at 2ml, which isn't a lot by todays standards, but one change here is a breather hole when filling up to prevent spillage upon filling. Speaking of filling, accessing the fill port is done in the same way as the previous version. The hard mouthpiece needs to be popped off, which is no easy task, to reveal the large port underneath. This was the biggest change I hoped they made, but somehow it's even harder now than before.
The entire chassis is made from an aluminum alloy (big surprise there) with some PA plastics for buttons and trims.
---
---
Performance
If you're expecting the Caliburn A2 to perform any different than the original Caliburn, you'll be greatly disappointed. The only changes here are a slightly tighter (and I do mean, slightly) draw and a 4w power increase which makes a negligible difference. The A2 offers a slightly warmer vape, down to the lower resistance coil and increase in wattage and flavour is still every bit as good as before.
For a device with such tiny airflow holes, it's butter smooth with no turbulence whatsoever. If you want an even tighter draw, you can cover one of the airflow holes on the side (or even both). This improves flavour somewhat but may reduce your pod lifespan due to heat buildup.
While we're on lifespan, the new pods definitely are not as long-lasting anymore, more than likely also attributed to the increased power. Look, it's still good, but you definitely can't get multiple weeks out of them as you could with the old style Caliburn and Koko pods.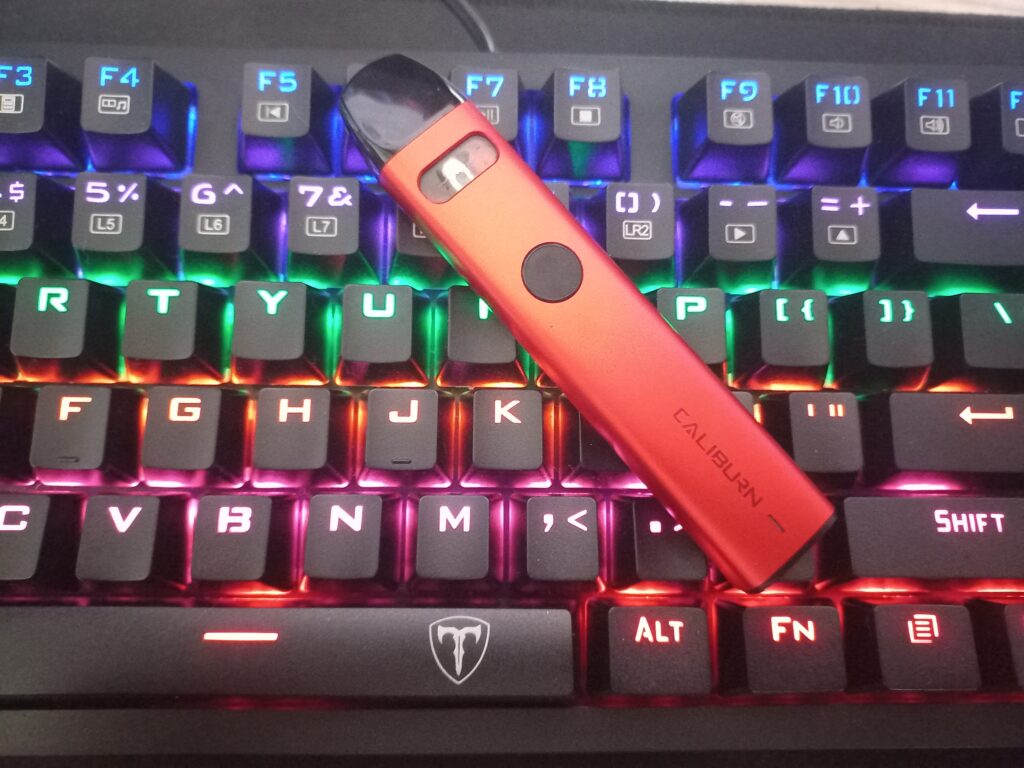 The battery doesn't last long either and you'd be lucky to get 1 day out of a charge, I averaged around half a day on a charge. Power also dips as the battery level lowers, which warrants an earlier charge than the battery capacity suggests. If you had poor results from the Caliburn battery, you will not be impressed by the A2 battery.
All of those complaints aside, the form factor, quick charging and phenomenal flavour far outweigh the cons. The Uwell Caliburn A2 is a solid performing device that needs a little polishing to be exceptional.
Specs:
Size: 110.1 mm × 21.3 mm × 11.7 mm
Weight: 31g
Capacity: 2ml
Material: Aluminum Alloy + PA Plastic
Battery: 520mAh
Power: 15w
Uwell Caliburn A1 Conclusion
The Uwell Caliburn A2 is marginally different from the original Caliburn. Uwell makes small improvements while keeping the base design the same and the end result is a darn good device. It offers better charging, tighter draw and easier monitoring of juice levels, but slightly worse coil longevity. If this is your driving decision, go with the older Uwell Koko, otherwise, the A2 improves the Caliburn just enough to justify an upgrade.
---
Red
Internationally published journalist and reviewer, unofficially certified vape connoisseur. MTL, DTL, RDTL, Red takes it any which way