Throwback Review: The HellVape GRIMM Kit
By Christopher Horton • Updated: 09/17/20 • 6 min read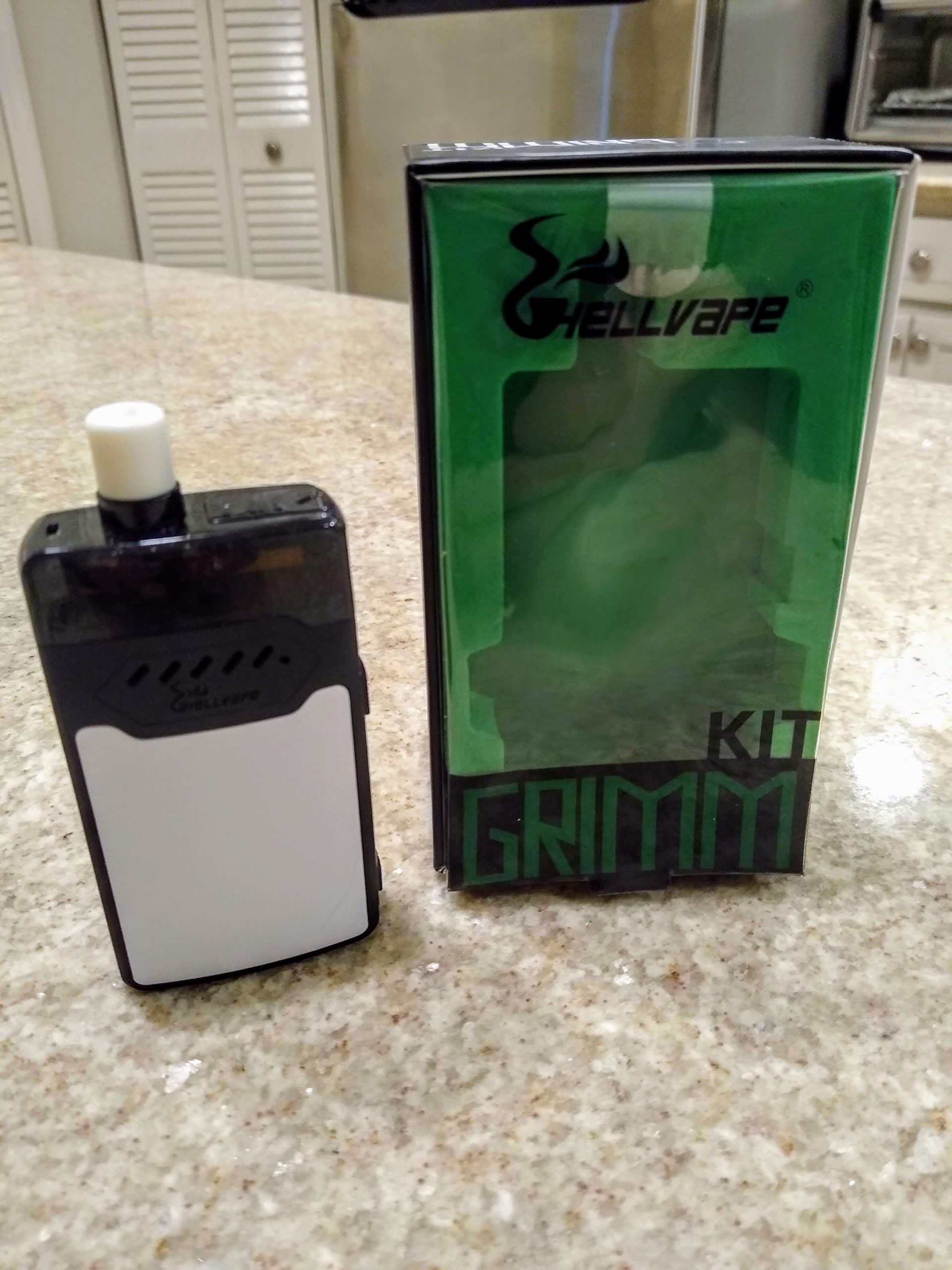 If you watch youtube reviews in any capacity, you probably know Grimm Green. Not only was he one of the first to start a vape channel, but he is also a trailblazer when it comes to devices! He has designed and endorsed mech mods, RDA atomizers, and even specialty wire. Today we take a look at the portable pod system from last year: The Hellvape GRIMM Kit.
---
The Hellvape GRIMM Kit
It has been a little over a year since pod devices really took off and it seems like every company tried to get a piece of the hype. Today, pod mods are still the ruling class when it comes to vaping. As far as I know, Hellvape only made one pod kit…this one.
Grimm Green announced the collaboration with Hellvape in early 2019 on his popular Youtube channel. Grimm Green is a fanatic for small MTL devices as well as everything in between. So it came as no surprise that his new device was a small, portable, easy to use pod system.
But how did it fair against it's biggest competitors like the Smok RPM40? There was a deluge of pod systems all coming out at the same time, and it seems like the Hellvape GRIMM Kit got washed away among all of the bigger brands. How does it fair today?
Features and Design
The Hellvape GRIMM Kit seems to check all of the boxes when it comes to features, even compared to it's modern counterparts. The design is simple and easy to use, yet boasts a ton of features that experienced vapers will appreciate. So what makes the Hellvape GRIMM Kit so special?
5-30 watt adjustment
Airflow control ring
Supports MTL and DTL style coils
Instant fire speed
Easy to read OLED screen
1200 Mah battery capacity
Holds 3ml of liquid
USB Charging
Solid Zinc alloy body
Hellvape neck lanyard
The Hellvape Grimm Kit comes with everything you need to get started right in the box. It comes with two different coils that support two different vaping styles. Whether you prefer Mouth-to-lung vaping or Direct lung vaping, each coil is matched to it's specialty.
The pod is a top fill, sliding mechanism. There are no awkward silicone plugs like you see in the Voopoo Vinci series or any of their ilk. This makes filling the pod much easier than most devices and you never have to remove the pod to fill.
The mod itself woks like many mods that came before it. There is a +/- set of buttons and a fire button. The .63 OLED screen shows all of the information that you need and includes battery life, volts, wattage, and even a puff counter.
The mod charges with a standard micro USB and states that you can reach a full battery charge within 45 minutes. This is pretty standard for the first runs of pod devices. The same can be said for the large 1200 mah battery, which is said to provide you with a full day of vaping with the MTL coils.
The mod feels super solid without being heavy or cumbersome. This is certainly due to the the zinc alloy construction. The mod has a ton of color choices for the resin, but they all have the same body materials.
Testing The Hellvape GRIMM Kit
So I have been using this little system for months, off and on. I just recently got a new one for review and I realized just how much I like about it. This all comes with a few caveats, however.
I feel like the GRIMM kit got pushed under the radar by all of the other big name pod devices that were being released at the same time. I don't think it ever got it's fair shake. Smok and Geekvape seemed to swoop in and hog all the attention.
This time around I have been using the kit for about two weeks. I like the MTL coil the best. You can dial it in just about any way you want and that kind of versatility is pretty cool considering most pod systems cannot change the airflow. I like the airflow about halfway open at 14 watts.
This setting produces the perfect draw for someone that likes salt-nic of high milligram nicotine e-juices. I have tried the other coil a few times, but I honestly believe that it ruins the idea of a pod system. The larger coil takes more wattage, produces more vapor, and uses twice the battery life. This seems to take away from the small, discreet nature of the GRIMM kit.
What about the flavor of the coils? I find them to both be slightly above average and they can keep up with just about any other pod system on the market. I found that regular freebase juice definitely has better flavor than salt-nic with the GRIMM coils. But that's usually the case anyway isn't it?
Coil life is pretty good, usually lasting about a week depending on the type of juice you use. The battery with the MTL coil should last you all day easily, if not longer! The battery charges in about 45 minutes to one hour. As I've said, it takes too much power to run the DTL coils and kills the battery pretty fast.
So, this thing comes with a lanyard. I have no idea how to hook it to the device. There is no mention in the manual at all. But it works well as a key chain! Seriously Hellvape, what the Hell is this thing for?
The screen and the mod is so easy to use and reminds me of older mods from years ago. There is no temp control or belles and whistles in the chipset design. It is very intuitive, just turn your wattage up and down. You can lock the buttons but that is about all you can do that is special with the button layout.
The Verdict
It may have been quite a while since the Hellvape GRIMM Kit has joined the pantheon of pod mods, but it is still relevant in my opinion. To be fair, it might even out-perform some of the newer pod-style devices. The key to this device is in it's simplicity.
This makes a great "first vape" for just abut anyone because it is so easy to use. It also sells for about half the premium price that it had at launch. This was originally a pretty expensive and premium system! The coils are still easy to find from most vendors.
That's not to say to that more experienced vapers wouldn't also enjoy this starter kit. Especially if you are looking for a small, portable device for travel. It has enough features to have a wide appeal. I have used it on and off and I have been vaping for a long time!
I will probably continue to use the GRIMM kit as long as I can find the coils for it. And with the reduced price, it is a no-brainer to at least try it to see what the fuss used to be about! It's an older product, but a solid one.
Christopher Horton