The Suorin Reno is a brand new platform for Suorin, who is one of the few companies that exclusively make pod devices. Suorin is no stranger to the pod market. They have been around now for a little over two years and have constantly tried out new innovations with their devices. How does their new mesh coil hold up?
Suorin Switches To Replacable Coils
Suorin has been in the pod market for quite a while. I remember a time when working in retail when everyone and their mother (literally) had a Suorin Air, or Suorin Drop. It was impossible to avoid, and many other big-name companies started to follow suit.
What made Suorin somewhat unique was the fact they always used a closed pod system. This means that the pods came all in one piece and no parts could be replaced. But with the new Reno, they have decided to follow the Smok RPM lead with replaceable coils. How does this stand up to the competition?
Suorin Reno: Features And Design
13 watt maximum output
1,0 Mesh Tech coils
Organic cotton wicking
Aluminum alloy construction
LED battery indicator
800 mah battery capacity
3 ml liquid capacity
Micro USB charging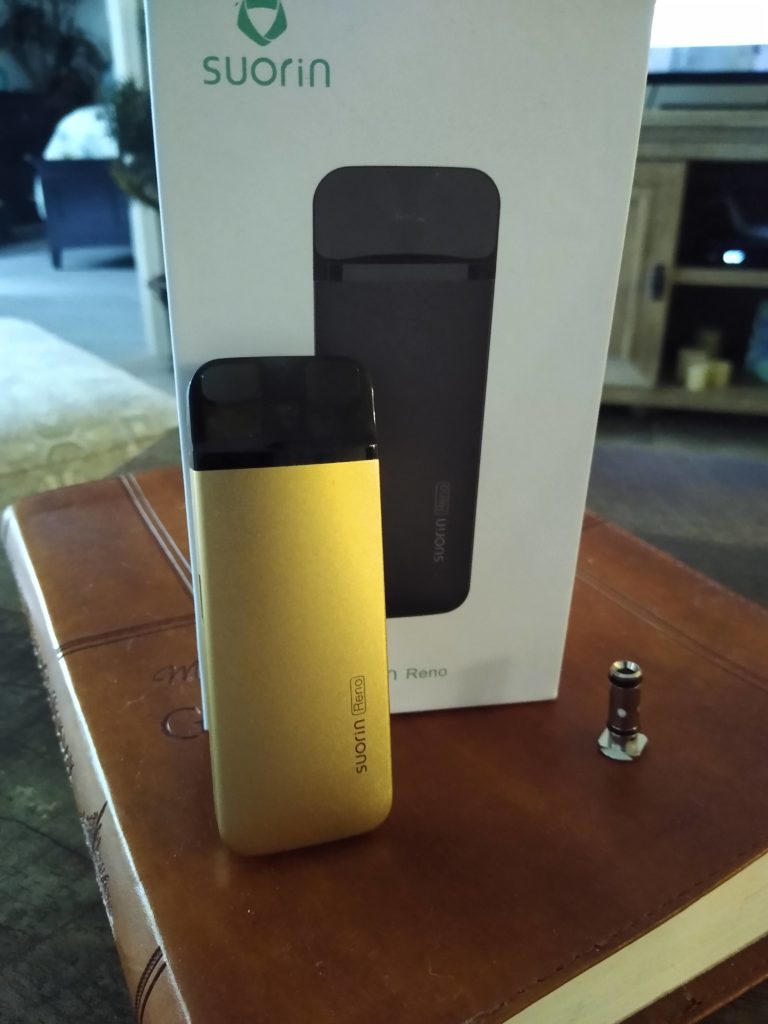 If you have seen one Suorin product, then you know what to expect when it comes to aesthetics and design. The Reno is very lightweight and only slightly larger than some of their other devices. The Reno comes in several different colors, I received a matte gold sample.
Inside the box, you will find two of their 1.0 ohm mesh coils, the device, one pod, and a USB charging cable. In the past, Suorin has only included one pod/coil with the devices, so it's a breath of fresh air to see them adding an extra in the box. It would be nice to see an extra pod for the additional coil included, but this pod is reusable.
The pod has a "duck bill" design that we have seen with many other devices. Most notably, the Smok Nord series. The pod is a "love it or hate it" kind of design that allows a good amount of airflow. Just like drip tips with larger devices, everyone has a preference. personally, I don't mind the duck bill.
The pod is bottom fill using a rubber grommet. The fill port is big enough to fit just about any size bottle.
The LED battery indicator is located on the side and lights up after each puff. Green is a full charge, blue is 70-40%, and red is below 30%. This is pretty standard for most Suorin devices and many other companies have adopted the same type of battery lights. Other than the micro-USB, the LED is the only feature for the battery/mod.
The Suorin Reno is auto-draw only. This means there are no buttons to fire or change wattage. Almost all of Suorin's other products have this feature, for better of for worse. But how does it perform?
Testing
As with most of Suorin's myriad of pod devices, I figured this was most compatible with salt nic. So I primed the coil and filled the pod up. The instructions say to wait for 10 minutes before taking a puff, but I like to be a little more liberal with time so I waited 20 minutes. The device had a full charge right out of the box.
OK. Maybe salt nic shouldn't have been my first choice. This thing HITS. If I had to compare the airflow and quality of the hit, I would compare it to a Smok Nord 2, with the .4 mesh RPM coil installed. So I did what any reasonable person would, and I tried to let the coil break in.
It took me a second to realize where all of this air flow is even coming from. Their are no ports for the air to come in anywhere on the device. The USB port is the only place that is could be coming from, so I covered it with my finger. I was right, the air is drawn from the USB port area. But even with the port covered, I could not get anywhere near an MTL type of draw.
There is also two tiny ports on either side of the pod that also have air intake, upon further inspection. Again you can cover these with your fingers and reduce the air flow just a little bit. This still seemed a bit much for me with salt nic (35mg). Especially since the opening at the top of the pod, where your mouth goes, is 4mm wide.
So back to the drawing board right? I replaced the coil and filled the pod with a 12mg freebase liquid. I once again let the everything sit for about 20 minutes to ensure the coil gets fully saturated. Now we are in business, right?
Well…yes and no. With freebase I felt like the throat hit just wasn't there. I can't seem to find the "Goldilocks Zone" with these coils. 1.0 ohm should be a perfect fit with both liquids I tried when you factor in the 13 watt limit. I used the Reno for the next week or so, going back and forth between coils and liquids. Luckily, my local vape shop carried the coils so I purchased a few extra.
The flavor from the new mesh coil design was pretty good with both liquids for the first day. After that, the flavor declined sharply. On the plus side, I have yet to deal with any burned out coils. They seem to have great longevity in performance.
Another plus, is that I have had zero leaking from the pod itself. Suorin is notorious for designing bottom fill pods that leak into the auto-draw sensor. Once that happens you can expect misfires, or the device will constantly hit and burn out your pod. Once that sensor has juice in it, you might as well buy a new kit.
The Verdict
I suppose I am having a tough time figuring out who this is for. Maybe some people prefer a super hard hit with salt nic devices. For myself, I prefer something like their other fantastic new device, The SHINE.
The SHINE is more like the infamous Uwell Caliburn in the way it hits. I definitely prefer a losse MTL draw when using these compact salt nic pod mods. The Reno is far too airy for my taste and I couldn't get it to perform the way I would imagine it was designed. I found myself frustrated with trying to find exactly how to use the Reno.
I give the Reno another strike when it comes to replacing the coil. You lose a good amount of liquid when you go to replace the coil, as the coil is centered in the pod. You can turn it upside down, and save a good bit of juice, but expect to lose some if you have recently filled the pod.
On the plus side, the battery life is phenomenal. Using the Reno as my only device for a few days, I found that the battery will last all day. The Reno also charges pretty fast, falling in the same amount of time as it's peers at about 45 minutes.
So the Reno and I do not get along, and that's okay. If you're looking for a hard hitting, compact pod device, then the Reno is for you. I look forward to seeing if Suorin continues to use coils instead of their signature enclosed pods. I also hope that they make these coils compatible with furture devices.
You can click here to get your Suorin Reno for an excellent deal!
Christopher Horton