Usually, I'm not a big fan of SMOK. I've had plenty to say about its products over the years and most of it wasn't particularly positive. I do like its pod systems though. And its latest, the SMOK Fetch Pro, pretty much just blew my socks off (and it only costs $36).
This is an AIO/pod-system, just not like you've used before. It runs on a single 18650 battery, comes with a range of supported coil options, and it looks freakin' great as you can see below: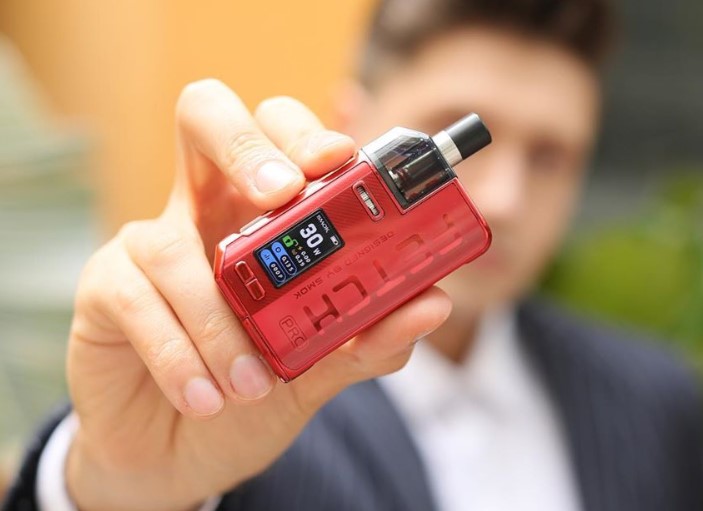 What I Like (So Far)
It vapes great, for one. And that's the most important thing. You have two coil options (0.4ohm RPM Mesh Coil and 0.17ohm RGC Conical Mesh Coil) which both deliver a restricted lung hit that is packed with flavor. Both coils prime easily too, ensuring you get this kit up and running quickly.
I usually run Nic Salts vape juice in my pods (and I more or less exclusively use this one). But because the Fetch Pro goes all the way up to 80W, and comes with sub-ohm mesh coils, you can (and will want to) use higher VG vape juice (this is the juice we use mostly).
The flavor is decent. Not quite mesh tank-grade, but for an AIO device of this nature, it is definitely up there with the best of them. You get plenty of vapor and clouds too. For me, the Fetch Pro is essentially a hybrid box mod device. It feels like a traditional vape mod and tank combo when you vape it. But it's an AIO.
SMOK Fetch Pro Specifications
Single High-Amp 18650 Battery – Not Included
Wattage Output Range: 5-80W
Voltage Output Range: 0.5-4.0V
Resistance Range: 0.1-2.5ohms
Zinc-Alloy Chassis Construction
Side Firing Bar
Two Adjustment Buttons
Side Airflow Inlet Slot
0.96″ TFT Display Screen
Magnetic Pod Connection
Bottom Hinged Battery Door
4.3mL Refillable Fetch Pro RPM Pod
Side Fill System – Silicone Stoppered
SMOK RPM Coil Series
0.4ohm RPM Mesh Coil – rated for 25W
Plug 'n' Play Coil Installation
Dual Slotted Bottom Pod-Based Airflow Control Ring
Compatible with all RPM40 Coils
There are plenty of similar positioned devices on the market, but the Fetch Pro is the only one I have used that actually delivers when it comes to performance. All the others I have tested left quite a bit to be desired – even the more expensive options from brands like Lost Vape.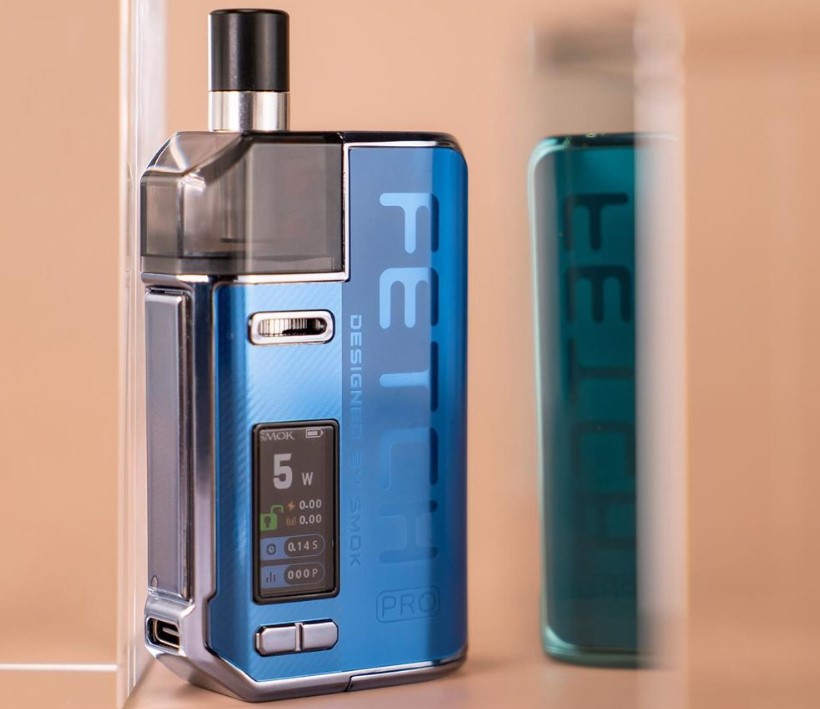 And if all that wasn't enough to get you excited. The SMOK Fetch Pro also runs on removable 18650 batteries (a single one), so you can simply swap out the dead battery for a new one as soon as it runs out. This means no downtime (providing you have a fresh cell, obvs) and no waiting for your device to recharge.
For me, the SMOK Fetch Pro is worth getting for this feature alone. Never mind that fact that kicks a hell of a lot of ass with respect to performance and flavor!
Where To Get It?
You can pick the SMOK Fetch Pro up via DirectVapor for $36.95 (and that comes with free shipping). That is a great price too. I've used similar vape systems that cost $10 to $20 more this year, and the Fetch Pro is better than all of them.
Bottom line: if you're looking for an AIO that essentially doubles as a traditional vape mode + mesh tank combo, this awesome little vape system could be just what you've been looking for.
Drake Equation
Co-founder and Editor of VapeBeat. I make the words.