The Smoant Charon Baby is a simple, breath-activated pod mod (just like the UWELL Caliburn). It has a large battery, solid design, and picks up where the Smoant Pasito left off. But is it any good? 
---
Smoant Charon Baby Verdict – 72%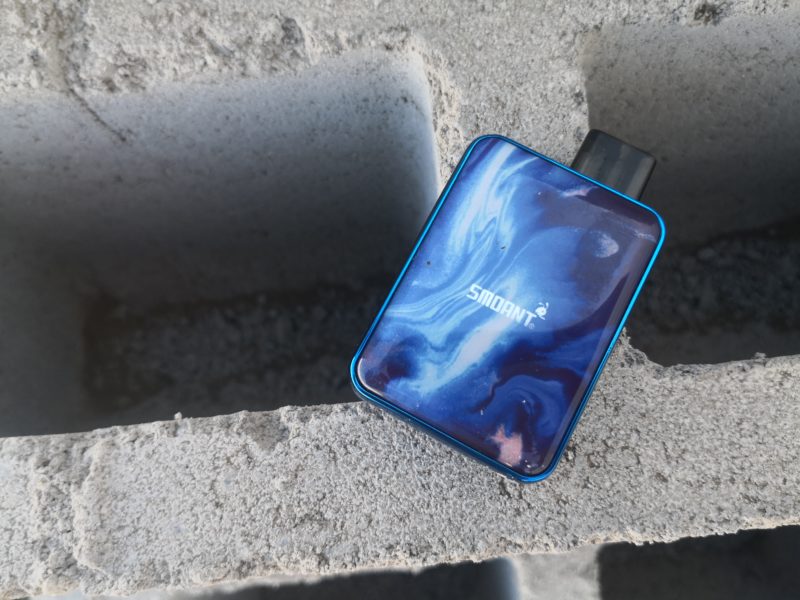 Smoant Charon Baby Pros:
Simple to use
Top-notch build quality and designs
Great flavor
Virtually leakproof with fresh coils
Coils have improved
Smoant Charon Baby Cons:
It's exactly the Battlestar Baby
Small juice capacity
Spit back and leaking can become a problem as coils degrade
Full Smoant Charon Baby Review
After the success of the Pasito, Smoant appears to have fallen into the Wismec trap by focussing on gimmicks instead of usability. Gimmicks don't bring much to the market and in order for them to work, they rely solely on the brand name; much like BMW, if you will.
The Battlestar Baby was a decent POD system for its simplicity, it was nice seeing a no-frills device in the age of AIOs and I enjoyed it for what it was. Now though, hardly 3 months later, they've launched the Charon Baby and it's exactly the same device. Exactly.
Again, there's no power switch, no adjustable wattage, no fire button, and the airflow is set to whatever Smoant decided was good. Why Smoant, why would you rehash a product that's barely had time to grow chin hair?
Design
Where the Charon Baby does differ from the Battlestar Baby is in the design and I must say, I do prefer the Charons' looks. Almost pebble-like and a tiny bit larger than the Battle, the Charons' chassis is rounded at every surface. A zinc alloy frame wraps around squishy resin look panels, it certainly is a looker.
If you have sweaty hands though, note that the material on the sides may be a little annoying. They sort squeak when moist. The Charon is every bit as basic as the Battlestar Baby; an electroplated chassis, thankfully no longer reminiscent of the Voopoo Drag Nano Graphic side panels (only 3 colors this time), a singular led showing battery level and a USB C charging at the bottom of the device. As on the Battlestar, there's no switches, latches or any attachments.
Smoant has included ultra-cool lanyard charging cable again, however, I believe that's just leftover from the previous production line.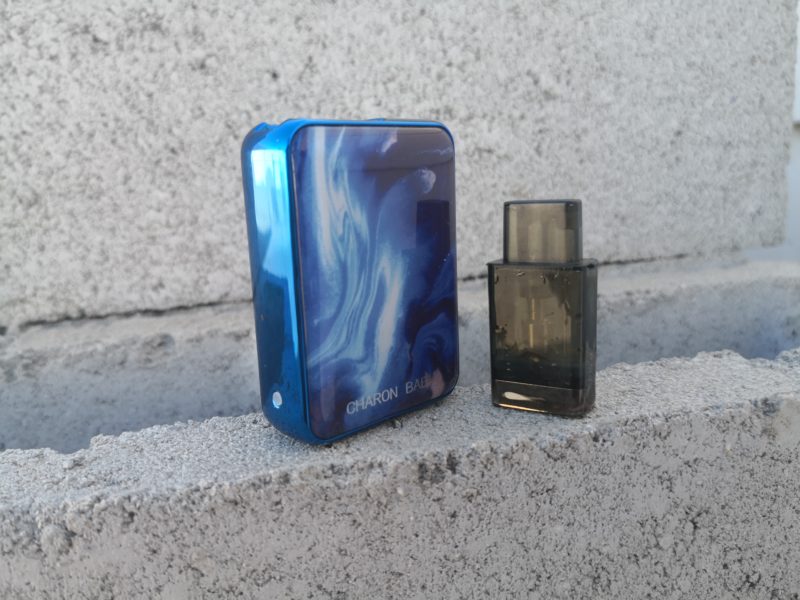 Coils, Pods, and Performance
The Charon Baby makes use of the same press-fit coils as the Battlestar baby. The coils still provide excellent flavor, with added sweet notes, however, it seems the 1.2ohm coil now lasts considerably longer than the previous ones I tested.
The 0.6ohm coil had nearly the same lifespan as the previous batch. While flavor remains excellent on these coils, they start leaking loads when starting to tap out. At the end of the 1.2, it was leaking nearly 1ml if left unattended, a clear sign it's time to replace.
The pod is also identical to that of the Battlestar Baby and is contained within the chassis. Power output also remains the same-0.6ohm will output 15w of power while the 1.2ohm will only output 10w.
Battery
The same 750mAh internal battery finds its way into the Charon Baby that charges fully in 45-60 minutes. The LED will flash red at 5-30% charge, blue at 30-60%, white at 60-95% and stay solid white at 100% charge.
For some reason though, it drains considerably faster than the Battlestar and I was only able to get a day off a full charge, strange. Perhaps I received a dud unit or perhaps Smoant is using an inferior battery, who knows? Spoiler: It's the latter.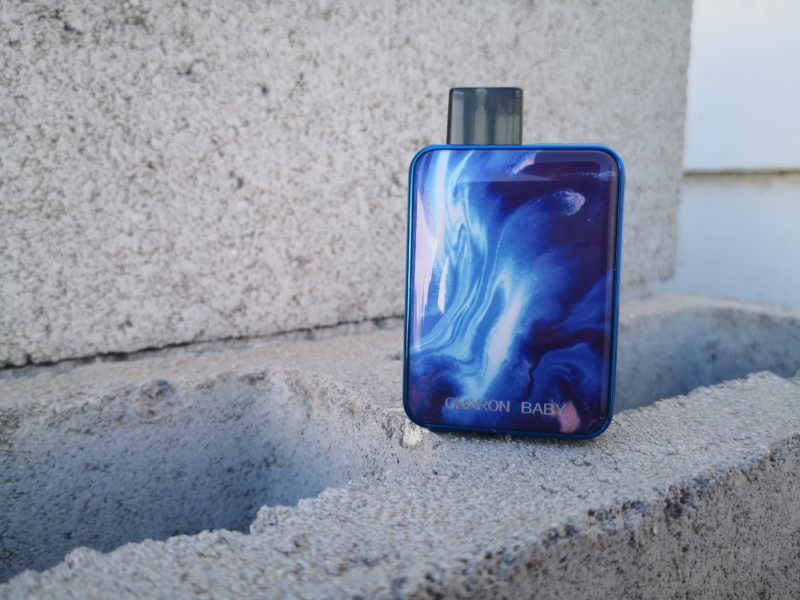 Specs:
Weight: 87g
Battery Capacity: 750mAh
Power output: 10/15w
Charging: 5V/0.8A
Charging Port: Type-C
Size: 73mmx45mmx15mm
Pod Capacity 2.0ml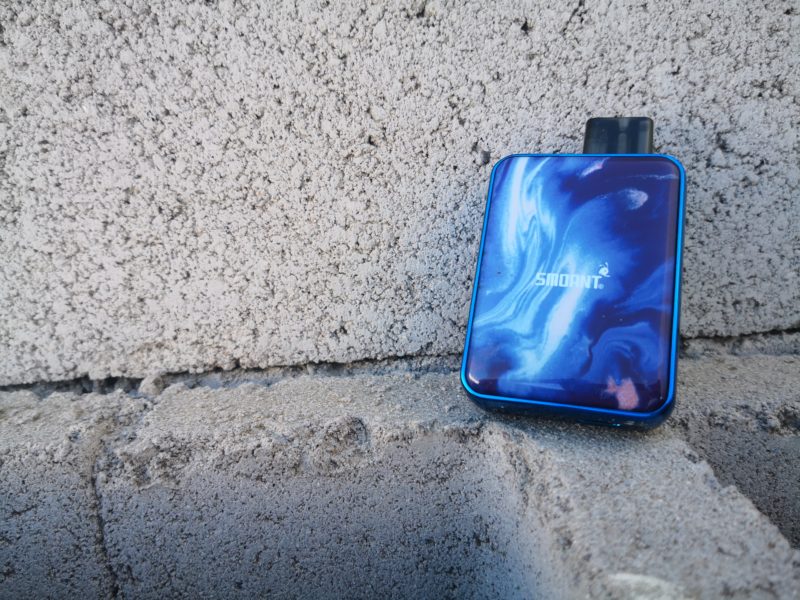 Smoant Charon Baby Review Conclusion
I'm not sure how to rate this device. On its own, it's a stellar, simple to use, no fuss pod system, even if the battery performs a little worse. It provides excellent flavor and is completely dumb proof. It looks gorgeous and feels like it can take a beating.
Put it next to the Battlestar Baby though and things get a little hazy. I'd also just rather use my UWELL Caliburn too. Or, the Battlestar Baby.
I honestly don't see the point of the Charon other than "just because". Sure, it performs extremely well, which may just be down to an improved coil, but the Charon Baby feels like a cash grab.
For that reason, I can't really recommend this device. In this day and age, there is absolutely no excuse for this kind of greediness. Production costs and time could have been used for the Pasito Revision 2, but it's clear the consumer was not key here. Shame on you Smoant.
---
Exclusive Codes Just For You! 
Click Here To Access Exclusive Vape Juice Codes – They'll Save You Plenty of $$$
Red
Internationally published journalist and reviewer, unofficially certified vape connoisseur. MTL, DTL, RDTL, Red takes it any which way