The Smoant Battlestar Baby is a simple, breath-activated pod mod (just like the UWELL Caliburn). It has a large battery, solid design, and picks up where the Smoant Pasito left off. But is it any good? Let's review…
---
Smoant Battlestar Baby Verdict – 72%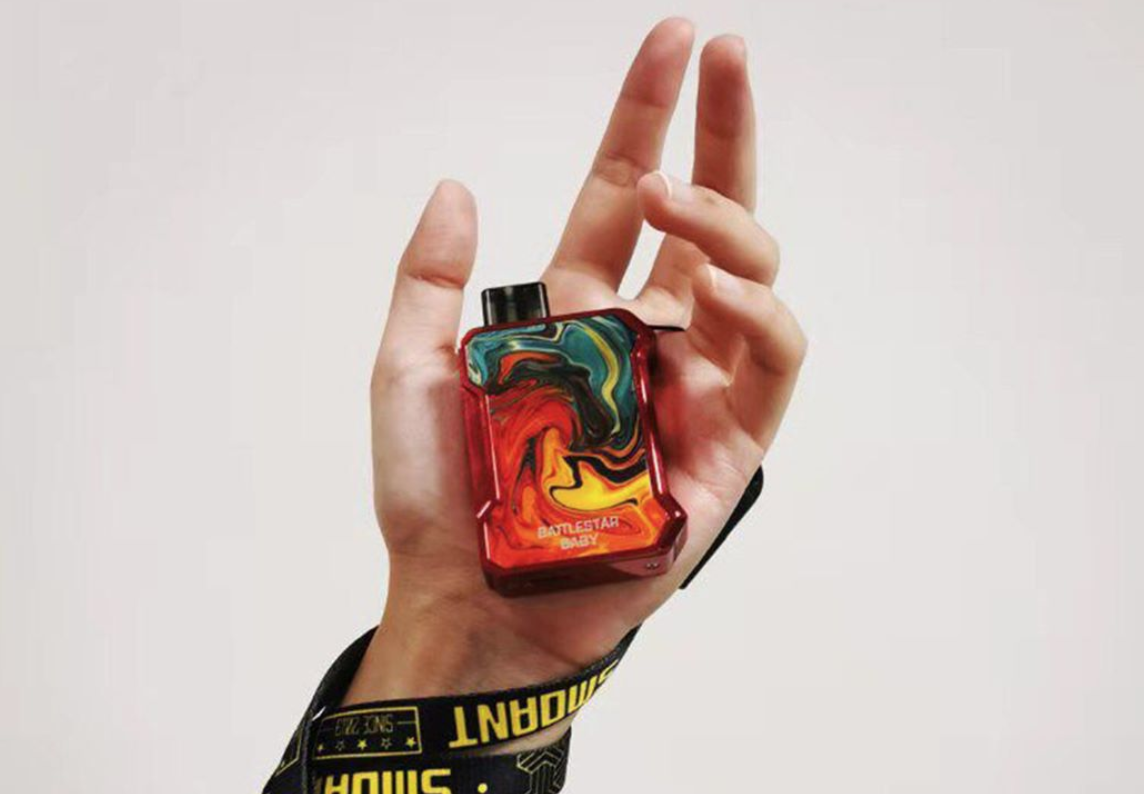 Smoant Battlestar Baby Pros:
---
---
Simple to use
Top-notch build quality and designs
Great flavor
Virtually leakproof
Smoant Battlestar Baby Cons:
Small juice capacity
Coils don't last very long
Spit back can become a problem as coils degrade
Not the cheapest pod system on the market
Best Price Online? HeavenGift | $29.90
---
Full Smoant Battlestar Baby Review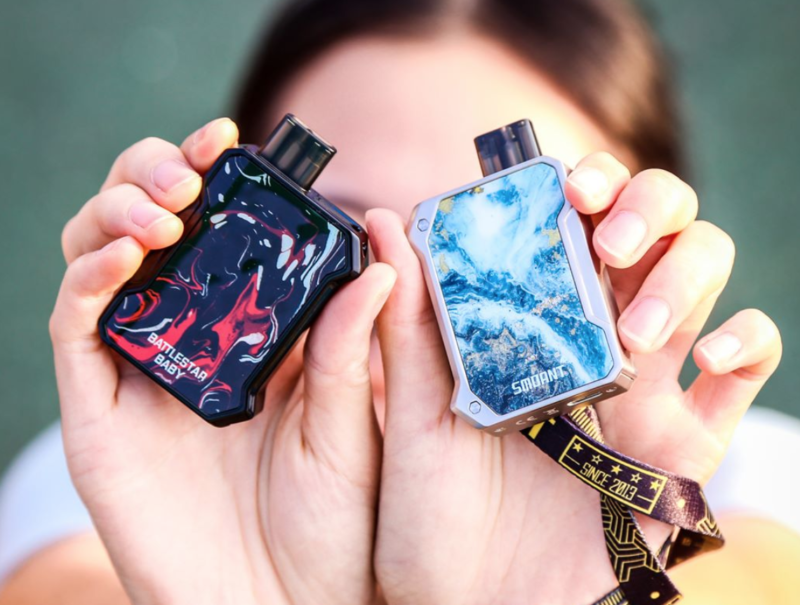 Smoant has been around the block a couple of times, releasing some quality devices since setting up shop in Shenzhen 6 years ago. Naboo, Charon Mini,  Gaia, Battlestar? Almost everything the company has touched, with the exception of the Rabox, has been fantastic.
Then, Smoant released the Smoant Pasito, the first, truly usable, rebuildable pod system and launched their brand into fandom.
In the mass hysteria that is pod systems, Smoant took advice from the vaping community and designed a product that met almost every concern the modern vaper had and, man, was it refreshing to see a company pay attention to the market.
So why then, did Smoant release the Smoant Battlestar Baby, a non-rebuildable, non-variable wattage pod system?
MORE: The #1 Best Pod Vapes We've Tested To Date…
The Smoant Battlestar Baby may seem like a step back for Smoant but hear me out. The Pasito was, in most regards, the perfect device for the enthusiast pod user. Someone that likes to tinker, build, adjust and figure things out to get the perfect vape, but when it comes to casual vaping, it's a bit of a schlep to get the perfect build.
The vast majority of vapers want something simple to use, and this is where the Battlestar Baby comes in.
I've had my fair share of devices, but none as simple as the Smoant Battlestar Baby. There's no power switch, no adjustable wattage, no fire button, and the airflow is set to forget. The coils are prebuilt and that's it – it really couldn't be any simpler. Fill the pod, drop it into the device and draw away.
Design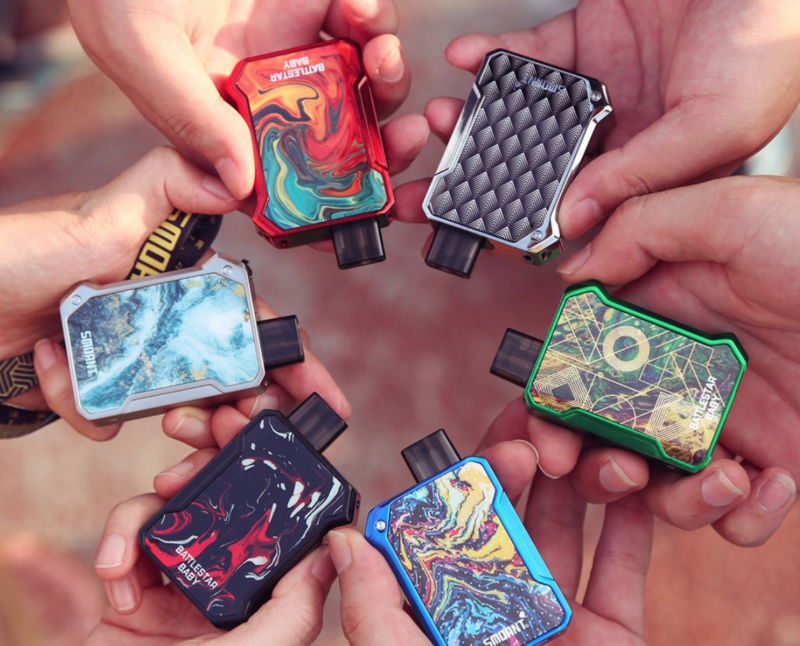 This simplicity is carried over to the design of the device; an electroplated chassis, resembling the original Battlestar (and reminiscent of the God awful Voopoo Nano), graphic side panels (6 styles are available, black, red, stainless steel, gunmetal, blue and green) a singular led showing battery level and a USB C charging at the bottom of the device.
The design is clean and simple and oh so sexy in the resin finish.
There's no switches, latches or any attachments.
Above all, it's tiny, easily fitting into your palm. The construction is pretty tight too and carries some heft.
Coils, Pods, and Performance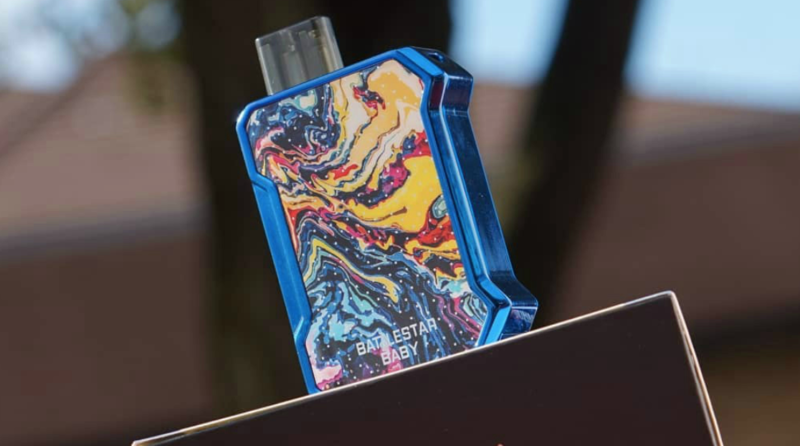 Best Price Online? HeavenGift | $29.90
The actual pod is contained within the Battlestar Baby and slides into the top easily with the help of a tab to ensure the correct orientation.
Coils are press fit into the bottom with a rubber tab closing up the fill hole, which is a little on the small side.
Two coil variants are available, a 0.6ohm mesh coil for freebase e-juice and a Ni-80 1.2ohm coil targeted at nic salts. With the 0.6ohm coil installed, the Battlestar Baby will output 15w of power while the 1.2ohm will only output 10w.
Specs:
Weight: 78g
Battery Capacity: 750mAh
Power output: 10/15w
Charging: 5V/0.8A
Charging Port: Type-C
Size: 60mmx45mmx15mm
Pod Capacity 2.0ml
Both coils produce excellent flavor, similar to that of the UWELL Caliburn, but for some reason, I get a barrage of sweet notes from this device.
While it may not be a bad thing for some, it is something to take note of. Coil longevity isn't great and I've found coil life to reach its end near the 6-8ml fill point for both coils, par for the course for Smoant coils, unfortunately, however, replacements are cheap enough.
As the coils degrade, the Baby increasingly spits back, however, you could get more refills out of a pod, but it does get slightly annoying having hot globs of juice spat into your mouth. The Smoant Battlestar Baby is also a breath-activated device too, hence the no button design.
Battery
The Smoant Battlestar Baby houses an internal 750mAh internal battery that charges fully in 45-60 minutes. The LED will flash red at 5-30% charge, blue at 30-60%, white at 60-95% and stay solid white at 100% charge. As the Baby has relatively low power output the battery will easily last 2 days before needing a recharge.
Smoant Battlestar Baby Review Conclusion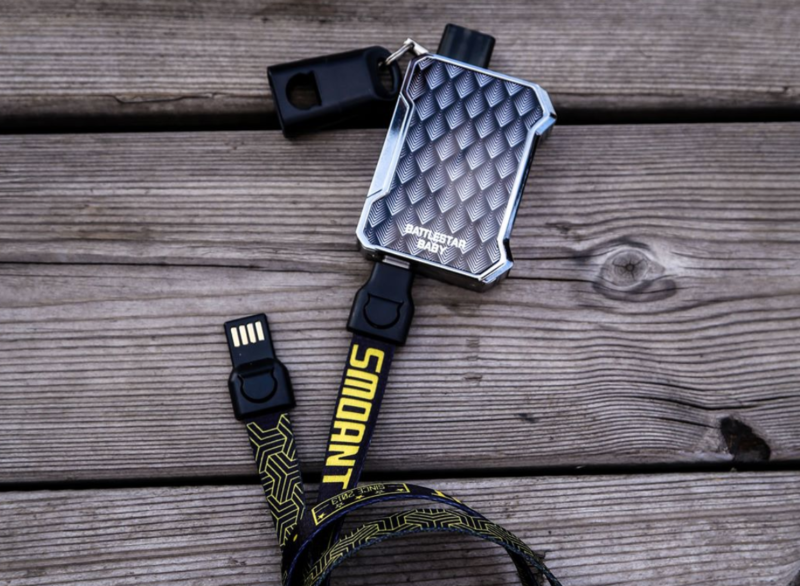 If you're after a simple to use a pod system, I can only recommend the Battlestar Baby. It may not be the next step in the vaping world and it certainly isn't innovative, but it's about as simple as it gets. Great build quality, amazing flavor production, and a solid battery make the Battlestar Baby a serious contender for one of the best pod systems on the market right now.
Unfortunately, poor coil life lets it down.
---
2021's Top-Rated Vape Gear🤘
---
If you can live with that, the Battlestar Baby should be right up your alley. Most importantly, the included lanyard also doubles up as a charger AND a ruler, what more do you want?
Best Price Online? HeavenGift | $29.90
---
Big Brands. Massive Savings 🔥
---