It's not technically snus, but it is damn close. So are Nordic Sprit nicotine pouches any good? Or are you better off with a vape – or real snus?
---
You might have seen Nordic Sprit advertising in the tele. The company is currently offering free samples to its UK customers. All you have to do is fill out a form, add your email address, and then Nordic Sprit will send you a free sample box containing 20 nicotine pouches.
Just don't call it snus, because you'll anger plenty of Swedish people. Proper snus uses real tobacco, Nordic Spirit does not.
I noticed that my local SPA sold Nordic Sprit, so, being an adventurous type, I decided to buy a pack to give it a whirl. That was a few days ago and, you know what, I've hardly vaped since then. And I usually vape a lot. If you're looking to cut down on vaping, is Nordic Sprit a good option?
Read on to find out…
What is Nordic Sprit?
First off, let's cover what Nordic Sprit actually is – because, technically, it is not snus. Rather, Nordic Sprit is a classed as a nicotine pouch because, unlike snus, it does not have any tobacco product in it. Traditional snus is made using powered tobacco. Nordic Sprit uses plant-based materials in its place.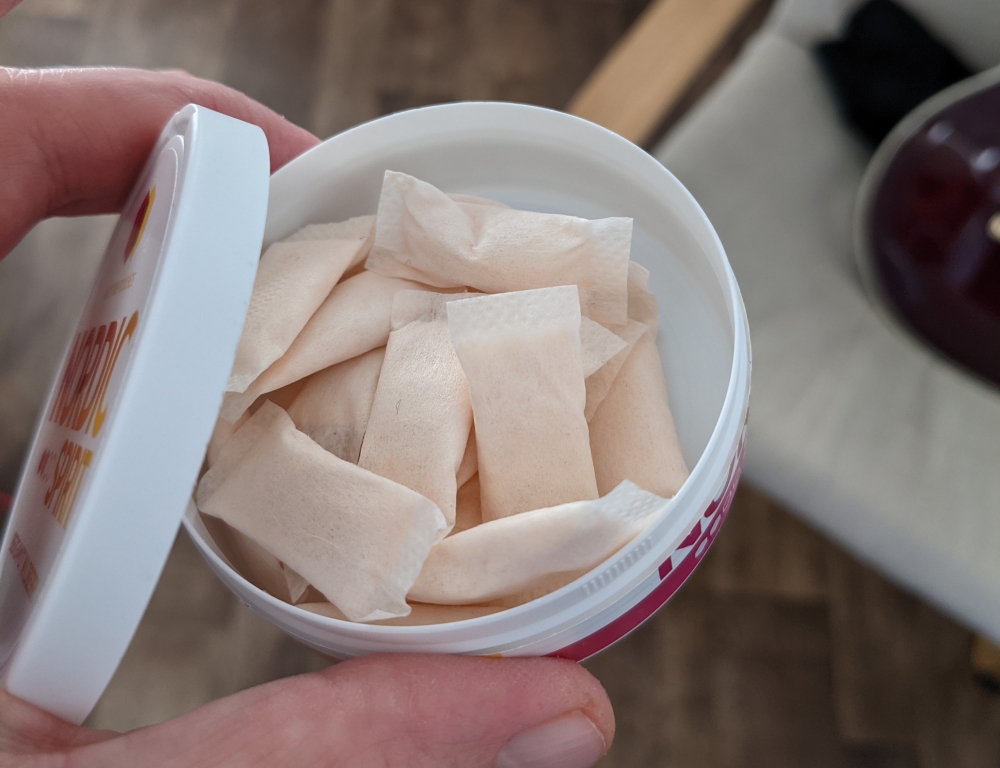 Best Place To Buy | UK ECIG STORE – £6.50 Per Box
Nordic Sprit still has nicotine though, either 6mg or 9mg, so you still get much the same effect as you would if you used a similar strength brand of snus, although with snus you have MUCH stronger options – all the way up to 50mg per pouch!
Nordic Sprit is a little more easy going, however. I started with 6mg, as that's what strength vape juice I use in my tanks. I think I could probably do with the 9mg, though, as the effect isn't quite as pronounced as I'd like. I also have some traditional snus on order too, although it hasn't arrived yet. I'll update this post with a link as soon as it does though.
Like snus, Nordic Sprit comes in little pouches that place under your lip. You keep it there for up to and hour and the nicotine is absorbed by through your gums into your blood stream. It's really simple, it tastes pretty good, and the nicotine fix is comparable to what you'd get from a vape or a cigarette, in that it is instant – you feel it right away.
Nordic Sprit Flavors
What flavors does Nordic Sprit come in? Right now, you have three options in the UK, and they are as follows:
Elderflower – Elderflower is the most mellow of all the flavors. The notes are gentle and taste great. If you like Elderflower, you'll like this flavor basically.
Mint – If you're a fan of mint, this one is good. It produces a refreshing, minty taste in your mouth. Kind of like chewing some gum, only with Nordic Sprit Mint you get that snus-style tingle when you put it under your lip.
Wildberry – This flavor is actually Bergamot Wildberry and, as the name suggests, it is a little fruity and a little aromatic. I like it; it kind of tastes like Earl Grey and I drink that stuff by the gallon.
And prices are set at £6.50, regardless of strength. Is it the best? No, personally, I prefer this product – it's a little stronger and I think it tastes much better.
How To Use Nordic Sprit
As noted above, Nordic Sprit pouches are really simple to use. All you have to do is open the box, take a pouch out, and the place it under your lip. I like mine on the top right of my mouth. Once the pouch is placed in your mouth, you'll feel a tingling sensation and start to feel the nicotine – this happens almost instantly.
And that's it, really. You can leave the pouch in for as long as you like, but most people tend to take it out after the flavor drops off – usually an hour. Then, when the urge strikes again, pop another one in. I find I like to use about 6 to 7 pouches a day. But I have the low strength ones; if you use the stronger ones, you will definitely use less.
What Does It Feel Like?
The effects of Nordic Sprit are not unpleasant. As with snus, there is a pleasant tingling effect as soon as you put it against your gum. This lasts for around 15 to 20 minutes and then drops off. You feel the nicotine almost instantly, so if you have a craving Nordic Sprit will take care of it right away.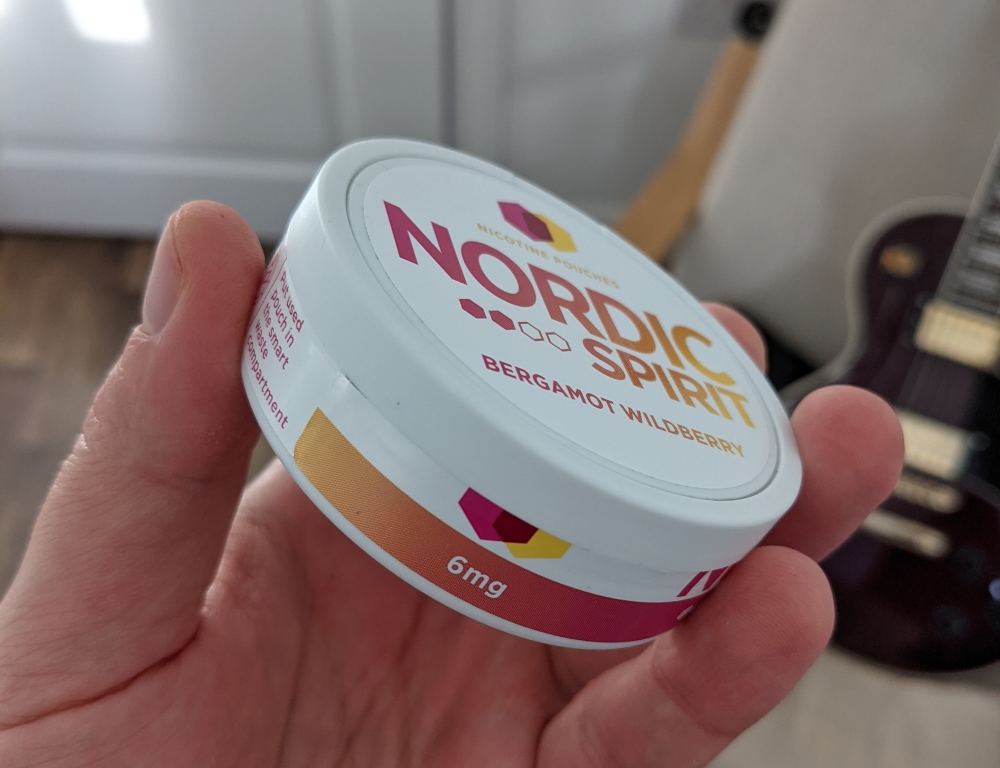 Best Place To Buy | UK ECIG STORE – £6.50 Per Box
Having used proper snus before, Nordic Sprit is no way near as intense. But seeing that you cannot buy snus in the UK, options like Nordic Sprit are all that we're left with. And as a snus alternative, an alternative that uses no tobacco products whatsoever, it is very good, especially if you're looking to quit smoking or cut down on your vaping.
Why I Decided To Start Using Nordic Sprit
I run a vape blog, so I'm a pretty big vaping advocate. But the reason I decided to try Nordic Sprit was two fold: 1) I want to cut down on how much I vape, and 2) I'm now running a lot more, so I want to give my lungs some downtime from vaping with a view to improving my VO2 Max.
I've already written about how vaping affects your athletic ability (spoiler: it doesn't, really) but I wanted to give it a try anyway. I have an 18 month old son too, so I have to really limit where I vape in my home anyway, so I figured with nicotine pouches like Nordic Sprit, I could essentially stop vaping altogether everywhere in my home, save for my office.
It's been a couple of weeks since I got my first box and I'd say I've cut down my vaping by about 70% which is really good. The Nordic Sprit pouches are great for cravings. As soon as I get the urge to vape, or a nicotine pang, I just pop one under my lip and I'm good to go for an hour or so.
I've also found that, over the course of a couple of weeks, I am finding improvements with my running. My chest feels less tight, like I can get more oxygen in them. I don't know if this is all in my head, but I'm liking it either way. Maybe it is just because I cut down my vaping? Either way, I'll take it!
Wrapping Up – Is Nordic Sprit Worth It?
You can pick up a box of Nordic Sprit for £6.50. Each box contains 20 pouches and each pouch will last about an hour. That means you have, potentially, about five days' worth of pouches, providing you don't go through them too quickly.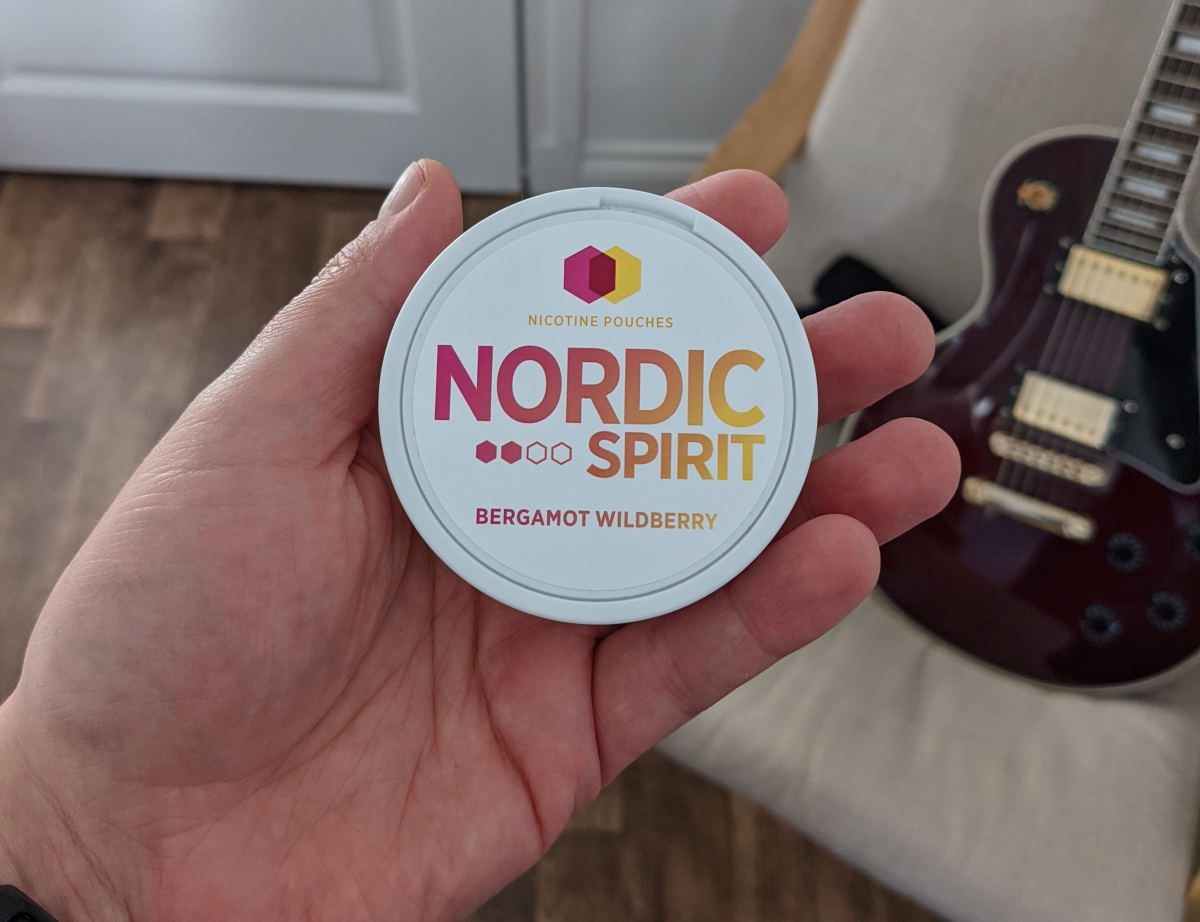 As I said earlier, it is always better to go with the stronger version, especially if you're a heavy vaper or current smoker, the 6mg will be too light. I got 9mg with my second box and I find it way more satisfying; that extra 3mg of nicotine makes all the difference.
Who's Nordic Sprit designed for? Pretty simple, really: if you want to quit smoking, Nordic Sprit will work for you. If you want to cut down and/or quit vaping, Nordic Sprit will work for you too. With a pouch in your mouth, you will not even think about vaping or smoking.
As NRTs go, I'd say nicotine pouches like Nordic Sprit are a bloody good option. They're also relatively cheap as well. And you can pick them up online too – here's why I get mine.
Best Place To Buy | UK ECIG STORE – £6.50 Per Box
Drake Equation
Co-founder and Editor of VapeBeat. I make the words.