The Hangsen Genesis is a vape pen with impeccable styling and very solid performance. As MTL vape pens go, this one's up there with the best of them
The Hangsen Genesis is an all-in-one vape unit designed to offer power, flavor, and, above all else, convenience. I recently acquired one and have been putting it through the paces.
This was an odd purchase for me if I'm honest. Devices like the Hangsen Genesis are not really my thing. I get why they exist, but 99.9% of the time I'd go with a mech or a mod over something like this.
In the spirit of investigative journalism, and because I'd been hearing so much about it, I decided to pick myself up a Hangsen Genesis and see what all the fuss was about.
That was two weeks ago. Since then, I've been vaping on the Hangsen Genesis daily. Read on to find out how I got along with this sexy, all-in-one vape device.
Hangsen Genesis Review: Package and Appearance
The packaging for the Hangsen Genesis is pretty odd; it kind of looks like an old VHS box.
I quite like this look, though – it's very retro. Everything inside is sectioned-up nicely, so as to ensure nothing gets damaged in transit. There is a premium air about this product, it takes itself very seriously, and this is obvious from the moment you start unboxing it.
The Hangsen Genesis is available in two colors: red and black – my unit, however, is red (and, personally, I think it looks better than the black option).

Slide open the box and you will find the following:
The Genesis Device
Additional Coil Head (0.4)
Additional Mouth Piece
Top Base
Magnetic Cap
MicroUSB Cable
Instruction Manual
Hangsen Genesis Review: Design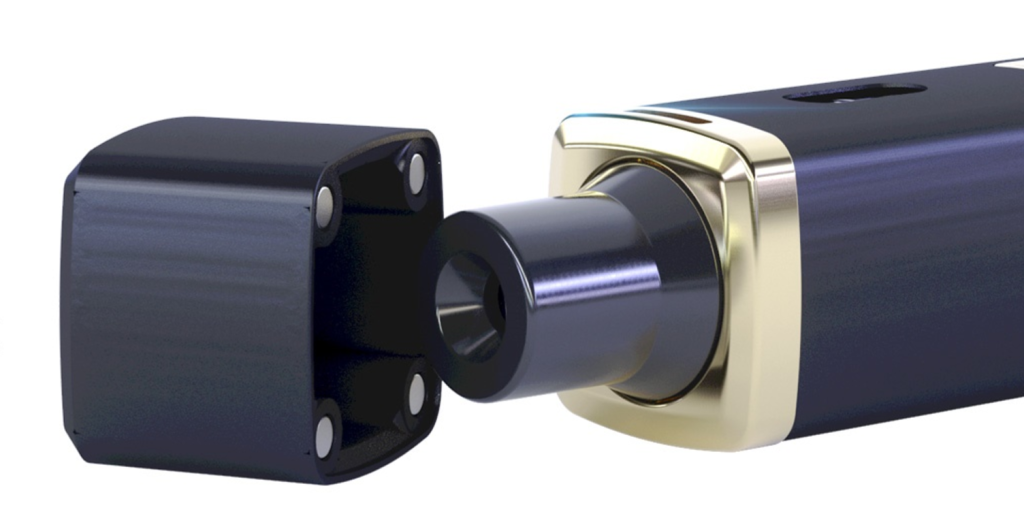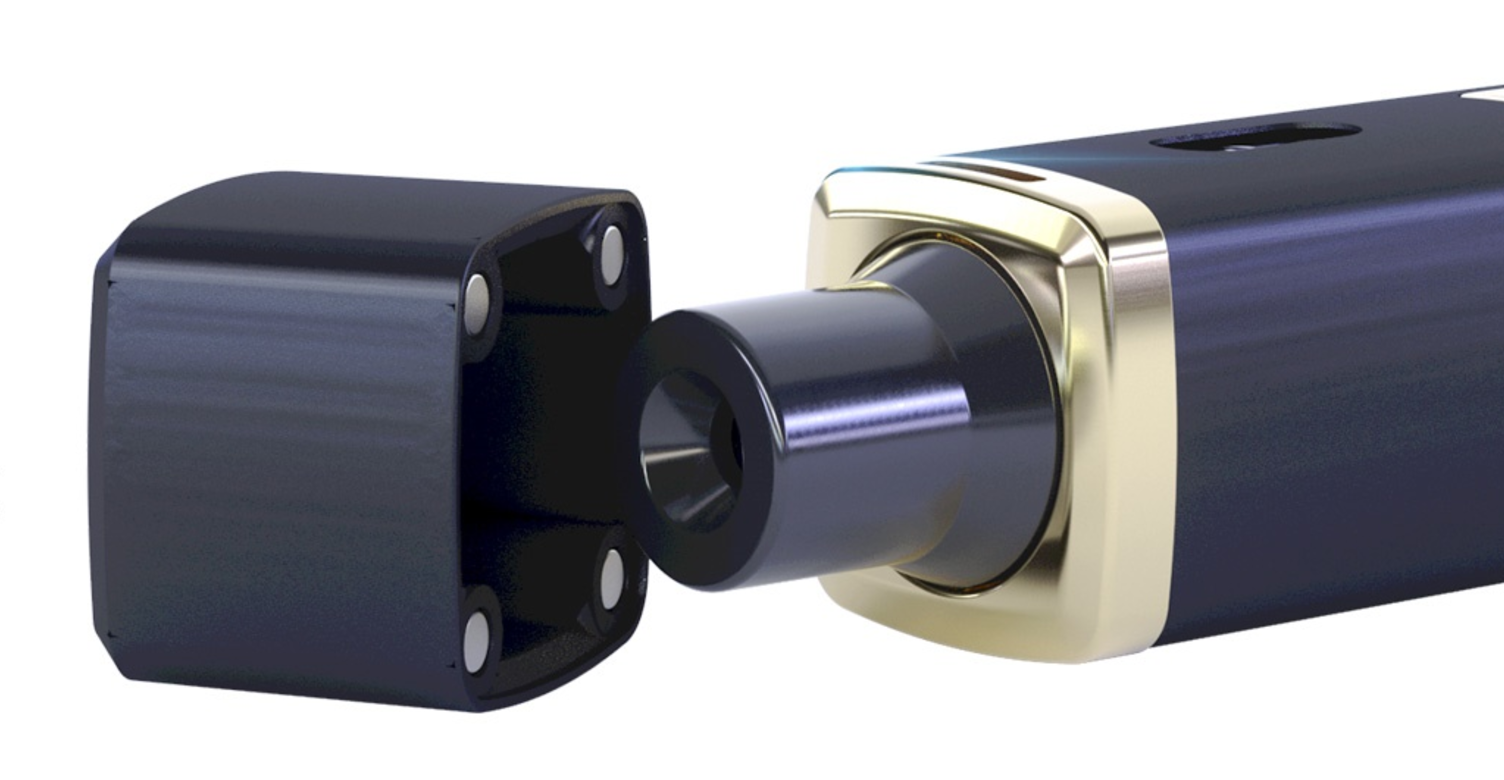 The actual Hangsen Genesis itself is squared, not the usual rounded body. The cap is magnetic and it locks very securely against the body of the mod itself, though, with a little pressure it can be removed very easily.
The finish is flawless, pictures really do not do it justice. The overall look and feel of the device is very premium, tasteful, and very portable. I don't think Hangsen are going for your average vaper with this, to be honest – it looks and feels like a niche device.
I could imagine JR from Dallas, if he was real and still alive, using something like this.
The design language is clean and symmetrical. You have two windows for seeing your juice level – it'll hold 1.5ml of E Juice – that are located on the front and back of the device.

The Micro USB charge port is located towards the top of the Hangsen Genesis, which means you can still use it whilst it's charging – always handy.
The magnetic top cap can be placed on the mouthpiece for when the Hangsen Genesis isn't being used, which kind of makes the device look like a fancy pen. Though its main purpose is to keep out foreign objects.
You do need to be careful with this mod, however, as it does scuff up easily. I can't help but think a device like this would be far better suited to some kind of metallic build material. Or coat it with Carbon Fibre or something and charge a few more bucks.
Looks wise, the Hangsen Genesis certainly looks the part, if a vape pen's your thang, though I do wish it didn't scuff up quite so easily! Perhaps Hangsen can implement some improvements in this context on the next iteration of this device.
Hangsen Genesis Review: Performance

The performance was a bit of touch and go from the moment I filled the Hangsen Genesis up, though this was partly my fault – I went over the maximum juice line for the tank.
Once I had fixed this, however, things functioned superbly. Just make sure you respect the maximum juice line on the tank, or else you risk flooding the atty and ruining the performance of the mod.
The airflow is decent; nothing like an RDTA or an RDA, but decent enough for a vape pen. I haven't tested a vape pen-style device like this for AGES, but the Hangsen Genesis is definitely A LOT better than the last one I remember.

This is basically an MTL vaping device; it's not designed to chuck out massive clouds that blind you while you're driving down the highway. It's more relaxed than that. The Hangsen Genesis is basically the type of device you'd give to someone looking to get off the smokes.
The flavor is very decent, though. I ran multiple E Juice lines through it and they all popped. Again, cloud-chasers and RDA fanatics need not apply – this is not that kind of device. Like at all!
It's basically for people like my dad; he vapes but he thinks all the massive mods and tanks I use are stupid. It's for people that want to get their nicotine hit in a familiar fashion without any real fuss.
And for those types of user, the Hangsen Genesis ticks all the right boxes.
Hangsen Genesis Review: Battery Performance

The Hangsen Genesis runs on a non-removable 1500mAh battery and, overall, the performance you get from it is very respectable indeed.
Case in point: I work 12 hour shifts at work and it lasted me all day until I got home. Plus, I am not your average vaper; I smash it all day long, which bodes extremely well for the Hangsen Genesis.
After a 12 hour shift, the Hangsen Genesis is usually on its last legs. Still, for a device of this size that is still an impressive feat – 12 hours of vaping is pretty impressive.
One thing that does really annoy me about this device, though it is definitely one of the reasons its battery is so good, is that it automatically switches off after 10 minutes of inactivity.
This point, I admit, is rather subjective. Plus, if it saves battery life then it definitely serves a purpose, so I guess it gets a pass.
Hangsen Genesis Review: My Final Thoughts
Do I like the Hangsen Genesis? Yes and no, really. This isn't a device that I'd normally use; I like RDAs and Mech Mods and high power mods. But I am not the target audience for this product.
Like I mentioned earlier, this type of device is targeted at those looking to get off cigarettes and get their nicotine fix in a similar manner. This is why vape pens are shaped the way they are. It's also why most of them – including this one – are mouth-to-lung devices, as this more closely resembles the sensation you get from cigarettes.
It looks great, performance is strong, and the battery life is superb, especially if you're not a heavy vaper. Basically, if you're looking for a decent "first" vape device that'll get you off the stinkies for good, then the Hangsen Genesis is definitely worth a look.
Nick Jennings
Reviews & Tutorials Guy. If You Can Build It & Vape It, I'm Your Man!