The Eleaf LYCHE tank is one of the best sub-ohm tanks we have tested in 2016. Period.
Eleaf, what a company! A stalwart of the vaping space, Eleaf have been around since day one and, as you probably already know, they really know how to put together decent gear. Just look at the iStick Pico.
From old to new Eleaf has always catered to every type of vaper. Whether you're seasoned pro or a complete novice, Eleaf has something for you.
Today we are going to review the LYCHE NotchCoil Tank from Eleaf. How well does this tank stack up to Eleaf's other tanks like the Melo series or the Lemo series or even other tanks such as the Crown and Herakles Plus?
That is what we're going to find out today, my friends.
Let's have a closer look and see what makes the LYCHE so special.
Eleaf LYCHE Review: Packaging
Flashy and elegant is all I can say. On the cover we see the cool looking LYCHE by Eleaf and a close-up picture of a NotchCoil with LYCHE Top Airflow and Side filling.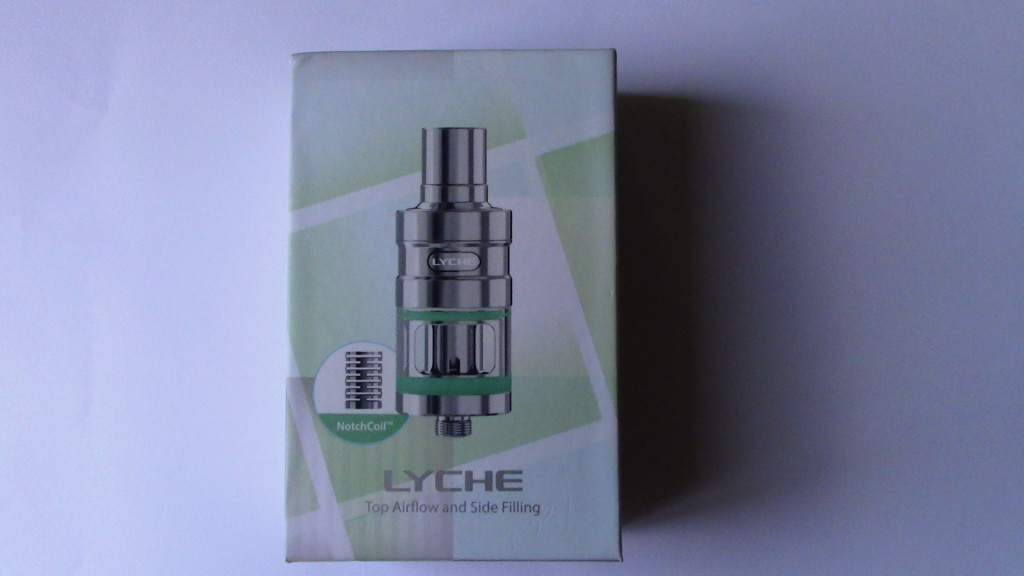 That's right, you read that correctly — the LYCHE by Eleaf features side-filling and it features the top-mounted Airflow.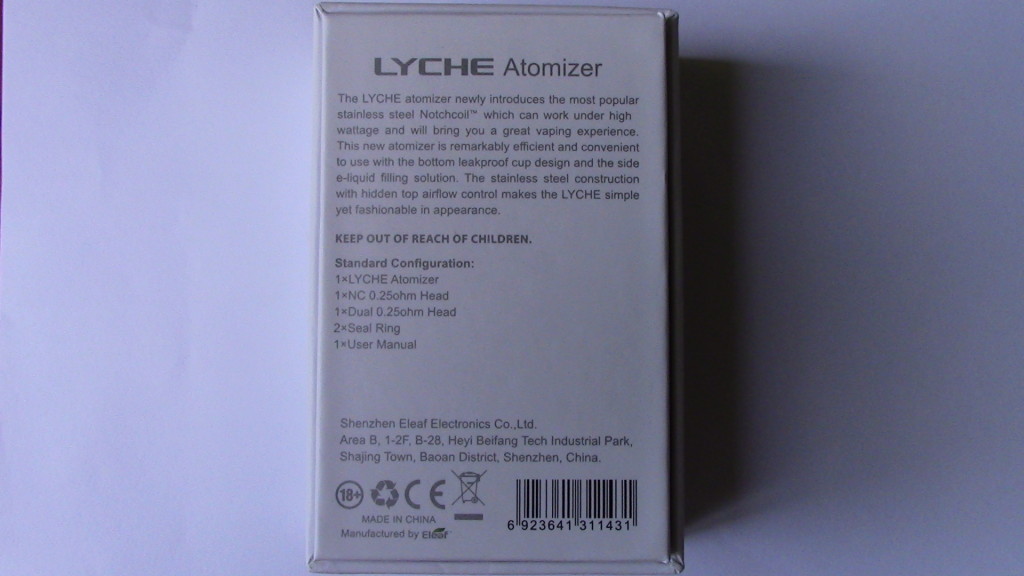 On the side of the box we see the security code and the backside gives you information on the LYCHE with the included contents:
1 LYCHE Atomizer

1 NC 0.25ohm Coil

1 Dual 0.25ohm Coil

2 Extra Seal Rings

1 User Manual
Opening the box we are presented with the Eleaf LYCHE tank and the spare coil with one coil preinstalled. Oddly, there is no spare glass tank. What's up with that, Eleaf? You do get some spare seals, though.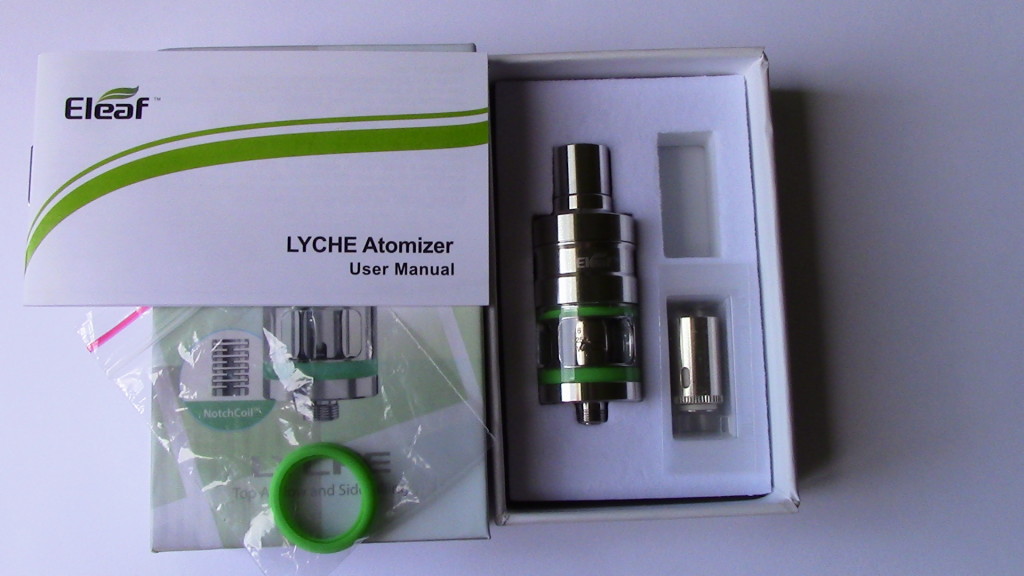 You also see a spot in the packaging for another coil but there is no other coil included, which tells me Eleaf planned to ship this tank with more components but decided against it at the 11th hour.
Eleaf LYCHE Review: Design
Oh man, this LYCHE looks so damn good! From top to bottom you can just tell this tank is unique.
The glass section looks short but it holds 4mL of eliquid. I have the stainless steel version (but it is also available in black) and it looks great.
Everything sits together really well; the overall aesthetic screams quality. I love it. But where things get really interesting is at the top of the Eleaf LYCHE tank because this is where we find side fill and top airflow system.
Grabbing the section just above the glass and giving it a slight twist reveals a sizeable hole for filling. A slight twist back in the opposite direction and you feel a slight click, which means the Eleaf LYCHE is closed and ready to be vaped on.
Right above the side fill section is the top airflow design and you adjust that ring left or right to open and close the airflow. Above this is the Eleaf LYCHE's removable 510 drip tip.
The 510 threading is great and screws on nicely to all my devices. The tank comes completely apart with ease, making it simple to clean and maintain. Personally, I think the Eleaf LYCHE is stunning to behold. I cannot remember the last time I saw a tank that was this eye-catching.
The Eleaf LYCHE is truly a thing of beauty. 
Eleaf LYCHE Review: Specs & Features
Dimensions: 59*22mm

Stainless Steel Construction

4mL Tank Capacity

Top Hidden Airflow

Convenient Top Side Fill

Bottom Cup-Like Design

Delrin Insulated Drip Tip

RBA Available
See the bottom one? RBA available? Guess that's what the empty slot in the packaging is for! Also, why the hell don't Eleaf include one?
If they want to take on the might of the SMOK TFV8, which'll take some doing, they really should have included an RBA — omitting it makes no sense, unless it was done to reduce the cost of the device.
Eleaf LYCHE Review: Performance and Coils
As usual, I tested the Eleaf LYCHE over a week-long period. This way, I can get a better idea about the tank's performance over a longer period. Also, it often takes coils a while to "settle" before they perform optimally, so a week gives them plenty of time to come into their own
First I used the Dual 0.25ohm SS316 coil, which is rated for 40-60W.
Starting off with the 40W, I got really good flavour and some really decent clouds. Bumping up to the 45W I got better flavour and a bit better clouds, at 50W the LYCHE really shifted gears — big clouds, HUGE flavour.
Ramping up to 55W produced similar results,  giving way to even better flavour and denser clouds. At the 60W max rating I was a bit surprised at the performance I was getting. I couldn't believe that the LYCHE tank was matching my Herakles Plus at 60W! Flavour and clouds were darn near on par with what is by far one of my all-time-favourite tanks.
After going through 6 tanks using the dual 0.25ohm coil I then switched ejuice flavour and dropped in the 0.25ohm NC (NotchCoil) and this one is rated for 40-60W and is SS316 as well.
Again starting off at the 40W was a sheer enjoyment. Amazing flavour and pretty decent clouds. 45W gave better flavour and better clouds than the dual 0.25ohm SS316 coil at 55W!
Moving up to 50W my taste buds were in heaven and the clouds were thicker as well. At 55W I wasn't sure the flavour could get better but it did and, yes, the clouds got thicker and denser.
At 60W, things got brilliant and this is where I left it, as it felt like the NotchCoil's sweet spot. Eight days later, the NotchCoil is still going strong.
The Eleaf LYCHE tank never got hot, even when chain vaping. The coils can keep up with chain vaping 80VG with no problems at all. Running at 60W with moderate vaping got me a day's worth of vaping on a single tank of ejuice.
The top airflow system had me worried a bit at first, but after a week with this tank I cannot fault what Eleaf have come to the table with here. Performance, across the board, is exceptional. Easily on a par with the Herakles Plus — and that REALLY is high praise. 
Eleaf LYCHE Review: Final Thoughts and Conclusion
The Eleaf LYCHE surpassed ALL my expectations. Put curtly: this tank has blown me away. Since testing it out, my UWELL Crown and Herakles Plus have been sat on my shelf, collecting dust. That has never happened before.
Performance is excellent. Set-up is simple and everything just works. The coils its ships with are top-notch, no pun intended, and using the Eleaf LYCHE as my daily-driver has been an absolute pleasure.
If you need a tank that helps conserve on ejuice, saves battery life and still performs amazingly you need to get this tank! It is stunning. Overall, I would rate the Eleaf LYCHE a solid 9.5/10 which easily places it inside the top five tanks of 2016 so far.
The Eleaf LYCHE retails for $24.95.

---
Next UP: Eagle 25mm RTA by GeekVape Review: Another STUNNER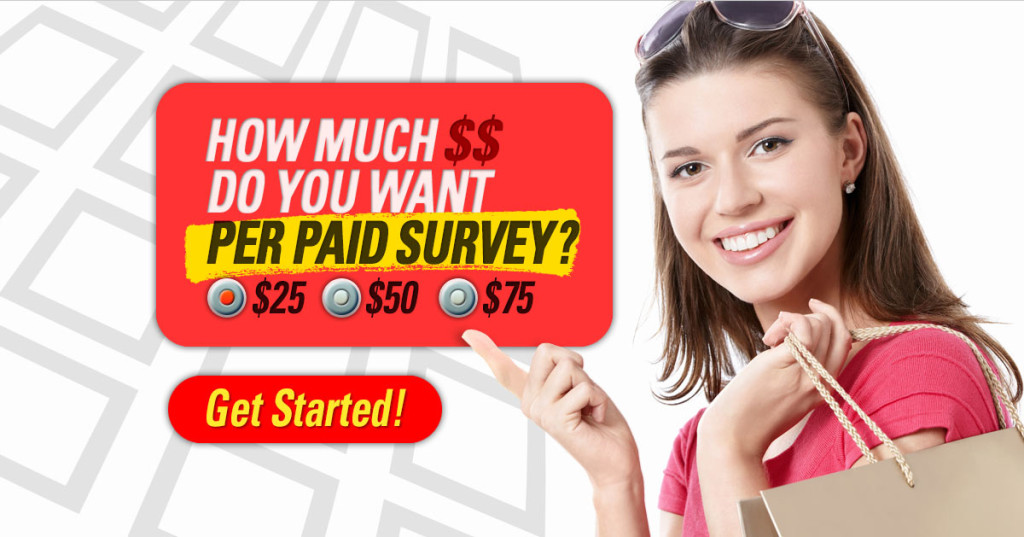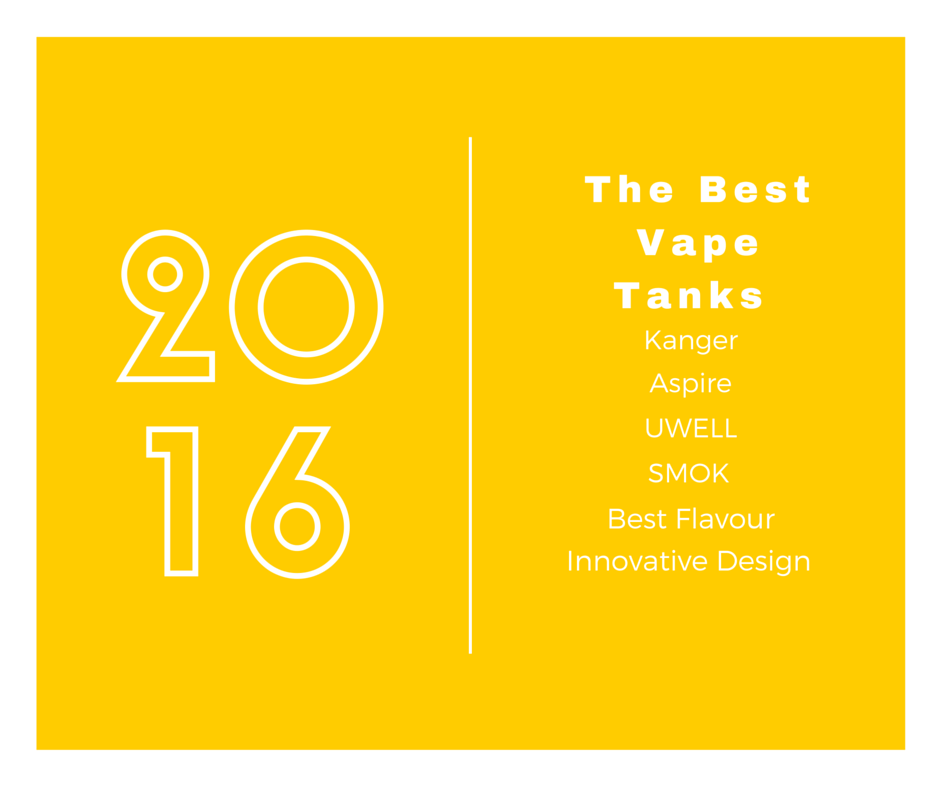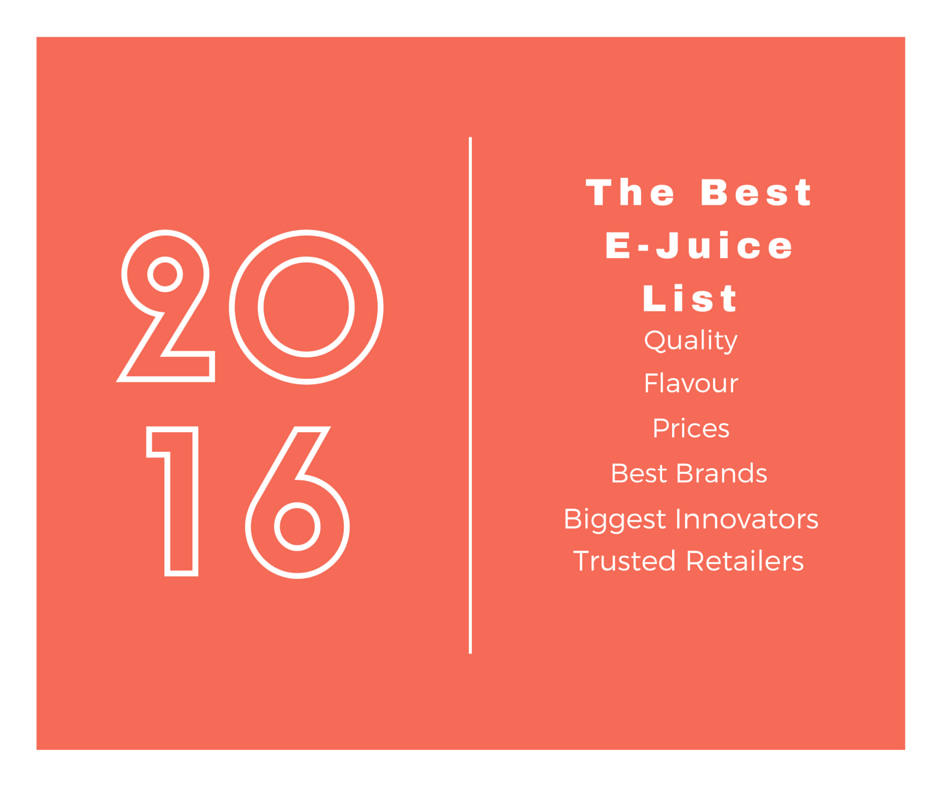 NEXT UP:
Nick Jennings
Reviews & Tutorials Guy. If You Can Build It & Vape It, I'm Your Man!