BONZA RDA Review: The Vaping Bogan Done GOOD!
By Drake Equation • Updated: 05/18/19 • 6 min read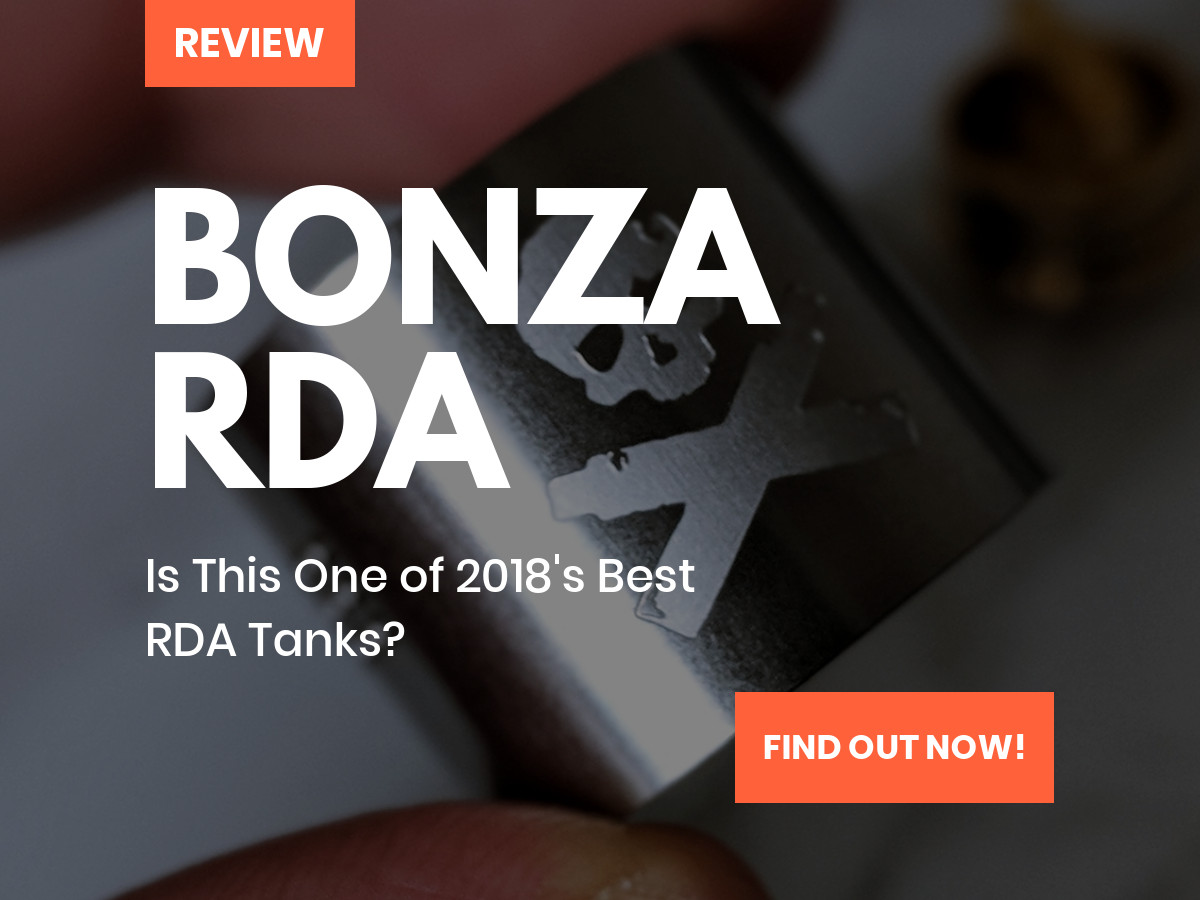 The BONZA RDA by Vandy Vape is pretty much my new, go-to RDA tank. Find out why below…
---
Bonza RDA Quick Verdict (98%)
Why I Love This RDA: 
Immense Design & Styling; It Looks Awesome
Big Deck That is Simple To Build On 
AFC is Detailed Enough For Any Style of Vaping
Squonks Like A Monster
Great For Dripping
MASSIVE Flavor Performance
The Vaping Bogan is one of the best YouTube reviewers working today. He's also designed one of my all-time favorite RDAs; the Bonza RDA is a phenomenal vape tank that features a brilliant deck and tons of possibilities for builders.
The look and feel of the RDA are superb; it's finished and built to high standards, and once you're up and running, it will kick out consistently massive clouds packed full of flavor. Mine's silver, as you can see below, but the Bonza RDA also comes in black as well.
Featuring a familiar-looking clamp-style dual post deck, the Bonza RDA is 100% squonk-ready, though it functions just as well as a standalone dripper too. The RDA measures 24mm, and you have a comprehensive side-mounted airflow control system that opens up plenty of possibilities.
All told, this is one of the best RDAs in the business for flavor and clouds. Perfect for mech mods or squonk mods, the Bonza RDA is an accomplished, well-priced rebuildable atomizer that deserves a place in any serious vaper's collection. I know mine wouldn't be the same without it.
And for just $30 (with FREE SHIPPING), it delivers some seriously impressive value for money too!
---
Full Vandy Vape BONZA RDA Review
Vandy Vape requires no introduction.
And neither does The Vaping Bogan.
And while I am a little late to the BONZA RDA party, I'm glad I finally picked one up for myself.
Why?
Simple: the BONZA RDA is one of the biggest hittin' RDA tanks of 2018.
Bar none.
If you haven't heard of this RDA, you're missing out. BIG TIME.
Read on for my detailed review of the BONZA RDA.
BONZA RDA Review: Design
The BONZA RDA is a very handsome chap.
It is also very well made. Everything fits together snuggly and comes apart easily enough.
The 510 pin is gold plated (and so too is the deck) which makes it a solid option for mech users.
Vandy Vape also includes a squonk pin for those that use squonker mods, and installing it is an absolute breeze.
It's a fairly big RDA (24mm) and it comes with a selection of drip tips in the box, which I really like (take note, tank makers).
The look and feel of the BONZA RDA kinda reminds me of the Dead Rabbit RDA. And, yes, in a good way.
I think this is mostly down to the Delrin drip tips. But size and profile-wise, they're also very similar.
The actual RDA itself is essentially a mash-up of some of the best RDA tanks in the business. However, there are enough tweaks and refinements to make it stand apart from the crowd.
The airflow, for instance, is very similar to the DROP RDA. Only here you have 15 holes instead of six (and it is all the better for it in my opinion).
And then you got its 7mm juice wells…
Jesus! They're proper deep – easily enough for 50-60 puff's worth of E Juice.
Overall, this is one very well designed RDA tank.
Best Things About Its Design?
The Airflow is superb;
The knurling on the top cap makes it easy to grip and remove;
You can slush juice straight into it
BONZA RDA Specs & Features
---
24mm Diameter
Clamp Style Dual Post Deck
Squonk Ready (BF)
Includes 510 Squonking Pin
Side Airflow (Single Coil Mode Support Too)
BONZA RDA Deck
Ah… the deck. How is it?
In a word: AWESOME.
You can fit monstrous builds in this vape tank and the clamping system ensures the leads are held fast in place.

Pin
Setting up the BONZA RDA is super-simple. Even for noobs.
Everything you need to do is immediately obvious as soon as you examine the deck.
As long as you have a decent pair of close-cut pliers, you'll have ZERO issues.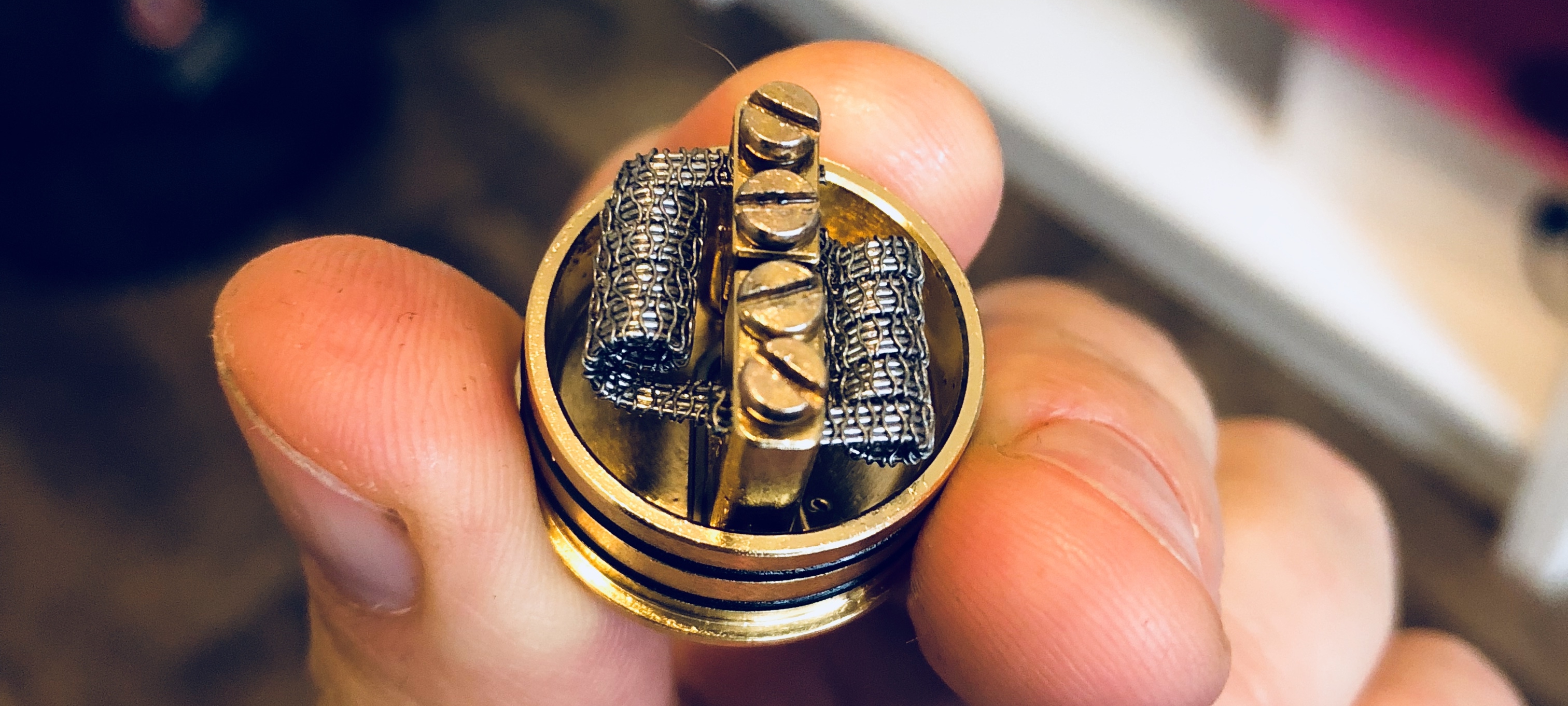 Pin
Once your coils are in, you can literally pack the BONZA with cotton and then schlep gallons of vape juice inside it.
Take that first hit, and you'll know you've made a wise investment.
The airflow and flavor on this RDA is exceptionally smooth and precise.
Which brings us to my next point…
BONZA RDA Performance
Solid. Powerful. Great flavor – these are the things that you think of as soon as you take a hit on the Bonza RDA.
The vape on it is so smooth too; like Kenny G-covered-in-olive-oil-smooth. And this, I think, is down to its awesome DROP-inspired airflow.
As I said, you can run the BONZA in single coil mode as well. The performance here is decent enough as well. The flavor is still precise and the draw, for obvious reasons, is a little tighter.

Pin
Where it really comes into its own, though, is in dual coil mode.
It is seriously potent.
The clouds are enormous. And so too is the flavor.
I had an absolute blast testing this RDA out, and it has more than earned a permanent place in my "forever RDA" collection.
Bottomline? If you like the following:
MASSIVE juice wells
Simple build decks
Smooth airflow
Big, precise flavor
Great design
The go out right now and get yourself a Bonza RDA.
You will 100% not be disappointed.
Drake Equation
Co-founder and Editor of VapeBeat. I make the words.