This is VapeBeat's review of ANML UNLEASHED E-Liquid
ANML Unleashed is exactly as the name implies, UNLEASHED! Just who is this e-Juice maker? ANML is on your (the consumer's) side – not the corporate elites' side. Meaning that only your opinions matter to the company.
This is a very good trait to have in any company.
ANML also donates 1% of each sale to help in the ongoing fight against the FDA and Big Tobacco. ANML only uses high grade approved ingredients when making e-Juice and this really shows! This stuff is well known for being delicious – all you have to do is Google them.
[table id=BESTEJUICE /]
We recently have had the very pleasurable opportunity in sampling each of ANML Unleashed e-Juices and I can 100% confirm that, as Han Solo said in the new Stars Wars movie, IT'S ALL TRUE… ALL OF IT!
Read on to find out more about ANML Unleashed and just how yummy this e-juice line really is
ANML Unleashed – Beast
Enjoy a very smooth pudding banana flavour that will most likely drive the animal inside wild with desire. With rich flavours that ANML produces you just may need to put yourself in a cage and lock it. On the inhale you get a burst of that smooth banana pudding that will creep along your tongue while the exhale leaves you wanting more.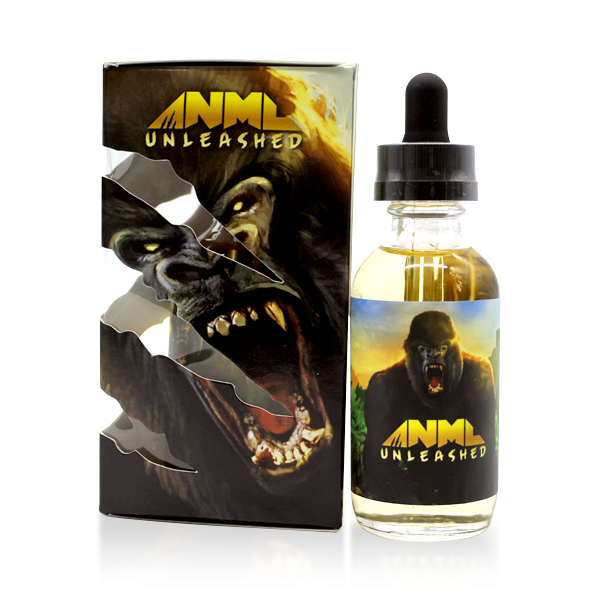 Using this e-Juice in the Crown v2 was just simply a delight. At no point did the BEAST alter in flavour. I ran all the way up to 120W (my coils max) and as low as 50W and never had that burn taste. The huge and dense clouds are quite a treat as well. If you are a pudding fanatic but can't take your pudding with you on the go then get the BEAST by ANML Unleashed so that you never leave home without it.
ANML Unleashed – Grizzly
Grizzly will bring you that all time favourite night snack that we all love, chocolate chip cookies and a glass of milk. From the inhale to the exhale you will actually feel as though that you really just had a chocolate chip cookie dipped in milk, just don't eat this e-Juice. Make sure to have chocolate chip cookies and milk before vaping, you have been warned!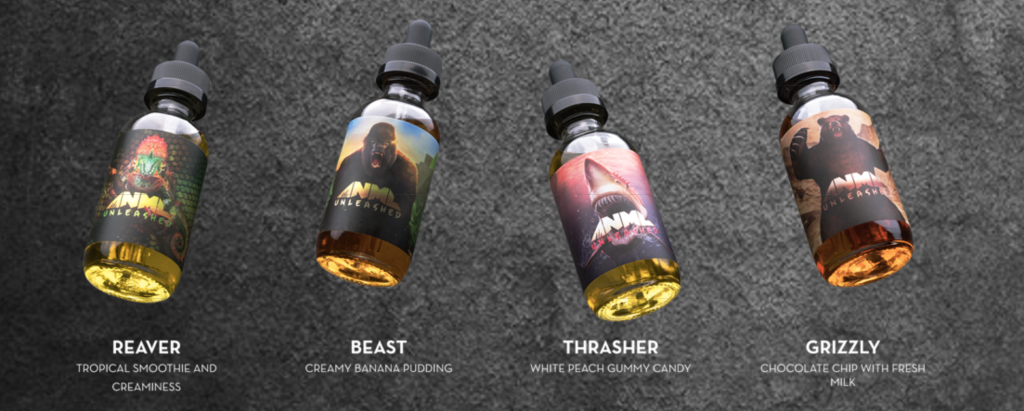 This e-Juice is dead on! The smell of this e-Juice made me want to run to the store but I couldn't. Vaping this delectable e-Juice in the Herakles Pro yielded amazing results. From 40W on up to 125W the Grizzly gave great flavour. No matter how I vaped Grizzly it never tasted burnt. The clouds from Grizzly are fluffy and huge. I would strongly recommend you get chocolate chip cookies and some milk before vaping Grizzly, seriously!
ANML Unleashed – Reaver
Once again ANML provided a great e-Juice in Reaver. Featuring a tropical smoothie blend that's strawberry, coconut, pineapple and a very thick and heavy cream base to round it all together is something that can only be perfected by ANML. I enjoy a good tropical smoothie and Reaver delivers on that with more than I could ask for.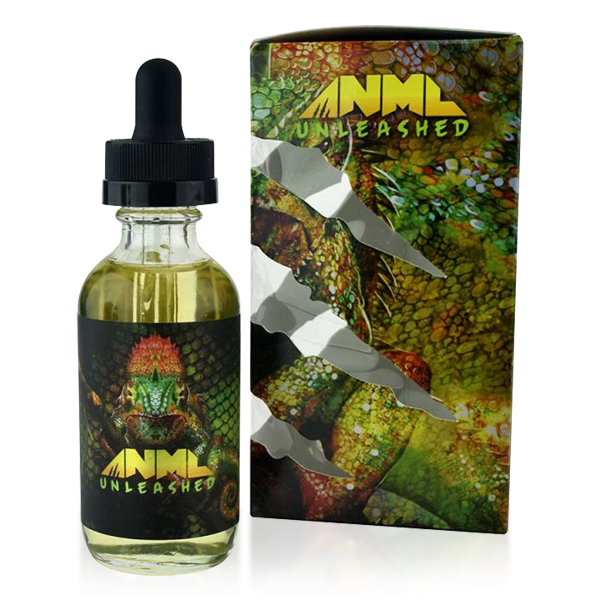 Vaping Reaver in my Eagle RTA 25mm was pure heavenly. The flavours just mix so darn well that if I closed my eyes I would instantly be sitting on a beach. That's a damn good e-Juice! Running the wattage range of 40-175 was never a problem for Reaver. This e-Juice took every wattage level with pride and just offered up more and better flavour with those big beautiful clouds which adds to the beach. Be warned though, you may be running to your nearest store for that tropical smoothie and then quite possibly to a travel agent or your local beach.
ANML Unleashed – Thrasher
Thrasher is a candy blend of sweet creams and the finest peaches around. The smell alone will have you wanting more and a flavour combo that will leave you clenched to your vape for days. I shouldn't warn you but I will. Buy two bottles of Thrasher so you don't have withdrawals, lol!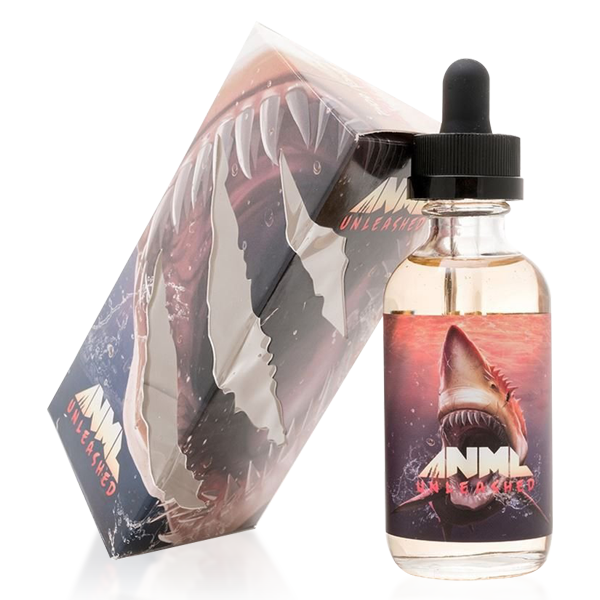 For Thrasher I used the Crown v2 and wow! The flavour is very amazing and I had to refill my tank before I knew it so I could run my wattage tests. 45-120W and the Thrasher was more than amazing, it was superb! No burning tastes and lots of clouds, I mean lots of clouds.
All of ANML Unleashed e-Juices come in 0mg, 3mg, and 6mg nicotine and come in 60mL. The ANML Unleashed bottles have some really nice artwork as well and are a great conversation starter.
ANML UNLEASHED e-Juice Review: Final Thoughts and Conclusions
I really was a bit skeptical with this line of e-Juice but I dove in head first as always and I was very impressed with the performances of each of the e-Juices.
The flavour is simply divine to say the least and having huge fluffy clouds to boot is great. ANML did more than an amazing job and my real ONLY con is this, I NEED MORE! So, run and get you some right now and don't forget to comment below what your thoughts are.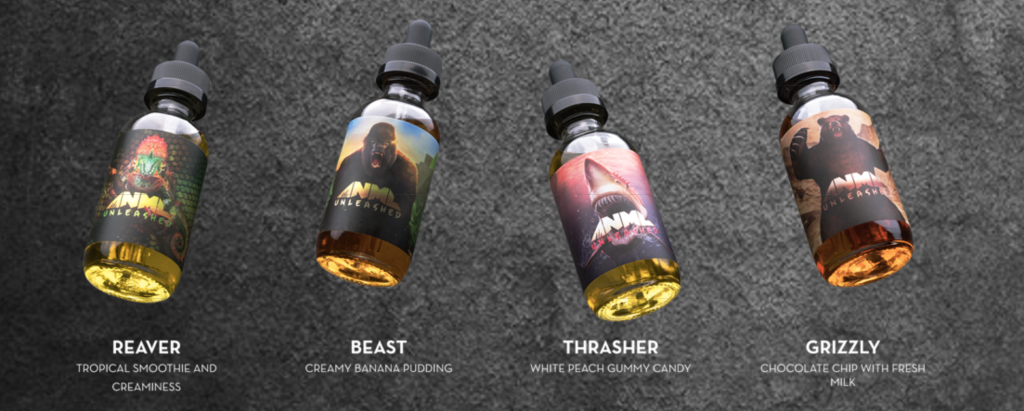 NEXT UP:
Nick Jennings
Reviews & Tutorials Guy. If You Can Build It & Vape It, I'm Your Man!