VaporShark DNA 200 Specs, Prices & Where To Buy One
Vapor Shark makes some of the best – and most costly – box-mods in the business. But like a lot of things, when you spend a little extra you get a lot more bang, or, in this context, performance, for your buck. This has always been the case with Vapor Shark's DNA series, which is why it is one of the most popular vaping brands around.
 The VaporShark DNA 200 is now officially available in the UK and US is priced at £179.99 or $199.99. This box-mod really needs no introductions and is easily one of the most anticipated box-mods to launch this year. Features include temperature control, updateable firmware, individual cell monitoring and of course high speed charging are just some of the features which make the DNA 200 such a desirable acquisition for any vaper.
Like Apple's iPhone and Mac PCs, VaporShark is the embodiment of premium in the vaping space. There are similarly priced brands in operation, but VaporShark has always pushed the boundaries with what's possible with box-mod technology. Things like wireless charging aren't things you'd normally associate with a mod, but this is just one of the unique features of the VaporShark DNA 200.
This type of box-mod is the kind of device you buy once and then don't have to buy anything else for a good few years, as it is future-proofed to hell. It has features, power and TONS of customisation options.
The one thing lacking, however, and this is crucial for many people is support for Mac PCs. This was meant to be happening in 2015 but has yet to surface. I have no idea what's going on here, but it means if you don't have a Windows PC you're kind of out of luck when it comes to using a DNA 200 box-mod, as one is required to set it up, so this is definitely worth taking into consideration before buying.
Here's the official spiel from VaporShark on its DNA 200:
The long awaited DNA 200 is everything you've been looking for in a mod. Sleek, pocket friendly, powerful and completely customizable. Unlike the DNA and rDNA, the DNA 200 is made out of 6031 aluminum, making it lighter than it's predecessors. The finish starts with a black anodization process, followed by black paint and then a light rubberized coating completes the process. Truly our most durable finish to date. Zip Charging is on board to make sure charging is done in a flash when plugged in to a 2A power source. No one likes waiting for their batteries to charge. The DNA 200 is powered by a 3 cell 10 Watt hour lipo pack. One of the best features of the DNA 200 is Escribe. Escribe is a controlling interface software capable of over 93 customizable options. What this means to you is you can finally dial in your perfect vape. There are 8 customizable profiles that allow you to save your settings for a variety of builds ranging from your standard coils to most complex. Lastly, your DNA 200 will always be up to date with USB upgradeable firmware. You asked, we listened, this is the last mod you'll ever need.
Vapor Shark DNA 200  Specifications:
200w
Temp Control,
Update-able Firmware,
Full Balanced Charging,
Individual Cell Monitoring
Here's what VaporExp had to say about the Vapor Shark DNA200 in his review of the HUGELY anticipated device:
"How does it vape? Well it vapes really, really well! This has to be one of the hardest hitting mods I have ever owned. When using my Crown tank on other devices I usually vape at 60 watts, with the VaporShark I have to dial it back to 50 watts to get the same effect, yeah it hits that hard! I believe this has lot to do with the nature of the battery pack, there is a lot of power being stored there. Honestly this is actually kind of nice side effect too, since backing down the wattage actually helps conserve battery life so win-win. The device is pretty accurate and vapes very reliably with out much need to fuss with it or change power settings. I like that! Although my Crown Tank with a 0.5 ohm coil reads around 0.6 not sure if that is the coil or not but with other coils they are spot on.
"So I really like this mod, it's compact, lightweight and really feels like quality in the hand, nothing feels cheap or like an afterthought. It's well designed, except maybe for the screen being on the bottom, and works very reliably. Now here is the big question. This device retails for $199.99, yeah that's a lot of money for a mod, and to be honest I struggled to want to spend that much on a mod. VaporShark also has a reputation with being very overpriced especially with their previous mods. So I was kind of worried about not getting a good value and that's what makes this a hard question to answer. All I can offer is my opinion on this, I think the money is worth it. Your buying a great, well made device from a vendor that has a good reputation of taking care of their customers."
VaporShark DNA 200 Price: Why Does It Cost So Much? 
The VaporShark DNA 200 is one of the more expensive box-mods on the market at present. It is beautifully designed, well specced and is packed full of innovative features and settings. But why does it cost so much? Put simply: the EVOLV DNA 200 chipset inside it and branding.
VaporShark is a "premium" brand, like Apple, and it retails its products according to this ethos. It connotes quality and a certain level of desirability, as not everyone can afford one — this is what Apple goes for with its phones and computers. And it works too; just look at how successful both firms are in the markets they operate in.
The VaporShark DNA 200 also runs EVOLV's DNA 200 chipset, hence the name, and this is one hell of a chipset. With it you get unparalleled user features and customisation options, as well as the latest and greatest safety features. This chipset is easily the most advanced currently available and for this reason it costs quite a bit to buy in and implement inside a mod. The "premium" is then passed onto you, the consumer, in the form of a higher than normal price. In this context: $199.99.
"The DNA 200 is a power regulated digital switch-mode DC-DC converter for personal vaporizers," said EVOLV. "It features Evolv's patented Wattage Control, Temperature Protection, Preheat, Digital User Controls, OLED Screen, Onboard Buttons and Synchronous Rectification for maximum battery life and minimal heat generation. The DNA 200 runs from a 3 cell lithium polymer battery, and features cell-by-cell battery monitoring and integrated balance charger. The USB port and Evolv's EScribe software can be used to customize or monitor the user experience. It is the most advanced personal vaporizer controller ever made. The DNA 200 is vaping down to a science."
VaporShark DNA 200 Alternatives? 
And if you like the sound of the Vapor Shark DNA200 but want something a little cheaper then you might want to check out the Volcano LAVABOX DNA200, a brand new box-mod from Hawaiian-based company, Volcano. Another option is EXCELLENT Wismec Reuleaux RX200, which is A LOT cheaper than the Vapor Shark DNA and just as powerful. I also prefer the way it looks.
---
CLICK HERE TO BUY THE VAPORSHARK DNA 200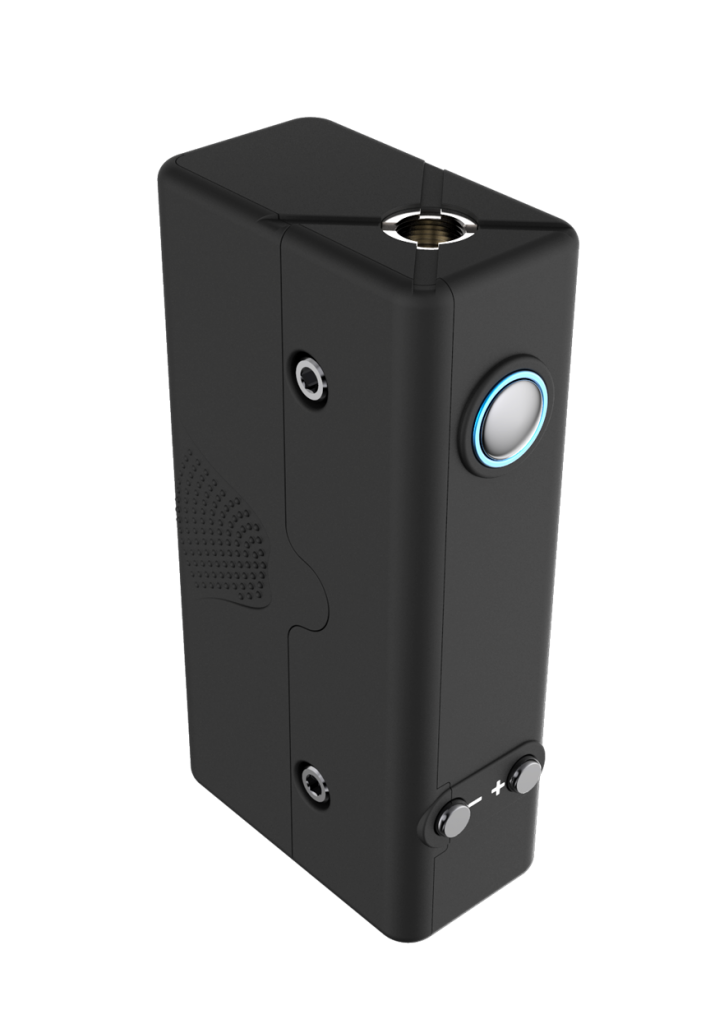 ---
READ THIS NEXT:
Drake Equation
Co-founder and Editor of VapeBeat. I make the words.