I say, "kind of" because you have to spend $60 to get one, but if you're about to stock up on a bunch of new E Juice, it's definitely worth a look.
This giveaway is only valid for the next 24 hours – or until stocks last.
That means if you fancy getting in on the action, you should probably act ASAP in order to get the deal.
You do have to buy $60's worth of E Juice in order to be eligible for the Suorin Drop, however, but if you're anything like me, and you buy in bulk, that shouldn't be too much of a problem!
You can access the deal RIGHT HERE.
Is The Suorin Drop Any Good?
Yes, it's an excellent little pod mod device. I've used one before, pretty solidly before I switched it out for the Mi-Pod.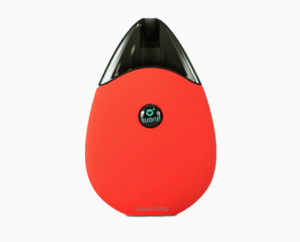 The Suorin Drop is portable, refillable, and has a pretty respectable battery life for a pod mod of its size.
It's also an MTL vape kit, meaning it draws just like a cigarette or a Kayfun tank. Again, this makes it ideal for newbie users or those that enjoy a good ol' MTL vape.
Suorin Drop Specifications
Dimensions: 73 mm x 49 mm x 12 mm
Drop Pod capacity: 2 ml
Battery capacity: 300 mAh
Resistance: 1.3 – 1.4 Ohm
Charging time: 45 min
Charging Port: Micro USB
And because it's refillable, it means you can use your own Nic Salts E Juice with it – this will save you a packet in the long run versus using a pod mod like the JUUL.
You can see my current picks for the best Nic Salts brands right here.
Pod Mods & Nic Salts E Juice
If you've never used Nic Salts E Juice before, please keep in mind that they are A LOT stronger than standard, freebase nicotine E Juices.
I'm talking 20-30MG versus 3MG nicotine, and you will notice the difference – trust me!
This is why Nic Salts E Juices are not designed for sub ohm tanks; it'd blow your socks off and likely send you into a nicotine-induced mania!
With pod mods, though, Nic Salts juices are ideal. You get less vapor and more of a hit. This is basically what the JUUL business model is built on.
Either way, I thought this was a pretty cool deal, so I thought I'd share it with you guys!
Drake Equation
Co-founder and Editor of VapeBeat. I make the words.