If you're in the UK and you're looking for cheap mech mods, you gotta see this…
---
Once you get into mech mods, you don't usually go back. The simplicity and performance of mech mods are more or less unparalleled – that's why most professional and seasoned vapers use them. You get more control, more power, and bigger clouds. Plus, once you know your stuff, you can start getting really fancy with your builds.
But if you're just starting out, or thinking about getting your first mech mod, you don't want to be dropping hundreds on your first setup; it makes WAY more sense to start off with something cheaper.
And UK ECIG STORE has got you 100% covered in this respect – it's currently running an EPIC sale on mech mods where you can save upwards of 50% on big-name mech mods like ones from Vaping Outlaws, RNV Designs, and APV.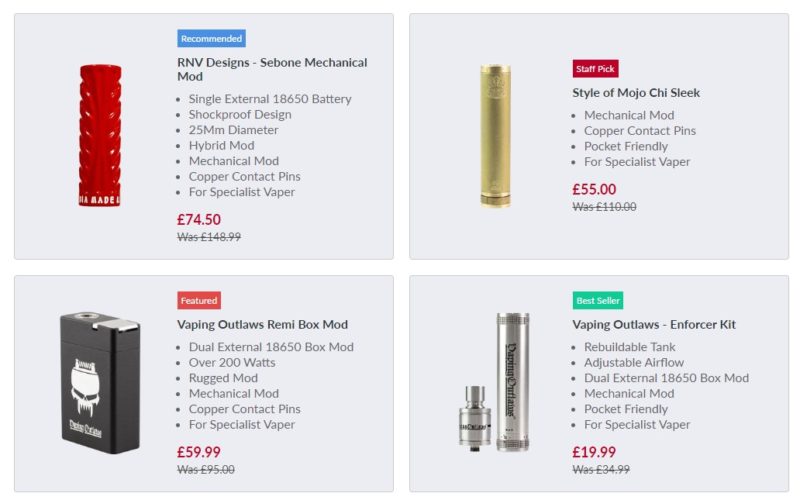 Big Name Mech Mods w/ Low-Ass Prices
Just browsing around the sale, I've seen £150 mech mods reduced down to £74 – that's an incredible saving. I do enjoy a good mech mod when the mood takes me, so I picked up a couple of discounted setups for myself. I went with the Praxis V3 Mini and the Vapesirs Sir Lancelot – both of which I picked up at a heavily reduced price.
If this is your first mech mod, I would 100% advise you to read Christopher's guide to mech mods. In it, he covers off everything you need to know about setting up and running mech mods – from what type of batteries to use to how to ensure your always running the correct ohms on your builds. It's a great post and well worth checking out.
Single or Dual-18650 Mech Mod?
As you can see on the sales page, there are a ton of options – both single 18650 mech mods and dual-18650 mech mods, as well as a couple of squonk options too.
What you go for will depend entirely on what your exact needs are. Me? I like single-cell mech mods because I don't use them all that often, usually just when I'm in my office and want to hit up some high VG vape juice.
If you want to run a mech mod all day, as most users do, you should definitely check out the dual-18650 mechs on sale; there's a bunch (and most are squonkers too, which is always a bonus).
I'm a massive fan of the Asmodus X Ultroner (click here to check it out); it's a beautiful mod that squonks like a champ. It also looks stunning too, thanks to its stabilized wood and resin exterior.
With a squonk mech mod, you won't have to constantly drip vape juice into your atomizer, saving you time. A lot of modern vapers prefer squonking for this exact reason. Me? I don't mind dripping too much. But I'm a bit old-school like that!
Either way, if you're new to mech mods and want to pick one up (and save yourself a ton of money in the process), UK ECIG STORE's sale is well worth a look! I think I saved about £80 across my two purchases, and you could do the same – just check out the page and see if anything takes your fancy!
Drake Equation
Co-founder and Editor of VapeBeat. I make the words.