There's the underground scene, the indy scene and then there's the BIG BOYS –– here are some of the biggest brands in the vape scene right now (in no particular order…)
There are A LOT of players in the vape space these days. Big, small, independent and wholesale –– plenty of businesses are trying to make a quick buck off the electronic cigarette boom. And when you first start the sheer amount of names, brands, styles and types of product can be a tad overwhelming.
But once you've spent enough time hanging around the cloudy world of vape shops and vaping expos, as we have, you begin to see and hear people talking and tweeting about certain brands over and over again. It is these brands that are the focus of this feature. Pound for pound, they deliver the goods, so if you're just staring out in the vape scene these are the guys you really want to be checking out.
JUICE
RUTHLESS eJuice
These guys know how to brand the crap out of their products, but unlike a lot brand-focussed businesses RUTHLESS isn't all talk and no trousers. Nope! Ruthless make some of the best-tasting eJuice on the planet. If I'm 100% honest "Swamp Thang" was the first ejuice I ever fell head over heals in love with.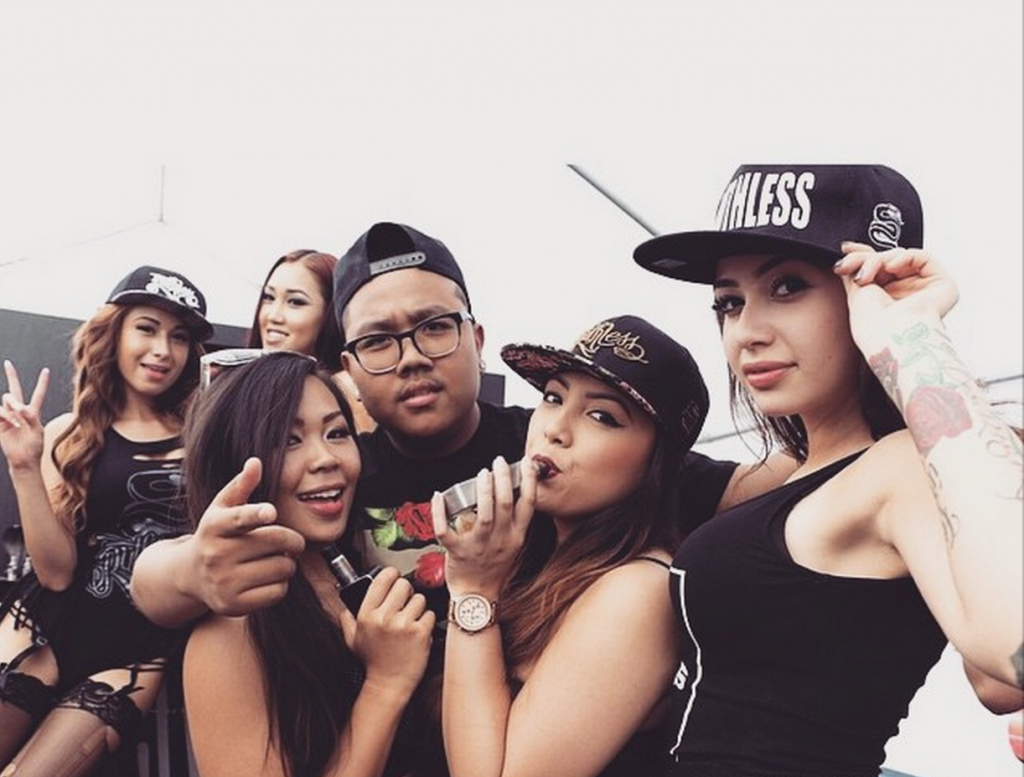 I also like the way Ruthless carry themselves. They have a wicked Instagram account, be sure to check it out, and clearly have a lot of fun doing their thing at events and expos all over the world. And if that wasn't enough they also produce an utterly awesome array of flavourful and exotic eJuice.
Suicide Bunny
Another BIG shout out here to one of our constant, always on hand, ejuice brands. Suicide Bunny, the brainchild of one Pip Gresham, like RUTHLESS, offers up a seriously premium selection of liquids, packed full of flavour and, of course, they're all named very oddly, indeed –– Mother's Milk, anyone?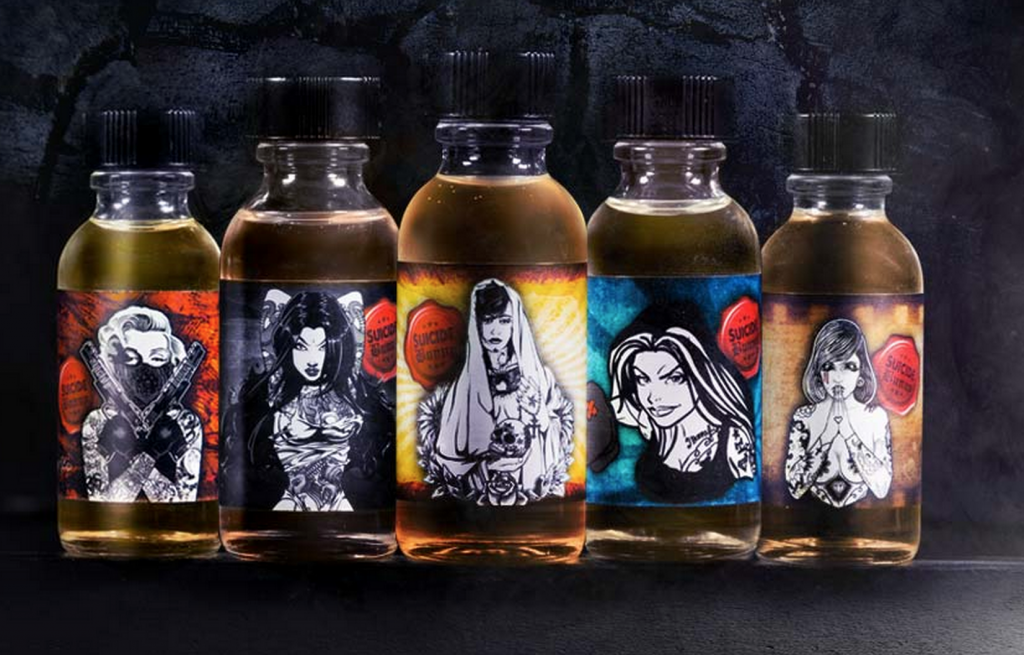 The backstory to Suicide Bunny, according to its official site, is Pip had had enough of her hubby burning through three packs a day and, in a bid to persuade him away from the death-sticks, decided to create her own brand of delicious eLiquid. Or, at least, that's how they're marketing it –– either way, the proof's in the pudding. And Suicide Bunny liquids are just about as good as it gets.
Cosmic Fog
Like Suicide Bunny and RUTHLESS, Cosmic Fog are a US brand and, like the aforementioned juice-makers, they too produce some seriously excellent eJuice. Not so long ago getting hold of US goods was tricky, however, thanks to the magic of an ever-growing number of very decent and very dedicated UK retailers, picking up the best of the US is a now a veritable walk in the park.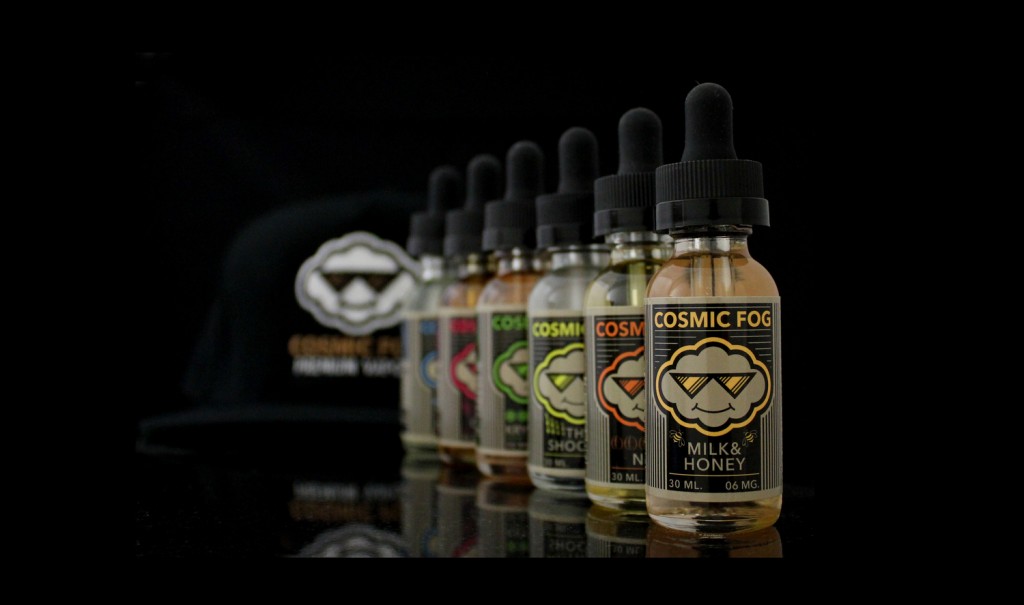 KRYPTONITE. COLA GUMMY. CHURCH. MILK & HONEY… These are just a few of the flavours on offer from the guys at Cosmic Fog and they are literally spectacular, particularly KRYPTONITE –– "a sweet and refreshing blend of cool melon paired with your favourite candy" –– which is apparently CF's best selling juice. We HIGHLY recommend checking these guys out.
Digby's
It's NOT all about the US. There are also plenty of awesome UK vape labs in operation and one of our favourites is Digby's, a Dorset-based independent setup that produces some of the finest ejuice in  the Emerald Isles. It's also very well priced too. Handy if you're sick of paying upwards of £10 for 30ml bottles of imported US stuff.

Digby's prides itself on using only the best US and EU-sourced products to make its juice. It's a smallish setup, with a focus on quality so nothing is mass produced. Digby's makes a batch of juice and then sells it and once it's gone, well, you have to wait until a new batch is ready.
They're a great company to deal with and their website is excellent –– you can check it out HERE. Delivery inside the UK takes a couple of days and, in our experience, the staff at Digby's are always more than eager to help out with any queries you have. They also don't charge a fortune for delivery either, which is a MASSIVE bonus.
HARDWARE
Aspire
Aspire makes tanks. But not just your average, run of the mill standard tanks. Aspire makes some of the best tanks in the business. The attention to detail, the speed with which the company updates its products and introduces new technology is staggering. The company always have something new in the pipeline and more often than not it is always very exciting.

Aspire does BIG tanks. Aspire does little tanks. Aspire does tanks for just about every price point and preference but our current favourite here at VB is the Aspire Atlantis, which can handle up to 30W and run as low as 0.5 ohms. Aspire is an American company and their products are designed and constructed to the highest possible standards. Nothing is left to chance.
If you're after quality, great taste and reasonably priced replacement coils, Aspire is the brand to look out for. They do pretty much everything to eleven. That said, our only real complaint is to do with the company's replacement coils; they just don't seem to last anyway near as long as Kanger's excellent, but more costly OCC solution.
Kanger
Kanger is a pretty big deal these days. The company, based in China, makes some of the best tanks around. Take its Kanger Sub Tank range, for instance, which is a revolutionary new type of tank that brings sub-ohm vaping to the masses –– not just the drip-tippers.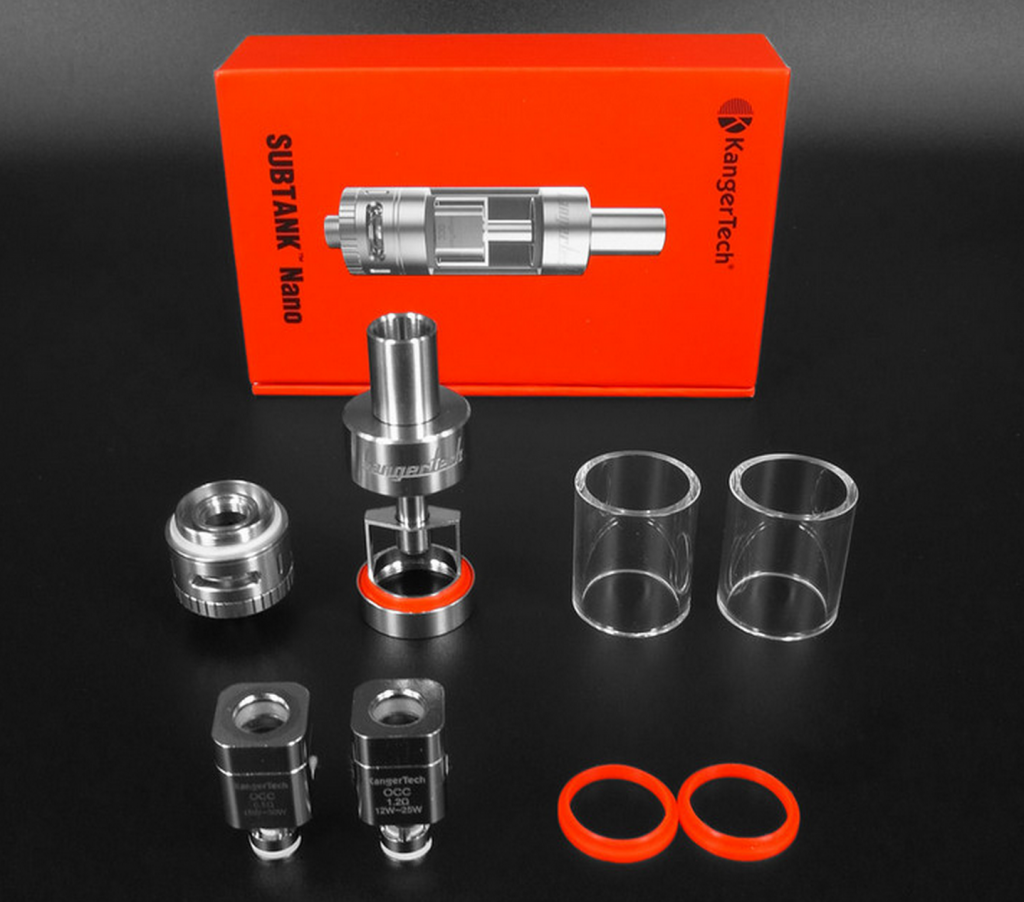 The SubTank range is a trio at present, comprising of the SubTank Nano, SubTank Mini and SubTank Plus. The packaging the product ships in is gorgeous as well; Kanger knows how to make everything look and feel premium. Each product has its own serial and ID number too, so you know you've dealing with a legit product.
The company's new OCC Coils are also fantastic, a vastly superior setup compared to Aspire's similarly priced coils. The flavour seems better with the OCC and, most importantly, they seem to last longer than Aspire coils too, though this will always of course depend on personal usage. Kanger does lots of other vape-released products as well but is best known for its awesome tanks and OCC coils. It also does smaller tanks and clearomizers as well for those still using pen-style batteries to power their vape, as well as very decent vaping starter kits.
Sigelei
Sigelei make AWESOME box-mod units. These things are ultra-powerful, beautifully designed and expertly crafted. The end result is a hugely satisfying vape and utterly gigantic clouds, especially when using the 100 Watt and 150 Watt units.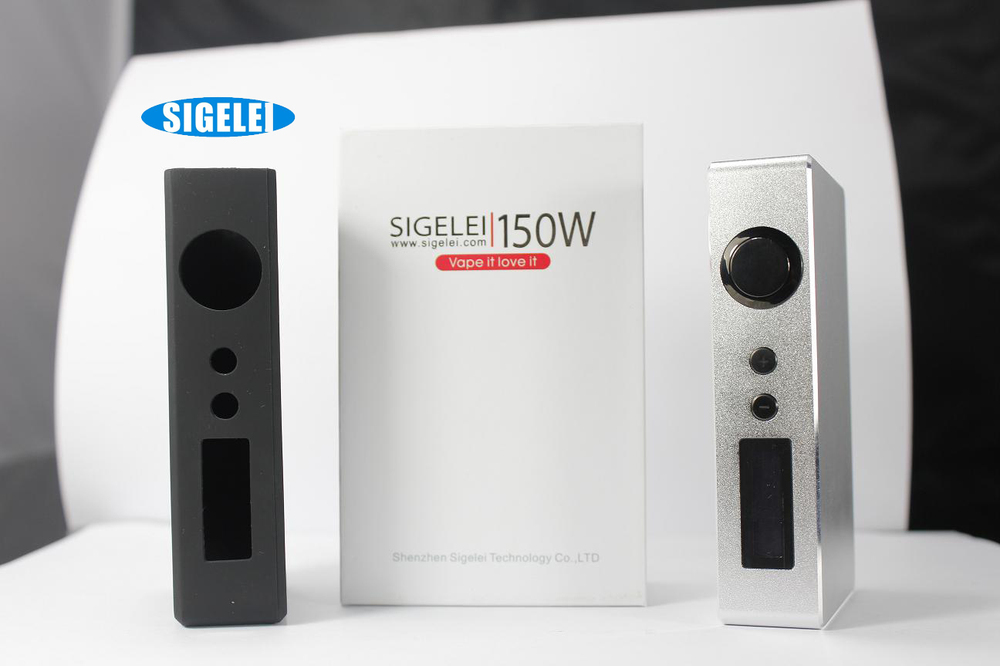 But if you don't want all that power, you can opt for the less powerful Sigelei Mini 30 Watt unit or the Sigelei 50 Watt V2 Mini Box Mod. In this respect, Sigelei is kind of like the Apple of the vaping world; its products are utterly gorgeous and highly coveted, just like Apple's iPhones, watches and iPads.
But Sigelei isn't just a box-mod manufacturer; nope, it also makes batteries, starter kits and accessories like the Fuchai Atomizer. For the most part, however, Sigelei is a box mod brand and its units really are some of the best in the business, so if you have between £70 and £100 to spend you could do A LOT worse.
VaporShark
VaporShark's rDNA box-mod needs no introduction whatsoever, such is its reputation as one of the most feature-rich and safe setups on market. Benefiting from a raft of innovative technology, the rDNA features reverse polarity protection, which is a fancy way of saying it has temperature control and will never over heat or catch fire.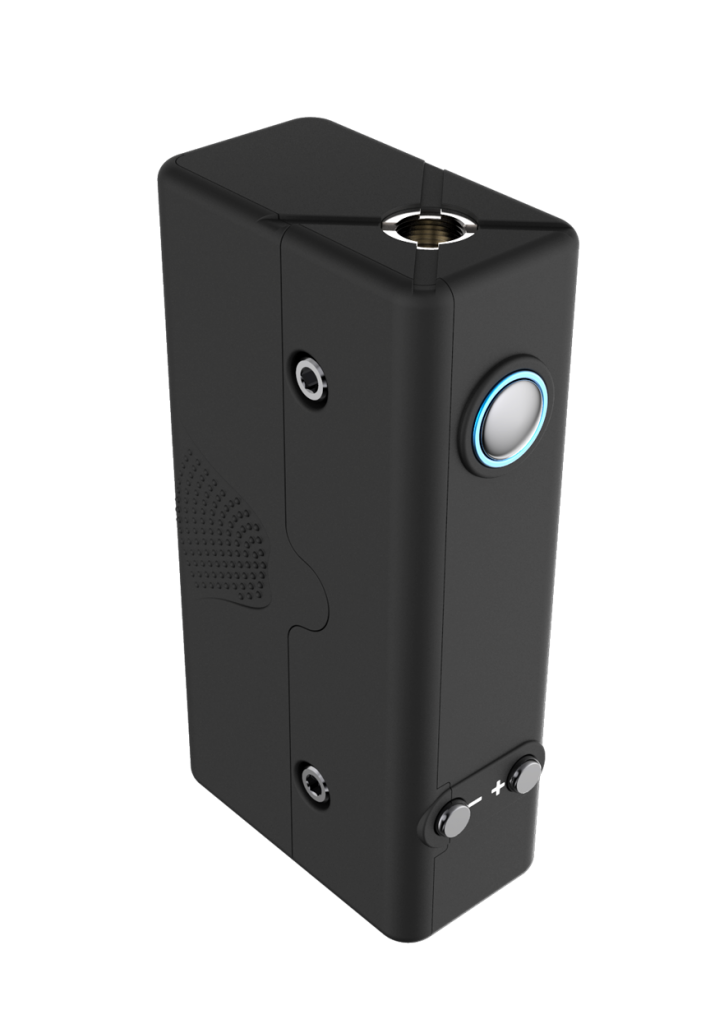 The rDNA is a stunning box mod and while it might not go all the way to 100-or-150 Watts like some on this list, it will be more than enough for 99.9% of users out there. Hell, this thing even supports wireless charging! Not even Apple's latest iPhone has that.
Here's a full breakdown of VaporShark's rDNA:
40 Watts of Power
LG 2500mah 35A 18650 Battery
Magnetic Battery Door & Ejection Ribbon
Gold Plated, Spring-loaded Center Pin
Integrated Wireless Charging
Supports 0.16 ohm or Higher
Pocket Sized at 3.25 x 1.67 x 0.95″
ZIP™ High Speed Charging System
Larger Display Screen
Reverse Polarity Buzzer