An RDTA is like an RDA, just without ALL the dripping. I love them – and these tanks listed below are the best RDTA tanks you can buy (in my opinion)
---
I don't want to list ALL the new RDTAs, just the ones that are worth your time and money (as well as a few classics that are still relevant today). I've broken this list post of the best RDTAs down into two sections:
Traditional RDTA tanks
RDTA tanks that squonk
That way, we're covering all the possible bases. With that in mind, let's take a look at my #1 picks for BADASS RDTA tanks for right now. And if you're using an RDTA – or an RTA or RDA, for that matter – make sure you're using high-quality, high VG vape juice! 
Best RDTAs | Traditional Style
These are my picks for the best-performing RDTAs right now. They're all solid setups that I choose based on overall performance, flavor, and ease of use.
#1) OBS Frost Wyrm RDTA
If you like value for money, OBS is a vape brand you need to get acquainted with…
Not only does it make some of the finest vape gear on the planet, but it also charges very fair prices for it too.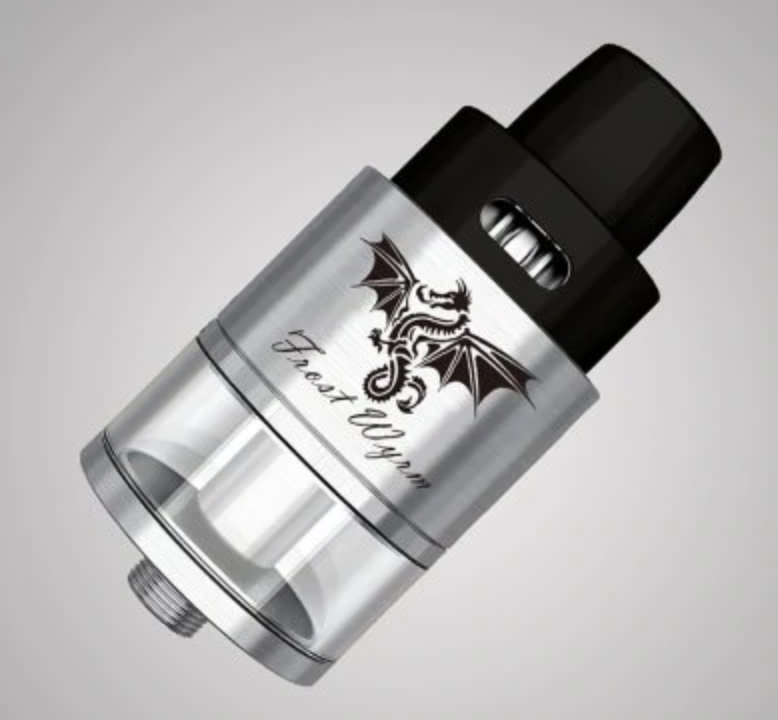 The OBS Frost Wyrm RDTA is a proper, traditional-looking RDTA that packs in plenty of uniqueness.
Building on this RDTA is super-simple and it wicks like a dream.
The flavor is very, very good too. In fact, I can't really find any negatives about this setup. You get a perfectly executed RDTA with a great deck that wicks perfectly every time. And it only costs $25.95.
Why You'd Buy This RDTA?
The Price – It's Insane Value For Money
It Wicks Brilliantly. Every Time.
Intense, Precise Flavor
Looks Great
Decent Sized Juice Capacity (3.3ml)
---
#2) Augvape Merlin RDTA
I really like Augvape. They're one of my favorite brands in the vape space, whether you're talking about tanks or mods, I got a lot of time for them.
The Merlin RTA is a well know and hugely respected RDTA that delivers brilliant performance and a metric-ton of flavor.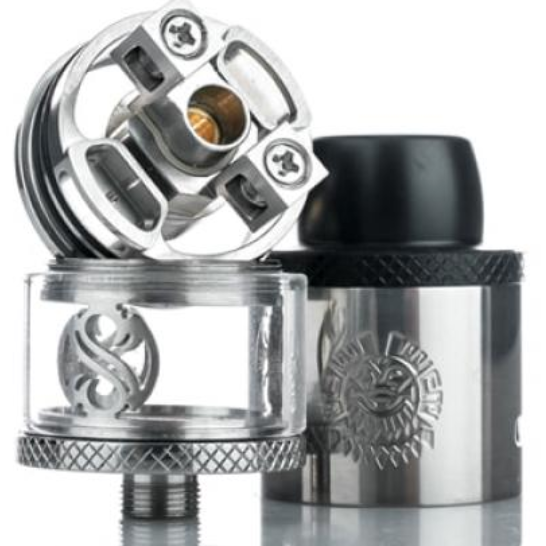 Ideal for advanced users and noobs alike, the Merlin RTA is a must-have for any RDTA lover.
It's easy to build on which makes it great for those that aren't 100% comfortable with building coils. There really is no learning curve with this tank; you wick it, prime, and you're good to go.
Why You'd Buy This RDTA?
Simple To Work With
Massive Flavor
Solid Deck
Nice Design
---
#3) DEJAVU 25MM RDTA Vape Tank
This thing is a beast. The packaging it comes it is insane; you get A TON of goodies, a carry-case, and a ton of spares.
It's easily some of the best vape tank packaging I have ever experienced.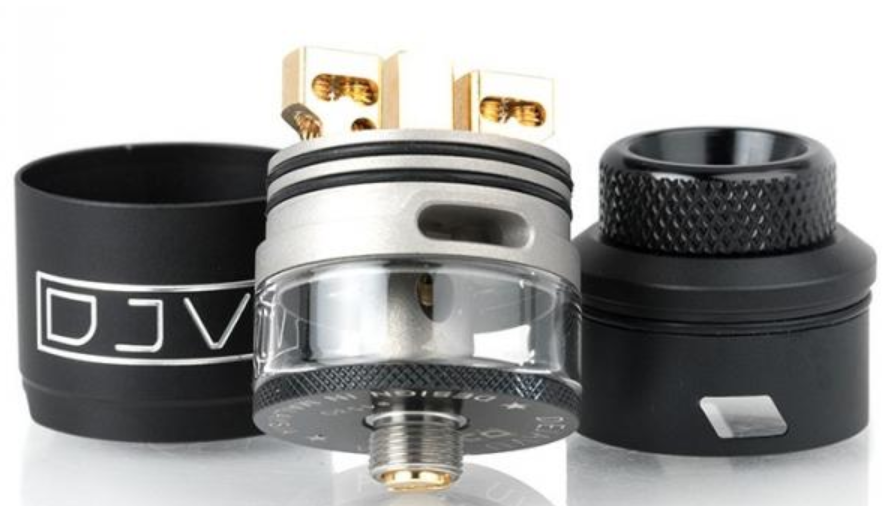 The DEJAVU RDTA is also exceptionally crafted too; it looks immense, has a beautiful two post deck, it wicks solidly, and the flavor you get from it is out of this world.
It's also one of the newer RDTAs on this list; it launched in 2018, so it might not have got the props it quite deserves just yet. But mark my words: the DEJAVU RDTA is a classic in the making.
Why You'd Buy This RDTA?
The Packaging & Goodies – It's An Insane Haul of Stuff
The Deck is Sublime (Super Easy To Build On)
Excellent Flavor – Proper Thick, Dense Vapor
Beautiful Styling + Premium Build Materials
Solid, All-Round Performance
---
#4) Avocado 24mm RDTA – "The Classic Option"
The GeekVape Avocado 24 RDTA is a classic. Look anywhere online where people are discussing RDTA tanks, and the GeekVape Avocado 24 RDTA will show up time and time again.
Why? Simple: it is freaking awesome. It's great to work with, it produces brilliant flavor, and the design, while a little dated now, is still very much on point.

This was one of the first RDTA tanks I used a lot and it served me well with its expansive 5ML juice capacity and super-simple to build on Velocity-style deck.
You can also run the Avocado 24 RDTA with a single or dual-coil setup too, thanks to GeekVape's ceramic block system.
This is a solid, reliable, and very well put together RDTA and it comes HIGHLY recommended.
Why You'd Buy This RDTA?

Ability To Run Dual or Single Coil Builds
5ML Juice Storage
Amazing Flavor
Great Build Deck
Classic Design
---
Best Squonk RDTAs 2018 | Yep, They Squonk…
This is where things get a little more interesting: RDTAs that squonk.
If I were in the market for an RDTA, I'd 100% be looking at one that could squonk.
Why's that?
Simple: I tend to use my USV MachON3 all the time these days; it's a dual-cell mod and it works just like a traditional box mod, only it squonks.
Combine it with an RDTA tank that squonks, and, well… you're in a good place.
#1) dotmod dotRDTA 24mm BF RDTA
The dotmod dotRDTA is pricey, but it is 100% worth it. The atomizer is constructed from high-grade materials and it looks totally badass. Probably one of the best looking RDTAs ever created.
The deck is a cinch to build on and whacks out massive, intense clouds. Flavor's on point, as you'd expect with precise, taste-bud-tingling notes aplenty.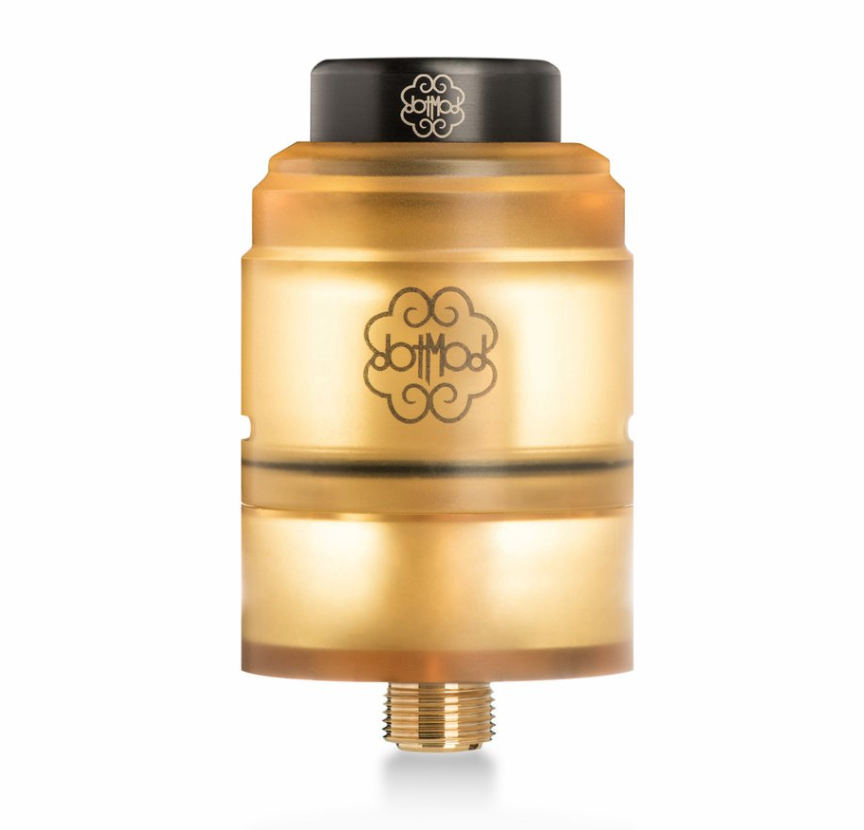 The fact that it squonks makes the dotmod dotRDTA one of my new, all-time favorite tanks; I absolutely love how this thing looks and functions.
Chuck in excellent squonking and you're looking at one of the hottest tanks in the business right now.
Why You'd Buy This RDTA
Looks. It is STUNNING
Great Flavor
Solid, Easy To Use Deck
Runs Cool, Even At Higher Wattages
Squonks Brilliantly
---
#2) Asmodus Nefarius Squonk TF-BF 25mm RDTA
The Asmodus Nefarius RDTA is a very compact tank that still manages to pack in plenty of storage – 4ML. Chuck in 100% squonkability and you're in a very special place.
I love the airflow, it's so customizable; you can really tweak the performance to pull out different styles of vaping and it really helps to explore E Juice flavors.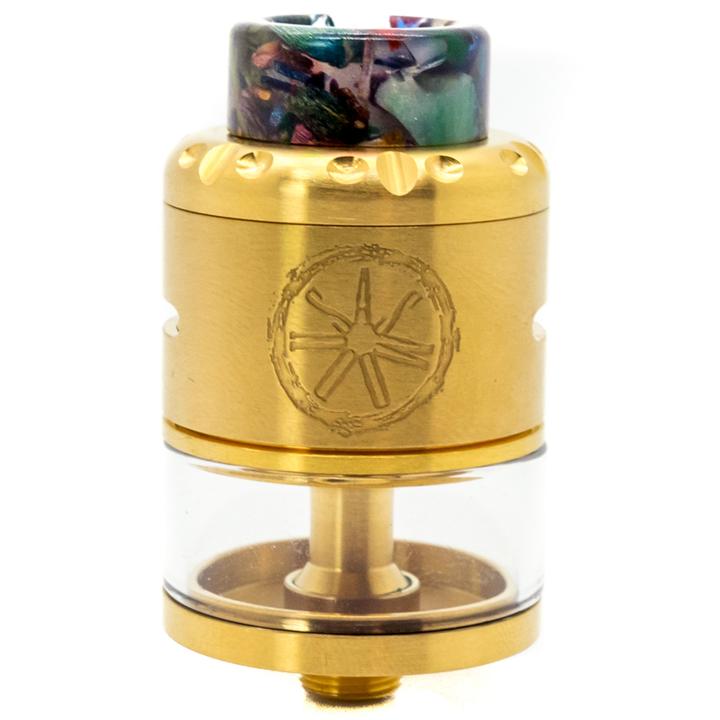 The design and deck are also flawless. Nothing has been left to chance here; this is a proper balls-out RDTA for the modern vaper.
It has (and does) everything you could possibly need from a BF RDTA, and it looks positively stunning doing it as well.
I literally cannot say enough good things about the Asmodus Nefarius RDTA.
Why You'd Buy This RDTA?
Excellent AFC
4ML Juice Storage
Great Flavor
Top-Rated Performance
Compact Design
---
Why I Still Like RDTA Tanks (Despite Rise of BF RDAs) 
RDTA tanks don't get enough attention these days, and this is mostly down to the rise of squonking. Everybody's squonking right now. And that's cool.
But what if you like a good, old-fashioned RDTA?
Well, I'm here to tell you that you STILL got options, good options too!
I have a soft spot in my heart for RDTA tanks. Big time!
I've used them since day one on my vaping journey, and I still use them today. Yes, they have their drawbacks, but for the most part, RDTAs still have a place in any serious vapers' arsenal.
My Personal Favourite RDTA From The Above List?
Tough call. But if you held a gun to my head and made me pick one (or two), I'd probably go with the following:
dotmod dotRDTA ($69.99) – Why? It's stunning. It squonks. And it performs like no other, happy chugging away at high wattages or cruising at lower settings. The flavor's amazing and its deck is simple to work and live with. If you want the best of both worlds, this is the #1 RDTA on this list, in my humble opinion.
DEJAVU 25MM RDTA ($44.95) – Why? For a straight-up RDTA, it doesn't really get any more traditional than the DEJAVU 25MM RDTA. This thing is a great all-around performer that vapes great and wicks like a dream. Chuck in the massive bag of goodies you get with it and I'm 100% sold.
Drake Equation
Co-founder and Editor of VapeBeat. I make the words.