OK, I admit it: this is almost impossible to call! Deciding between the Orchid Ultra and the UWELL Caliburn is like choosing between a night with Megan Fox or Margot Robbie… But I'm gonna have a go at it anyway!
---
Orchid Ultra vs UWELL Caliburn – Quick Verdict (TL; DR Version)
This one is almost impossible to call, as both the Orchid Ultra and the UWELL Caliburn are exceptional pod vapes. They're also pretty different too. But for me, the Orchid Ultra is an overall more impressive device. And, yes, it is more costly too – but that's a given when you check out its specs and features.
The Orchid Ultra has a bigger battery, it holds more E Juice, is 100% refillable like the Caliburn, and it features built-in control for variable voltage, variable wattage and even temperature control vaping. And if that wasn't enough, it also features a 0.96in OLED display, as well as physical controls.
Inside it, you have a 0.86ohm mesh coil that is designed for high PG vape juice and Nic Salts juice. You can adjust the AFC to switch it between MTL and restricted lung hits. This kind of flexibility is missing on the Caliburn; it's a straight-up MTL and there are no controls or vaping modes, which is fine, I just really dig what the Orchid Ultra is capable of.
Performance-wise, the devices are evenly matched, given their specific functions. Coil performance on both is very impressive, though the UWELL Caliburn's weeks-long coil lifespan is still easily the best on the market right now. The Caliburn is also cheaper to buy, which, again, is another plus for UWELL's pod system.
Bottomline? If you want battery life, extended functionality, things like variable wattage, and temperature control, the Orchid Ultra is the one to go for. If you want something that's simple and utterly awesome to use a straight-up pod system, the UWELL Caliburn is easily the best option on the market right now.
Prices For Each Pod System
UWELL Caliburn – $37.95 (DirectVapor + Free Shipping)
Orchid Ultra Pod – $44.99 (VaporDNA)
Read on for more details on the UWELL Caliburn and the Orchid Ultra Pod…
---
Design
As noted above, these are two, very different devices. The Orchid Ultra is a multi-functional pod system that is more akin to a box mod than a traditional, straight-up pod vape. It has variable voltage and wattage that's fully adjustable, temperature control, and it even has a display and power rocker.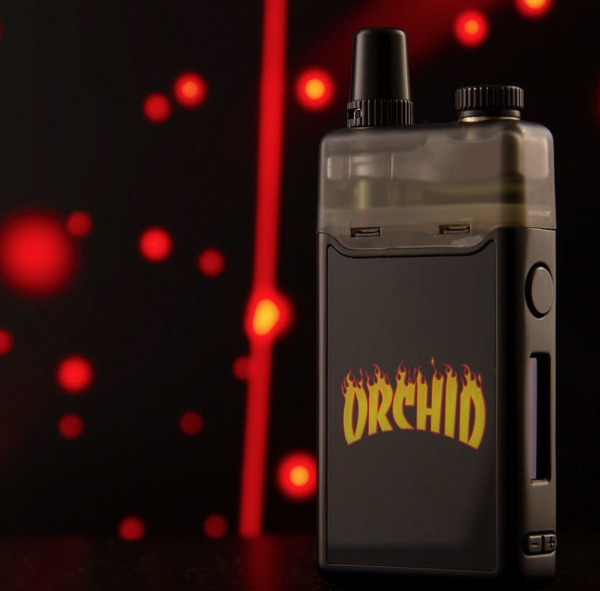 The Orchid runs pods in a similar fashion to the Lost Vape Orion; it attaches via the top of the device and holds 3ml of E Juice. The drip tip is attached to the pod, as is the filling port. Once the pod's coil is spent, you have to buy a new one. The pod also has an adjustable AFC, so you can switch between MTL and a restricted lung hit.
The UWELL Caliburn is the complete opposite; like the JUUL, it's an all-in-one system with very few moving parts. The pod is the mouthpiece, where the coil is situated and where you add juice, and the battery sits inside the pen-aspect of the device.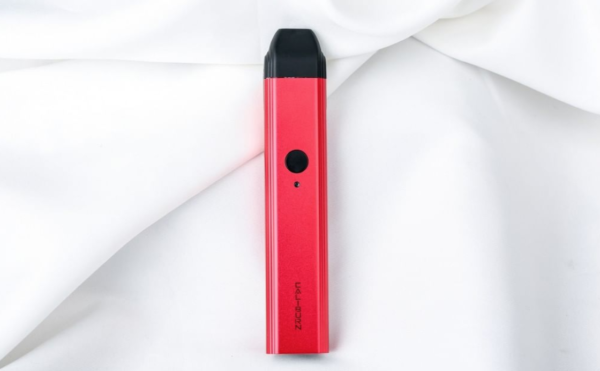 On the front, you have a single button to fire the device, though it can also be activated by taking a draw too, and that's about it. The Caliburn is ALL about simplicity – simplicity, flavor, and great performing coil heads. It lacks the flair and features found on the Orchid, but for a simple pod vape, it really cannot be beaten.
Performance & Flavor
In this department, the Caliburn and Orchid Ultra are fairly matched. Both deliver excellent flavor and are consistent performers. The Orchid, as we've already established, has a few more tricks up its sleeve, but when it comes to straight-up vaping, both are excellent options.
The Caliburn is my current go-to vape right now, and it has been for a good month or two.
Why? Simple: it's small, it works great, the coils last weeks at a time, and the flavor it delivers is incredible. The Orchid Ultra is just as good in most respects, but it is larger – think of it as a hybrid pod system.
Both score full marks for flavor performance, so whichever one you go for you're going to be in for a treat. For me, these two devices, alongside the way more expensive Lost Vape Orion, are #1 options right now for anyone looking at picking up a pod system.
How Long Do The Coils Last?
UWELL Caliburn – 3-4 weeks, depending on usage. My average, with heavy use, is 2.5 weeks.
Orchid Ultra – 2 weeks; not quite as good as the Caliburn's but the Orchid can (and does) run at higher wattages, so this will impact coil head longevity.
Battery Life
A clear victory for the Orchid Ultra here; the battery inside the Orchid is way bigger than the Caliburn's. It rocks a 950mAh cell and, with low-wattage vaping, that'll see you through an entire day's worth of vaping. If battery life is important to you, the Orchid is the clear victor here – big batteries just last longer.
The UWELL Caliburn's battery is rated at 520mAh, and that's respectable for a pod system. Battery performance is decent; I tend to get a solid half day from a single charge, which is fine for the most part. I always charge it for an hour or so mid-way through the day, however, especially if I'm going out in the evening and won't have a chance then.
Which Should You Get?
I'm a huge fan of the UWELL Caliburn, as most regular readers will know. It's cheap, the coils last weeks at a time, and the flavor it kicks out it is incredible. For me, it is the perfect pod system – simple, small, potent, and super-awesome to use on a daily basis. It comes highly recommended, especially as it is cheaper and you can get free shipping on your order.
The Orchid Ultra is a slightly different beast; it's more expensive, it has way more features, and it is able to do more than the Caliburn. If you want features, like things like temperature control and variable wattage, as well as the ability to switch up your airflow, it is definitely a very good option, being cheaper than the similar-looking Lost Vape Orion.
Both are brilliant, so whatever one you go for you're going to be in very good hands. The main differences are features and battery life; the Orchid is superior in these areas. But for overall flavor, performance, and value for money, the UWELL Caliburn is still very hard to beat.
Prices For Each Pod System
UWELL Caliburn – $37.95 (DirectVapor + Free Shipping)
Orchid Ultra Pod – $44.99 (VaporDNA)
Drake Equation
Co-founder and Editor of VapeBeat. I make the words.