If you've avoided pod mods because you're something of a cloud-chaser, well… the Wismec HiFlask could be right up your alley!
---
[letsreview]
---
It seems like new pod mod devices are released every week. I now have a steady collection on the go, and the latest addition to the fold was the Wismec HiFlask.
The Wismec HiFlask is definitely a pod mod, but it could also be called an AIO vape kit too.
Either way, it's a portable stealth vape kit that is designed with a couple of things in mind: cloud-chasing and flavor – two very good things.
I've spent the past couple of weeks using this pod mod alongside my normal setup, usually when I'm out and about, and what follows is my verdict on this quirky little vape mod.
Wismec HiFlask Design
What the f**k is this thing!? – that was the first thing I thought when I opened the package.
I knew it was a pod mod, but it looked and felt completely different.
I couldn't figure out how it worked immediately, and this forced me to consult the manual.
Turns out my first inclination was correct; the pods are refillable and are composed of two parts:
#1 – The Coil
#2 – The Juice Chamber
What threw me, though, was that they don't really look anything like pods; rather, they look more like space-age Lego – or something similar.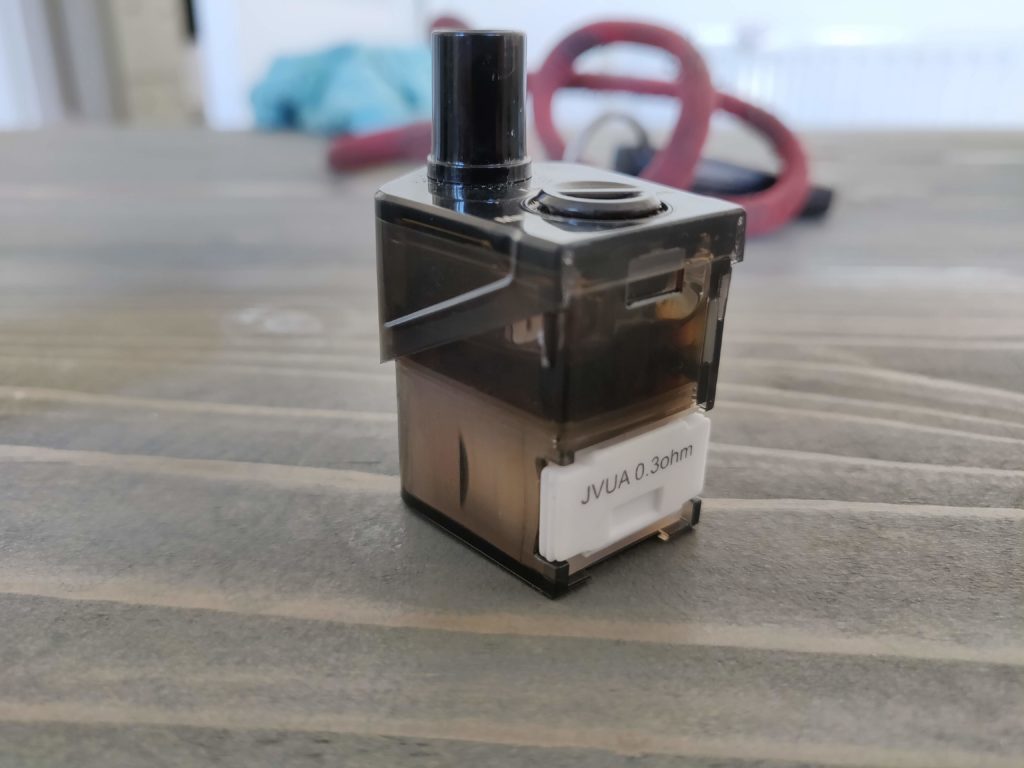 Once you get your head around how the coils work it's pretty simple: you insert the coil head into the pod, fill it up with E Juice, slot it back into the device, and you're done.
The Wismec HiFlask came with two coil heads; a 0.3ohms coil head that is designed to run at 55W with full power and around 30-35W, when the battery starts running low.
The battery inside it is a very respectable 2100mAh cell and it delivers very impressive performance.
But when you're running at 50W, you're gonna need that kind of support.
The device's design is, well… kind of different. I'm not 100% sure whether I like it or not. I mean, it's well proportioned and all, but it does feel a little, well… flimsy.
There are some cool elements to its design, however. Things like the fact it has a replaceable 510 drip tip and is available in a range of color options.
Airflow is controlled using a dial on the business end of the device, and while I get what Wismec was trying do here, it just felt really confusing to me.
Why? Because there's no real tactility to it, so you never really feel confident with what you're inputting. Basically, you just have to play around with it until you find the setting you like.
Wismec HiFlask Specs & Features
Here's a quick rundown of the HiFlask's core specs and features:
Size: 89 x 48.6 x 28.2mm
Cell type: 2100mAh built-in battery
Output: Direct output
Resistance: 0.3ohm JVUA coil
Charging Current: 2A
Capacity: 2ml/5.6ml
Adjustable airflow system
USB charging & 2A quick charging
Colors: Silver, Black, Red, Blue, and White
The HiFlask is 100% TPD compliant too, as you can get it with either a 2ml or 5.6ml pod system.
Mine was the 5.6ml version, and it was a thirsty beast, so lord knows how it'd be with just 2ml!?
Wismec HiFlask Performance
Seeing that most pod mods are normally MTL vape setups, I was kind of taken aback that the HiFlask isn't.
Nope, this is a true sub-ohm pod mod designed, quite clearly, with cloud chasers in mind.
This is why it has a big battery and also why it outputs at 55W. To get you those big ass clouds!
Because of this, you can run high VG E Juice in it, and basically, treat it as you would a sub ohm tank.
This is the HiFlask's big USP. Amidst a sea of MTL pod mods, it is betting big on clouds and flavor.
And for the most part, it really works. The clouds are BIG, the flavor impressive. It's just weird doing it on a pod mod!
I've run all kinds of juice through the Wismec HiFlask and it all tasted great.
The coils are brilliant too; I've only just inserted my second coil – the first one lasted about 14 days.
The device now pretty much lives in my car and is there for when I'm driving or on a road trip.
The upshot of this device is that I don't need to get 50/50 E Juice or Nic Salts to run it. It'll run just fine on higher VG E Juice, which is predominantly what I use day-to-day.
And this for me kinda makes the Wismec HiFlask something of a badass in the world of pod mods.
Wismec HiFlask Battery Life
As I mentioned earlier, the battery in this pod mod is MASSIVE.
But because it outputs at 55W, it 100% needs to be, otherwise, you'd only be getting a few hour's worth of vaping in between charges.
I don't use my HiFlask all the time, just when I'm in the car – or at a bar or something. And for this type of usage, it is ideal.
Running it as a daily driver, you're looking at 6-7 hours of uptime. And that's with moderate to heavy usage.
Performance is pretty consistent, even as the battery drains, though you will notice drop off as the power cuts down from 55W to 30W.
Who's this pod mod for? Simple: anyone that wants a sub-ohm-style of vaping experience from a portable, AIO vape kit.
If that sounds like you, the HiFlask comes highly recommended. Even more so when you factor in the cost – it's only $38!
[letsreview]
Drake Equation
Co-founder and Editor of VapeBeat. I make the words.