In our Vaporesso Swag 2 Review, Red tests out the nimble little vape mod and MTL tank combo to see if it has the chops to take on 2020's most popular pod vape systems… 
---
With the amount of POD and AIO systems being released in the last 12 months, it was only a matter of time before vapers started looking at small, pocketable setups to replace coil-based devices to reduce their running costs.
Let's forget about PMTA for a while but upgrading to a small box mod with replaceable batteries and a tank of your choice is the next logical step. A few vendors have tried going this route, but somehow none have been as exciting as the Vaporesso Swag 2, here's why
Vaporesso Swag 2 Verdict – 87% (Best Deal)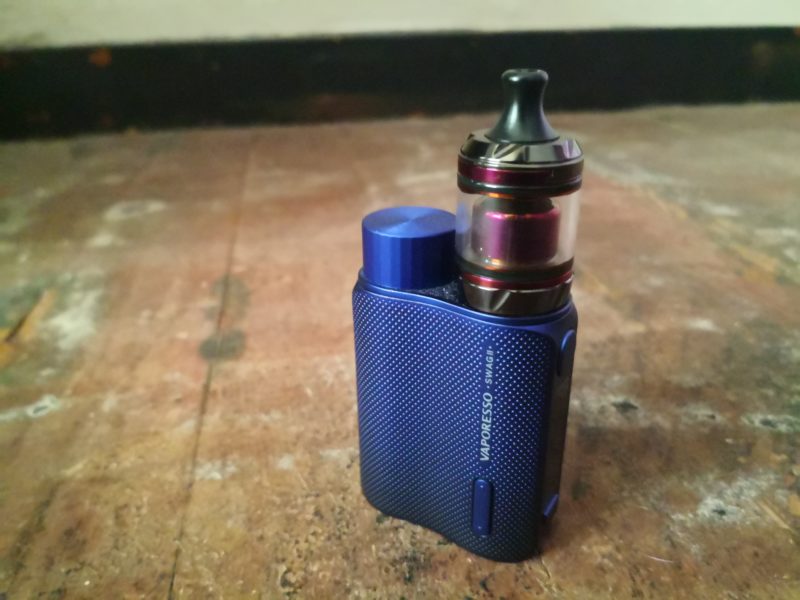 Vaporesso Swag 2 Pros:
Super lightweight
Extremely comfortable
Fits up to 25mm RDA
Axon chip, as found in the Gen, is amazing
Flame retardant finish feels pleasant to the touch
Eco mode is a welcome addition
Vaporesso Swag 2 Cons:
Best Place To Buy? HeavenGifts – $57.95 
---
Vaporesso Swag 2 Full Review
As the name suggests, the Swag 2 is the successor to the Vaporesso Swag from 2011. Available in a host of colors and both as an NRG PE tank kit and mod only version. It's a fun little mod and the perfect device if you're looking at upgrading your AIO device. It's small and light enough to put in your pocket and use it as an all-day MTL device or a single coil mod.
Packaging
Similar to the Vaporesso Gen, the Swag 2 comes in a sleeved box that contains the mod, NRG PE tank (if you got the kit) 2 NRG coils, a micro-USB charging cable and manuals.
Design
The Swag 2 may not be the smallest single 18650 510 based mod (I believe the EHPRO 100 takes that honor), but I believe it is the latest. Not only that, but it is also, in my opinion, the best looking of the bunch, The Swag 2 is coated in the same fire-retardant rubber finish as the Gen and gives the mod an overall classy device. It's also scratch and fingerprint resilient.
The curved side fits well in your hand and makes the Swag 2 easy to trigger finger. Power and temp adjustment buttons sit opposite the side-mounted charging port and the menu button sits on the front facia.
Allowing for a 25mm base atomizer is a handy touch, but beware that a bubble glass RTA may press upon the protruding battery cap that sits next to the 510 adapters. The battery cap screws off and allows you to drop your 18650, positive down, into the sleeve of the S2. Unfortunately, the threading on my battery cap felt crunchy, but it isn't a deal-breaker for me.
The screen is a 0.91" OLED pieces that may feel outdated but is clear to read and easy to understand. Battery level, resistance, a puff counter, current wattage (or temp) and current mode are always displayed on the screen so there's no menu diving to get the info you require. Speaking of the menu, it can be confusing on your first attempts of using it, simply due to the button placements. Three clicks of the menu button bring up your menu instead of the widely accepted fire button, no complaints though.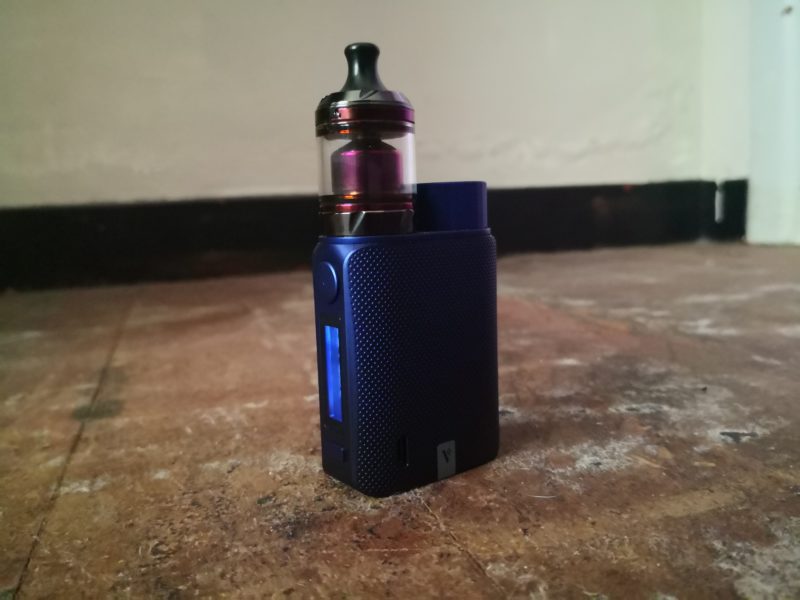 Menu
Once in the menu, the adjustment keys are used to change your mode between Pulse (a PWM type fire) Power Eco (God knows what this does to save the battery), Smart TC (senses your coil material automatically), DIY mode (VW, VT, VV, and CCW). System settings are also found in this screen. Here you can reset your puff counter, change brightness as well as flip your screen, set auto wattage and auto eco.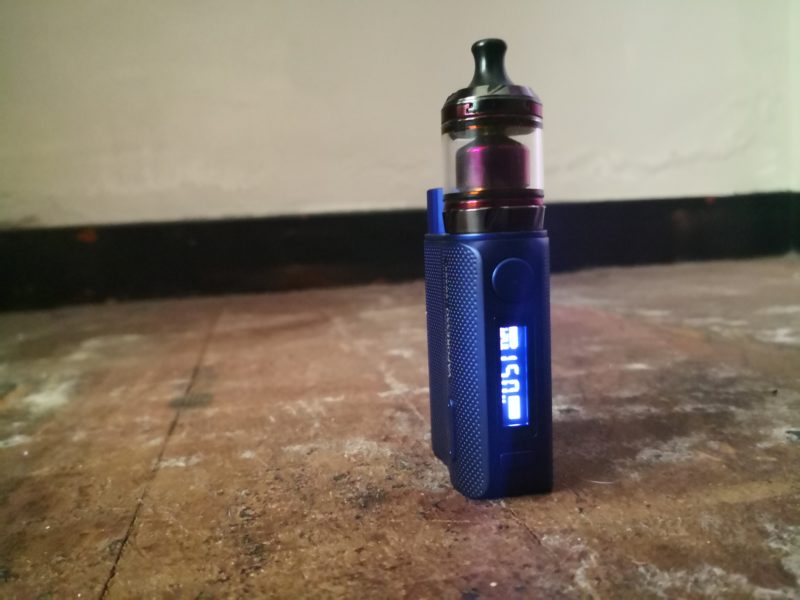 Performance
If you've used the Gen previously, you'd know how good the Axon chip is. The only difference between the Gen and Swag is the battery options. In Pulse mode, the Swag 2 fires like a PWM. It's hard to explain, but imagine a mod that fires a quick short burst, hotter and hotter with each fire. This may sound counter-intuitive, but it offers a smooth and pleasing curved output.
Smart TC I've found to be quite accurate, even down to the recommended temperature, but performed better with sub-ohm tanks versus RDAs.
DIY mode performs as expected from a 18650 mod, straight power output that feels like it delivers the claimed wattage or voltage.
One thing I did not like was the auto eco that kicked in as soon as the battery reached 20%. I'm not certain it does anything, so this was turned off immediately.
The Axon chip is as good as it gets for commercial mods. Sure, it's no YIHI or DNA, but it does what's expected and at a quarter of the price. It's a great performing chip and I hope implemented in Vaporessos' going forward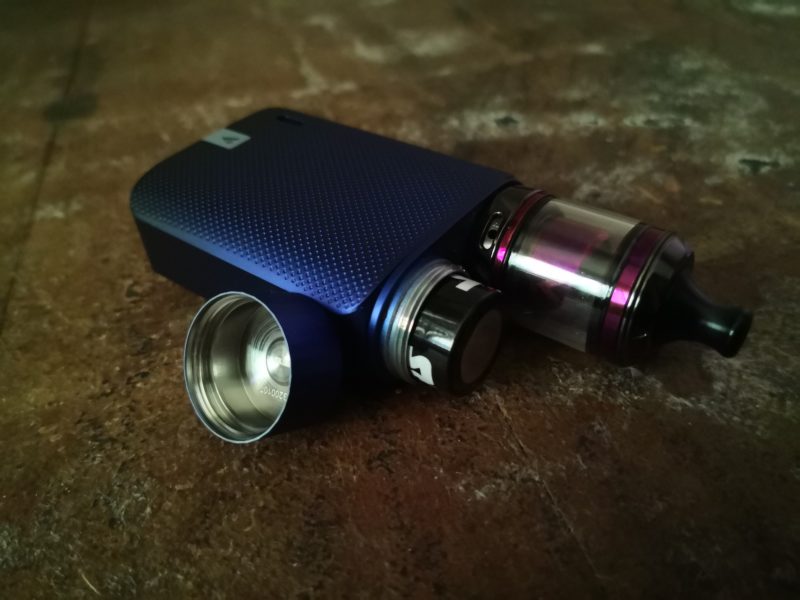 Specs:
Weight: 133g (without battery)
Battery: single 18650
Power output: 5/80w
25mm atomizer compatibility
Charging Port: Micro USB
Size: 108mmx25mmx50mm
Vaporesso Swag 2 Review Conclusion
Having not owned the original Swag and being a massive POD fanboy, I was skeptical of how the Swag 2 would replace my favorite, pocket-friendly device. I mean, a 18650 device with a tank mounted on top will never be as pocketable as my Smoant Pasito or whatever else I'm carrying. I couldn't have been more wrong; the Swag 2 is tiny and to put it in context, only 10g more than a Smok RMP80 Pro.
Not only is it as portable as an AIO, but the Axon chip also beats run of the mill chips out of the water, especially in pulse mode. Add to that the option to dump any atomizer, even a 25mm RDA on it and you've got a recipe for success.
There are some things I don't like, the machining can be a touch better for example and menu navigation could have been laid out better, but all in, the Swag 2 is a great piece of kit.
It will not replace my POD systems by any means, but if I'm expecting to be out and about for a day or two, the Swag 2 will be by my side from now on.
Best Place To Buy? HeavenGifts – $57.95 
Red
Internationally published journalist and reviewer, unofficially certified vape connoisseur. MTL, DTL, RDTL, Red takes it any which way