I have a lot of love for Vaporesso, but the Vaporesso Revenger is definitely not a mod that I would ever recommend. Period.
If you read VapeBeat regularly, you'll know I am a massive fan of Vaporesso. I love its OMNI Board chip, I've praised its mods and tanks in the past, and I love its EUC coil system. But something appears to have gone wrong with the Vaporesso Revenger kit.
What exactly? Good question. It's mostly the tank, the Vaporesso NRG sub-ohm, tank that ships with the Revenger mod as part of a kit. Frankly, it is terrible – and I really do mean bad (but more on that later).
---
---
If you're looking at this kit, there are a few things you need to know before you pull the trigger. Read on for my full review of the Vaporesso Revenger below.
Vaporesso Revenger Review – Design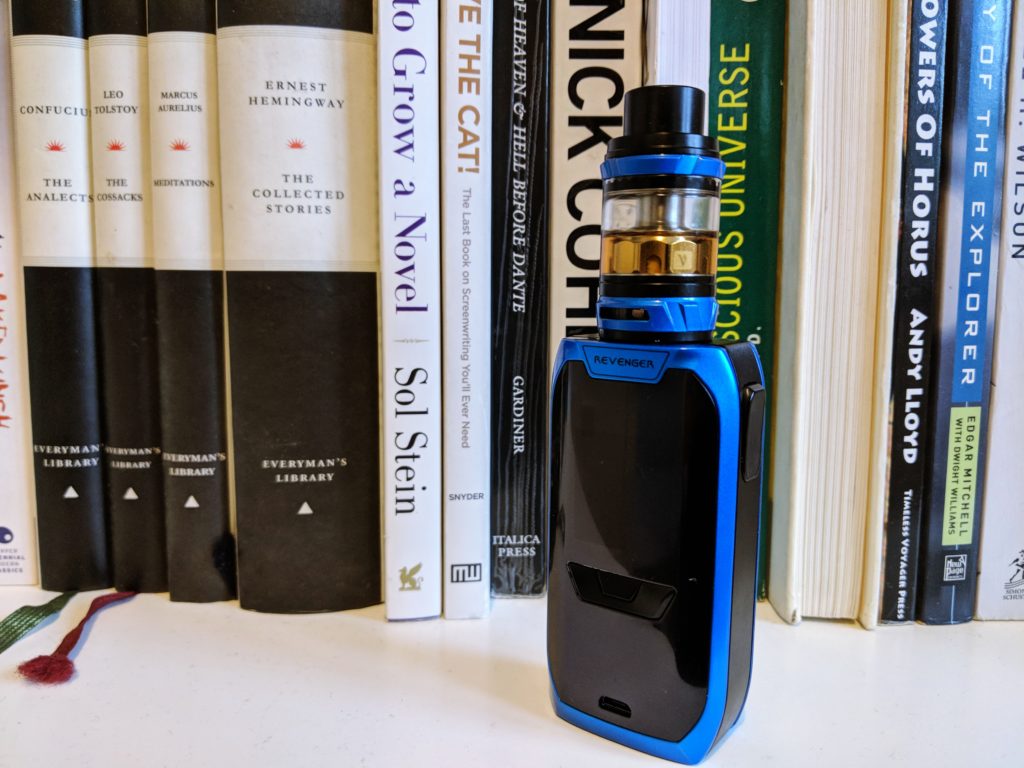 I've seen some pretty uninspiring mods in my time, but the Vaporesso Revenger has to be one of the saddest. Designed to do battle with the SMOK Alien 220W, the Vaporesso Revenger lacks nearly all of the SMOK mod's USPs and design finesse.
The mod itself feels flimsy and poorly made, the display is piss-poor and terrible in direct sunlight, and the entire thing just doesn't sit together well. And this was a huge disappointment to me.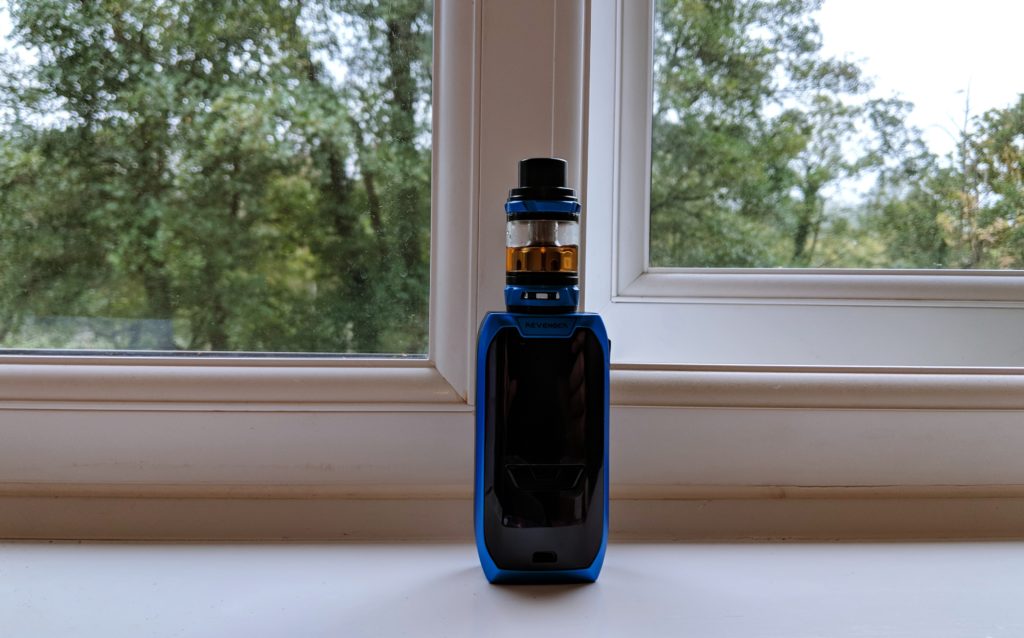 Six months ago, if you asked me to recommend a solid vape manufacturer that makes decent hardware at reasonable prices, Vaporesso would have been high on the list. The Tarot Pro, the Nebula, its EUC coil system, the OMNO Board – all of these are great achievements for the company.
I have ZERO idea what the hell happened with the Vaporesso Revenger. It feels like a product from an entirely different company – perhaps there have been some internal changes at Vaporesso I don't know about? Either way, this kit sucks.
Vaporesso Revenger – Specs & Features
On paper, the specs and features for the Vaporesso Revenger are pretty decent, as you can see below:
MAX Output Wattage: 220
Wattage Range: 5 – 220 Watts
Voltage Range: 0V-8.5V
Resistance Range: 0.05-5Ω
Temperature Control Range: 100℃-315℃/200F-600F
Output Modes: VW(H/N/S), CCW, CCT, VT(NI,TI,SS), TCR(M1,M2), RTC, BYPASS
Battery: Dual 18650(Not Included) Sold Separate
Revolutionary IML Case
OMNI Board 2.0 Chipset
Dual Battery Indicators
Voltage/Wattage/Resistance Indicators
Remaining Charging Time Indicators
Real Time Clock Display
Charging Equalization System
Vaporesso NRG Vape Tank Specs
Vape Juice Capacity: 5mL
Powered by GT Cores Replacement Atomizer Heads
Material: Stainless Steel
Diameter: 26.5mm
510 Threaded
Adjustable Airflow Ring
Slide N Fill Top Fill System
Heat Insulating Layer
It has the OMNI Board 2, which is an exceptional vaping chipset, plenty of safety features and enough modes to satisfy even the most complicated of vapers out there.
The mod itself, once you get past its shoddy build quality, isn't actually the problem. It is the tank and the coils that come with it that have caused me the most headaches, and a quick Google search indicates that I am not alone with these grumbles.
Vaporesso Revenger – Vaporesso NRG Tank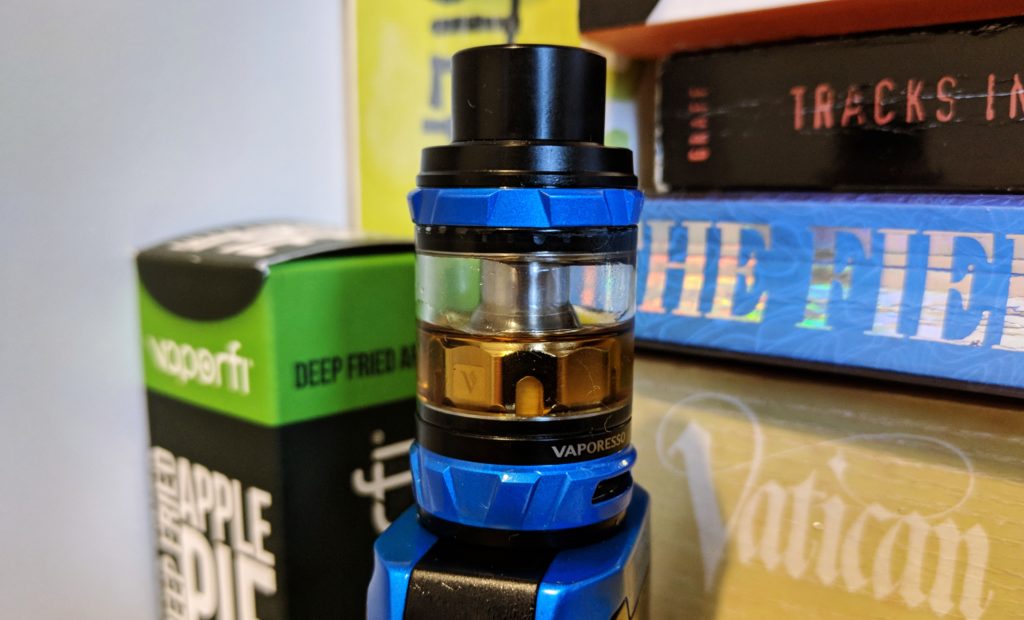 Vaporesso's NRG tank is the main culprit for my overall dislike of this kit. I have ran 10 coils in this thing and every single one of them crapped out after two days (max).
---
---
I tried multiple priming techniques and nothing worked; they just burn out after no more than a day's worth of vaping. Prior to burning out, you're also subjected to sub-par flavour and a weirdly restrictive airflow that just doesn't feel right, almost as if the coil isn't installed properly.
Basically, the NRG tank and the coils it runs are terrible. And this is a huge shame because I was expecting massive things from the Vaporesso Revenger, after falling head over heels in love with its EUC coils and Tarot Pro mod last year.
The ONLY possible upshot of the NRG tank and, likely its saving grace, is that it can run SMOK Baby Beast coils, which, as you probably already know, are superb when primed correctly. So if you have bought this mod and are now in a pit of depression about it, take solace in the fact you can at least use coils that actually work from now on.
Vaporesso Revenger – Performance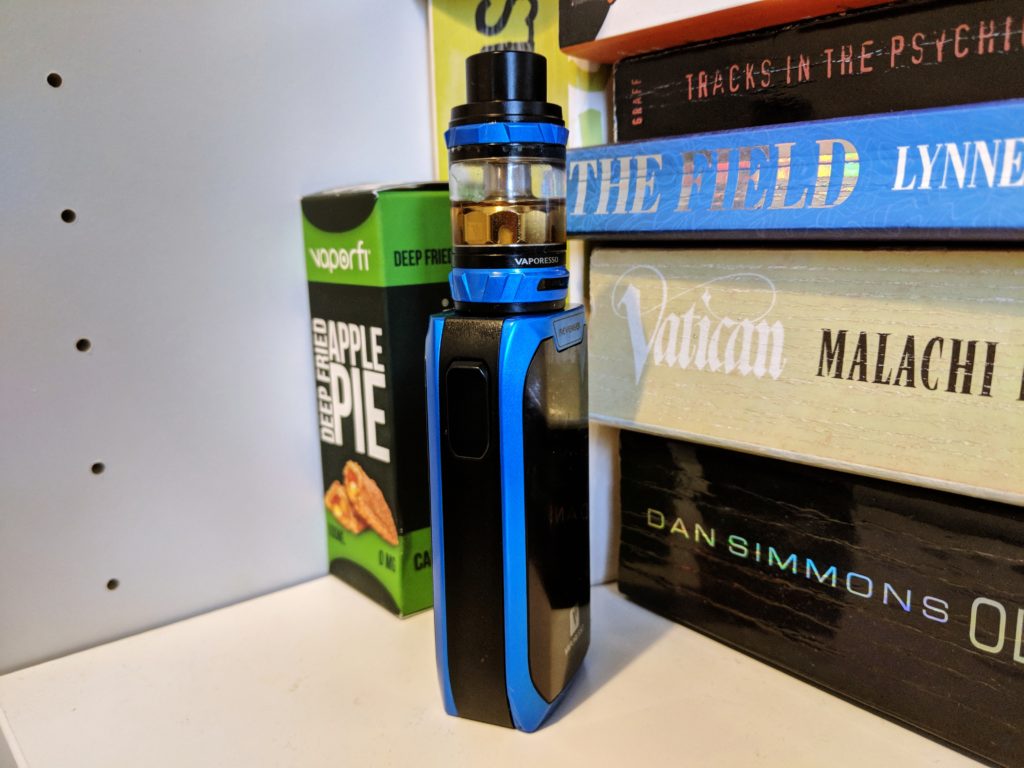 With SMOK's Baby Beast coils installed, things work fine. The mod itself, while gross on the outside, performs brilliantly and has enough features under the hood to keep you interested.
TC vaping is super simple, and you can even augment the temperature (and wattage) curve to whatever style you like. I am a really big fan of Vaporesso's OMNI Board, but given all of the above issues I'd simply advise you to go with another mod from the company – something like the Tarot Pro, for instance. Or any of the AWESOME starter kits listed below:
I guess my main issue with the Vaporesso Revenger is that it just doesn't look or feel right. There are multiple things wrong with it from a design perspective before you even get to the god-awful NRG tank and its useless coils.
And in 2017, with the wealth of competition there is, this just simply is not good enough. Especially from a company with the calibre of Vaporesso. I expected A LOT more from this device, but it fell short in almost every respect.
The Vaporesso Revenger gets a BIG thumbs down from me, I'm afraid.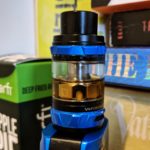 Vaporesso Revenger VERDICT
Is This Mod Worth Your Money?
I guess my main issue with the Vaporesso Revenger is that it just doesn't look or feel right. There are multiple things wrong with it from a design perspective before you even get to the god-awful NRG tank and its useless coils.  And in 2017, with the wealth of competition there is, this just simply is not good enough. Especially from a company with the calibre of Vaporesso
PROS
OMNI Board 2 Chips is Excellent
NRG Tank Can Run Baby Beast Coils
The Mod's Performance Is Decent (With The Right Tank)
CONS
Poor Design & Build Quality
NRG Coils Are TERRIBLE
Best Price – DirectVapor – $69.95
---
What To Get Instead
Vaporesso POLAR Kit | DirectVapor ($81.95)