Smok has had huge success with it's RPM Series of devices. The RPM coils come in all shapes and sizes for every type of vaper. With their new ALIKE device, are they giving Geekvape a run for their money?
Smok Keeps Innovating
At the End of last year, Smok released their first RPM device and received critical acclaim from reviewers and consumers alike. Our original review sums it up rather well: it's better than you think!
Since that first device, Smok has continued to make devices in all shapes and sizes that use the same RPM coils. This cross-compatibility between every new device has been the biggest selling point for these new devices. Most people have a favorite device and preferred RPM coil at this point.
So what else is left? The RPM series already has 7 different devices for you to choose from, and four of those have alternate versions depending on the battery configuration. What else could Smok possibly do to the RPM?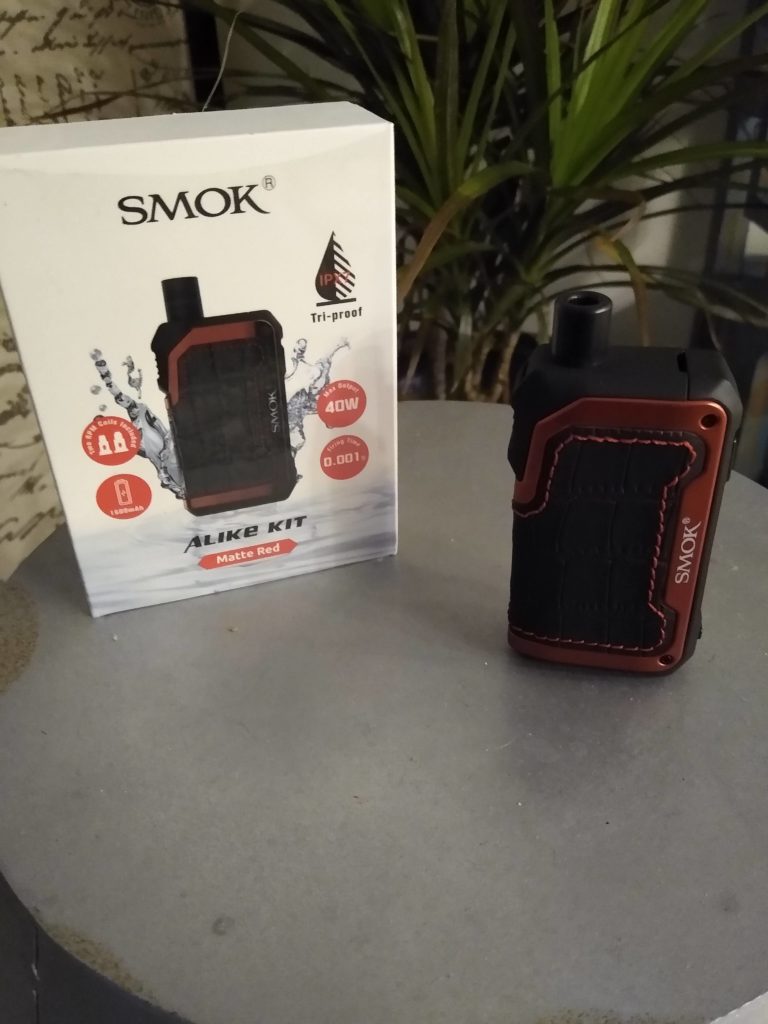 Features and Design
The Smok ALIKE has taken a page out of the Geekvape Aegis playbook for it's design. The ALIKE has a new IPX7 waterproof, dustproof, and impact proof technology. But the features don't stop there.
1600 mah battery capacity
40 watt adjustable power
Full color screen
Compatible with all RPM coils
Optional Nord pod
IPX7 waterproof/dust proof/impact proof
5 different colors
5.5ml pod capacity
Replaceable 510 drip tip
Inside the box, you'll find the device, two coils, an RPM pod, USB cable, and instruction manual. The kit comes with two different RPM coils. Both coils are mesh coils rated for 25 watts.
The screen is a slightly updated version of what you would find on the RPM 40. You can customize the colors and it shows your hit count, ohm load, and wattage. The mod maxes out at 40 watts.
The sample product I received is a matte red accent color. The majority of the construction is a soft rubber construction that definitely holds up to drops and falls. Faux leather wraps the outside of the mod and provides a grip.
The pod is reminisent of the original Smok Fetch pod. This one has the same removable drip tip and holds just a little bit more juice. The coil has the same press-fit design as all of the RPM family.
There is also a pod tht will fit the Nord series of coils. Unfortunately, the kit does not come with this special pod. You can purchase it separately.
Testing and Performance
Of course, the first thing I did was remove the pod, and get this thing wet! I tried it under running water, and also submerged in a glass. I'm happy to report that the mod is still working great. Important: The pods are NOT waterproof. If your pod gets submerged, make sure to change the coil and fully clean the pod of any water residue.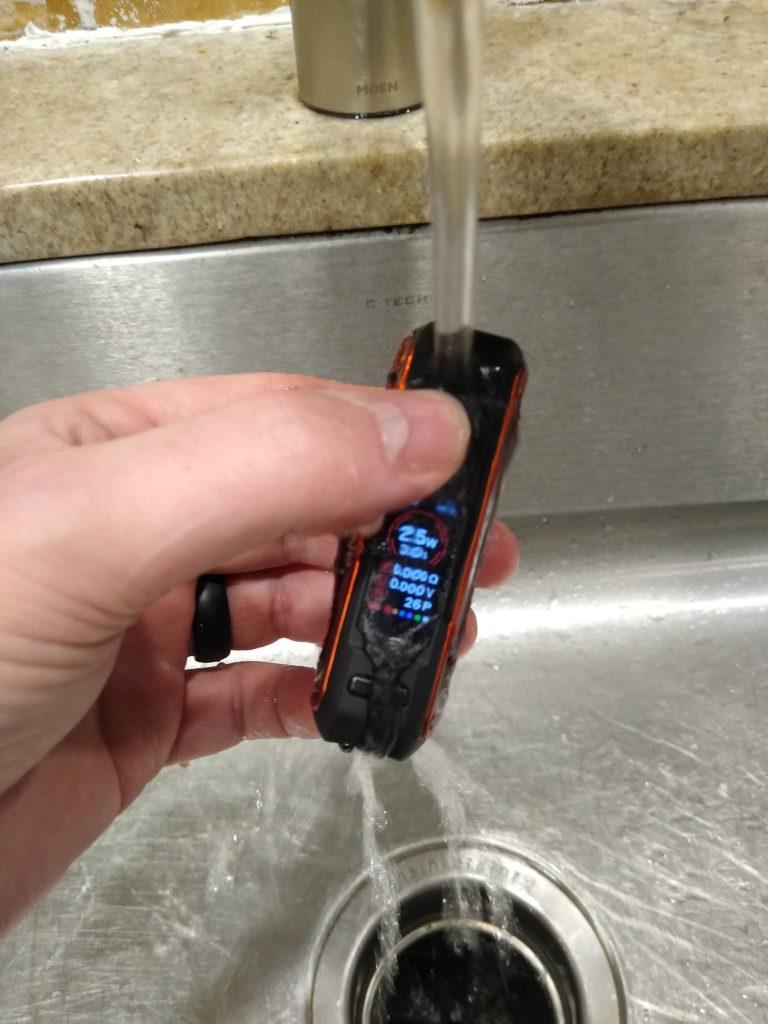 I have been using the RPM line since it launched. I prefer the original RPM 40 over just about all of the other devices, however, this ALIKE is making a close second. Mostly because of the size and form factor. The device is slightly larger than the smaller RPM mods yet it still fits in your pocket and remains comfortable.
I have been taking it to the beach with me and so far I have had no problems with water and sand. If it gets a little sandy, I just rinse it off in the sink and dry it with a towel. It really is nice to not have to worry about my vape.
It performs just as well as all of the other RPM/Fetch devices. The key feature with the entire series for me is the coil-compatibility. The RBA, and all of the RPM coils work great. To me, this is the smartest marketing move Smok has ever pulled, as it actually benefits the customer.
The airflow comes from the top and is identical to the RPM 40. I have used the .4 Mesh coil primarily with freebase juice and I find the airflow to be a perfect direct lung hit. Not to mention this .4 Mesh coil is the best for flavor for me and I generally get almost 400 hits per coil.
The battery life lasts me all day if I am out and about. 1600 mah at 20-25 watts lasts quite a while. It took my unit a little over an hour to get a full charge from a 5% battery life.
Pros And Cons
So this is the thing: I don't really have any cons. I have loved every single product the Smok has released under the RPM line. This is under heavy bias, as I do not generally enjoy Smok's other offerings. Smok's mods and subohm tanks have never really stood out to me when you compare them to their peers.
But these pocket-sized all in one units? I think Smok has really found their groove and I honestly have no complaints. The ALIKE is a great addition to an already awesome line of products.
It is a strange feeling suddenly rooting for a company that just a year ago, you couldn't care less about. I look at these products without any pre-conceived notions about the company's reputation nowadays. I have really been impressed with Smok lately.
If I have one gripe, it's my usual gripe that have with everything. No USB-C charging. I suppose that can be considered a con but so far, the entire RPM series has had Micro-USB charging with the exception of the Fetch Pro.
Verdict
So I have really enjoyed my time with the Smok ALIKE AIO. The entire system is easy to use and will be familiar to any seasoned vaper. On the other side of that, I can see this being a great first vape for anyone just starting out. It's simplicity is definitely the best feature.
Is this a direct competitor to Geekvape and their Aegis boost? To be honest, I think it is definitely a contender! The ALIKE has all of the same great features with the benefit of having an established coil system. In fact, SMOK may even have the advantage in this case!
So who needs an AIO system that is so durable? I used to ask that question myself while working in a vape shop. But after seeing people come in, day after day with destroyed mods and tanks, I think I understand exactly who this device is made for.
The ALIKE is made for people that like to go out on the boat on the weekends, or maybe take a beach trip like me. It is also very handy for people that work in construction, or dirty/dusty environments. And definitely for the person that always seems to inflict pain on their poor vape (you know who you are!). If you need your vape to take a beating and keep kicking, the ALIKE is a user-friendly option.
You can buy the ALIKE Pod Mod by Clicking here!
Christopher Horton