As vaping becomes more popular and widespread, new retailers are popping up online all the time. Today, we're taking a look at New Vaping…
---
New Vaping is focussed on the UK vape market. It sells a huge range of products, from short-fill vape juice to vape mods and tanks and pod vapes. It also has a wide range of accessories, from coils to batteries and replacement glass for certain, popular tanks.
One of the core aspects of New Vaping's business model is price; it is very aggressive in this context, both on RRP or via discounts that are available on nearly all products throughout the site – from 10% off codes to BOGO deals. In this context, it is easily one of the cheapest sources of vape gear for UK and European vapers.
Store Design & Layout
The site is laid out well and is easy to navigate. You have a clear menu bar for navigation, a carousal-style breakout section for all the latest deals, and then a menu for things like vape juice, vape kits, and new arrivals, so you can keep tabs on what's new to the store.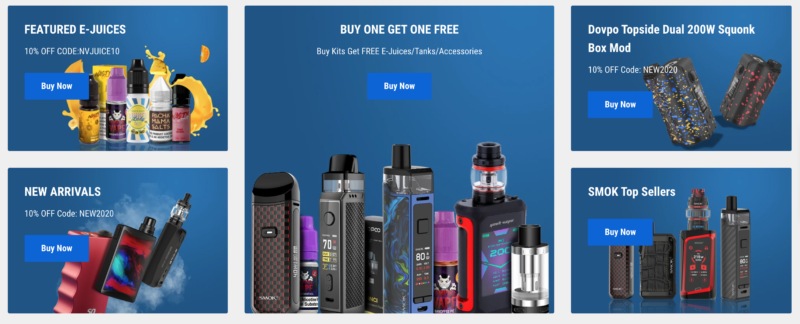 As online vape store designs go, New Vaping's is decent. It's easy to navigate and browse on both mobile and desktop, so finding what you're looking for is simple. On top of that, New Vaping sells A LOT of stuff and has pretty much every major vape brand present and accounted for.
Types of Vape Devices Sold
AIO Vapes
Mesh Tanks
RDAs
RTAs
RDTAs
Squonk Mods
Vape Juice
Shortfill Vape Juice
Coils
Glass Replacement
Vape Kits
New Vaping Delivery Times
If you're in the UK, New Vaping will get your order to you within 1-3 days – this applies to users in Europe as well. However, due to EU regulation, New Vaping can only ship to the following EU countries:
Austria
Belgium
Bulgaria
Croatia
Czech Republic
Denmark
Estonia
Finland
France (Mainland)
Germany
Greece
Hungary
Ireland
Jersey
Latvia
Lithuania
Luxembourg
Monaco
Netherlands
Norway
Poland
Portugal
Romania
Slovakia
Slovenia
Spain
Sweden
Switzerland
New Vaping Pricing – How Does It Compare To Other Retailers?
As noted in the intro to this post, New Vaping competes aggressively on price. In order to demonstrate a comparison of how its prices compare to its competitors, let's look at the prices of some well known and popular vape products.
SMOK RPM80
New Vaping: £35.99
UK ECIG STORE: £36.99
HorizonTech Falcon 2 Sub-Ohm Tank
New Vaping: £29.99
UK ECIG STORE: £34.99
SMOK Nord 2 Pod Kit
New Vaping: £29.99
UK ECIG STORE: £29.99
Customer Reviews
Whenever you try a new vape retailer, one of the first things you worry about is whether or not they're trustworthy. You also want to know about customer service. And then there are things like customer reviews – no one wants to buy their gear from a retailer that has crappy reviews from existing or old customers.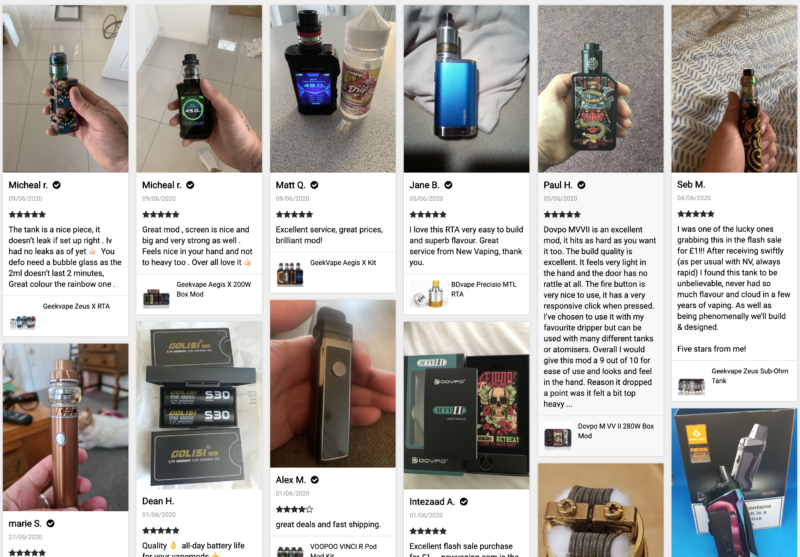 In order to find out about New Vaping, I did some digging. According to my research, New Vaping has a very positive rating from its customers – it has almost 5000 five-star reviews. And the majority of the ones that I saw cite speedy delivery times, great customer service, and excellent prices.
Flash Sales
One really cool thing New Vaping does is Flash Sales, whereby you can pick up a vape – either a tank or a mod or an RDA – for just £1. At the time of writing, you can pick up the Dovpo Blotto Mini RTA for £1 which is, frankly, insane!

Each day, a new product is added to the Flash Sale section, so it pays to regularly check out what's on offer, as you could end up getting a mega deal on something cool. I mean, the Dovpo Blotto Mini RTA is a sick RTA. And for just £1, well… it'd be rude not to get one, right?
New Vaping's Vape Juice Brands (The Full Roster)
If you're in the UK and you're looking for a new place to pick up your vape juice, I'd definitely give New Vaping's vape juice section a look – it sells a ton of brands, including Nic Salts and Shortfills. Here's a full breakdown of all the brands currently available in the store:
Anarchist
Aulola
Beard
Bloom
Candy King
Clown
Charlie's Chalk Dust
Diamond Mist
Dinner Lady
Double Drip
Dr. Frost
Element
Fantasi
Fizzy Bubbily
Flawless
Frozen Freaks
Inspired
IVG
Juice N Power
Just Jam
Just Nic It
Keep It 100
Kilo
Kingston
LDN LIQ
Loaded
MOMO
Moreish Puff
Naked 100
Nic Nic
Only Eliquids
Pacha Mama
Riot Squad
Ruthless
SALT
Shurbz
SQZD
Twelve Monkeys
Vampire Vape
Vapetasia
VGOD
Zap! Juice
Verdict – Is New Vaping Legit?
In the past seven years, I've used and bought from a TON of vape retailers. From big-name brands like UK ECIG STORE to smaller, boutique brands. The things I always look for when trying a new vape retailer are good reviews, great product selection, good prices, plenty of deals/sales/incentives, and a solid range of vape juice. If a retailer can nail all of these things, it'll get my business.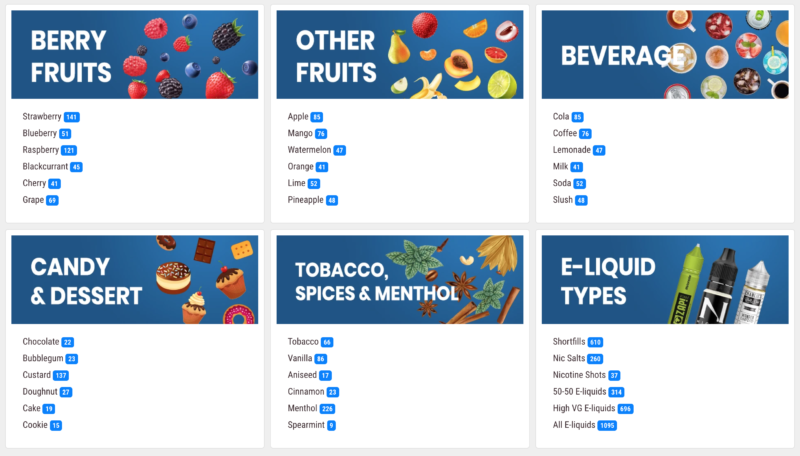 New Vaping nails all of these things. In fact, it even surpasses some aspects; the Flash Sale section, for instance, is a stroke of genius. I do not know of any other vape retailer on the planet that is selling off decent vape gear like the Dovpo Blotto Mini RTA for a QUID! Combine this with its extensive range of products and its big selection of juice, and I cannot see any reason why you wouldn't be regularly checking out New Vaping for your next vape purchase.
Drake Equation
Co-founder and Editor of VapeBeat. I make the words.