I love when new companies throw caution to the wind and come up with an idea that's just so wild, no one dares follow them. The Nevoks Angus is one such device. It's a POD system, but it's also an RDA and it takes both mesh and regular coils. It's both DL and MTL and it's just all-out crazy.
---
Nevoks Angus Verdict – 88% (Best Deal)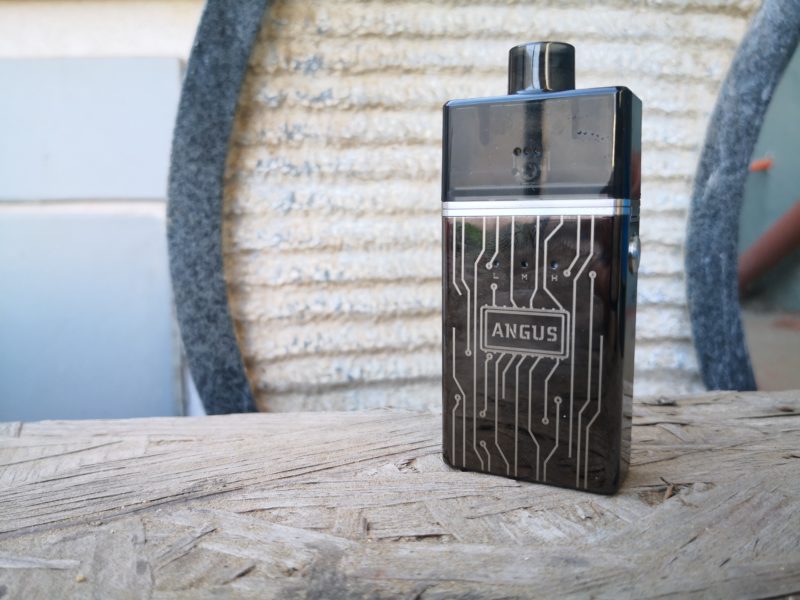 Nevoks Angus Pros:
It's built like a brick
An AIO with an integrated true RDA deck that takes both mesh and coils
Flavour is pretty damned good
Type C charging
It's a looker
Easy to build on
The sliding deck is a bit gimmicky
Nevoks Angus Cons:
Airflow is only adjustable by swapping out the cap
Drip tips are non-replaceable
Airflow sits low and can leak if left unattended
Who the hell comes up with these names?
TL;DR – I couldn't help be amazed at the brazen balls on Nevoks for not giving a hoot what the consumers wanted, but instead went hog-wild crazy and created not one of, but the wildest AIO on the market.
The Angus is not a POD system, neither is it a box mod, but instead an amalgamation of both. A pod system with a mesh RDA built straight in, it's the perfect device if you like a pocketable vape yet want to retain all the benefits of an RTA.
Where To Buy One? HeavenGift – $35
---
Design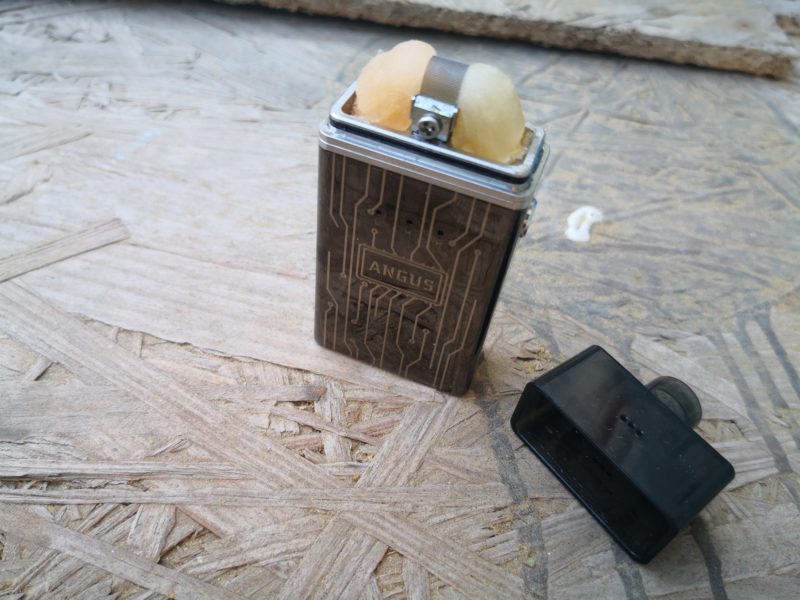 The Angus chassis is an all-metal affair, zinc alloy to be exact. Boxy, heavy, and very shiny. Definitely not fingerprint-proof, but a throwback to the angular, sharp-edged days of vaping. It certainly is a stunner. Four color options are available, black, stainless steel, rainbow, and gradient.
The only controls on the face are a singular fire button that alloys for power adjustment as well. The output is displayed via 3 LEDs and puts out a maximum of 60w.
The crown piece, so to speak is the slide-out deck atop the Angus; topped off with a PCTG cap with an integrated drip tip and airflow. The deck is the first of its kind for an AIO device and acts as a regular mesh RDA. Regular round wire coil builds are also possible.
It's a typical mesh style deck with, 2 claps on the opposite end that are tightened via beefy screws. The clamps are not spring-loaded, however, which may make building tough for newcomers. A Wotofo Profile style spring-loaded cotton pusher-upper platform is incorporated to make sure your cotton always makes contact with your mesh strip. This can be removed for regular round wire builds.
Airflow adjustment can only be done by swapping out the top cap, so you're limited to 2 options.
Inside the chassis sits a massive 1700mAh battery, which if we're honest, is pretty damned big for an AIO, but at 60w, don't expect days of power. Also, it's got a USB C charge port, hooray.
Performance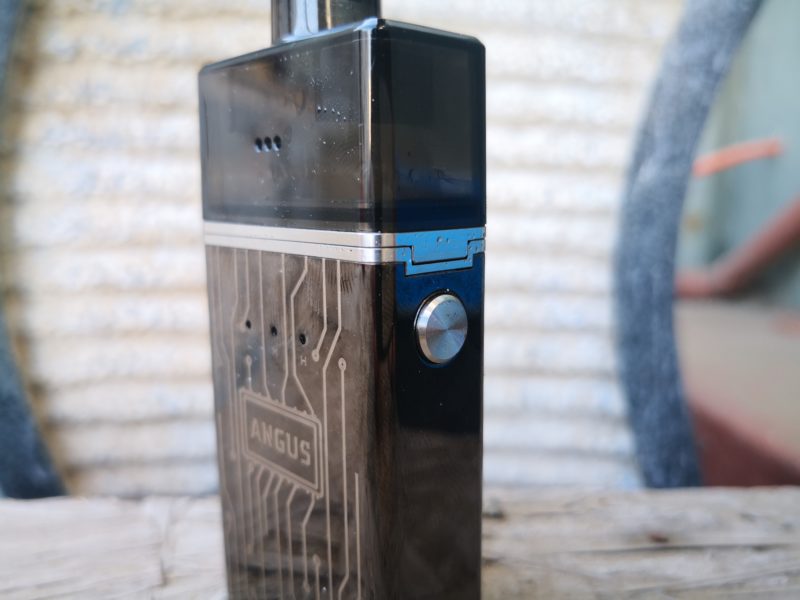 The Nevoks Angus is the closest all in one device you'll find that offers the level of performance you would get from a full-fledged RDA, because well, it basically is. Apart from the lack of airflow options, the Angus is every bit as good as a Wotofo Profile, flavor, and build wise.
A dropped in a 0.15 NexMesh strip, wicked it up (it takes just as much cotton as a traditional mesh RTA) and the flavor was out of this world, by far the best I've gotten from an AIO device. There's no tank section, so even wicking is a straightforward affair. The juice wells are shallow though, but dripping down the drip tip is simple enough.
The 1700mAh is on the larger side for a device of this stature, but don't expect it to last any decent amount of time at higher wattages. Unfortunately, mesh likes to sit around to 40-60w range, so you will be recharging the Angus quite often.
The other issue I have is the variable power or lack thereof. Power can be adjusted via 3 clicks of the fire button, but the Angus only allows for 3 modes, low, medium, and high. Nevoks don't tell you what wattage each level is, but we know the Angus needs a better method for dialing in the power, especially with mesh and a built-in lipo battery.
Nevoks make quite a fuss about the removable sliding deck, but to date, I've not seen the benefit. Sure, it's cool to fidget with, but that's about as far as it goes.
Specs:
Battery: 1700mAh
Power output: 5/60w
Charging Port: USB C
Size: 80x39x18.4mm
Weight: 188g (although it feels like it weighs a brick)
Materials: Zinc alloy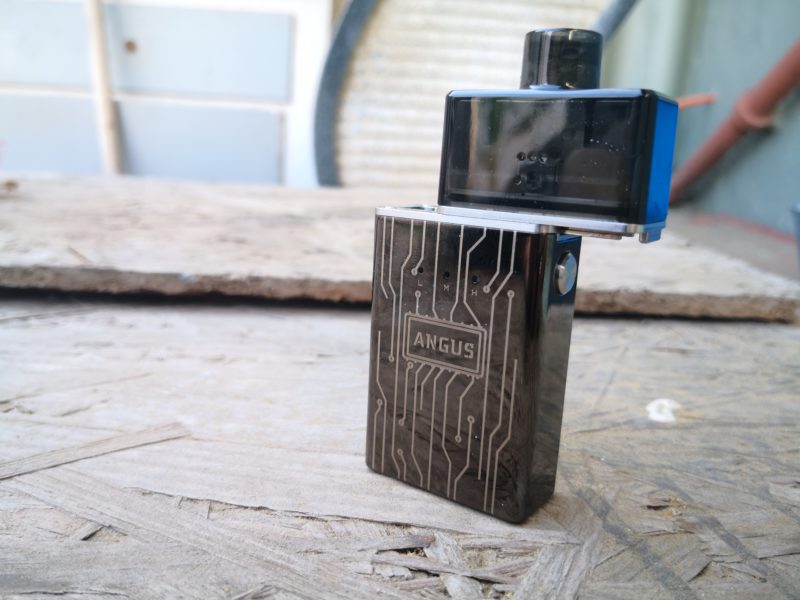 Nevoks Angus Conclusion
The Angus is a superb device, not for how it performs, looks, or feels, but for the ballsy approach, Nevoks took. Throwing caution to the wind and coming up with something so wild and so unique that you need it in your collection, no matter how bad it is. Thankfully, it's not bad at all and while there are a few refinements they could make, the overall product is a dream to use.
I'd love to see true variable power, a larger battery, and perhaps decent airflow adjustments on the next iteration, but for now, as it is, I'll take it.
Where To Buy One? HeavenGift – $35
Red
Internationally published journalist and reviewer, unofficially certified vape connoisseur. MTL, DTL, RDTL, Red takes it any which way