NAKED E Juice Review – simple names, massive flavors, awesome E Juice. In this review, I detail my personal favorite Naked E Juice flavors as well as what I like from the company's NKD 100 Salt E-Liquid line…
---
Naked E Juice is very well known throughout the USA and UK. You can find it in most decent brick and mortar stores as well as online via most vape stores worth their salt.
Naked 100 was actually one of the first E Juices I ever tried. I say, first, but what I really mean was it was one of the first "proper" tasty E Juice lines I experienced.
I was blown away by the flavor, the quality of the juice, and just how good it tasted. Since then, I've probably gone through hundreds of bottles of Naked E Juice – including its Nic Salts range!
Naked E-Liquid is designed for sub ohm tanks (RDAs, RTAs, RDTAs, vape tanks) and has a VG/PG ratio of 70/30, which ensures a super-smooth vape and plenty of clouds.
Best Naked E Juice Flavors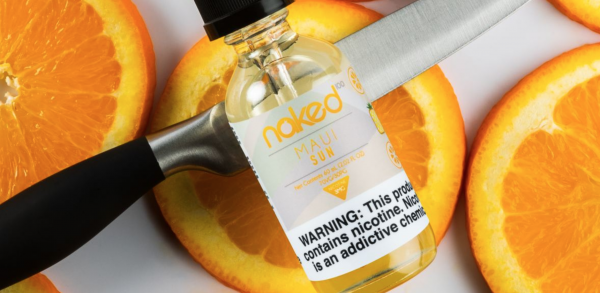 All Melon – A fresh and zingy melon vape
Brain Freeze – A heady blend of blend of strawberry, kiwi, and pomegranate with a massive HIT of icy menthol. Epic stuff!
Naked Unicorn – A creamy, strawberry-style E Juice. It's hard to pin down but it tastes AMAZING.
Amazing Mango – Probably one of my ALL-TIME favorite Mango E Juices. Bar none!
Hawaiian POG – A heady blend of passionfruit, orange, and guava that's based on a popular Hawaiian drink, POG.
Sour Sweet – The perfect mix of sweet and sour fruits. Perfect for all-day vaping.
Yummy Gum – This one based on gummies, and it tastes phenomenal. If you like delicate, sweet vapes this is one you have to try.
Lava Flow – A mix of coconut, strawberry, and pineapple that tastes unbelievably good. I had to try it to believe it, but I am now converted.
Really Berry – Perhaps one of the finest berry-based E Juices on the planet, an intense mix of blueberries and blackberries combined with sugared lemons. Perfect!
My Personal Favorite Naked E Juice Flavors
This is a tough one to call. But after sampling the entire range, the flavors listed above are what I think are the best Naked E Juice flavors.
Out of these, I'd probably say, if you put a gun to my head, that I like Amazing Mango, Really Berry, and Naked Unicorn best. They just suit my palette down to the ground.
I also love how they vape inside an RDA; the flavors just really pop. They're great for sub ohm tanks too, though like a lot of intensely flavored, US E Juice they can clog up coils quicker than less flavorful stuff.
This is why I prefer to use intensely flavored E Juice inside RDAs, there's less room for coil error or clogging. Having said that, I did manage to almost a 60ML bottle through my Sense Screen tank before the coil crapped out…
Naked Salt Nic E Juice

Like any good E Juice company, Naked also produces a range of super-tasty, high-PG Nic Salt E Juices. I tend to use these, predominantly, inside my Kayfun and my Lost Vape Orion, as well as other pod mod systems that I have laying around.
Like the standard Naked E Juice, Naked's Nic Salts E Juice line-up is very impressive, with a BIG emphasis on flavor. For this reason, they come highly recommended to anyone that is looking for bigger flavor from their pod mod devices.
NKD 100 Salt E Liquid Flavors
Amazing Mango – Intense mango hits; ideal for all-day vaping.
Lava Flow – Coconut, strawberry, and pineapple
Hawaiian POG – Passionfruit, orange, and guava
Brain Freeze – Strawberry, kiwi, and pomegranate w/ EPIC menthol kick.
American Patriots – A big-hittin' tobacco E-Liquid that tastes like the finest premium rolling tobacco.
Polar Breeze – Pineapple, Cantaloupe, and Honeydew slices
Green Blast – Kiwi and Apple. Delish!
Really Berry – My #1 favorite berry Nic Salts juice
Very Cool – Super-cool menthol vibes.
Nick Jennings
Reviews & Tutorials Guy. If You Can Build It & Vape It, I'm Your Man!