UWELL Valyrian vs Eleaf MELO 300 – how they compare, including specs, price, features, and overall performance. But which is the best sub ohm tank overall? 
---
OK, so you're after a new sub ohm tank and you've narrowed down the field to two options: the UWELL Valyrian vs Eleaf MELO 300 – and the next logical question you're asking yourself is which one is best, right?
Good, we're on the same page.
This is why you're here – if you found us via a Google search anyway – and it is a good question because these two tanks are both very impressive offerings.
In a straight-up shootout between the two options, or if someone held a gun to my head and said, "decide: UWELL Valyrian vs Eleaf MELO 300… Now! Do IT!"
I'd probably go with the UWELL Valyrian.
Read on after the break to find out why…
UWELL Valyrian vs Eleaf MELO 300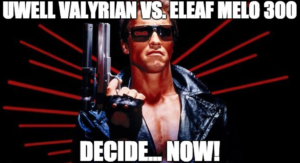 The Valyrian is kind of more my style; it's designed for high-performance vaping, but like a nice German sedan it is also pretty happy cruising along with less power.
The Eleaf MELO 300, however, is like a high-end sports car. Or an IndyCar.
It WANTS power and it wants it now. All the time. All day long.
And that's fine if you're a cloud chaser, but it's not my style.
The Eleaf MELO 300 will happily vape up and around the 170W mark – and even further.
And it will do this without so much as blushing.
But there are a couple of downsides to this style of insane vaping:
#1 – you will burn through E Juice like nothing!
#2 – your mod's battery life will suffer. A lot.
And for me, well… I'll take a cruiser over a bruiser any day of the week and twice on a Sunday.
UWELL Valyrian vs Eleaf MELO 300 – So… UWELL, Then?
For me, personally? Yes – I am 100% convinced that the UWELL Valyrian is one of the best sub-ohm tanks around right now.
It has great coils, which last a good long while, and it can do all the high power stuff but importantly it can also kick back and chill.
And this, at least for me, makes it preferable.
The Eleaf MELO 300 is no slouch, though.
And while it might not be quite as well known as the Valyrian, it is still a very capable sub ohm vape tank.
Rob – one of our writers – swears by his MELO 300 (he bought one after ditching his SMOK TFV12 Prince).
The MELO 300's coils are very good.
They pack in LOTS of cotton, so they're great performers longterm with excellent flavor.
Bottomline? If you want a massive, heavy-hitting sub-ohm, the MELO 300 has everything you'll need and more.
It also has great coils, which, again, last WAY longer than 90% of its peers', and it definitely looks badass.
In this context, I just cannot get past what a solid, all-rounder the UWELL Valyrian is.
The MELO 300 is great, especially for high-power stuff, but the Valyrian gets my vote in this comparison.
It basically comes down to what style of vaping you want to do.
Are you wanting to vape at 150W all the time? If so get the MELO 300.
Prefer a jack of all trades that's happy running high or low? Get the Valyrian.
---
Best Prices For Each Tank
UWELL Valyrian | $37.95 (FREE SHIPPING)
MELO 300 | $27.95 (FREE SHIPPING)
Drake Equation
Co-founder and Editor of VapeBeat. I make the words.