UPDATE: These Tanks Are Now Pretty Old… 
Thanks for dropping by to view our post on the Herakles Plus and the Herakles RTA – back in the day, these were awesome tanks!
However, things have moved on quite a bit (this post was originally published in 2016)…
For a look at the latest and greatest RTA tanks, please check out our Guide To The Best RTA Tanks Right Now.
Inside that post, you'll find all of the top-rated RTA tanks we've tested during the past 12 months. More are added all the time as well, just as soon as we've tested and rated them!
---
….Original Post Continues
The Herakles Plus and Herakles RTA need ZERO introduction. Both are exceptional tanks in their own right and both are a testament to just how good today's modern vape tanks are.
I have both the Herakles Plus and Herakles RTA and I use them regularly as my daily drivers. But if you're in the market for just one, like most normal people, then which are you best going for? The Herakles Plus or the Herakles RTA?
In this article, I will outline the ups and downs of both setups in order to give you a better idea about how these bad boys perform and, more importantly, which is better suited to your vaping needs.
Right — let's DO THIS.
Herakles RTA Specifications: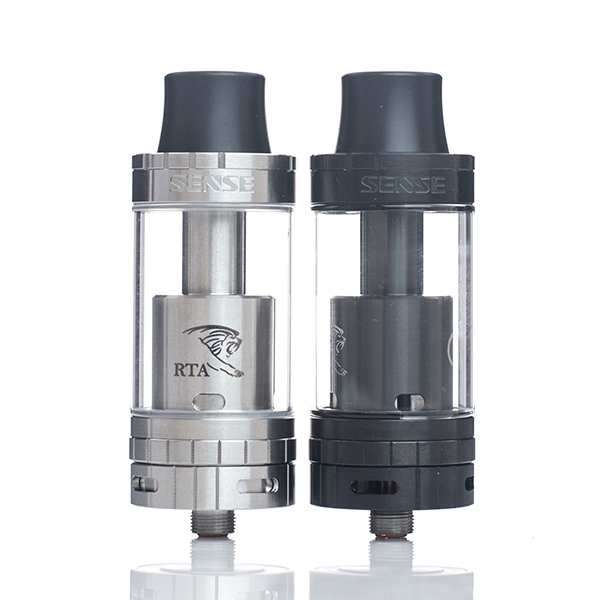 25mm Diameter
6mL Tank Capacity
Top Fill Design
Adjustable Wicking Holes
Two Post Rebuildable Deck
Quad Interior Airflow
Quad Wicking Channels
Quad Adjustable Exterior Airflow
Copper 510 Connection
Herakles Plus Specifications: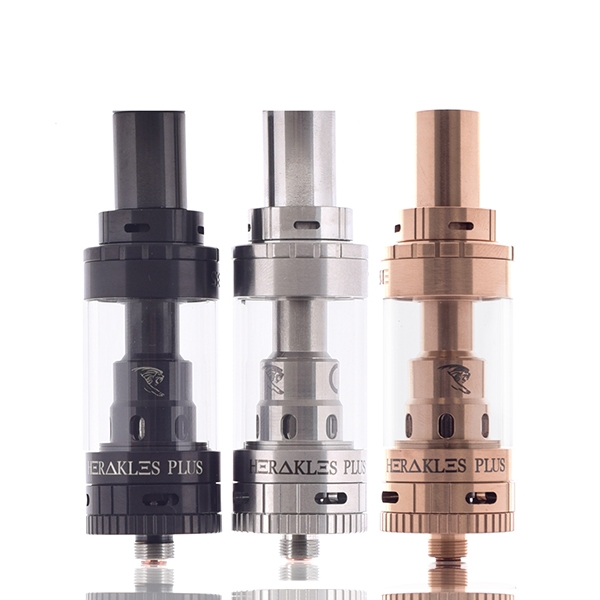 22mm Diameter
4mL Tank Capacity
Top Fill Design
New Coil Structure
Top Airflow Design That Travels Directly To The Coil Through The Outer Chamber
Stainlees Steel Consrtuction
Copper 510 Connection
Removeable Drip Tip
Quad Adjustable Exterior Airflow
Herakles RTA: Design & Setup Overview
First I will talk about the Herakles RTA. Being a 25mm tank gives you a great capacity of 6mL and this is a good plus as the need to refill is reduced.
You have to build and wick your own coils (hence the RTA), which some people find more suitable as they can fine tune their vape experience and are not limited to a prebuilt coil.

The Velocity-style build deck is amazingly easy to build on and once you are all built and ready to go you simply screw the base onto the top portion of the tank and fill using the top fill.
The top-fill on the Herakles RTA has wide fill slots and this makes topping up the tank with juice really straight-forward. Once setup, this setup can handle pretty much anything you can throw at it. Personally, I prefer my juice high or 100% VG — it just vapes better.
Herakles Plus: Design & Setup Overview
At 22mm you can rest this tank on anything with no worries of any overhang. The Herakles Plus also features a 4mL which is about the same as other sub-ohm tanks. Granted, this isn't as big as the Herakles RTA's but it will still be sufficient for 99.9% of users.
This isn't an RTA, so you DO NOT build your own coils. Many find this type of tank a lot more attractive; they're less hassle and work right out the box. Building and wicking an RTA isn't hard, though, or time consuming, so this option is definitely worth looking at as well.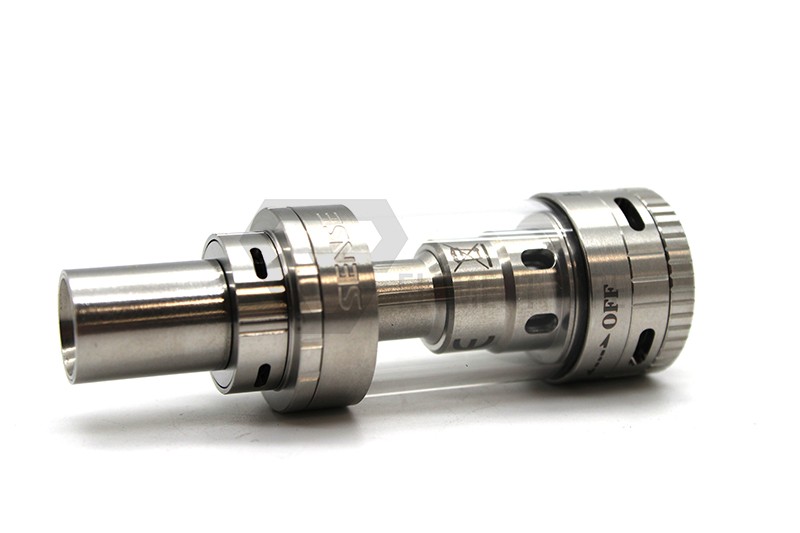 The prebuilt coils for this tank are very impressive, though, and once you've sampled them you're not likely to want to go an start building your own. Not when they're this good and last this long. Flavour is exceptional on high VG blends and, depending on your coil type, you're good to vape right into three figures with one of these bad boys.
The Herakles Plus features a unique top airflow design which allows for the air to travel to the coil through the outer chamber. This creates, uncluttered amazing flavour and sets the Herakles Plus apart from 90% of the sub-ohm tanks available on market right now.
The Herakles Plus is EASILY my favourite tank in my, admittedly now pretty extensive, collection.
Herakles Plus vs Herakles RTA: Price
Both tanks are available now with free shipping from DIRECTVAPOR. If you want to buy one, simply click on the links below:
Herakles Plus vs Herakles RTA: Main Differences
The RTA version is bigger, holding 6ML vs the Plus' 4ML.
You can build your own coils with the RTA version.
Herakles Plus is ready to go right from the box
When all is said and done, however, what tank you end up going for depends on a variety of factors, including price.
The RTA option is for builders or those interested in building their own coils; the Herakles Plus is for those that want a more straight-forward, but equally awesome vaping experience.
Whichever tank you end up going for, though, you can rest assured that both are utterly sublime.
Nick Jennings
Reviews & Tutorials Guy. If You Can Build It & Vape It, I'm Your Man!