I love a good Mango e-liquid. But when it comes to Mango UK vape juice, what're the best brands to look for? Here's my pick of the litter…
---
When it comes to e-liquid flavors, there are so many options available in the UK it can actually cause problems. How do you actually find what you're looking for when there's so much choice?
The quickest way to do this is simple: lock in on a flavor that you know you like and then find and try all the brands that make e-liquids in this particular flavor. In this context, we're talking about one of my all-time favorite e-liquid flavors – mango.
But what is the best mango UK e-liquid? Who makes the best-tasting Mango UK vape juice? As someone who A) likes Mango, and B) has been vaping for the best part of a decade, I like to think I've tried nearly all of the best and most well-known Mango e-liquids available in the UK.
But rather than leave you to blindly follow in my steps, spending hundreds of pounds on random e-liquids in a bid to find the best mango UK e-liquids and e-liquid brands, I figured I'd just list out the best mango UK e-liquids I have tried to date. That's easier, right? And it'll save you time and money too.
Mango UK E-Liquids – The Best Options Right Now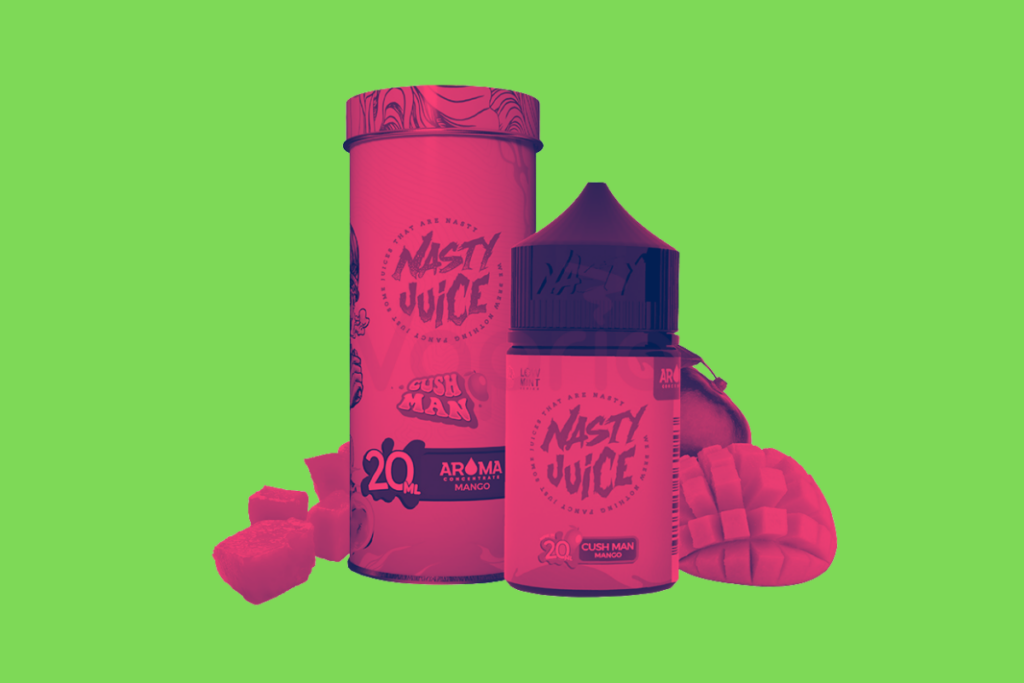 Because people use different styles of vaping products, I've included one option for each potential style, so below you'll find a Mango Nic Salts, a Mango Shortfill, and another Mango e-liquid option for sub-ohm vape tanks. That covers all the bases, so to speak.
Best Mango UK Nic Salts
Dinner Lady Ice Range
If you're after a mango Nic Salts e-liquid, then my current go-to brand and flavor is Dinner Lady's Ice Range Mango option. It has been a constant flavor in my life for the past 18 months. I love the flavor, the freshness – it tastes wonderful in all my pods and MTL tanks.
I think I've probably vaped around 200 bottles of this stuff to date. And that should tell you everything you need to know about this wonderful mango UK e-liquid.
Nasty Juice Cush Man
One of my favorite UK e-liquid brands is Nasty Juice. They have a massive collection of e-liquid ranges – from Nic Salts to high VG stuff. And its Cush Man nic salts flavor is one of the best mango vape juices I have ever tasted – it is totally flawless.
If you're a fan of mango vape juices, Cush Man by Nasty Juice is one of the best mango blends I have ever tasted. It is pure mango too, being created from a selection of ripe mangos from all over the world. You can literally taste the sunshine with this one.
Best Mango UK 100ml Vape Juice
If you're a sub-ohm vaper and you like big bottles and high VG content, one of the best Mango flavors I have come across recently is Mangoberry Magic by Beyond by IVG.
This isn't a straight-up mango juice, however, as it is mixed with strawberries. But this only serves to make it taste even better. I am constantly running this stuff in my RDAs and sub-ohm mesh coil tanks. It's well priced and it tastes divine.
Best Mango UK Shortfill Option
I wasn't initially going to include this one, as not everybody likes iced tea in the UK. But Dinner Lady's Mango Iced Tea is just too good not to include.
This high VG vape juice delivers a massive hit of sweet mango combined with the iconic taste of iced tea in the background. It's slightly odd at first but once you get acclimatized, you'll find yourself coming back to it again and again.
Recap…
Okay, so there you have it: my all-time favorite UK mango e-liquids, covering 100ml bottles, nic salts, and shortfills. Whatever type of vape you're using, these are the mango flavors I would be looking at. Out of all the mango UK e-liquids I have tried over the years – and there have been MANY – these are the brands and flavors I keep coming back to time and time again.
Drake Equation
Co-founder and Editor of VapeBeat. I make the words.