Today we're going to take a look at some of the best RDA tanks the VapeBeat team tested in 2016.
RDA stands for rebuildable dripping atomizer but these setups are sometimes called "drippers" — especially if you're down with the kids, as we quite clearly are. But what are the best RDA tanks to buy as of right now?
In the past 12 months, VapeBeat has tested a bunch of different RDA tanks, and this list is where we collate the best of the best.
Drippers aren't for everybody, though. I know a few people that find them fiddly, as you have to build your own coils, wick them and constantly top-up the tank with E Juice.
---
The Best E Juice Guide 2017
| E JUICE BRAND | MICRO-REVIEW | RATING | PRICE | BEST PLACE TO BUY |
| --- | --- | --- | --- | --- |
| ONE HIT WONDER | OMFG! | 10/10 | $49.95 (180ML) | DIRECTVAPOR |
| ANML E JUICE | TASTY AS HELL | 9/5/10 | $29.99 (60ML) | VAPORDNA |
| DINNER LADY E-LIQUID | GORGEOUS | 10/10 | £14.99 (10ML) | UK ECIG STORE |
| VAPORFI – MULTIPLE LINES | HIGH-QUALITY-SHIZZ | 9/10 | VARIES BY RANGE | VAPORFI |
| COSMIC FOG | LEGENDARY STUFF | 8.5/10 | $23 (60ML); $44.95 (100ML) | DIRECTVAPOR |
| NAKED E-JUICE | SO VERY MOREISH | 9/10 | $21.95 (60ML) | DIRECTVAPOR |
| BEARD VAPE COMPANY | EPIC. JUST EPIC | 9.5/10 | $23.95 (60ML) | DIRECTVAPOR |
| JUICE ROLL UPZ | FLAVOUR-EXPLOSION | 9/10 | $24.95 (60ML) | DIRECTVAPOR |
| ELEMENT | EXTENSIVE LINEUP | 8.5/10 | $29.95 (60ML); $12.05 (20ML) | DIRECTVAPOR |
| FLAWLESS | LOVELY STUFF ALL ROUND | 9/10 | $24.99 (60ML) | VAPORDNA |
| VAPETASIA | LIKE LICKING A STAR | 9/10 | $23.95 (60ML) | DIRECTVAPOR |
---
RDAs don't have a storage tank, per se, but a lot of the newer models do have wells inside them where you can store some surplus juice. They still require a top up pretty regularly, but they aren't quite as bad as they used to be.
If you want the best of both worlds – sub-ohm tank-style capacity and the ability to build your own coils – you're likely better off with an RTA tank.
All of this might sound rather complicated if you're used to standard tanks. But rest assured, RDAs are fairly simple to set-up and produce excellent flavour and bloody enormous clouds. They're also quite a bit cheaper and smaller than the more traditional vape tanks you might be used to, which is handy if you're rocking a big mod.
Three Reasons You Should Try An RDA Tank:
Better Flavour – If you're chasing BIG flavour than an RDA is the way to go, as there really is no comparison when it comes to bright, crisp notes and sharp detail when vaping. For many, this is why RDA tanks are the ONLY option when vaping.
More Clouds – The clouds you can produce with these things, once coupled with a decent mech-mod or box-mod, are INSANE. You know when you go into a vape shop and you can barely see a thing? Yeah, that's because of RDA tanks and the insane amounts of clouds they kick out.
More Cost Effective – You don't have to buy replacement coils, which are bloody expensive, if we're being honest, as you build your own. And while this might sound like a pain in the ass, once you have a couple of builds under your belt you'll be able to build a new coil with your eyes closed.
For more information on wicking and building your own coil, check this piece out — How To Build and Wick Your Own Coils.
Below is a selection of some of the best RDA tanks we tested in the last 12 months listed, as always, in no particular order.
---
Grim Green and Ohm Boy joined forces to create this amazing RDA. The Recoil Performance RDA is a 24mm tank, meaning it'll sit nicely on top of pretty much anything, and it also features three posts with the added bonus of a split center post with 2.5mm terminals.
Nick had a great time testing the Recoil Performance, so if you're looking for more detail on this excellent RDA check out his Recoil Performance RDA Review.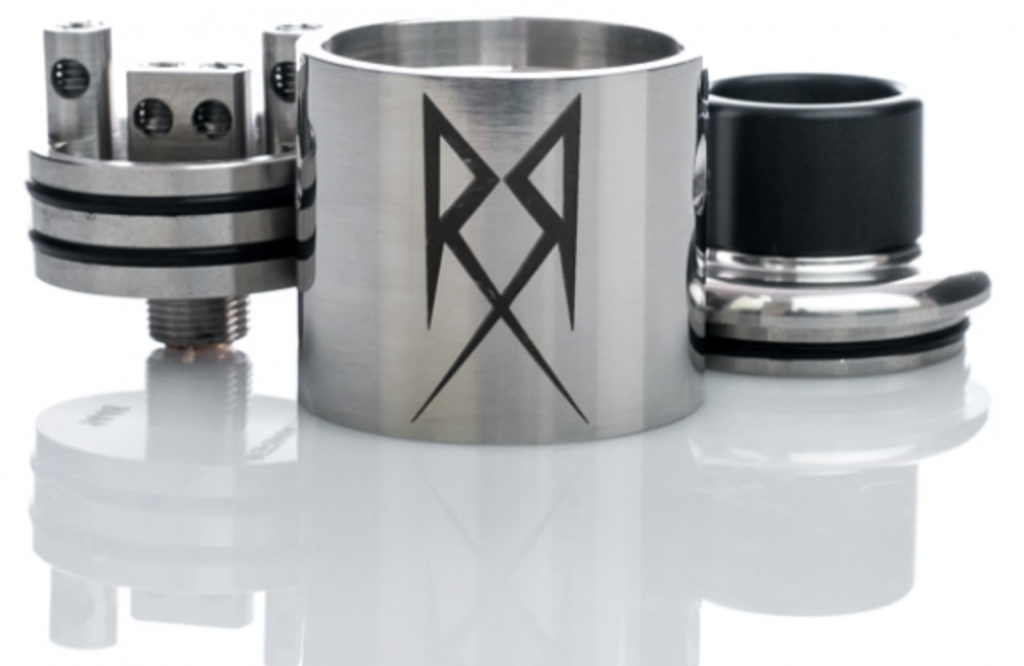 Coil positioning is excellent on this bad boy and, because of its size, it will hold pretty much anything you fit inside it. The overall look, feel and finish of the Recoil Performance RDA is utterly brilliant – it looks and vapes like an absolute champion.
If you're seriously into you builds and want something that is not only eye-catching, but also a performance set-up, then you NEED to check out the Recoil Performance RDA. It is just about the best RDA we have sampled inside 2016. Bar none…
Recoil Performance RDA Specs & Features
Huge 2.5mm post holes for complex builds
Fine-tuned, angled airflow channels for leak resistance
Ultra-simple and elegant look
304 solid stainless steel construction
24mm diameter
Clouds bro clouds cap – two 3mm airflow holes
Flavor bro flavor cap – two 2.5mm airflow holes
PEEK insulators
Gold-plated brass 510 pin
15mm Chuff Delrin drip top
22mm build deck
Raised negative posts and holes for easier builds

---
The DOG3 RDA is one of the best set-ups we've tested in 2016. Period. Nick recently gave this little gem of a tank 10/10 in our DOG3 RDA Review — it's well worth a read if you haven't seen it already.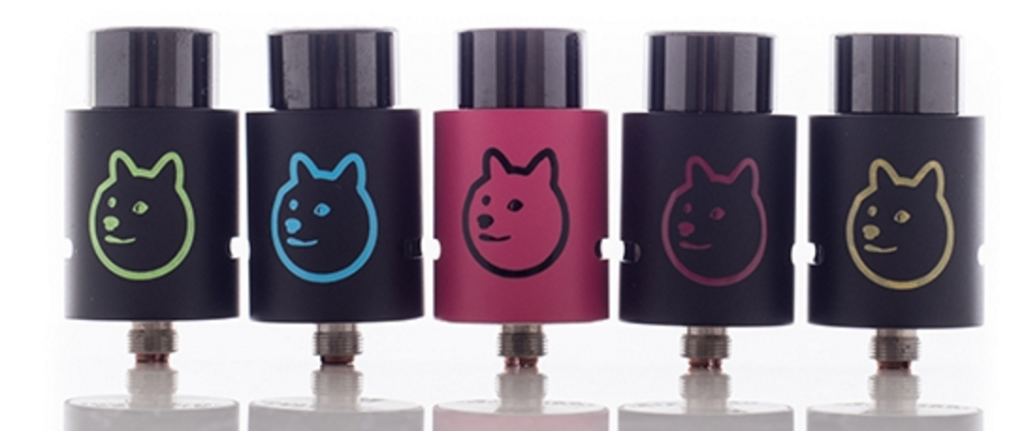 The deck is sublime, great to work with. The design is very much on point and we LOVE the colour options — our's is pink. Beyond this, vaping with the DOG3 RDA is an absolute pleasure. The airflow system is superb and the clouds it produces immense. As RDAs go, the DOG3 could well be the best on the market right now.
This one is DEFINITELY worth your time and money.
DOG3 Product Features
One DOG3 RDA
One C110 Copper Single Terminal Positive Post
One Stainless Steel Single Terminal Positive Post
Two Additional Stainless Steel Screws
One Additional C110 Copper Screw
One Additional C110 Copper 510 Contact
One PEEK Insulator Set
Additional O-Rings
Screwdriver

---
The BMI Goldie Back 2 Basics Killa RDA is the first attempt at an RDA by Beastmode Industries and, as you'd expect, it is something of a monster with its premium materials, brass, if you're wondering, that have been treated to give it a unique hue which looks sick on any mod or setup.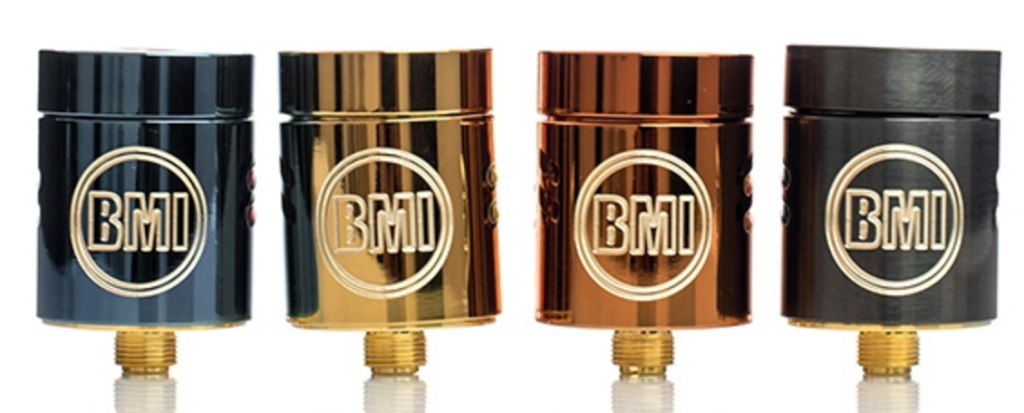 The build deck features a quad terminal, split positive arrangement with each terminal measuring 2.7mm in diameter, allowing for a wide range of coil configurations, which makes this RDA an excellent choice for those that REALLY like to build BIG setups.
Oh — the posts are 24K Gold plated. I also love the airflow system, which enables are variety of vaping experiences right off the bat. Awesome, awesome stuff.
Specs & Features
22mm Diameter
Brass Construction; Color Treated/Coated
Made as a Everyday Beater with Elite Level Performance
Heavyweight Feel
Base and Build Deck Outweighs Many Complete RDAs
Deep Laser Etched Engravings
Focus on Simplicity and Effectiveness
Split Positive Quad Terminal Build Deck
2.7mm Diameter Terminals
Phillips Screws
24k Gold Plated Terminals and Build Deck
Square Insulator
Adjustable Dual Slanted Airslots
8mm by 2mm Each Airslot
Adjustable via Top Cap
Extremely Fast and Effective Airflow
24k Gold Plated 510 Contact
Classic 510 Top Cap
Sloped Dome for Improved Airflow
13mm Competition Bore Drip Cap Included
Adjustable Airflow Cutouts Built In
Perfect for Cloud Chasing Applications

---
The Goon RDA by 528 Customs is one hell of a innovative setup, featuring a two post clamp style design where the coil leads are inserted and sandwiched between a large flat surface area which makes placing and setting the coils very easy.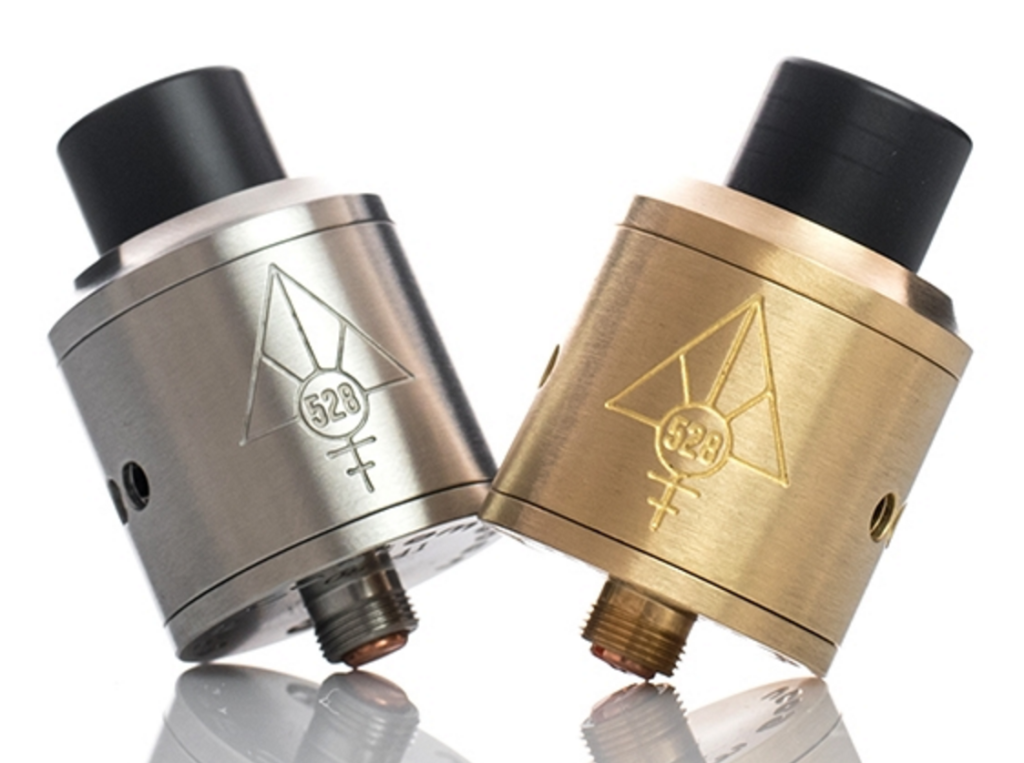 The clamps are 24K Gold Plated to ensure more consistency and better conductivity. It also features a flat surface area to increase contact and the build deck itself, which features a 20mm inside diameter and a 5mm deep juice well, as well as PEEK insulators, makes it one of the most roomy RDAs around.
Specs & Features
24mm Diameter
Innovative Two Post Build Deck
Clamp Style Posts
4mm of Width Between Screws
Easily Secure Very Large Leads
Gold Plated Posts for Conductivity
Purpose Built for Builders
Two Phillips Screws Per Post
5mm Deep Juice Well
PEEK Insulation
20mm Inside Diameter Build Deck
Adjustable Dual Triple Airhole Airflow
3mm Diameter Each
Single Coil Compatible
Three Piece Assembly
10.5mm Delrin Drip Tip
Copper 510 Contact
High Quality Stainless Steel Chassis
CNC Engraved

---
Jay Bo's designs are fast becoming some of the most respected in the vaping industry. The Wismec Indestructible Atty RDA is no exception either, featuring a bunch of innovative features and design tweaks — a vortex flow, washer adjusted top airflow, signature side airflow, open system terminals and a cyclops-style center post for all types of coils — for one of the best RDA experiences available.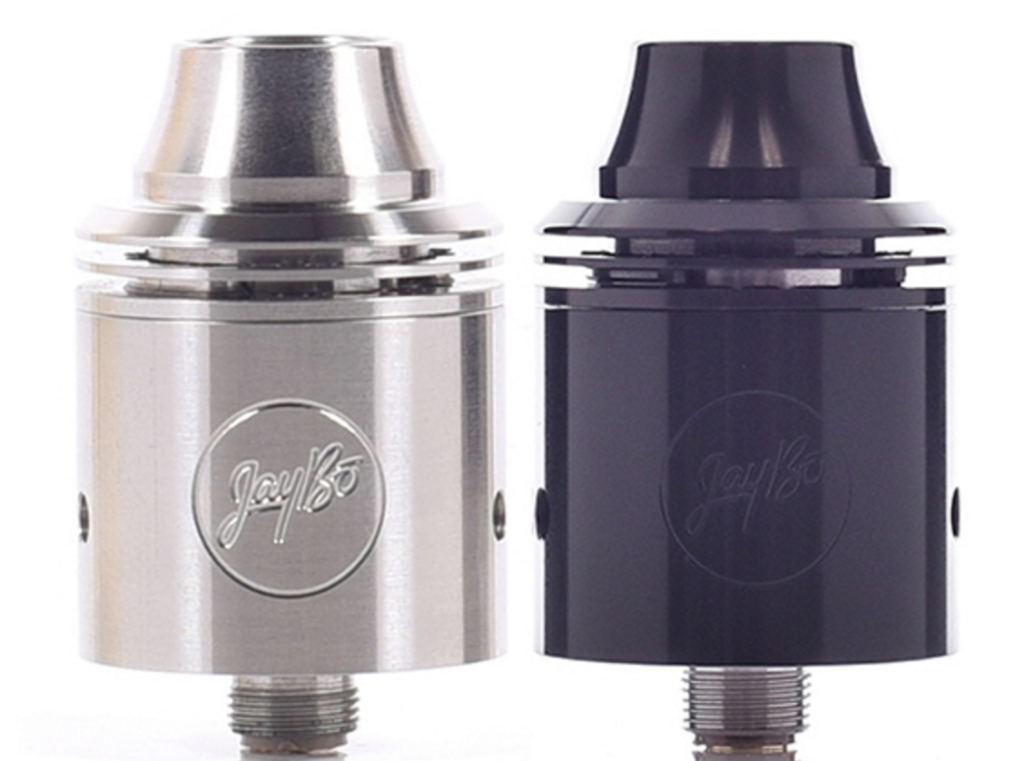 The MO here is exotic builds; the Wismec Indestructible Atty RDA can handle pretty much any style of coil. This makes the Wismec Indestructible Atty RDA a great choice for the more experienced rebuilder that is looking for the next big thing. I love this RDA and for the price and its features, I think you guys will too.
Specs & Features
22mm Diameter
Innovative Top Cap Designs
Airflow Washer
Quad 3mm Airflow On Both Sides
Vortex Flow Sloped Airholes
Adjustable Via Tension From Threaded Sections
Single Coil Specific Airflow
Enlarged Offset Airhole Cluster
Standard Airholes Measure 2.5mm
Able to Be Closed Entirely
Signature Jay Bo Side Airflow
Triple 2.5mm Airholes On Each Side
Open System Post Terminals
Large Cyclops Style Center Post
Allows for Incredibly Large Coil Configurations
Hexagon Screws
Deckmilled Negative Posts
Shelf Style Terminals
Ideal Conductivity
Accommodates Large Coil Configurations
Phillips Screws
Stylistically Enlarged Juice Wells
303 Stainless Steel
10mm Integrated Sloped Drip Tip
PEEK Insulators
Gold Plated 510 Connection
CNC Engraved on Base

---
This RDA is built for those that like to really customise their vape. Featuring a two post, quad terminal build deck with 2.8mm diameter terminals, flat bottomed hex screws for consistent contact, a deep juice well, and electric cut airflow, the Twisted Messes Squared Quad Terminal RDA is one of the finest setups of its kind.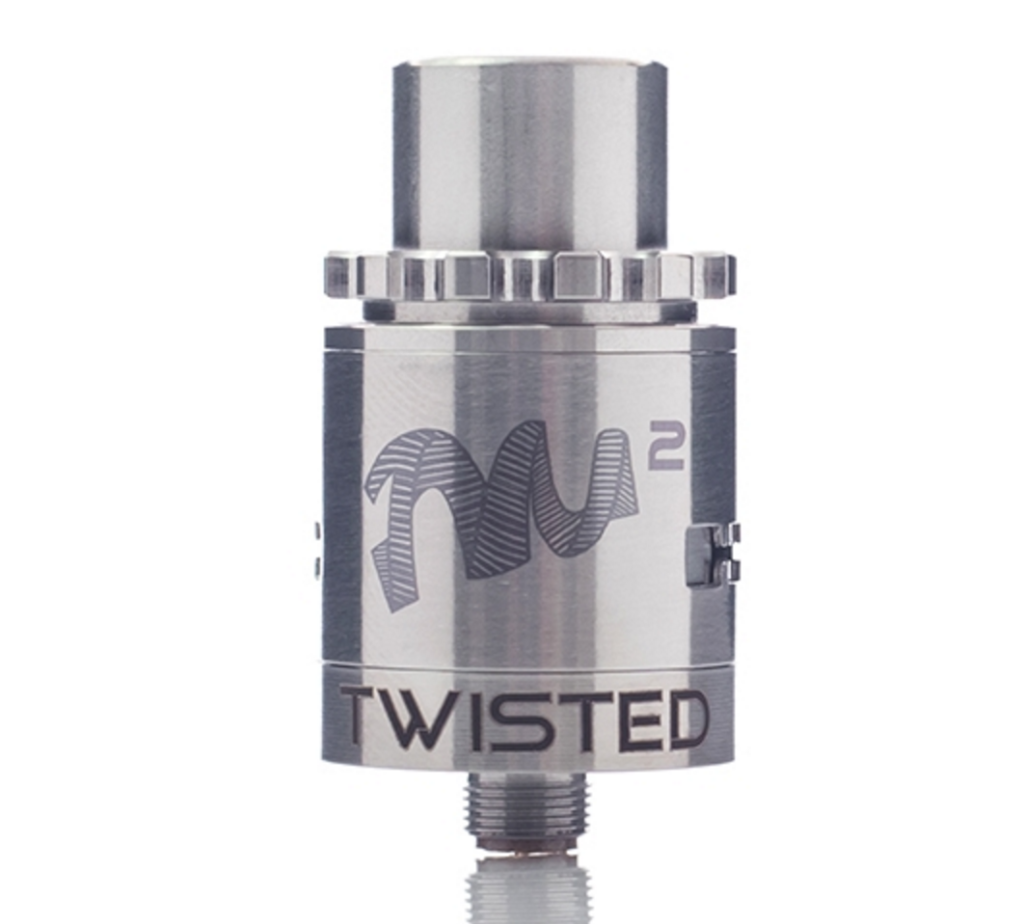 The price is high, but what you get for your hard-earned dollars is a very impressive RDA packed full of features. The design is excellent as well. I love the logo on the side, the general feel of it in my hand, how customisable it is, and how it looks attached to my mods. If you're looking for a premium mod with all the features, the Twisted Messes Squared Quad Terminal RDA is a very good place to start.
Specs & Features
23mm Diameter
22mm Deck Diameter
Two Split Post Design
Four Terminals
2.8mm Diameter Each Terminal
Top Secured Clamp Style Hex Screws
Flat Bottomed Screws for Secure Connection
Deck Milled Negative Posts
Added Durability
5.5mm Deep Juice Well
PEEK Insulator
Electric Cut 3 by 3mm Adjustable Airholes
Squared
Dual 3mm Airholes for Single Coil Capability
'Teeth' Provide Unique Airflow Intake
Stainless Steel and Black AFC Ring Included
Three Drip Tip Options Included
11mm Bore Stainless Steel Drip Tip
11mm Black Radel Drip Tip
High Heat Resistance
510 Drip Tip Adapter
Gold Plated Brass 510 Contact Pin

---
So you like colourful stuff? You do! Excellent. Meet the Wotofo Lush Authentic RDA, a colourful dripper that'll look sublime on any setup. This was one of the first drippers we actually tested, so it does hold a special place in our heart, and if you're new to the whole RDA thing then this is as good a place to start as any.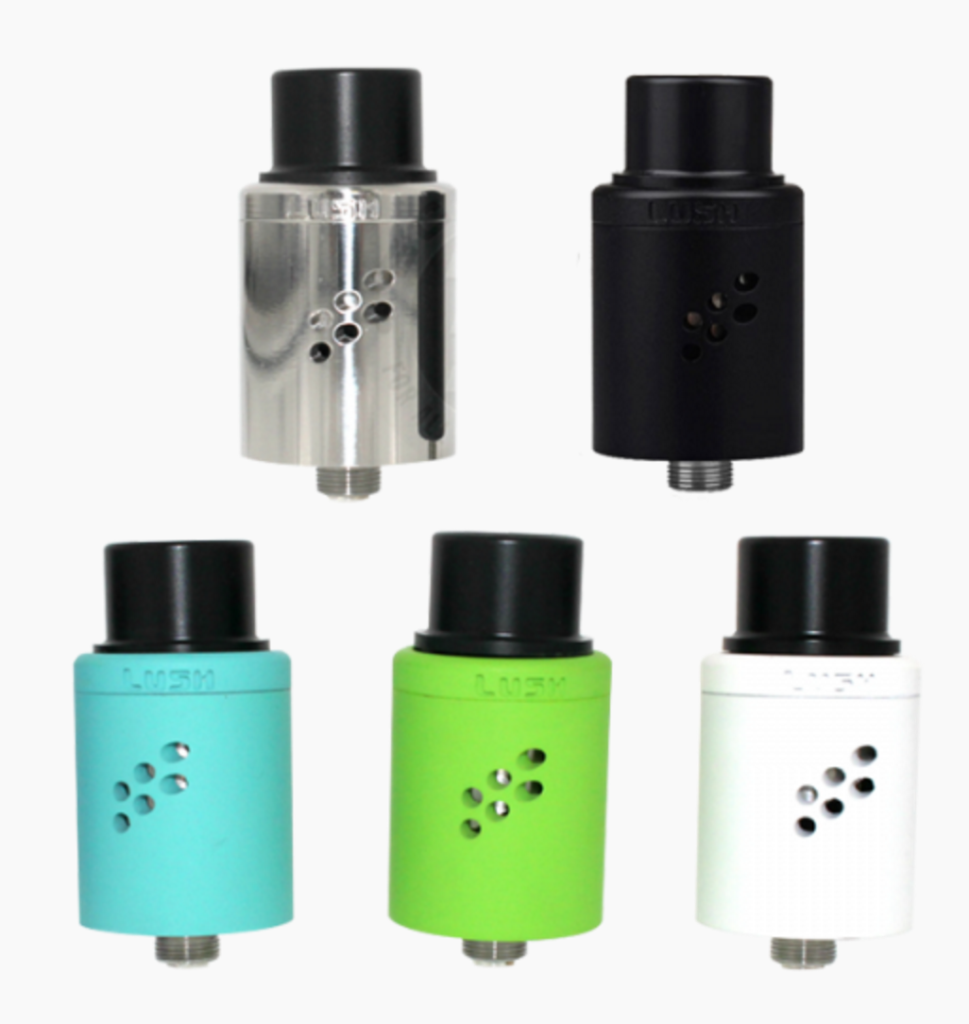 It may look fairly unassuming, as most RDAs do, but this thing is designed to very high standards with a deep, DEEP juice well, silver plated contact pin and engineered airflow for maximum cloud output.
Specs & Features
Deep juice well.
Silver plated contact pin.
Four post design with a "T" center post.
Negative post milled directly onto deck.
Includes standard cap that acts as an adaptor for your favorite 510 drip tip.
Angle drilled airholes provide a true cyclone cloud with the best flavor
Silver plated copper contact pin, for top level electronic conductivity

---
Indulgence's Mutation Plus X V4S might look similar to previous releases from the company, but the reality couldn't be farther from the truth. This all-new RDA is constructed from 304 grade stainless steel, has an extremely deep juice well, adjustable airflow and, last but not least, a two-post deck which makes inserting new coils a cinch.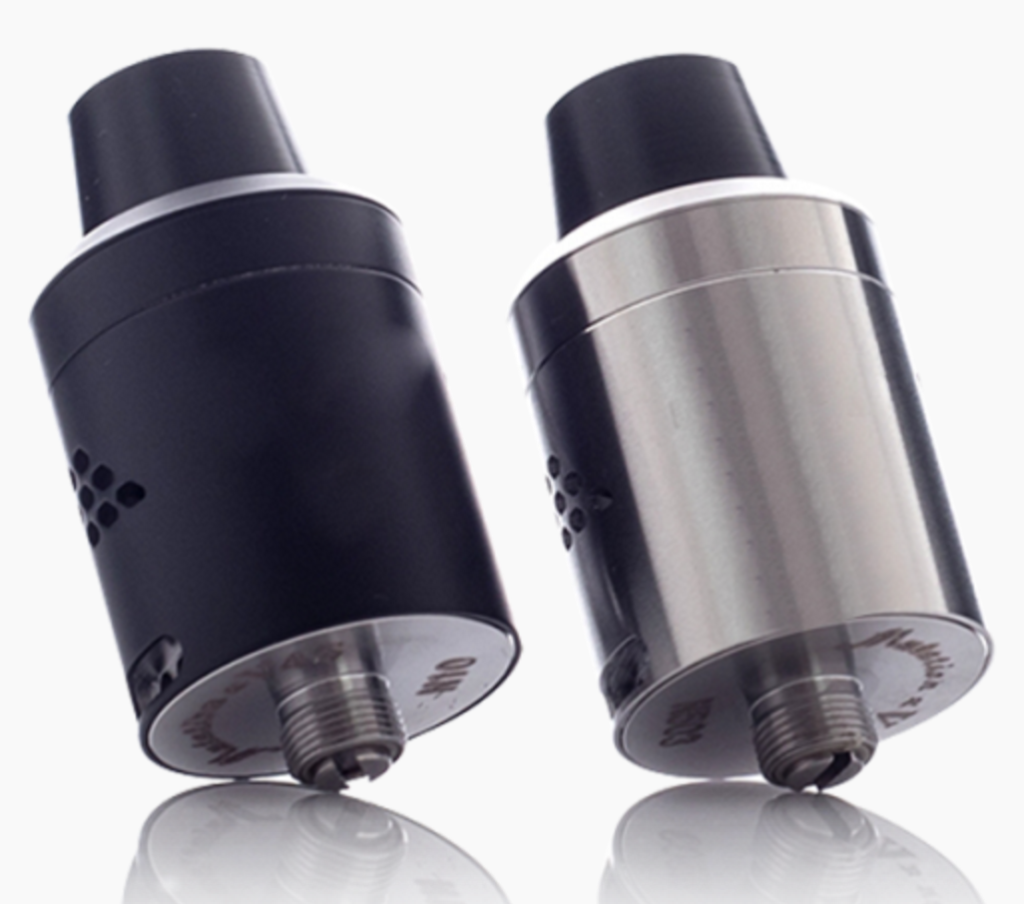 Spec & Features
304 Grade Stainless Steel Construction
304 Grade Stainless Top Cap & Build Deck
Diamond Airflow Holes
Adjustable Airflow Control
Bottom Feed Airflow Holes (Underneath Coils)
Redesigned Wider Top Cap
Deep Juice Well
Velocity Style Two-Post Deck
Large Post Holes
Wide Delrin Drip Tip
Laser Engraved Logos
22mm Diameter
11mm Widebore Competition Drip Cap
Flush Heat Reducing Delrin 510 Adaptor Top Cap
5mm Deep Juice Well
Philips Screw Heads
Triple O-Ring Secured Base

---
This Mutation RDA features plenty of awesome features and has a price — $19.95 — that cannot be beaten. For your dollars, you get a deep ass juice well, great design, uni-deck design, adjustable airflow and a unique air intake system that sends air straight to the coils for maximum flavour.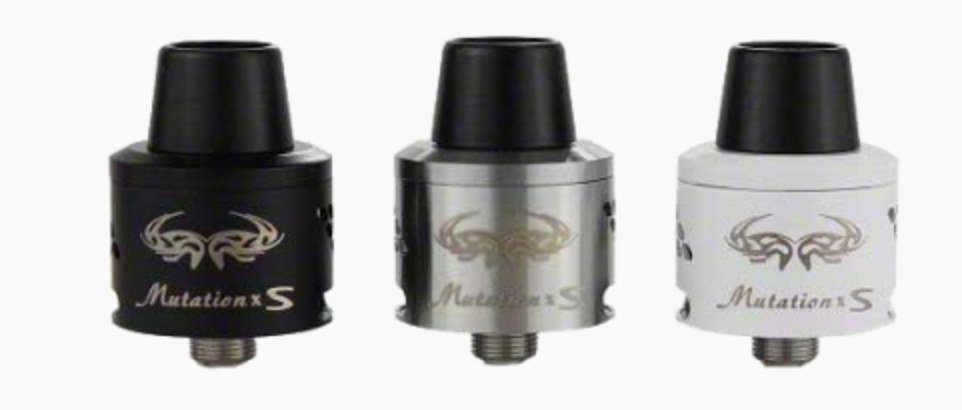 Specs & Features
Ultracompact 17mm Height
Bladed Angular Side Airflow Control
Threading: 510
Multi Sized Angular Bottom Airflow (1.5/ 2.0/ 3.0mm)
Dual Parallelogram Airflow Array
18 Total Side Intakes (3×3 array, 2mm each)
Angular Side Airflow can be adjusted for Single, Dual, or Closed Configurations
11mm WireBore Competition drip tip
Delrin 510 drip tip adapter
Negative Posts milled directly into deck
2mm Post Holes
Split T style Positive Post
5mm Deep Juice Well
Double O-Ring Base Design
304 Stainless Steel Construction
Silver Plated Copper Connection
PEEK Insulators

---
This is a premium RDA built by Flawless. It is the most expensive RDA on this list, but like a lot of things in life: if you want the best possible experience, be it with tech, holidays or strippers, it pays to pay that little bit extra.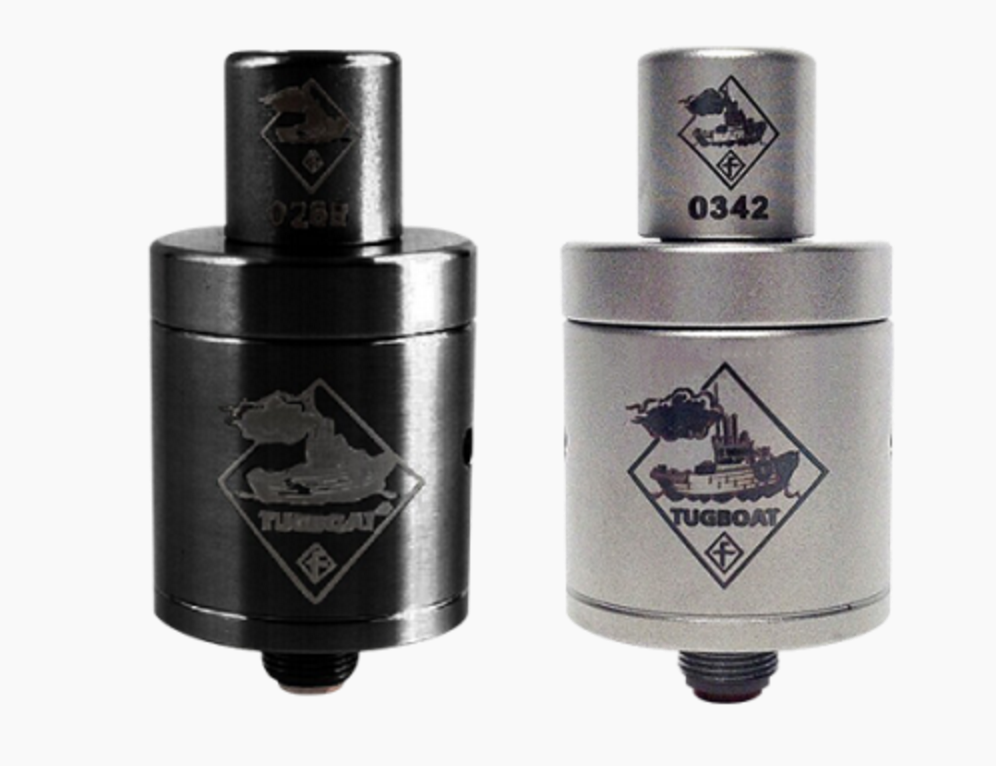 So what do you get? Quite a bit as it goes. But the most striking thing about this set-up is its appearance — it looks AWESOME. The Tugboat is constructed from stainless steel and coloured aluminium and features a three-post design, so you can pop in single and dual-coil setups inside. It also has excellent airflow and a lovely engraving of Tugboat on the side.
Specs & Features
Stainless steel cap and deck with colored aluminum sleeve and tip
22mm outer Diameter
3 post design
Large drip well
Flush mounted cap with Tugboat Engraving and American Flag Engraving
Large Dual Adjustable airholes
Serialized Drip Tip with Tugboat v2 Engraving
Heat resistant drip tip

---
Designed by Jay-Bo, this gorgeous looking RDA is constructed from stainless steel and, as you can see from the picture, is absolutely TINY — it stands just 19mm from top to bottom.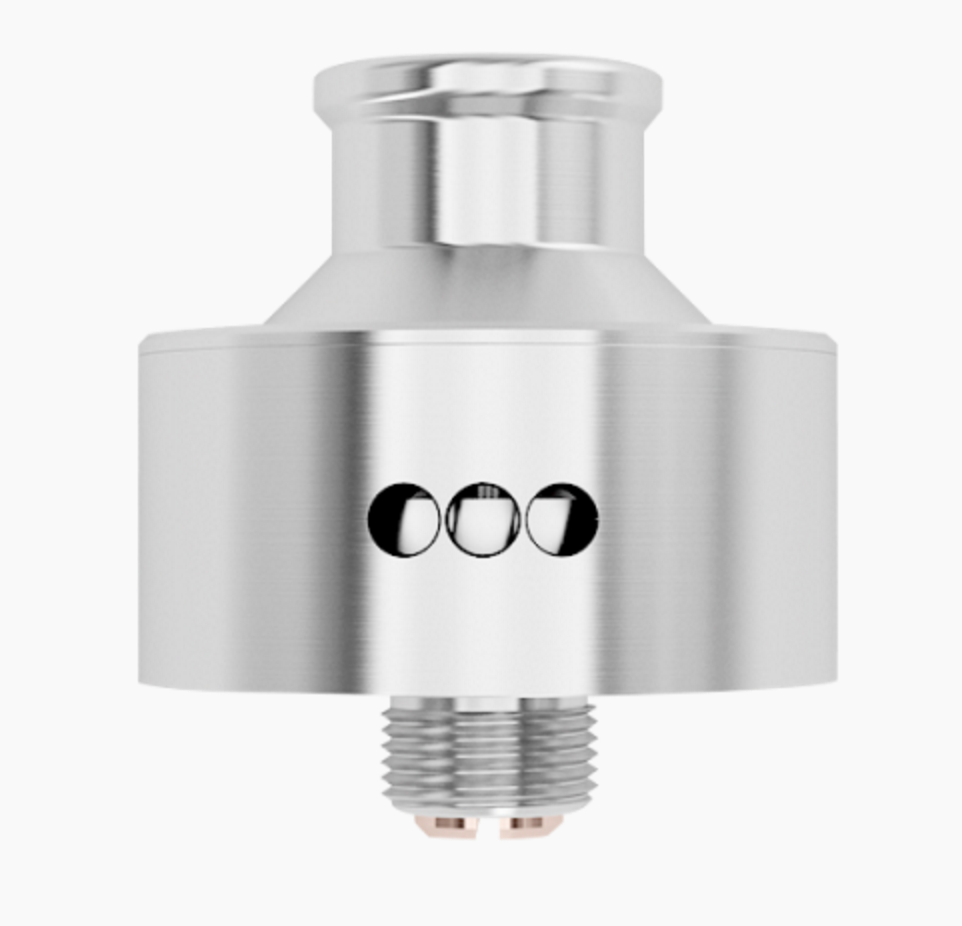 The Bambino is ALL about flavour and for this reason it features a top cap with "vortex flow design" for the most on-point flavours going. It also features a 6-point airflow system, a large juice well, so you don't have to constantly re-drip, and a three-post design so you can switch up what type of coil you use.
Like the Reuleaux DX200, this thing is fantastic. In fact, try them together. That's what I did.
Specs & Features
Diameter: 22mm
Height: 19mm (Including Mouthpiece)
Material: Stainless Steel
Top Cap With Unique Vortex Flow Design
Deep Juice Well
6 Air-Inlet Holes
3-Post Terminal Design