What's the best RTA tank for beginners – if any? It's a tough question, but I have tested a bunch in the last six months and, IMHO, these three setups are the best RTA tank for beginner vapers in 2018.
---
RTA tanks, historically, are something of a pain in the ass.
They leak. They're fiddly to wick. They leak. And then, well… they leak some more.
But things changed in 2017/18. RTA tanks started getting easier to use and live with.
Bizarre, right? I'd all-but given up on RTA tanks and then, towards the end of 2017, I had a run of really solid, super reliable RTA tanks.
And none of them leaked. All produced exceptional flavor as well.
Out of the six or seven RTA tanks I tested between the back-end of 2017 and right now, there were three RTA tanks that really stood out to me, three that worked pretty much seamlessly.
And these killer RTA tanks are detailed in full below.
What I Look For In A Killer RTA Tank: Or, What's The Best RTA Tank For Beginners?
Ease of Use – it must wick easily every time. No dry hits.
No leaking
Flavor – it has to be on point
Performance – how it vapes longterm, plus how easy it is to live with on a day to day basis
I've included all my favourite RTAs (of all time) in our Best RTA tank feature. I like all of the ones listed in there, but some are not designed for noob vapers (or beginners).
This is why I put together this little piece: to point out a few, solid RTA options for beginners or those looking at their first ever RTA.
I picked these three RTA tanks because they really impressed me, produced great flavor, were ease to wick, and, best of all, seldom leaked compared to 99.9% of the RTA tanks I own or have tested.
PROS
Three Coil Design = MASSIVE Performance
Excellent Build Quality; Thing's Practically Seamless
Easy To Build On + Supports Dual-Coils Also
Looks Great, Vapes Like A Monster!
Seldom Leaks When Wicked Correctly
CONS
It's BIG – So Make Sure You Have A Mod That Can Handle It (28mm)
Takes A While To Get Wicking Correct (Not As Fiddly As Most Though)
This tank, simply put, is KILLER. Every aspect of design has been taken into consideration and executed perfectly. The build space, the wicking slots, the threads, the overall tolerances of the design, and the appearance. Everything is just superb. If you want MASSIVE power and performance, get yourself one of these tanks RIGHT NOW. You will not be disappointed.
Best Place To Buy Online?
---
PROS
Great Design; It Looks Fantastic
HUGE Flavor (When Wicked Right)
It Seldom Leaks With Correct Wicking
CONS
Wicking Takes Practice
Loves Burning Through Juice
Heavy Branding
92
A Very Impressive RTA Tank
Superb Performance
The Vandy Vape Kensei RTA is a very impressive setup. Not only does it deliver the goods with respect to flavor and overall performance, but it is also relatively easy to live with. Spend an hour or two getting to know its deck, and how it likes to be wicked, and you will never get a leak. It is fiddlier than some let on, but compared to most RTA tanks, it is a breeze to setup. You just have to get it right. And this takes a little practice. Once it's wicked correctly, though, you're on the fast track to Cloud City, baby!
Best Place To Buy Online?
---
PROS
It Does NOT Leak. Period. And It's An RTA. Need I Say More?
The Flavor is IMMENSE – Precise, Intense, Full On
Super Easy To Build On – Took Me Less Than 30 Seconds on My First Go
Did I Mention It Doesn't Leak?
Things To Keep In Mind
2ML Juice Capacity
Drip Tip It Comes With Is A Bit Too Narrow For My Tastes
90
A Bloody EPIC RTA Tank Well Worth The Asking Price!
FINAL VERDICT
There is so much to love about the Coil Master ELFY RTA – it doesn't leak, it gives great flavor, it's easy to build on, and it's cheap as chips. For me, these are all good things, which is why I rate this RTA so very highly. I would go as far as saying that this is one of the best RTA tanks I have ever had the pleasure of testing. There are some niggles (2ml capacity, drip tip's a bit small) but these are soon forgotten once you start vaping. Freakin' epic stuff – and for just $25!
Best Places To Buy ONLINE
---
PROS
It NEVER LEAKS. Period.
Great Flavor & Clouds; Handles High Power Vaping Easily
24mm Tank, So Ideal For Most Mods
Easy To Live With; Deck Is Simple To Use – Less Fiddly Than Most
Things To Keep In Mind
Tank Only Holds 2ML of E Juice
Wicking Is Slightly Trickier Than ELFY RTA
The Screws That Fix The Coils In Place Feel A Little Cheap
89
No Leaks. No Fuss. Is RTA is Freakin' Awesome
FINAL VERDICT
The Coil Master RAY RTA is a brilliant, reliable, super-easy-to-live-with RTA. It produces mind-blowing flavor and it NEVER leaks. If you're after a solid RTA option that is well priced and beautifully designed, you need the Coil Master RAY RTA in your life. Like, right now!
Best Places To Buy Online?
---
Best RTA Tank For Beginners: Things To Keep In Mind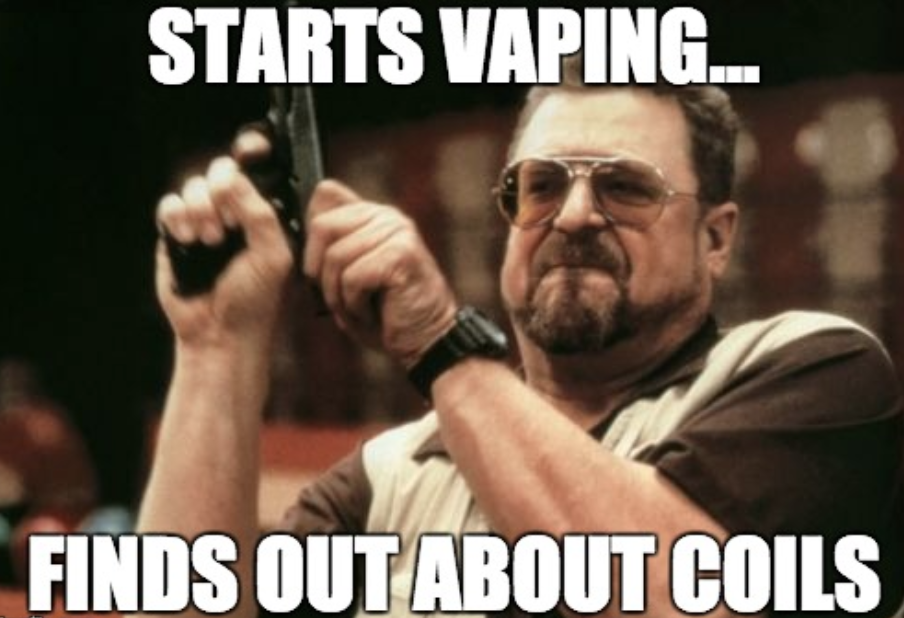 All RTA tanks are different.
No two RTA tanks are the same. And this means the wicking technique required for any, one RTA is different to what you'll use on another.
For this reason, you'll want to get to know your RTA's deck.
Learn how it works; where the airflow is; how it holds E Juice in.
All of these things will make your life a lot easier.
It's basic. But it works. These tanks are engineered in a specific way.
You NEED to understand that engineering and how it all fits together.
Get it wrong, or get sloppy with your wicking, and you'll run into problems quickly.
I choose the four options above for a few reasons:
#1 – they're easy to setup
#2 – the decks are simple
#3 – they seldom leak (when wicked properly)
#4 – they all produce amazing flavor
I'll add more as I come across them. But right now the tanks listed above are easily the best RTA tanks for beginners.