The VaporFi V-GRIP is a small, TC mod that is designed to be ultra-portable. But how is it in practice? Drake finds out
The VaporFi V-GRIP arrived on my doorstep and kind of caught me off guard, as I hadn't heard of it before. The VaporFi V-GRIP is, like quite a few new mods around at the moment, very portable and runs on a single cell.
It comes in the usual VaporFi packaging, so a premium box with a green on white design and a picture of the mod on the front of the package. Par for the course, so far.
What is intriguing about the VaporFi V-GRIP, though, is who it is positioned at, because this is not a device a hardcore vaper is going to go out and buy; no, the VaporFi V-GRIP is aimed at someone else entirely.
By the end of this review, hopefully we'll have a better idea about who the target audience of this mod is. For now, let's dig down into the nitty-gritty.
VaporFi V-GRIP Review – Design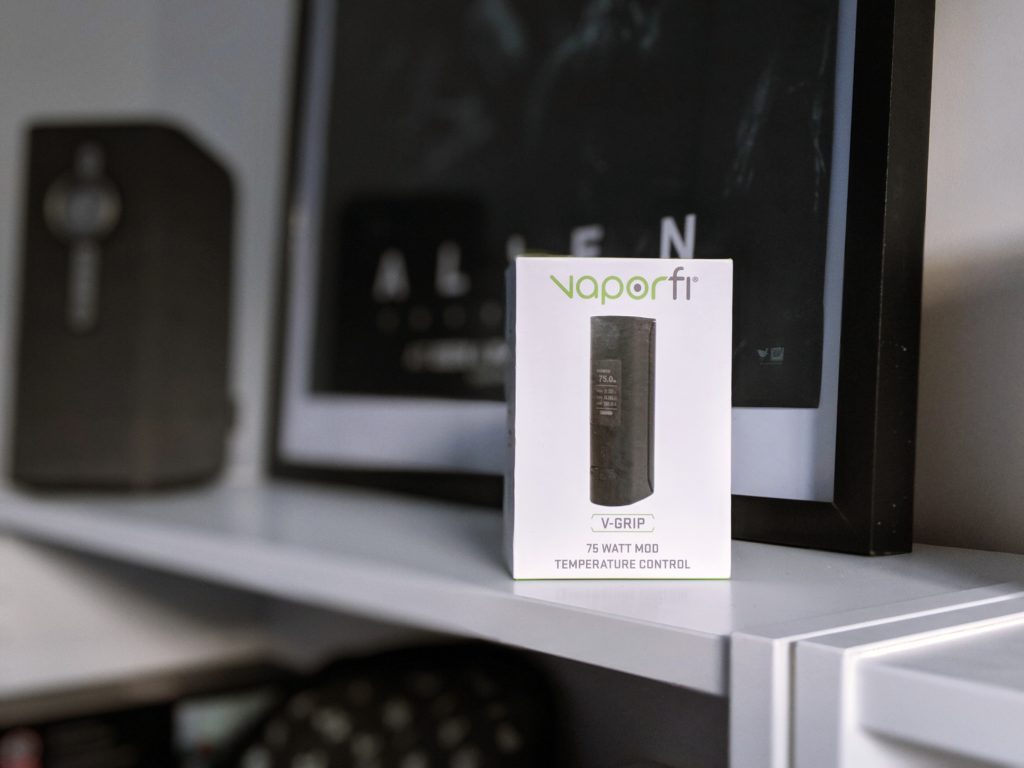 Small. Thin. Elegant. These are all the words I would use to describe the VaporFi V-GRIP, which is one of the most unassuming mods I have come across in a good long while.
Everything about the VaporFi V-GRIP looks like it has been deliberately designed to just get out of the way. There is no fire button, for instance, the display curves, rather fetchingly, around the chassis, and the entire mod will easily hide inside the palm of your hand.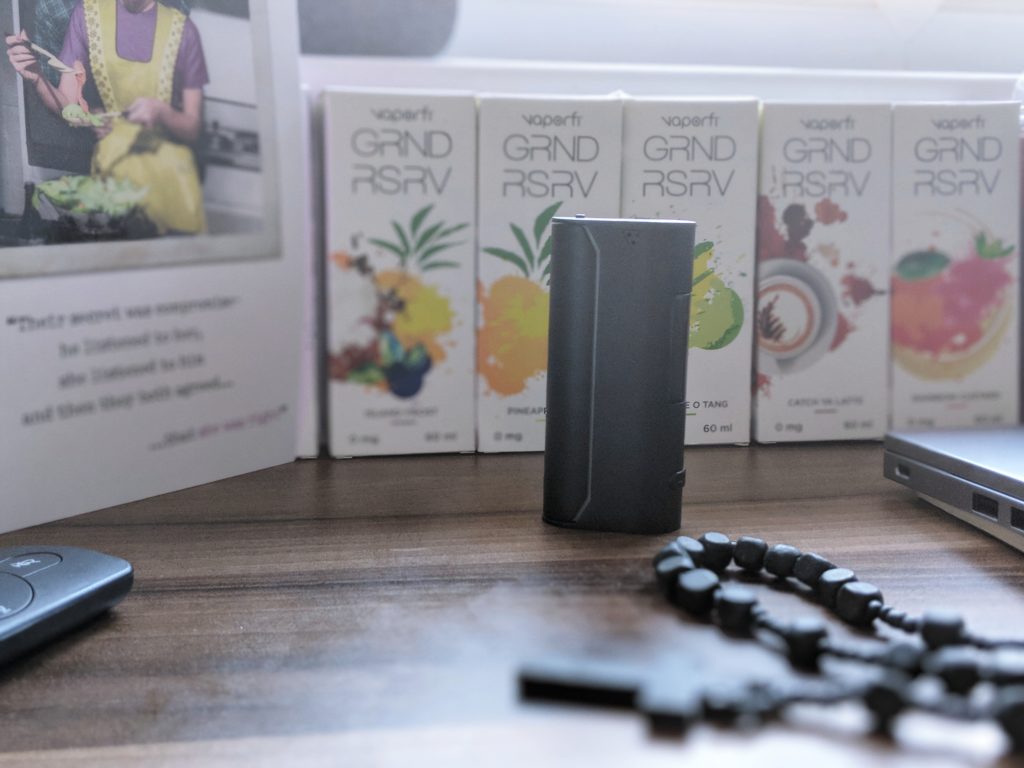 Basically, this is a stealthy mod, something you can rock on the sly anywhere and everywhere. I takes up hardly any room at all in your pocket, even more so if you run an RDA on it. The styling is definitely understated, but the build materials are very solid. Everything feels robust, expertly crafted, and engineered to a high standard.
Like the Wismec Predator, the VaporFi V-GRIP features a lovely, squeeze-to-fire action, whereby you hold the mod in your hand and squeeze it which in turn compresses one side of the mod and fires the atomiser.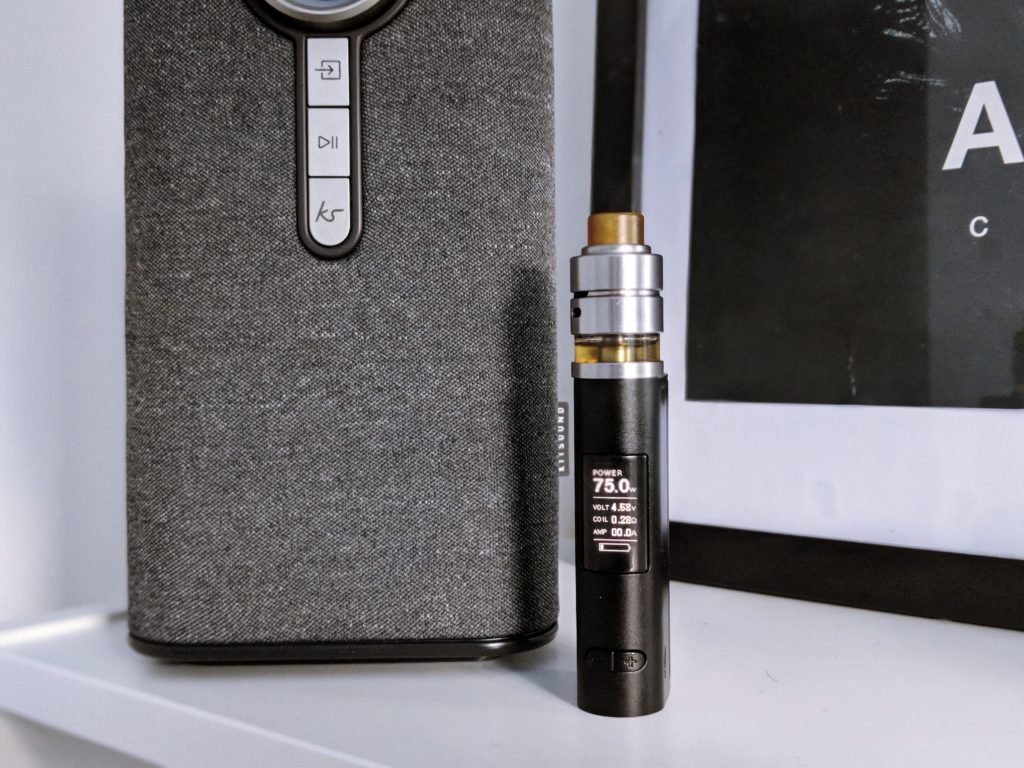 I much prefer this to an isolated fire key; it just feels way more natural, as you don't have to worry about finding the fire button ever again.
I really like the size of the VaporFi V-GRIP. It's tiny compared to my VooPoo DRAG and is an ideal mod for my car, or when I'm at home and rocking a smaller, less potent sub-ohm tank.
There are a bunch of caveats, however, which we'll go through in more detail below.
VaporFi V-GRIP Review – Specs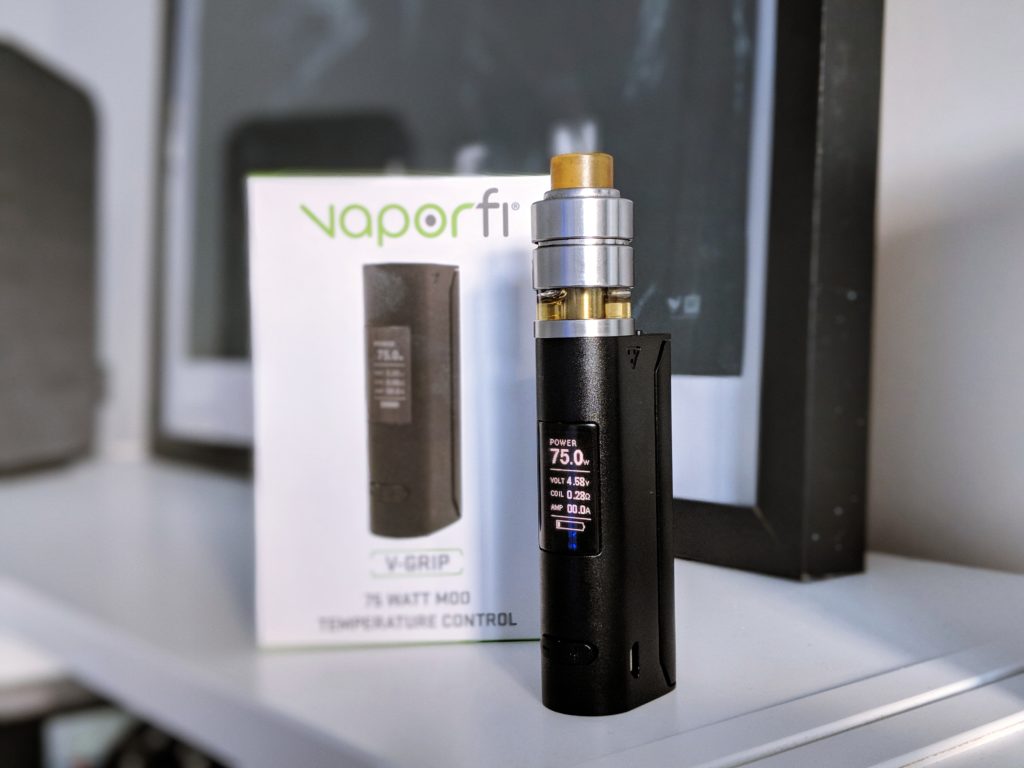 Here's a breakdown of the VaporFi V-GRIP's specs and features:
Compact Design
Fire Bar Activation
Lateral Fire Bar Orientation
Durable Fire Bar Locking System
6 Volt Limit
Requires 1 Removable 18650 Battery (NOT INCLUDED)
Accommodates up to 24mm Tanks or RDAs
Wattage Range: 1 – 75 Watts
Temperature Range: 100° – 300°C/ 200° – 600° F
Advanced Temperature Control Suite
Compatible with Ni200, Titanium and Stainless Steel Atomizers
BYPASS Mode
Can be Charged VIA USB
Recommended to Charge Removable Battery on VaporFi 2-Bay Battery Charger
Screen Size: 3 x 1 1/2 cm
Mod Size: 3 1/2 x 1/2 Inches
Bottom Ventilation Holes
Magnetic Locking Battery Door
Spring Loaded 510 Connector
VaporFi V-GRIP Review – Performance
The VaporFi V-GRIP is not designed to go toe-to-toe with the likes of my VooPoo DRAG or the SMOK Alien 220W. It lacks the power, the battery life, and the features.
No, the VaporFi V-GRIP is a far more relaxed mod. It's all about taking things easy, though it will comfortably house a 24mm RDA.
With just 75W at your disposal, the V-GRIP isn't a great option if you like to vape over 100W. But for those of you that like your vaping done in TC mode, the VaporFi V-GRIP is definitely worth a look, as its TC mode is fantastic.
I don't mess around with TC vaping much, but I do know what makes a good TC mod, and the VaporFi V-GRIP has it in spades. The mod is accurate, precise, and, once setup correctly with a decent tank, hits beautifully.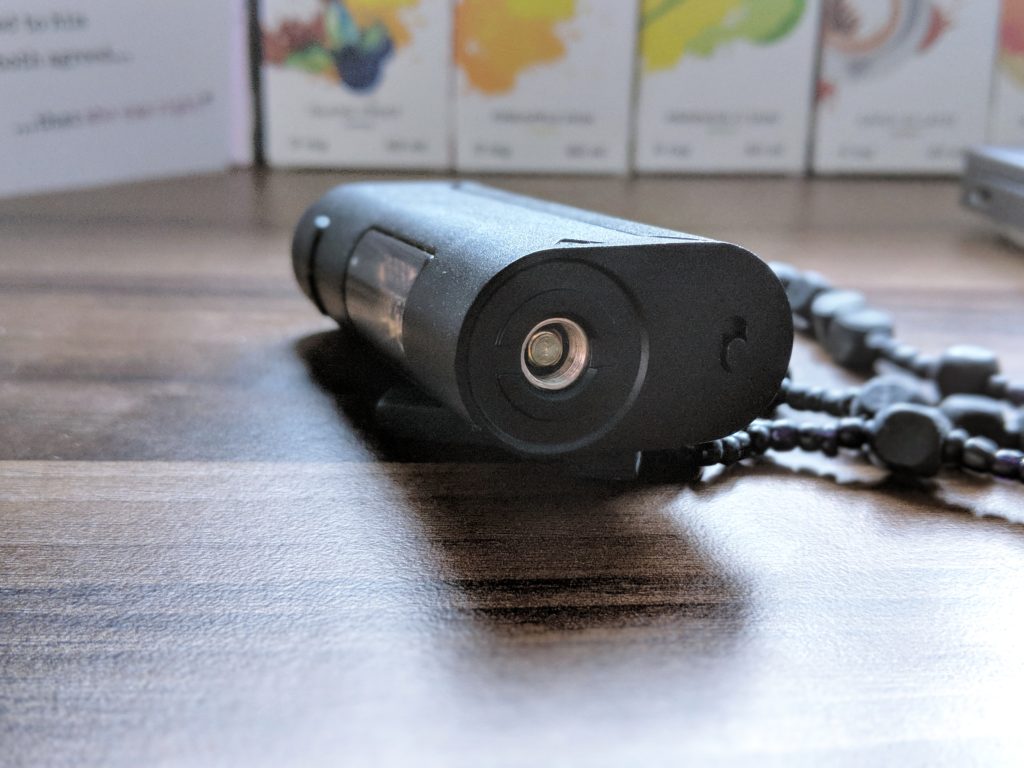 You can even setup different modes for different tanks and coils, which is a nice feature. So is BYPASS MODE, which effectively lets you run the VaporFi V-GRIP as a mech mod. Lovely stuff, if that's your bag.
I tested the VaporFi V-GRIP with my GAIA RDTA, the Oumier MAXIMUS MAX RDTA, and the CSMNT RDA, as well as the god-awful Vaporesso NRG tank. Everything worked great and I really enjoyed doing some BYPASS Mode vaping with the CSMNT RDA.
Personally, the VaporFi V-GRIP is a little underpowered for me. I like to have at least 100W to play with, just to be safe. But if you tend to keep it under 80W or prefer to TC vape, then this is a very solid option for late-2017.
VaporFi V-GRIP Review – Battery Life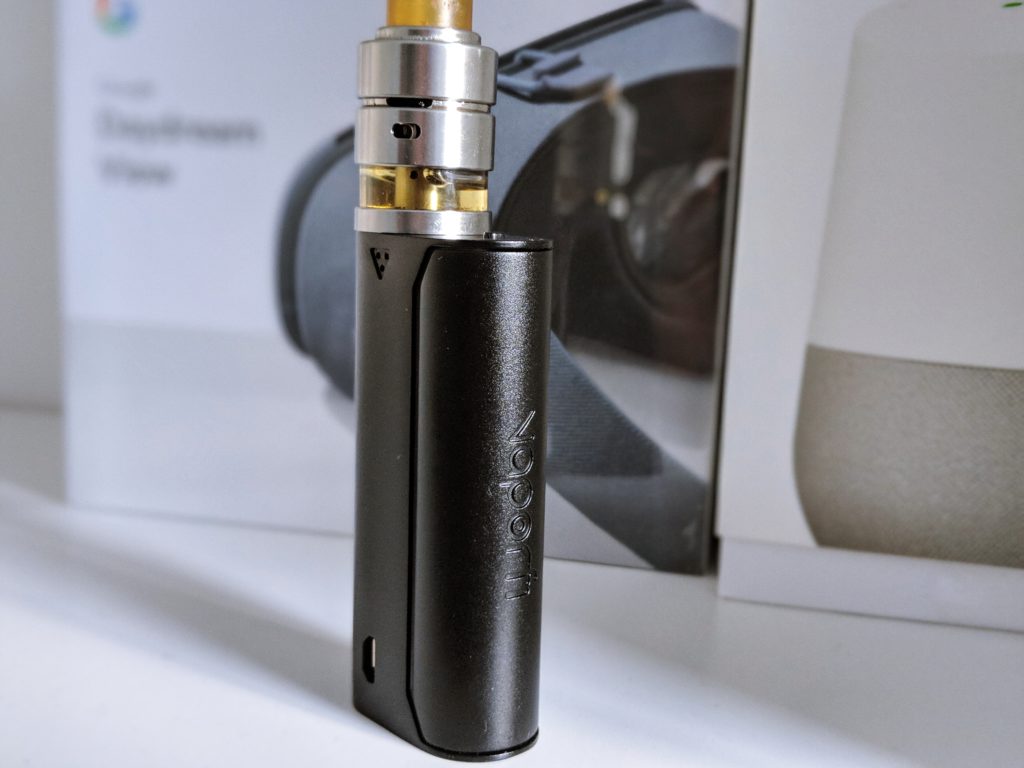 It only runs a single cell, so battery life is never going to be great. This means if you're traveling with the VaporFi V-GRIP you will 100% need to carry spare cells with you, though this really goes without saying.
With a brand new, fresh 18650 cell installed, I got around five-six hours of heavy vaping out of the VaporFi V-GRIP before it crapped out. Not too bad, really. But definitely not enough to keep up with a dual or three-cell mod.
VaporFi V-GRIP Review – Would I Buy This Mod?
The eternal question! I'm really on the fence about the VaporFi V-GRIP. Mostly because it is limited in power and runs one cell, and battery life and power are two things I value above all else.
However, for what it is designed for – TC vaping, portability, relaxed, casual usage – the VaporFi V-GRIP is great. It packs in tons of useful features that come in very handy and I totally love mods that feature BYPASS mode.
I wouldn't personally buy this mod, but there are A LOT of people out there that this mod would be perfectly suited to. If you are any of the following:
A Casual Vaper
Someone That Doesn't Like Big Mods
Loves To TC Vape, But Doesn't Like Paying A Fortune For Mods
A Person That Wants Something Cheap and Easy To Use
Then the VaporFi V-GRIP is definitely worth your time. You can pick one up via VaporFi for $59.99.
Drake Equation
Co-founder and Editor of VapeBeat. I make the words.