The SMOK Stick V8 Baby is EASILY one of the best vape pen setups on the planet right – especially if you're new to vaping.
I must admit I had my reservations about the SMOK Stick V8 Baby prior to testing it out.
I am very much a box-mod/heavy-hitting tank kind of vaper (either an RTA or a high power sub-ohm like the TFV8 and the TFV12) and in my experience, vape pen kits like the SMOK Stick V8 Baby tend to be flaky and are at best a good back up option for when you're out and about.
However, I couldn't have been more wrong about this device. It is nothing short of phenomenal for what it is – and you will find out why below.
This isn't like your run of the mill pen kit, the SMOK Stick Baby V8 is more like a mech mod (without the hassle of building the coils) backed up by SMOK's awesome, market-leading sub-ohm tank, the SMOK TFV 8 Baby.
As I said: the SMOK Stick V8 Baby really did take me by surprise. I spent a total of two weeks testing this mod out for the purpose of this review and now, a week or so later, I am still using it.
Find out what makes this awesome kit tick below:
SMOK Stick V8 Baby Review: Packaging & Box Contents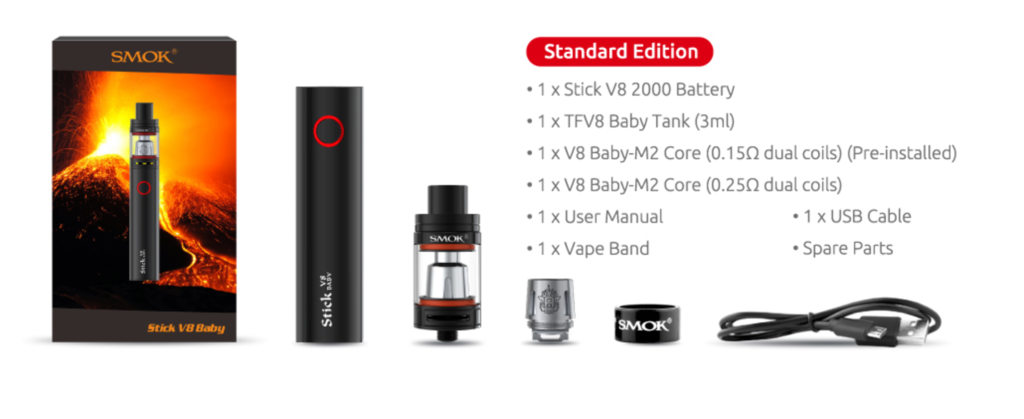 The box as you would expect from SMOK is very nicely designed; black and orange sleeve with a nice black storage box inside for the various bits that come with it.
Inside you will find the following:
1 x Stick V8 2000 Battery
1 x TFV8 Baby Tank (3ml if you're in a non-TPD country, 2ml if you're in the EU)
1 x V8 Baby-M2 0.15Ω Dual Coil (Pre-Installed)
1 x V8 Baby-M2 0.25Ω Dual Coil
2 x Smok Vape Band
1 x Replacement Sealing Pad
4 x Spare O-Rings
1 x Micro USB Cable
1 x User Manual
The SMOK stick V8 Baby, like all SMOK products, is visually pleasing and comes in an array of fancy colors.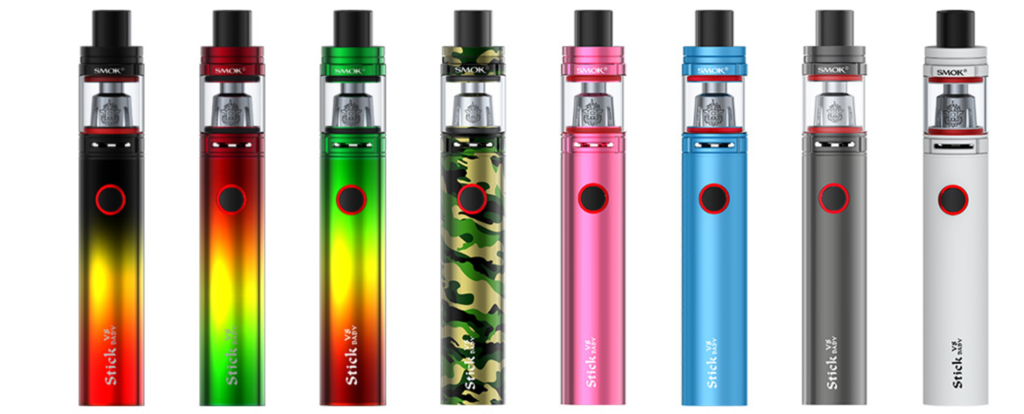 The pen itself is extremely well designed, it has a flawless shined finish. I have the silver version which in my opinion is the best of the lot – I don't really go for the fancy bright colors.
From what I have come to expect from pen kits this is well above the competition. You get a fancy shine ego style battery mod and a Baby beast which sits beautifully flush on the devices 22mm deck.
You can also remove the tank and put whatever takes you fancy on, which is a vast improvement on a lot of the vape pens on the market these days – a lot of them, including SMOK in the past, don't have this option.
As expected, as this is a simple pen mod, there is no screen, no changeable battery, and no gimmicks, just a straight up vape pen that does exactly what it was designed for and more!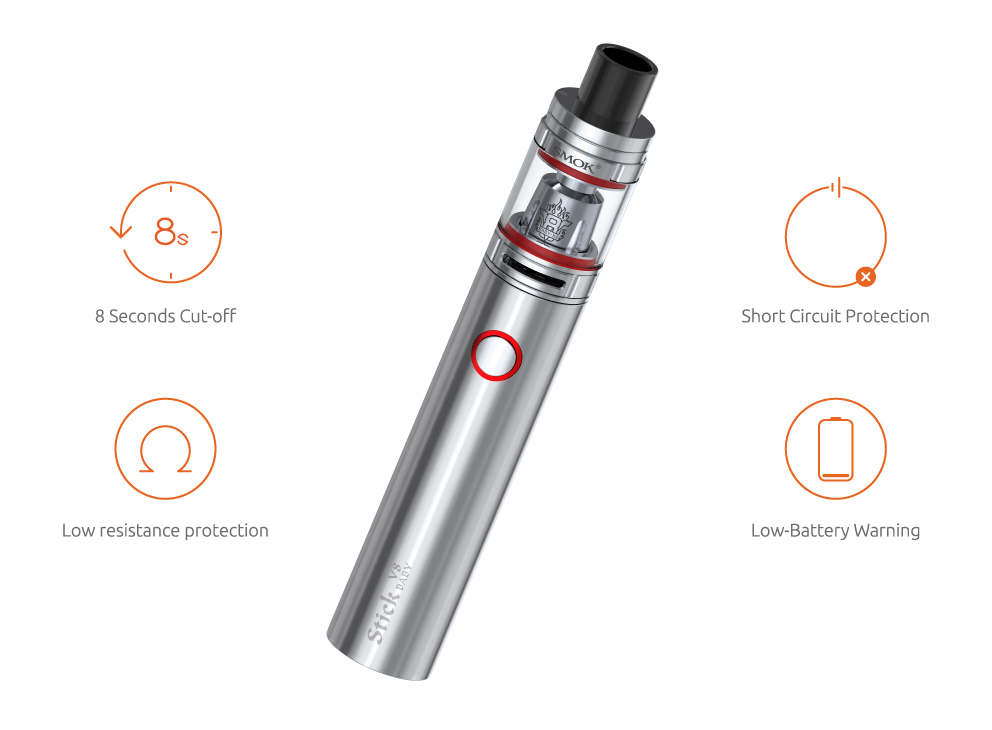 It delivers an unregulated current, just like with a mech mod except this comes without the risks, as it comes with the correct coils made for you and has safety features built in.
Unlike some other devices, charging is done by the USB port which very conveniently is on the side of the device. In my experience, the ones that have it on the bottom are really annoying as they can tend to have liquid seep the wrong way and out the top of the MOD.
Powering on is done via five clicks of the fire button. The button itself is nice and sturdy and it features an orange trim which I thought was a very nice touch. I had zero problems with the button while testing.
The pen itself comes with the TFV8 Baby tank, one of the three variants of SMOK's TFV8 series – the others being the TFV8 and the TFV8 big Baby beast.
The tank pairs with the pen flawlessly. Like the TFV8 just sized down slightly, the TFV8 Baby comes with a variety of pre-made coils and even an RBA for the rebuildable enthusiasts out there (not included in this kit though!).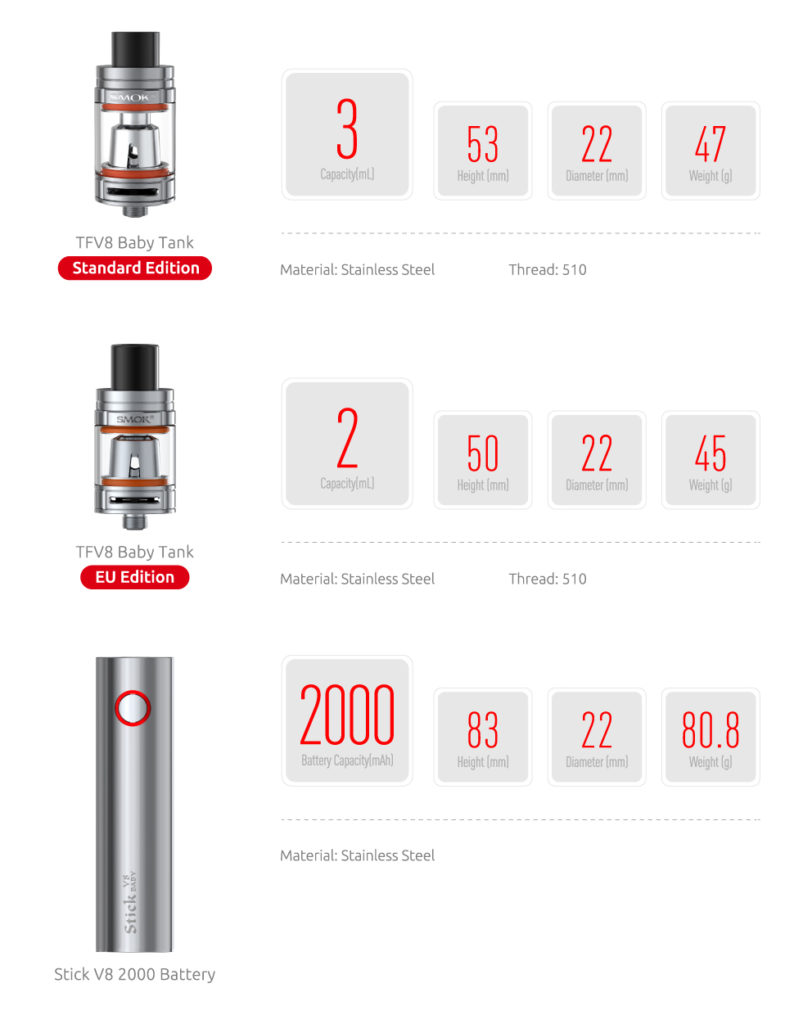 The coils designed for use on this vape pen are SMOK's M2 series coils. As with the larger versions, the air flow is at the bottom, but with one exception – the openings don't go round 360' it stops and swivels back – something I liked because the ones that go all the way around tend to be rather difficult to get off your mod.
One flaw I found with the tank itself is that the swing-out top mechanism isn't as rigid as the TFV8 – it's bigger brother – and it has the tendency to swing open in your pocket and spill juice all over the show.
This happened to me a couple of times while I was testing. But this is really my only complaint.
SMOK Stick V8 Baby Review: Performance
With the device fully charged and the Baby beast filled I began vaping and let me say I was truly astonished at the power of this device.
For a simple 2000mAh battery mod, this truly delivers massive vaping performance.
Even on the .15 coil installed it delivers flawless, lush, flavorsome clouds. So much so you often forget you're vaping on a pen device. I was so impressed by this device I have even added it to my rotation of vape devices that I regularly use – and trust me I'm very picky!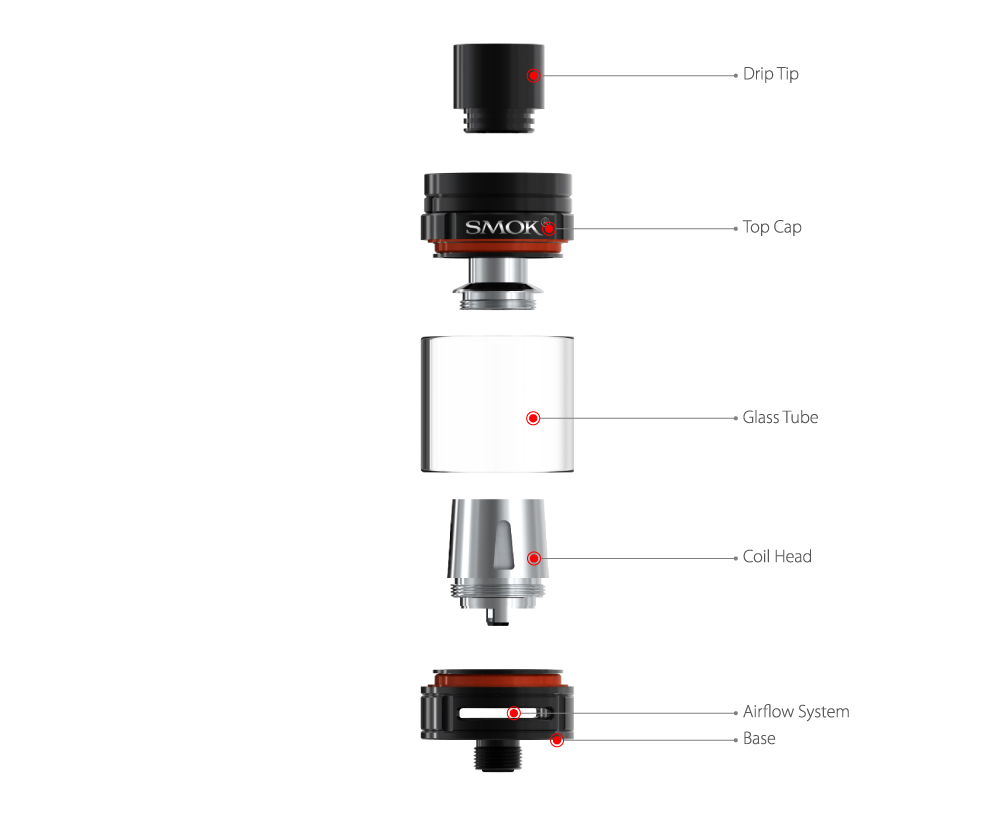 Of course, with this cloud production and flavor, you are inevitably going to be getting through a great deal of juice! Though this is something you will have come to expect if you are familiar with SMOK and its other products, it is something to consider before pulling the trigger on a purchase.
Once I started using the 0.25ohm coil, however, the performance did drop off somewhat – the 0.15ohm coils are VASTLY superior for this device, so always go for them, if you can.
SMOK Stick V8 Baby Review: Battery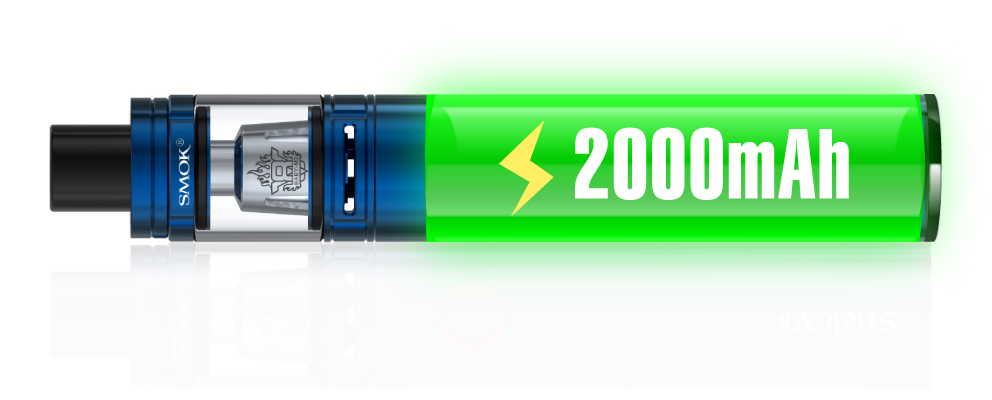 One area where the SMOK Stick V8 Baby really surprised me is battery life. I say, surprised because I really wasn't expecting anything at all from this setup in terms of battery performance.
During the testing period, the SMOK Stick V8 Baby became my go-to device for about two weeks. I took it everywhere with me – the pub, work, road trips – and, to my surprise, it consistently delivered around 1.5 to 2 days battery life with moderate to heavy vaping.
Obviously, battery life varies when you use different coils – this goes without saying. And the 0.25ohm coils, due to the SMOK Stick V8 Baby being unregulated, do last longer than the 0.15ohm due to their higher resistance.
The battery also takes quite a long time to charge; you'll definitely want to leave it over night in order to fully charge it. Do this and you'll have zero problems with the SMOK Stick V8 Baby.
I just wish fast-charge, like we have on Android phones, would hurry its ass up and come to vape mods. I want to be able to fully charge my mod in under 90 minutes.
SMOK Stick V8 Baby Review: Final thoughts
As I mentioned, this isn't really my kind of device. It's specifically designed for people who are new to the vaping scene. Those that are after something simple, basically.
It is, however, one great little device and I would certainly recommend it to anyone, whether new or a seasoned vaper.
Don't be put off by the stigma attached to vape pens, this is not like the rest – it performs brilliantly, delivering exceptional flavor and clouds.
I really like the design and look of this setup; it made me appreciate just how useful smaller mods are. Couple this with the awesome TFV8 Baby sub-ohm tank and you have one hell of a setup.
Maybe the best beginner vape setup on market right now.
Plus, you can use the SMOK TFV8 Baby on other, more potent mods and this, coupled with SMOK's array of coils and the fact it doubles as an RBA, makes the SMOK Stick V8 Baby a sound investment whichever way you slice it.
If you're looking at buying your first vape kit, the SMOK Stick V8 Baby is easily one of – if not THE – best vape pen setups around right now.
Rob