Another week, another SMOK review. This time we're taking a look at the SMOK Majesty 225W kit – is it any good, though?
The SMOK Majesty 225W is yet another release from a company that is perhaps the busiest in the vape space right now.
I recently tested the ProCOLOR and was reasonably impressed by it; everything felt solid and well put together and, after a month's worth of usage, there had been no grumbles or issues.
And this was definitely a good thing after all the flack SMOK took for its Alien 220W mod.
My only concern with the SMOK ProCOLOR was that it felt a tad, umm, plasticky. The SMOK Majesty 225W Kit is a different beast altogether, however, and feels far more premium as a result.
I was also interested to see if SMOK could actually come up with a vape mod that would make it onto our Best Vape Mod Guide – so far, it hasn't placed there yet!
It's hard to say which of SMOK's mods is its flagship device. There are so many. But the branding of this one – Majesty – implies a degree of superiority, despite the price for it being more or less the same as SMOK's other mods.
Resin mods are becoming increasing popular, so I guess the guys over at SMOK figured they'd get in on the action. The result is the Majesty and, like 100% of SMOK's other mods available right now, it serves up plenty of functionality and packs in a ton of vaping options.
But is it any good in real life? Let's find out.
SMOK Majesty 225W Kit Review – Design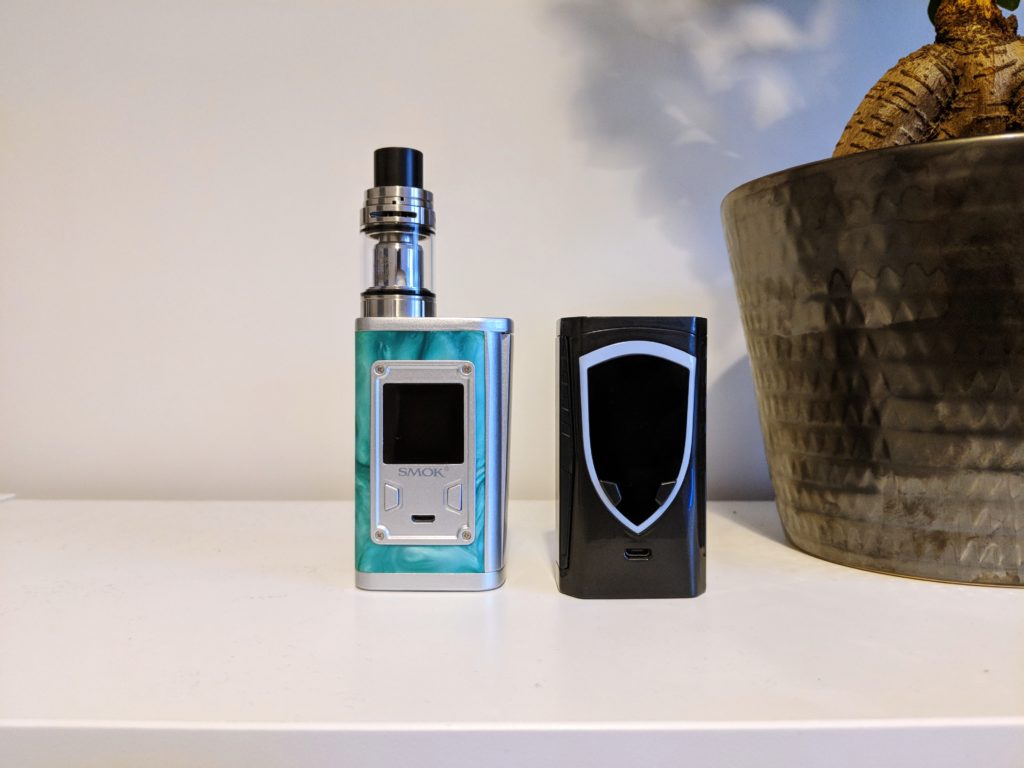 The SMOK Majesty 225W is more or less identical in size to the ProCOLOR. It sits nicely in the palm and, with two cells inserted, the mod feels pretty robust with a nice weight and gate.
My review unit is the Green Resin version and, while I do like resin finishes on mods, I am kind of on the fence about whether I like the way the SMOK Majesty 225W looks decked out in this particular color scheme.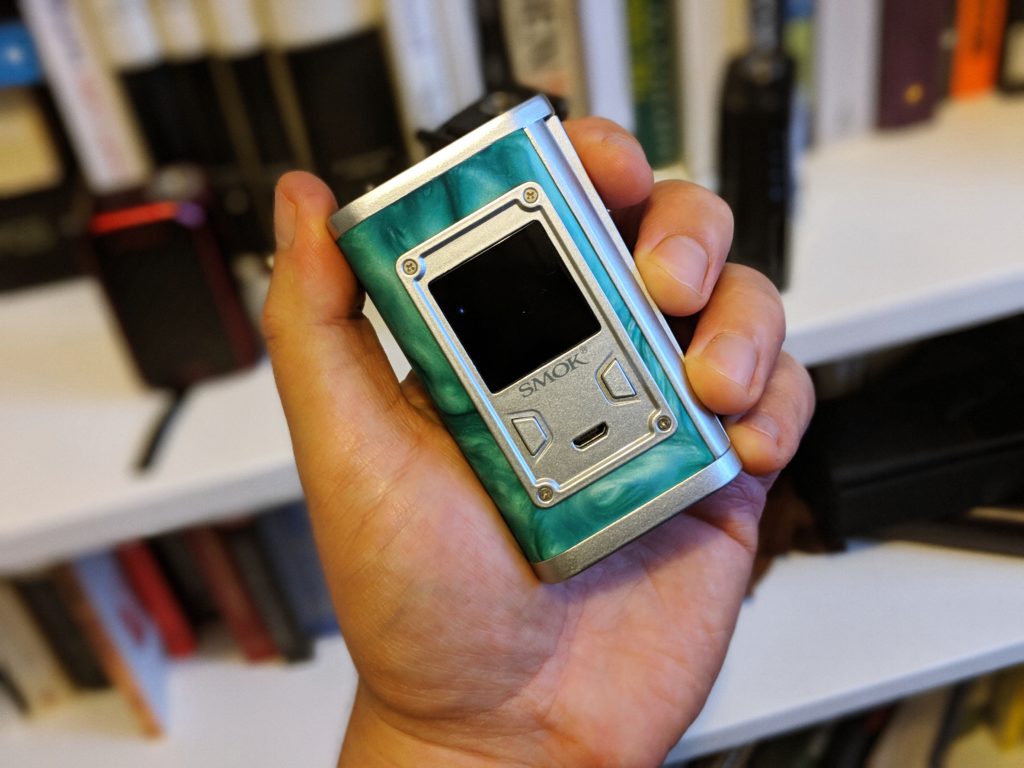 It's certainly eye-catching, but it isn't a high-shine finish and, as a result, looks a little washed out. This is a very subjective point, however, so do not take this as a negative – what I like and you like will likely differ greatly.
The outer chassis is all-metal, which is great, although the fire key appears to be honed from plastics. The outer casing, finished in resin in this context, has a lovely soft-feel to it; it kind of just gently rubs up against your hand while you use it. I actually can't describe too well how it feels exactly, but it is definitely pleasant.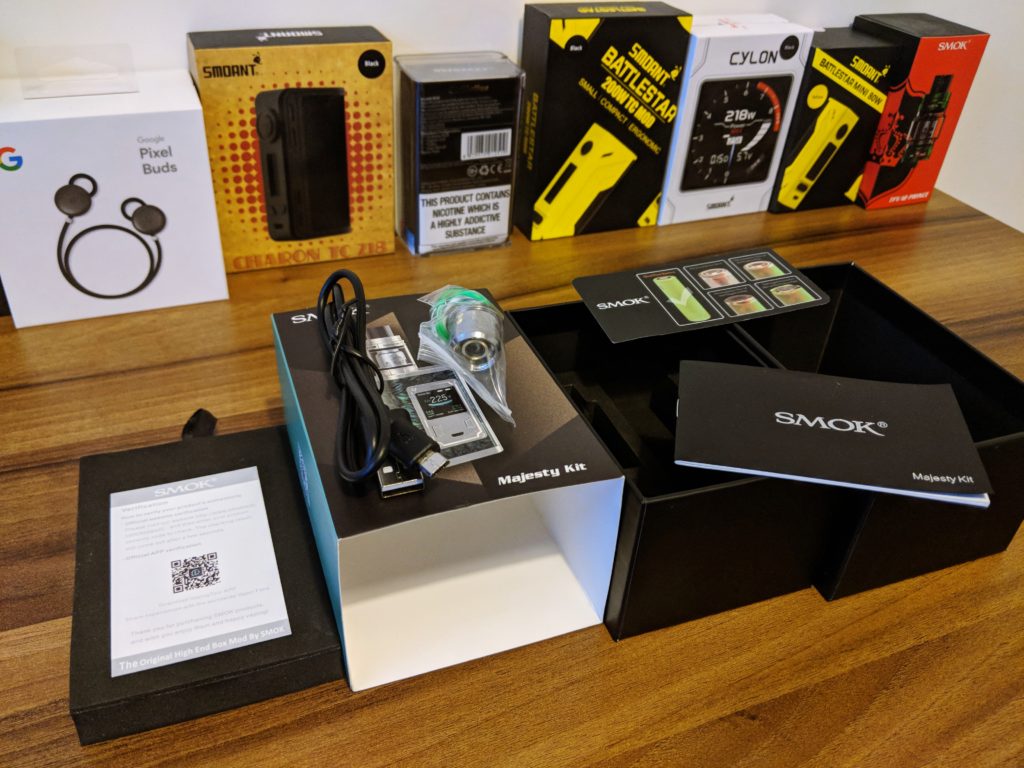 Having looked at all the models available in the Majesty range, I think I definitely prefer the carbon fibre versions; they just suit my tastes better. The resin finish is definitely very engaging though; several complete strangers commented on mine while I was walking around Edinburgh at the weekend.
I still prefer the way my Wismec RXGEN 3 mod looks though. Plus, it takes three 18650 cells.
I also like the exposed screw heads, it gives the mod an industrial look, though I am not a fan of how the display has been integrated in this model, however, as it breaks the design language a bit to dramatically for my liking, whereas on the ProCOLOR, for instance, it seamlessly blends in.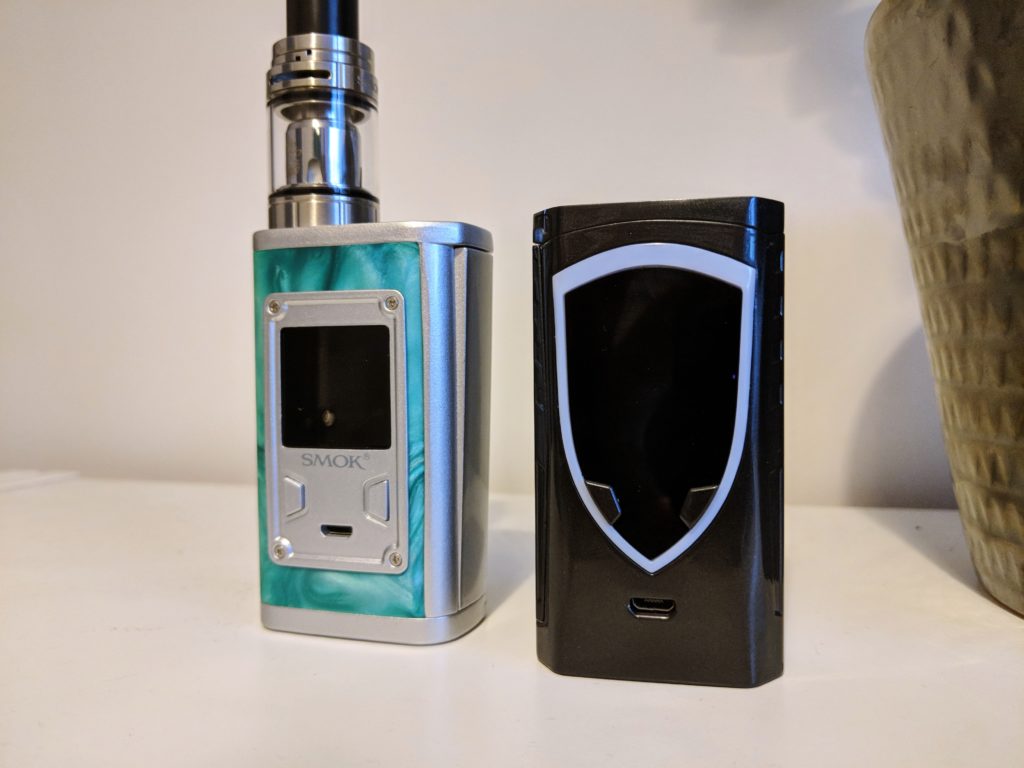 The display is very good though and, as a party trick, can handle colour too, so you can choose what colour you'd like your settings to appear in. This doesn't affect the overall performance of the mod one dot, but it certainly looks cool.
Everything else, though, the machining, the 510 connector, the battery door, is done to a decent standard. There are no breaks, creaks, or anomalies visible. Nor were the any imperfections to the industrial design of the mod, either. You will have to play around with the 510 thread if you're using an RDA, however, as all SMOK mods are clearly setup for use with SMOK tanks.
This doesn't take too long, however, but I kind of wish I didn't have to do this every time I tested one.
SMOK Majesty 225W Kit Review – Specs & Features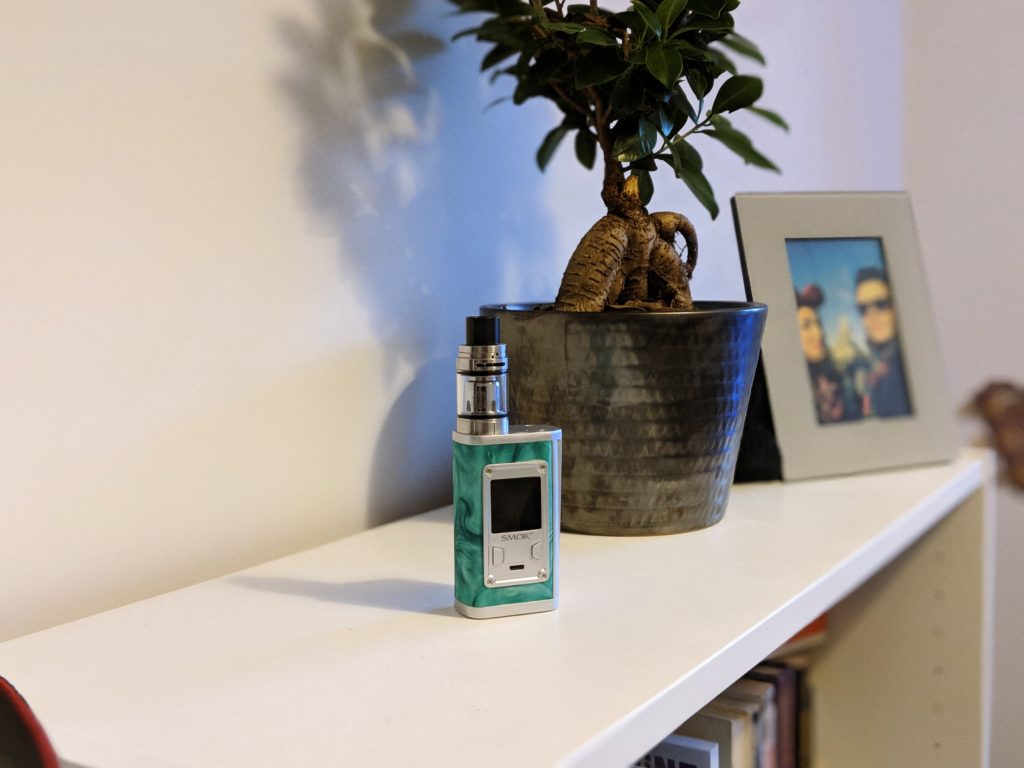 The specs and features are much the same as the ProCOLOR and G-PRIV 2. All of SMOK's latest mods run the same software and spec-set with the key differences being design attributes. In this context, the USP is the engaging design language.
Here's a FULL break down of ALL the SMOK Majesty 225W's specs and features:
6 to 225W Power Output
0.5V to 9V
0.1 to 3ohm Atomizer Resistance Range
Three Setting Output Mode: Hard, Normal, Soft
Firmware Upgradeable
Temperature Control Output
Ni200 Nickel Support
Titanium Support
Stainless Steel Support
Adjustable Initial Resistance
Adjustable TCR
Preheat Capability
200 to 600 degree Fahrenheit Output Range
0.05 to 3.0 ohm Atomizer Resistance Range
1″ Colorful OLED Screen
Vibrant Display Resolution
Icon Based Display Matrix
Highly Visible
Comprehensive Menu Settings and Adjustment
Full Display
Dual Battery Life Indicator
Menu Color Customizable: Blue, Purple, Orange, Red, White, Green
Innovative and Ergonomic Firing Mechanism
Comfortable and Easy to Use
Squeeze to Fire Operation
Bottom Latch Battery Bay Door
High Amperage 18650 Battery Powered
Sold Separately
Zinc Alloy and Carbon Fiber Paneling
Spring Loaded Internal Contacts
Zinc Alloy Chassis
Stainless Steel 510 Threading
Gold Plated 510 Contact
SMOK Majesty 225W Kit Review – Performance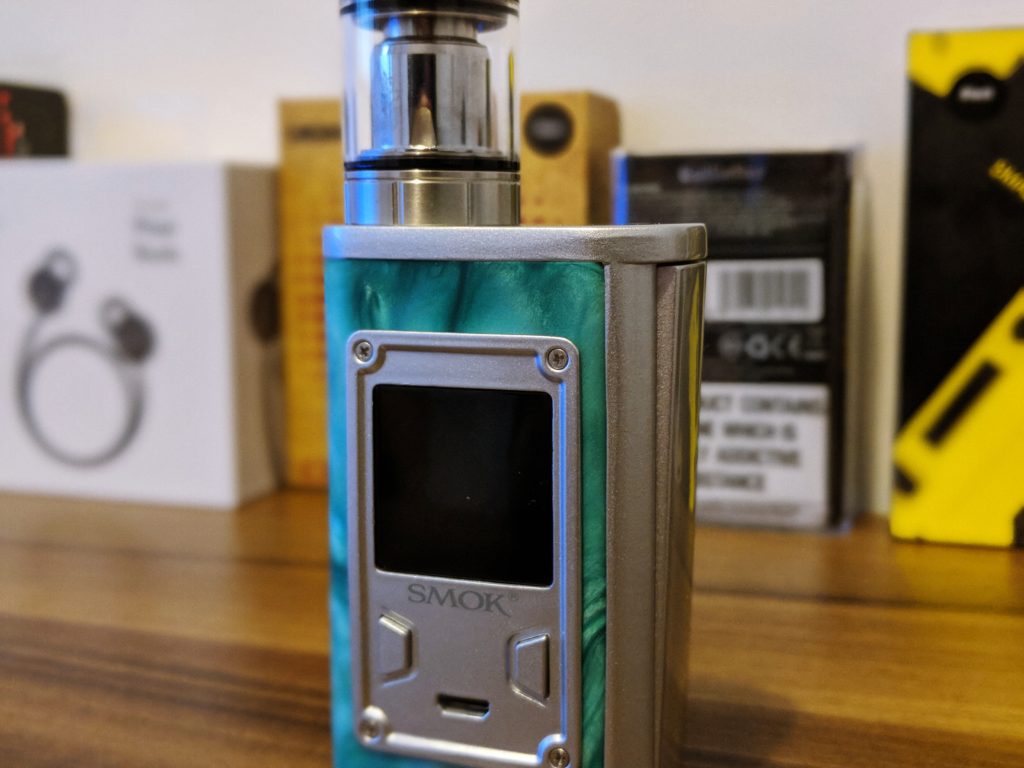 If you've used any of SMOK's newer mods, the overall look and feel of the settings menu will feel very familiar. If you haven't, you're in for a treat – this thing is PACKED with features.
You have multiple modes for vaping – hard, normal, and soft – alongside super-accurate TC and a near instantaneous hit when you depress the fire key. Again, the fire key here is a bar that runs along the entire right-hand side of the mod.
I really love this style of fire-key too; it's just so much easier than having to find a button. All you do is pick it up and squeeze and you're vaping.
I have never had any issues with the performance of SMOK mods during the past 18 months. They all deliver instant power and can vape nice and hard, just the way I like it. The Alien struggled with some QC issues, but I haven't experienced anything close to physical problems with either the Majesty or the ProCOLOR.
The settings menu might be the only area where a novice vaper might get a little confused. If you're coming to this mod from a standard vape pen kit, you might find all the potential options a little daunting. I mean, you can switch between power modes, TC, and even alter the color options of the UX's fonts.
This is been an on-going grumble for me, personally, as I am something of a purist when it comes to mods. The less the better, really. And SMOK's menu UX has definitely been designed with touch in mind, which is why it works so much better on the SMOK G-Priv 2 (which I also recently reviewed).
It'll take you a few moments to find your way around, using a mix of long holds on the fire key, the navigation buttons, and settings sub-menus, but once you get the hang of it you will breeze through the menus with ease. Personally, I'm a bit of a purist, so I tend to think less is more when it comes to displays and UX design for mods. Just give me some power and a button to adjust it and I'm good.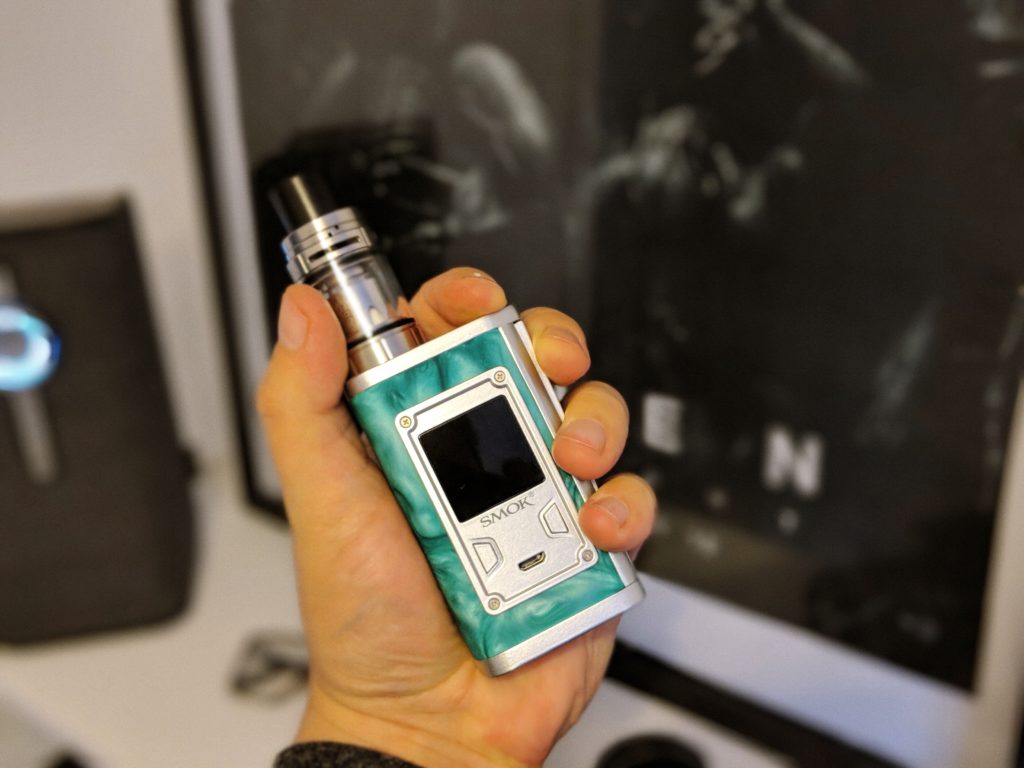 SMOK is as much a technology company as it is a vaping company, and is keen on pushing things forward in the space, and the only real way to do this is by bringing new technologies into mods. And you can bet your ass, once SMOK starts doing something – touchscreens, for instance – other players will follow suit.
The chips SMOK uses are rather sophisticated as well, so you don't need to worry about anything nefarious occurring while you're using the mod. If there are any issues with your batteries, coils, or connections, the mod simply will not fire.
I also quite like the SMOK TFV8 X-Baby Beast tank too, which the Majesty ships with. It's a solid little performer that brings together the best elements of the SMOK TFV8 and the popular Baby Beast version. I tend to use RDA/RDTAs most of the time, but I like having tanks like the SMOK TFV8 X-Baby Beast around for when I'm A) travelling, B) in a pinch, or C) on a night out.
As always, you have to prime the crap out of SMOK's coils in order to get the maximum amount of performance from them. We have guide on how to properly prime SMOK coils, which you should definitely check out. However, I will say this: the coil performance on SMOK's tanks – and 99.9% of sub ohm tanks, for that matter – is not 100% predictable.
The coils are also expensive too, which is why most longterm vapers switch to RDAs or RDTAs.
You will get a few great coils that last for a solid week or two, and then you'll get a few that burn out within 24-hours, despite priming them in the exact same manner. This is annoying as hell, given their price, but it is a fact of life in the sub-ohm tank world. If you don't like this you basically need to get yourself an RDA or RDTA.
If you're new to vaping, however, SMOK's TFV tanks are about as good as it gets in the sub-ohm tank world right now, so you're in very good hands. Just make sure you're prepared for the cost of the coils, as the money you spend on them can really add up over a couple of months (even more so if you get a dud pack of coils).
SMOK Majesty 225W Kit Review – Battery Life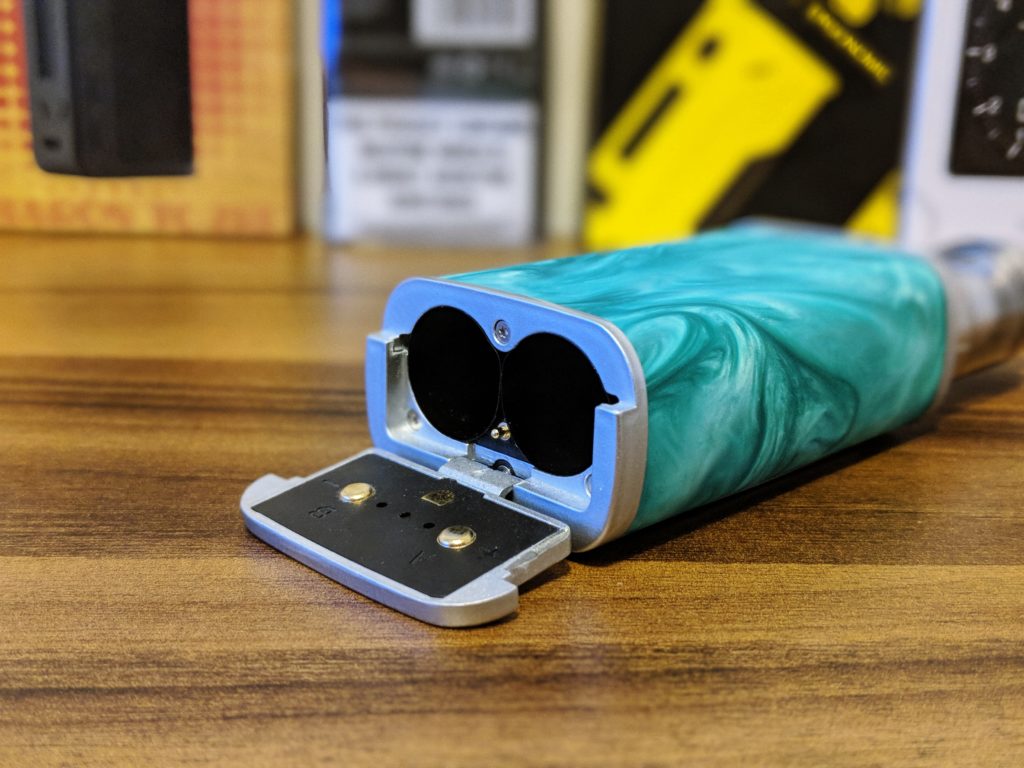 The SMOK Majesty 225W runs on two 18650 cells, so you're looking at pretty decent performance – easily a full day with normal/low usage. If you're running an RDA or RDTA at higher wattages, however, you will see some drop off in battery performance.
I've been running the Wismec Guillotine RDA on the SMOK Majesty 225W at around 140W and I've been averaging about 6-8 hours of battery life. However, I vape quite a lot and work from home, so I basically vape all day, not just on breaks. This means my time will likely be A LOT less than yours, unless you're just sat at home like I am and vaping yourself stupid.
Most of you will be using the SMOK Majesty 225W with the TFV8 X-Baby Beast, however, and this means lower running power and a big upshift in performance. If you consistently run the Majesty around 50W-60W with new cells, you'll easily get a good day and a bit out of the mod before it requires fresh batteries.
SMOK Majesty 225W Kit Review – Is It Worth Buying?
Yes. 100%. The SMOK Majesty 225W combined with the excellent SMOK TFV8 X-Baby Beast tank make this kit one hell of a setup. It doesn't appear to have any of the physical defects as the Alien, and performance in all areas is exemplary. Basically, it's solid as f**k.
I'm not all that enamoured by the resin option, though I do love how the carbon fibre model looks. Again, this is a personal preference, so it cannot be considered part of my critique. The design language is premium, engaging, and extremely ergonomic.
Combine this with a brilliant array of vaping modes and options and you're looking at a very compelling mod and tank combo. Is it better then the ProCOLOR? Tough to say, really. It all depends on which one you prefer the look of because when it comes to overall specs and features they're more or less the same.
Drake Equation
Co-founder and Editor of VapeBeat. I make the words.