MyFreedomSmokes is a US-based vape retailer that sells a range of vaping products from RDAs to Mech Mods and Starter Kits and sub-ohm vape tanks – but is it worth your time?
In the US, there is no shortage of online vape and e-cig stores. Off the top of my head, I can think of at least 20…
But if you're loyal to one vape retailer, is MyFreedomSmokes worth a look? Does it offer anything in the way of USPs?
Let's take a look at some of the core elements that make an online vape retailer great – and then see if MyFreedomSmokes does them.
MyFreedomSmokes Review – Store Overview & USPs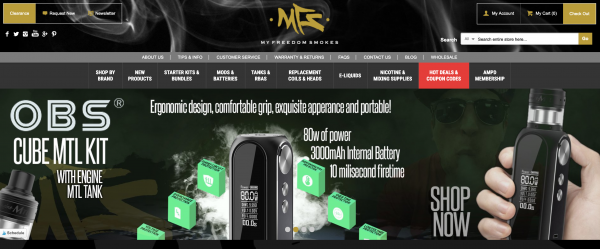 Free Shipping: Yes, but only when you spend $75 or more.
For me, this is a big negative. Why? Simple: I can get free shipping on ANY order via DirectVapor. Hence why I do a lot of my shopping there.
Vape Product Selection: Distinctly average.
Right now, MyFreedomSmokes has a decent selection of mods and tanks but it does lack some of the newer models. Example: it has the original Vandy Vape Pulse squonk mod, but not the newer Pulse 80W or Pulse Dual mod.
Price: Very good, often lower than many of its competitors.
Price is one of the key elements that makes or breaks a vape store; price vape products too high and you'll scare away savvy customer. MyFreedomSmokes keeps things nice and low, which is a definite plus for the store in my book.
E Juice Selection: Pretty good; they have around 35 E Juice lines.
Compared to some, this is a rather smallish number of E Juice lines. But that's OK because the quality is definitely there. I see SMAX, Mad Hatter, Glas, ANML, and Dinner Lady – all solid, well-trusted E Juice brands.
Returns: Fairly good; you get 30 days for returns.
In addition to this, if your vape product fails after 30 days, but before 60 days, they will not replace it but instead offer you store credit. E Juice is non-refundable and cannot be exchanged, however.
Shipping Times: Fairly Standard – 2 to 5 days.
2 to 5 days for shipping is fairly standard in the US, so this is pretty much par for the course. Obviously, this period does not include weekends, so if you order something on Saturday, it won't ship until Monday.
MyFreedomSmokes Coupons and Deals Section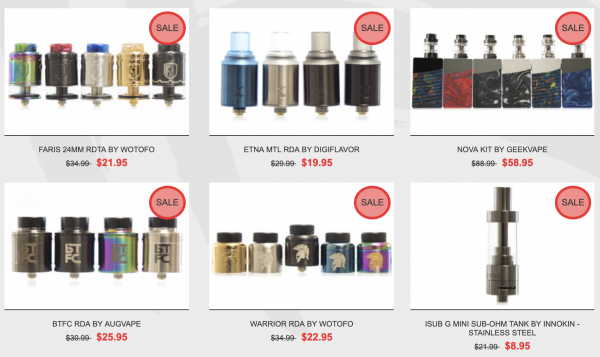 MyFreedomSmokes does have a pretty robust deals section on its site that is updated fairly regularly.
It also offers coupons too, like this one:
Inside the deals section on the site, you'll find vape mods, RDAs, vape tanks, and even accessories.
I noticed the Ghoul RDA in there when performing my checks and it was retailing for just $17.95 – a killer discount (it's normally $30+).
MyFreedomSmokes Verdict – Should You Buy Vape Gear Here?
I think the site is decent enough. I'd like to see more selection, if I'm 100% honest – particularly in the vape mod section. I do like how robust its deals section is. And the 15% coupon is a very good introductory offer.
I would have also liked to see free shipping on all order. DirectVapor does free shipping on ALL orders and this is one of the main reasons I use them so much – you save a packet in the long term if you buy a lot of vape gear.
For me, MyFreedomSmokes is slightly above average. But it is no way near comparable to the likes of VaporDNA, DirectVapor, and Eciggity. All of these vape retailers have larger stock amounts, more selection, and better shipping deals.
Just my two cents here, really… but if you want to know where I get the vast majority of my vape gear from, whether I'm in the US or the UK, take five minutes to check out our Guide To The Best Vape Retailers: USA and UK.
Drake Equation
Co-founder and Editor of VapeBeat. I make the words.